Learn how to paint a watercolor galaxy with a free video tutorial!
Today I'm sharing a mini watercolor galaxy painting tutorial.
It's cute, colorful, and easy on a small, unintimidating piece of paper. The stars are added with ink and the simple mountains are drawn with a paint or gel pen. If you think you "can't paint" or "can't draw," this little painting will prove you wrong!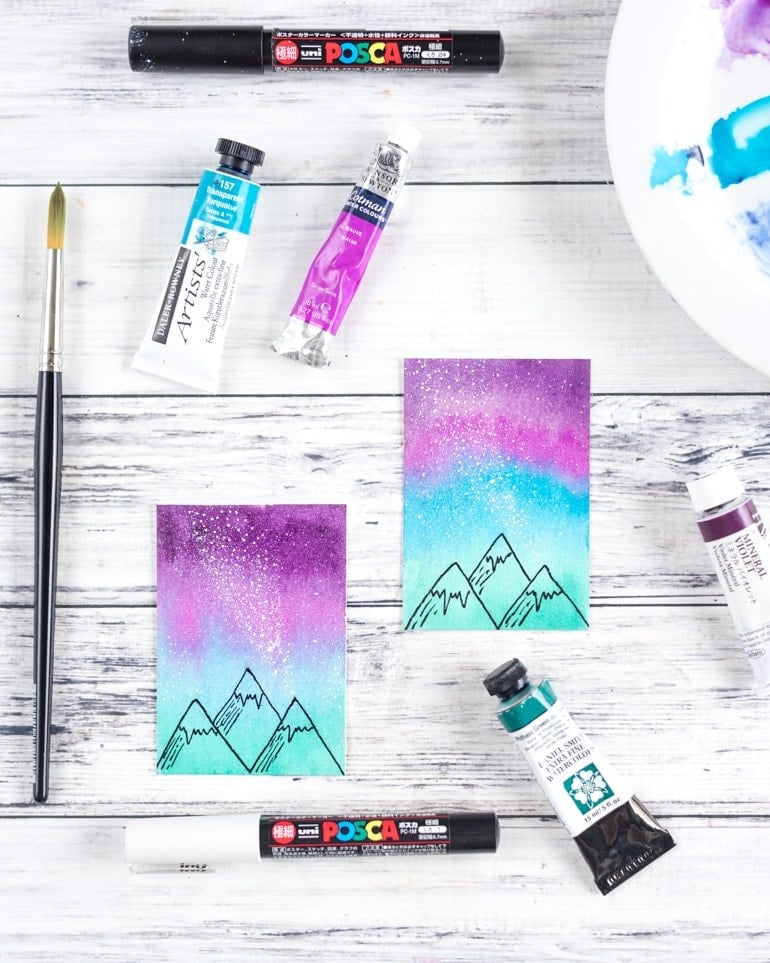 This post may include affiliate links, which means I may make a commission on purchases made through these links at no additional cost to you.
When I first became interested in watercolor, the price of nice watercolor paper seemed absurd to me. I bought cheap paper and was constantly frustrated that I couldn't get the results I wanted. I didn't understand just how important high-quality watercolor paper is! That's why today's tutorial is demonstrated on a small piece of paper.
I taped off a 2.5″x3.5″ rectangle, which is standard "artist trading card" size. You can purchase watercolor artist trading cards and actually trade them, if you'd like, but you can also tape off a larger sheet, like I did.
Using each page to make several smaller paintings allows you to feel better about buying nicer paper because it spreads the cost out over more projects. Additionally, when you're learning wet on wet techniques, smallish areas are easier to work with.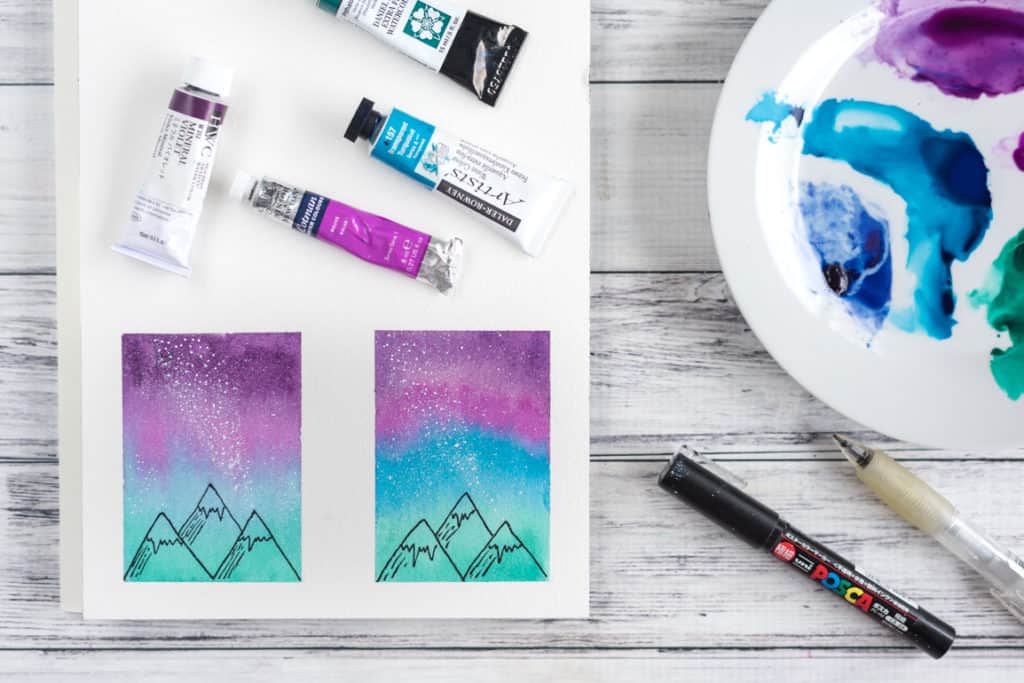 I used four of my favorite colors, but please chose whatever colors you would like and whatever paints you have access to. Although I love and highly recommend the paints I use, they are not an absolute must.
Just make sure you only allow analogous colors, colors that appear next to one another on the color wheel, to mix. Complements, colors that appear opposite one another, look nice in juxtaposition, but become dull when physically mixed.
For example, blues and purples tend to mix well, but purples and yellows will become dull when mixed.
Materials needed for a mini watercolor galaxy
Watercolor paper. I recommend getting yourself a block or pad of 140 lb cold press watercolor paper. I'm demonstrating using the Arches 140 lb cold press 7″x10″ block. You can make four of these mini paintings on a sheet this size!
Washi tape or 1/2″ painters tape. If you use washi tape, make sure it has a good tack. If it immediately starts lifting off the paper, it isn't going to work well! As a word to the wise, washi tape frequently doesn't cooperate well with cheap paper. Yet another reason to get yourself some nice paper!
Watercolor paints.

I used:

Holbein Mineral Violet

. This is a beautiful purple that spreads out and mixes well.
Winsor & Newton Cotman Mauve. The Cotman line is "student grade," which means it costs a little less than the artist grade. In general student quality paints aren't quite as 'nice,' but I think the the Cotman paints are pretty good.
Daler-Rowney Transparent Turquoise (this was not available on Amazon at the time of writing to provide a link)

If you're looking for some vibrant colors without as much of an investment, the Prima Tropicals palette is a good choice.

Watercolor brush. I recommend a #8 round.
White acrylic ink (you could also use white craft paint, though it won't look quite the same). I've used both Daler-Rowney acrylic ink and Dr. Ph. Martin's Bleed Proof White on paintings.
An old toothbrush or a flat paintbrush.
Black paint pen or gel pen. I used an ultra fine black Posca pen. A Sharpie would probably work, too (I just haven't tried it personally!). You could also use a wider Micron pen, but the tips tend to be a bit more fragile and can be damaged by cold press watercolor paper.
Water! Use plenty of water. Using a small water container can give you muddy colors – save yourself a million trips to the sink and just get a nice, big bucket of water! I picked up 2.5 quart paint mixing buckets from the hardware store for a couple of dollars. You can also use large yogurt containers, plastic ice cream/sorbet tubs, etc.
Paper towels.
A piece of printer paper or cardstock.

Paper trimmer

or scissors and a very steady hand (optional).
I firmly believe you can see better results with cheap paints and nice paper than the other way around. If you only buy one "real" watercolor supply, it should be good paper!
Sale
Arches Watercolor Pad 9x12-inch Natural White 100% Cotton Paper - 12 Sheet...
Prized Paper - The long fibers in Arches natural white 100% cotton watercolor paper provide timeless beauty and an inimitable touch; this rich paper...
Superior Strength - A cylinder mold process distributes cotton fibers evenly to provide exceptional resistance to scratching and erasing without...
Exquisite Quality and Functionality - All Arches watercolor pads for painting are pH-neutral with a harmonious natural grain and no optical...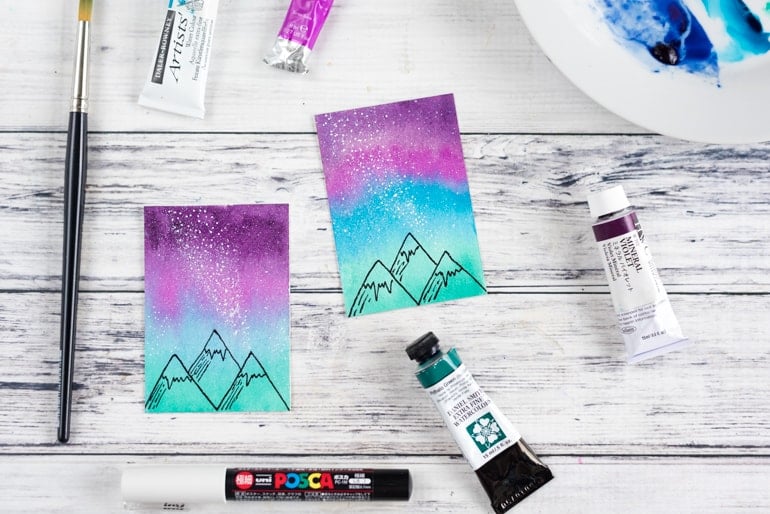 Although I've purchased many of my paints on Amazon over the last couple of years to take advantage of Prime shipping to Hawaii, my favorite online art supplier is Cheap Joe's. If you're on the Mainland and can take advantage of their shipping specials, I recommend checking them out!
Because of the nature of watercolor painting, this tutorial is far easier to present in video format. You can watch the video tutorial right here, or click on over to my YouTube channel if you'd prefer to watch it there!
Video watercolor galaxy tutorial
This cute little watercolor galaxy with minimalist mountains would also look great on a postcard/greeting card, but since my last watercolor tutorial was on a postcard I decided to do something different next time.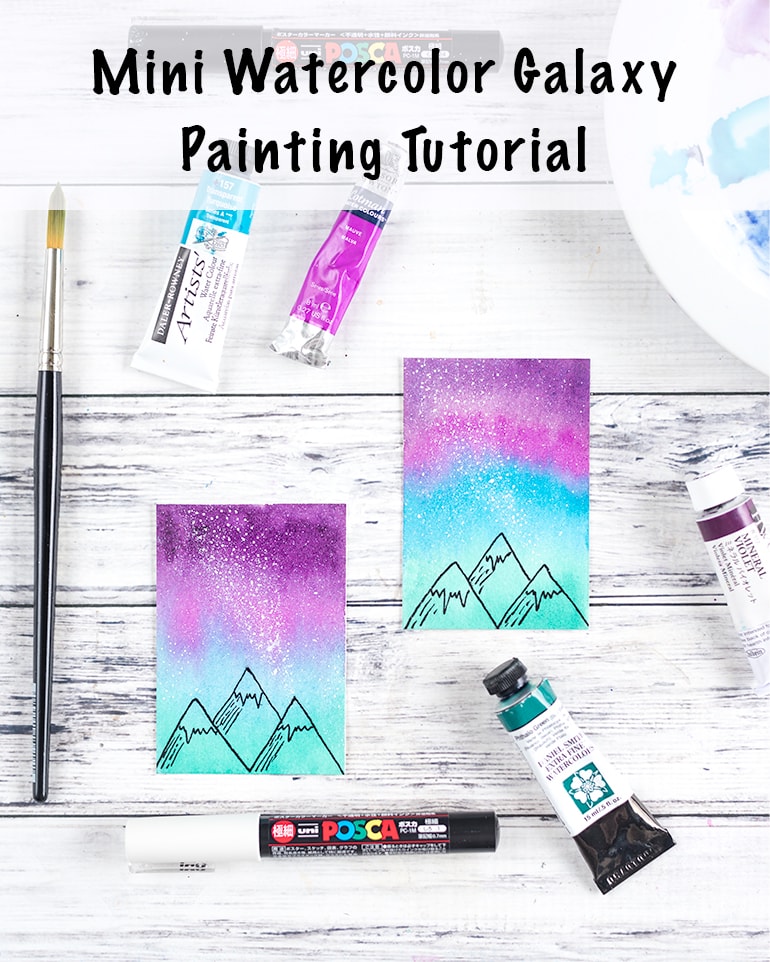 More watercolor tutorials
How to paint a watercolor pineapple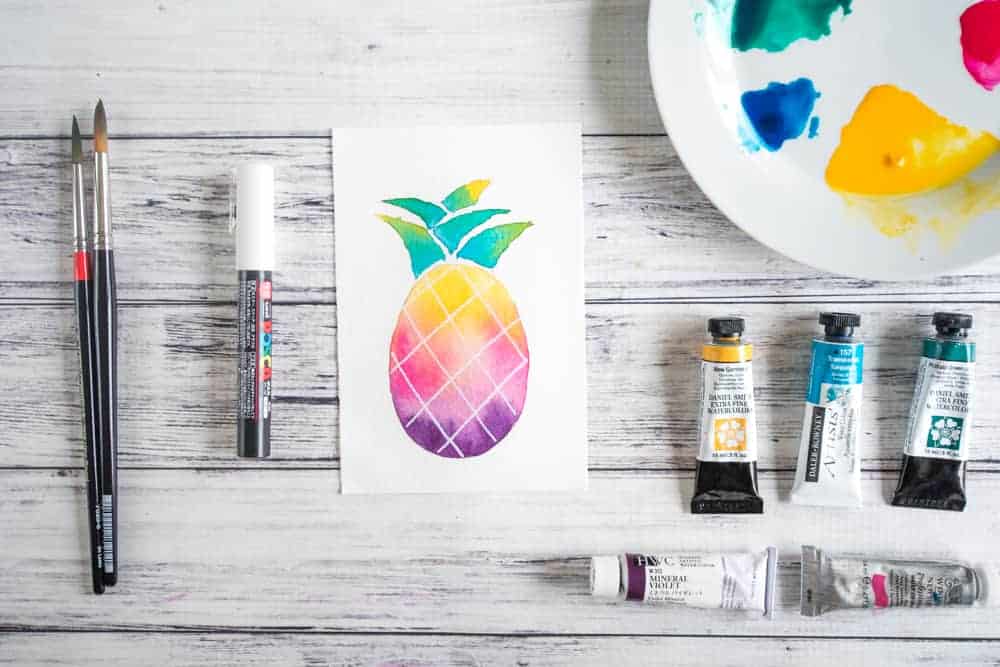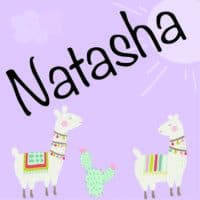 More Related Posts
[pt_view id="15d429e15n"]
[catlist search="tutorial" number
SaveSaveSaveSave
SaveSave
SaveSaveSaveSave
SaveSave
SaveSave
SaveSave
SaveSave
SaveSave