This post may include affiliate links, which means I may make a commission on purchases made through these links at no additional cost to you.
I really love cheese. My family still laughs about how I made up my own mealtime blessing as a small child – "Cheese, that's all!" Well, we ended up getting a Costco membership in order to get things we needed for self-catering our wedding, and I discovered they have 2.5 pound blocks of Tillamook sharp cheddar. It's totally amazing! I'm perfectly happy eating slices of cheese, but I thought it would be fun to experiment with new recipes, too. These baked garlic cheese crisps are just one of the fun new ways I've found to use cheese! I hope you enjoy them as much as I do.
We stocked up on canned soup because we expected to get hit by double hurricanes, but then we dodged the bullet, so to speak, and now we have lots of soup at home! It's nice enough for nights when we're short on time or inspiration, but (boringly) every can of soup in our house right now is the same flavor! Snooze. Wanting to spruce up soup meals and having a beautiful, new 2.5 pound block of awesome led me to make these guys. I'll admit they're not the world's most photogenic items, but they are tasty!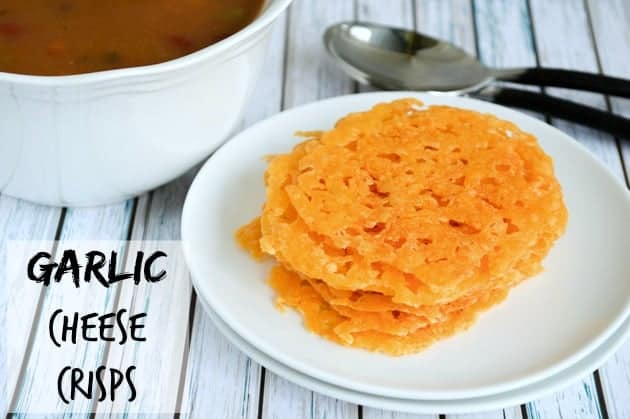 I made these guys on my new Silpat baking mat. I'm so excited to own it and very thankful to the wonderful person who gave it to us as a wedding gift! But I digress. I know these work well on a silicone mat, but if you don't have one, I recommend trying a sheet of parchment paper, instead.
I get about nine large cheese crisps from a cup of cheese. Those nine crisps take up my entire baking sheet! I used about a tablespoon for each one, but you can use less to create smaller, more plentiful crisps from the same cup of cheese. Or, of course, you can just shred more cheese and do several batches! Speaking of shredding cheese, I think it's really important to freshly grate your cheese instead of using the pre-shredded stuff. Pre-shredded cheese contains anti-caking agents that tend to make the texture funny when the cheese is melted!
Baked Garlic Cheese Crisps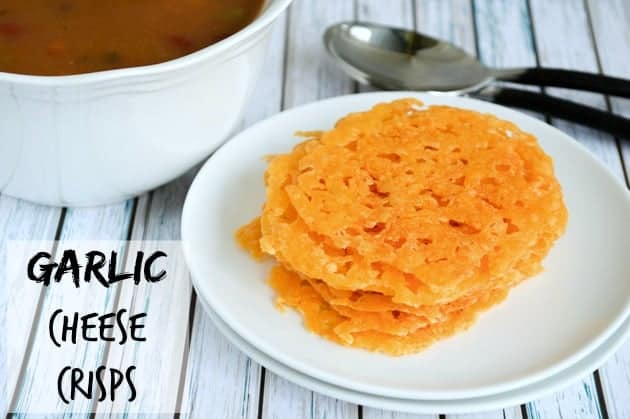 Prep Time 5 minutes

Cook Time 15 minutes

Total Time 20 minutes
Ingredients
1 cup freshly shredded cheddar
1/8 - 1/4 teaspoon granulated garlic (not garlic salt)
Instructions
Preheat your oven to 350 degrees Fahrenheit.
Line a cookie sheet with a silicone baking mat.
Use a tablespoon to make mounds of cheese spaced at least 2" apart. They're going to spread!
Bake until the cheese has melted, about 5 minutes. Remove the sheet from the oven and, working quickly, carefully blot up extra oil from around the pools of cheese (options), and then sprinkle a pinch or two of granulated garlic across each one.
Return the sheet to the oven and bake until the cheese has taken on a lacy appearance and has browned slightly, about 10-15 minutes longer.
Remove the sheet from the oven, blot additional oil if you want to, and wait for the cheese to cool and crisp. This usually only takes a few minutes!
Enjoy fresh and store cooled leftovers on a paper towel in an airtight container.

See? Super easy. Obviously, blotting away the extra oil is optional, but it's important to me. Be careful when you're doing it, though, especially if you have a go while adding the garlic. Do not lay the paper towel on top of the melted cheese at this point. It is too melty and will stick to the towel! It's very sad to see delicious cheese go to waste. Of course, the granulated garlic is also optional (but highly recommended). I think the garlic had something to do with Papi Chulo's response after eating one of these: "Can I have six more?"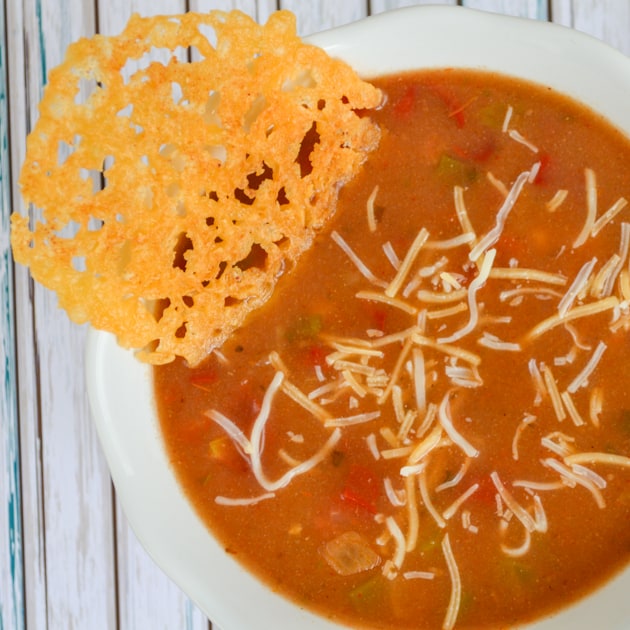 If you don't want to add garlic, you can just bake the cheese plain or try adding in your other favorite seasonings. It could be fun to experiment!