This post may include affiliate links, which means I may make a commission on purchases made through these links at no additional cost to you.

I am naturally physically and mentally fidgety, and, as regular readers know, I've been trying to reign in my "monkey mind" through yoga and mindfulness. For me, practicing mindfulness every day isn't just about not being distracted – it's crucial for my physical well-being. Unless I actively seek to quiet my mind and concentrate on falling asleep (that sounds weird, doesn't it?), my monkey mind takes over and prevents me from sleeping. I think about absolutely anything and everything for hours, which leaves me cranky, tired, and unmotivated in the morning. Sleepy and unmotivated are not good things to be when you're a creative working for yourself! Multiple nights of poor sleep in a week have negative consequences for my business, gym life, and interactions with my husband. Luckily, increased attention on mindfulness and, specifically, focusing on my breath have helped me quiet my mind and receive more consistent sleep (as well as more productive waking hours!). Today I'm sharing more of my mindfulness progress and tips for simple mindfulness that help you practice lessons learned from yoga off the mat.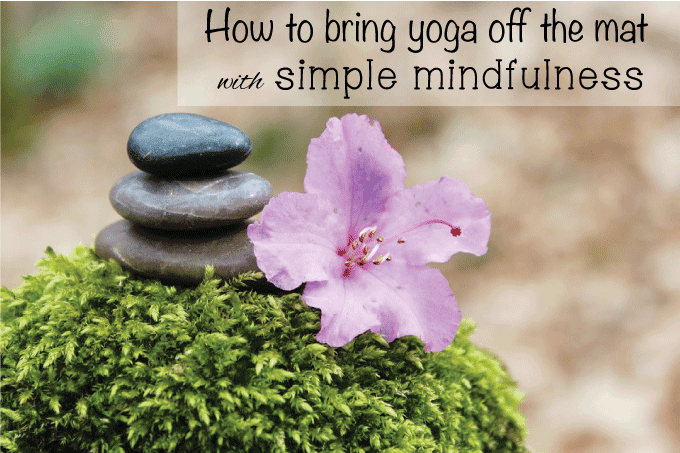 For a long time, I felt like "meditation" and "mindfulness" were too abstract for me or that I just didn't have the patience or ability for either one. I didn't realized that you can take baby steps and incorporate mindfulness into your day in small ways. Not being able to sit perfectly still for hours on a snowy mountain top doesn't mean you aren't mindful! Recently, the biggest way way I've brought greater attention to my breath and state of mind is through use of my Spire wearable tracker. Lots of folks have asked me about what it is and how it works, so let me tell you!
The Spire Mindfulness + Activity Tracker is a wearable device that monitors your breath and your activity, so it keeps track of both your mindset and your steps. You can clip it on your waistband or bra strap, and the Spire is incredibly comfortable to wear. It weights less than an ounce and once I get it in position, I forget I'm even wearing it within a few minutes.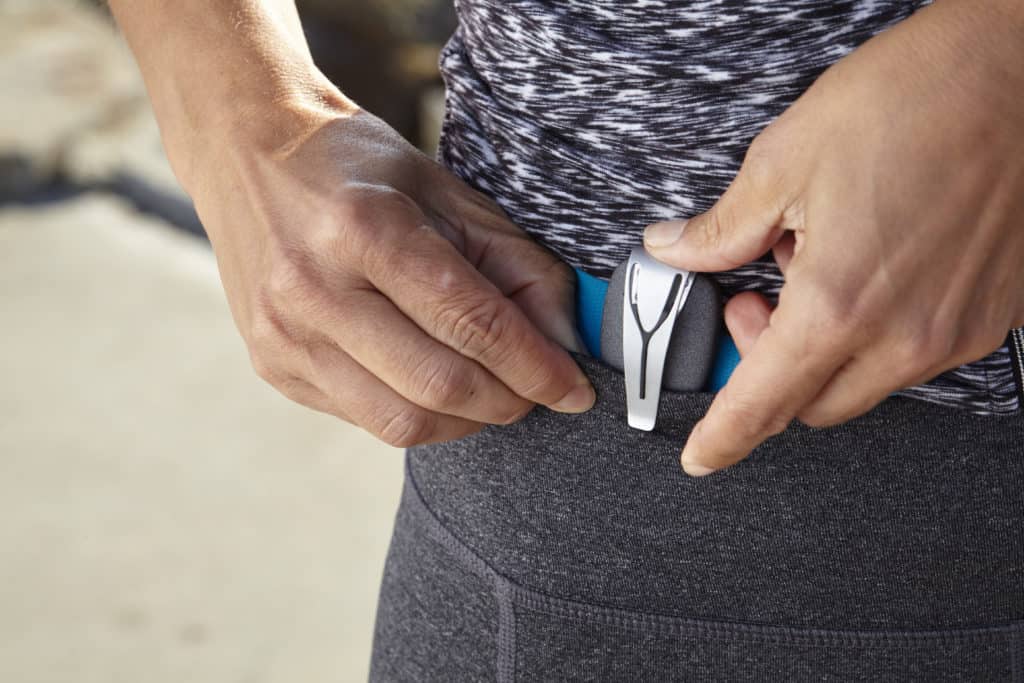 The device charges wirelessly sitting on a lovely cork-topped base. Also very cool is that the charging base has a USB port so you can charge your phone at the same time without adding more plugs and clutter to your workspace. In my experience, the Spire's battery lasts several days and charges fully in just a few hours, so you won't even need to use the pretty charger that often.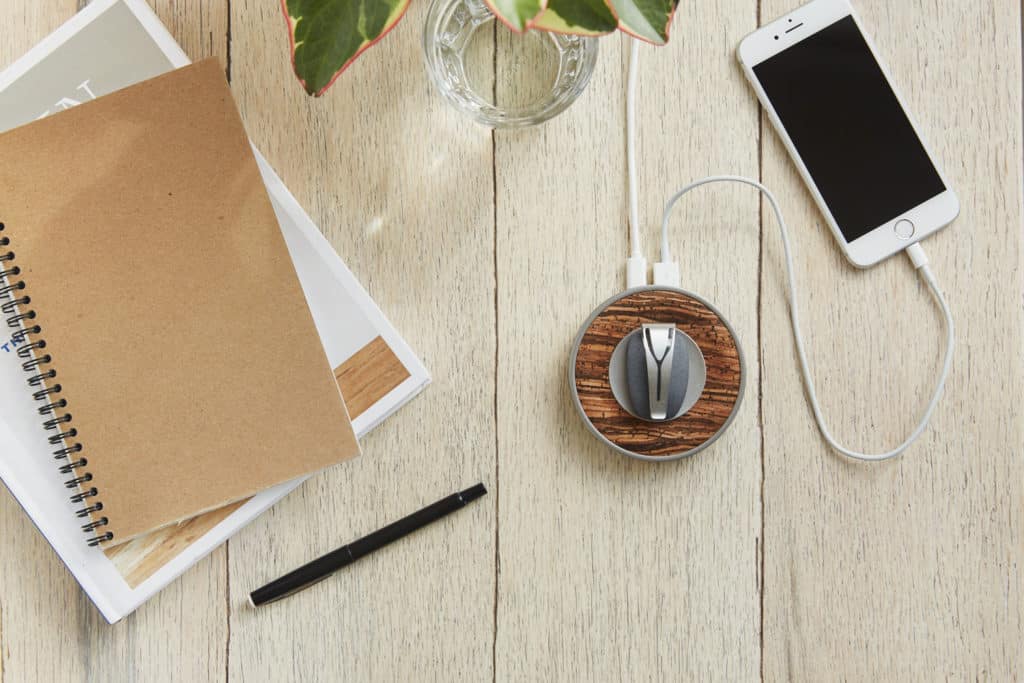 The Spire syncs to your phone using Bluetooth and can integrate with your location, calendar, and photos to help you see locations or situations that made you calm, focused, or tense. I haven't used the feature, but if you use the API integration, the Spire will start to predict when you're going to be stressed based on past occurrences and will send you a pre-emptive warning, which seems pretty helpful.
I love using the app to see "calm," "focused," and "tense" streaks, determined by your breath pattern, and receiving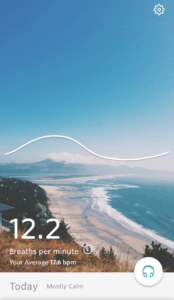 customizable alerts from your phone. I love the tense streak alert! The app tells me if I've been tense for more than 5 minutes. Frequently, just getting the alert snaps me out of it, but if I need more assistance the app has a library of "boosts." These boosts range from 30 seconds to reduce tension to more lengthy guided meditations on the breath and classes on mindfulness. Then there's my favorite feature – the breath wave. It's so simple, yet mesmerizing. On the app's main screen, there is an undulating wave that shows your breath in real time! It's fun to slow my breath and watch it return to a steady pace when it's become shallow and erratic, and so soothing to continue watching that undulating wave. (Interestingly enough, apparently just writing about breathing slowly helped me because I just got a calm streak – cool!). The Spire app has so many features – if you want to read about all of them please visit Spire's site to learn more.
When I look back at my streaks from the day, I'm amazed by how accurate the Spire is at spotting tense moments. I'll have a tense streak exactly when I was filling out annoying paperwork or trying to respond to a frustrating email. Before I started using the Spire, I had no idea that even these relatively brief stressful moments had such a noticeable impact on my body.
My Spire wearable tracker has also helped me being greater mindfulness and focus to my everyday routine. For example, I wear it at the gym. Not only does it track my activity, but I can also see when I was focused. Last week, I hit several short focus streaks while squatting. The lifts felt really on point, then I saw my "focus" streaks and knew why! Being able to see in the app when I was focused and, by extension, when I wasn't, helps me understand why particular lifts or movements did or didn't go well and encourages me to bring greater focus to what I'm doing every single time because, honestly, achieving a calm or focus streak feels a bit like an adult version of a gold star. (Speaking of – my calm streak is still doing strong. Woo!).
By the same token, I tend to achieve focus or calm streaks while practicing yoga, and paying attention to what I was doing during those moments has helped me bring yoga off the mat and into everyday life with simple mindfulness. I promised some mindfulness tips, so here are easy ways to bring mindfulness into your life that I've discovered based on feedback from my Spire!
Bring mindfulness into your everyday responsibilities. This is an easy way to incorporate mindfulness into your life, and it doesn't take any extra time. It doesn't matter if you "don't have time to meditate," an excuse I've given myself, because it doesn't add extra tasks to your schedule! In fact, being present and mindful while completing tasks allows you to finish them more efficiently and get them done right the first time, so practicing simple mindfulness can give you extra free time! Here are a few ideas to get you started:
Instead of shoving breakfast in your mouth while checking your email, try paying attention to each bite. Put down your phone or tablet and savor each mouthful, paying attention to how it tastes.
Instead of browsing the web while brushing your teeth (please tell me I'm not the only one who tries to pull this off!), pay attention to brushing. Focus on the taste, texture, and smell of your toothpaste as you stand in front of the sink. Pay attention as you move your hand or arm and brush every tooth.
Instead of showering quickly while thinking about everything you need to do later, take a minute to savor the experience. Notice how the water feels hitting your skin, savor its warmth and picture your body relaxing in the heat. Notice how your soap, shower gel, shampoo, etc. smell and feel, and luxuriate in the moment.
Don't multitask. Multitasking is a lie. The human brain can't multitask, just switch back and forth quickly. Trying to multitask is a sure-fire way for me to kill a calm or focus streak! And probably earn a tense streak, in the bargain.
Forgive yourself and experience your emotions. Does this inner dialogue sound familiar? "I'm so tense, oh my gosh, why am I freaking out? Why can I never just be calm? What's wrong with my anyway? Why can't I ever stay focused on one thing?" In my experience, dwelling on stress or a negative emotion is a sure-fire way to keep feeling it! Instead, try to acknowledge your emotion and then let it flow through you without judgment. Many times, emotions just need to be acknowledged. Have you ever stopped sulking to just explain to someone why you're frustrated with them, only to find out that simply talking about it dispelled your frustration? Whenever you feel an emotion welling up, don't try to repress it or dwell on it – acknowledge it, forgive yourself for feeling that way, and peacefully move on. It takes practice, but it's such an effective technique!
Take a walk or otherwise get moving/outdoors. No, I don't mean you have to go hit the gym hard! Just take a leisurely walk around, preferably outdoors, but anywhere that's available. Walking does amazing things for your mind! Research indicates walking in a green space may put your mind in a meditative state and boost creativity. A brief walk where you actually pay attention to the act of walking instead of rushing from A to B can soothe your mind and help you work out solutions to problems. Have you heard the Latin phrase Solvitur ambulando? It means "It is solved by walking" and the concept has been discussed in texts dating back to 4th century BC! Renown thinkers and writers, including Thomas Jefferson and Ernest Hemingway, have extolled the mentally restorative virtues of walking. Not that into walking? Take a few minutes to simply relax in your favorite spot.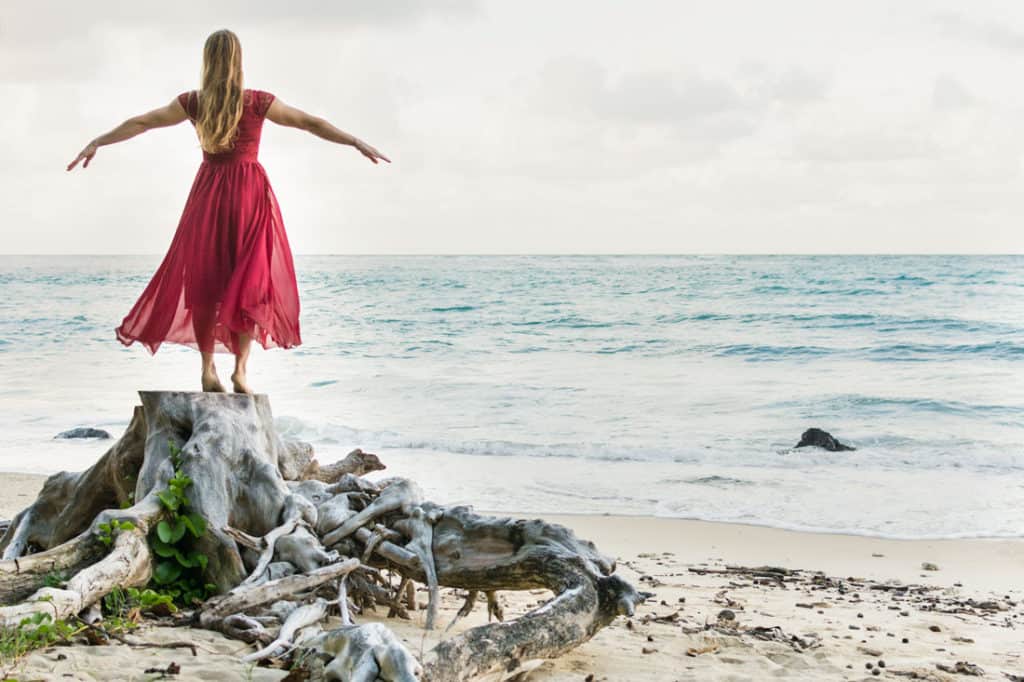 Although this is a sponsored post, I looked into purchasing a Spire several times during the last year and was thrilled to be accepted into the campaign to spread the word. After using it for the past couple weeks, I know if I'd purchased a Spire wearable tracker, I'd be blogging about it, anyway, because it's a really helpful device. If you have any questions, please do stop by the Spire site to read more or ask away! I'm happy to answer any questions I can for you.
Oh, and if you're wondering, the calm streak I achieved while writing ended up 22 minutes long.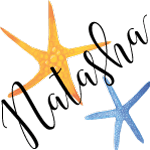 I was selected for this opportunity as a member of Clever Girls and the content and opinions expressed here are all my own.