This post may include affiliate links, which means I may make a commission on purchases made through these links at no additional cost to you.
Oh, Papi Chulo. ¿Estas celoso? Don't worry, I will make these again when you are home. I can't wait to share these Cuban-inspired slow cooker lechon asado nachos with you!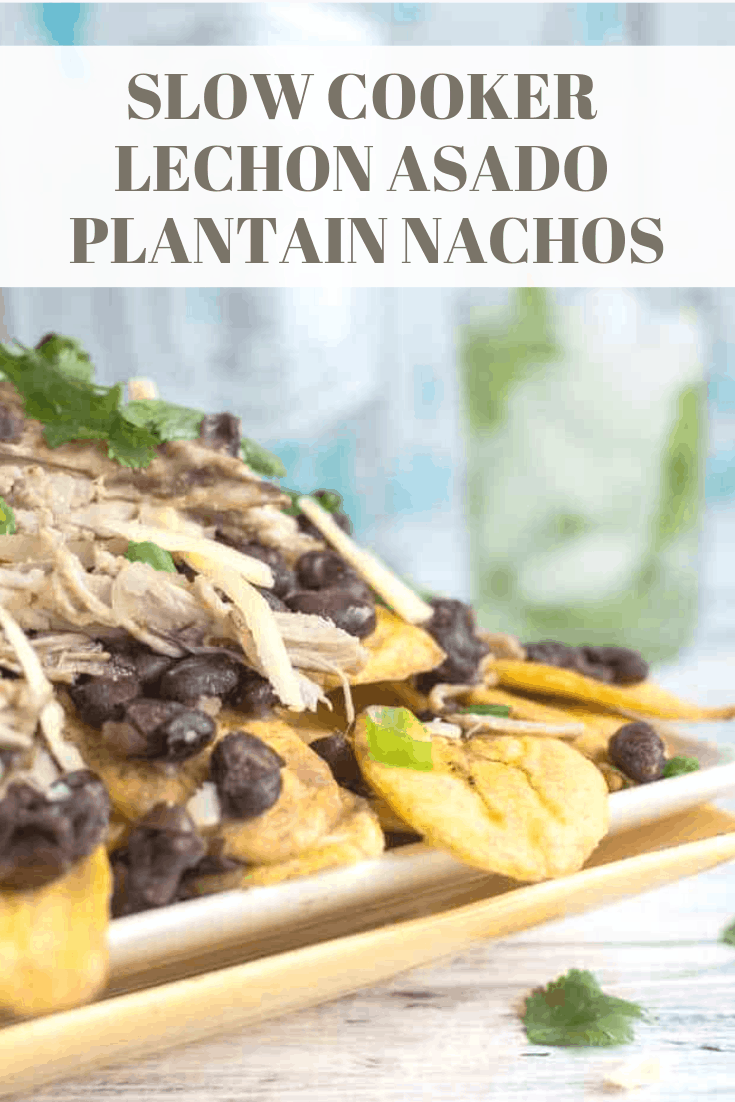 To the best of my knowledge, Cuban nachos aren't actually a thing. I really don't know why, though! If you'd each lechon, black beans, and plantains in separate stacks on one plate, why not make them into one delicious nacho stack? The flavors work amazingly well together and homemade mariquitas (green plantain chips) are an amazing replacement for tortilla chips.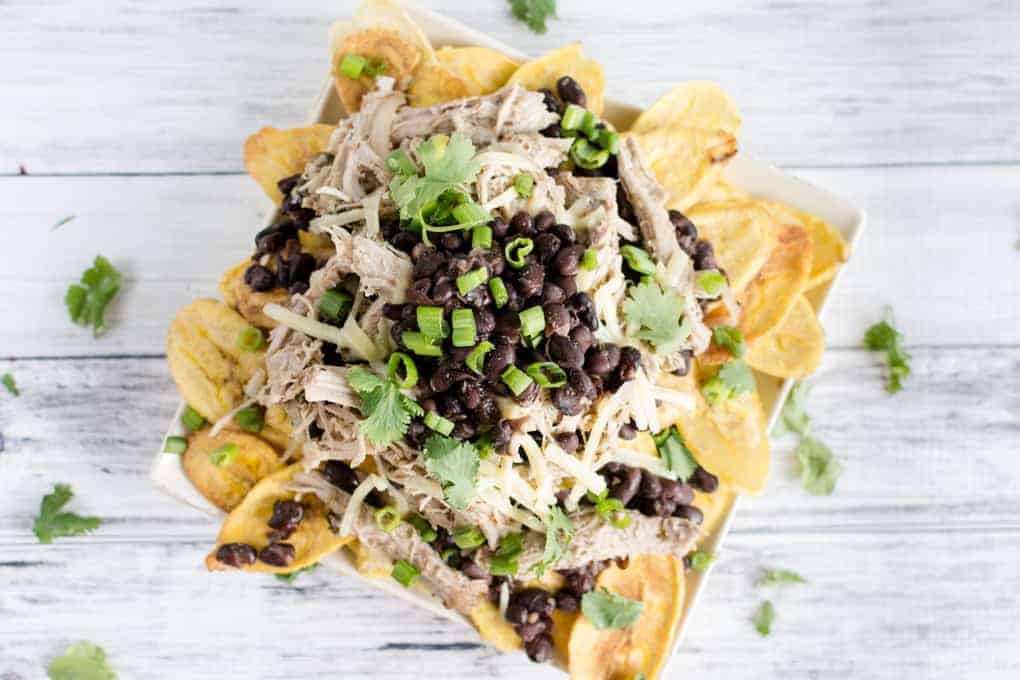 I know I have readers that this won't appeal to for various reasons. Don't worry – I've thought of you! To make it:
Vegetarian plantain nachos – Skip the pork! The black beans and mariquitas are delicious meat free with the toppings.
Paleo plantain nachos – Don't add the black beans. Or the cheese, if you're being strict. The pork and plantains go great together!
Non-pork – (Is there a better way to phrase that?) I know some people who aren't vegetarian but who only eat poultry. Make the slow cooker mojo "pork" as directed but substitute chicken thighs. Mojo chicken is tasty, too!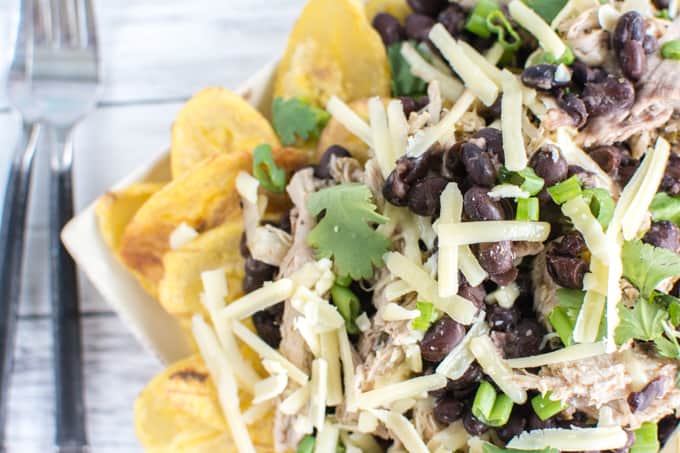 As much as I love making slow cooker mojo pork/lechon asado, nothing can compare to the real deal. Let me tell you, the flight all the way from Hawaii to Florida was worth it for the family New Year's party in Miami last year. Well, usually the music was a little loud for this pair of homebodies, but we wore our New Year's sombreros and had lots of lechon and tamales. My father-in-law has an entire outdoor oven/roaster/thing specially designed for cooking celebratory lechon. Oh, and there were multiple types of homemade flan. I'm not even going to pretend I didn't try them all. Then, of course, there were leftovers the next day. =)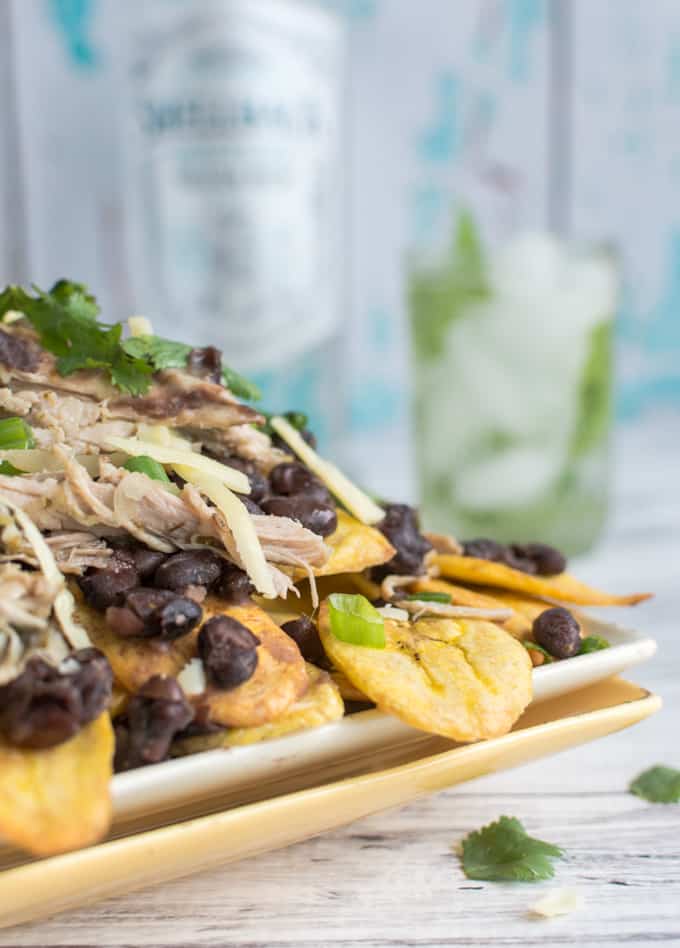 Slow cooker lechon asado nachos
Slow cooker mojo pork isn't quite the same level of "invite the neighborhood and string the party lights" amazing, but it is good and has the added benefit of being something you can put in your slow cooker and leave alone for the day.
The exact amount of time will depend on your slow cooker, and you know your own appliance best. Mine's "high" is about like most "lows," so I just always use high and know it will take almost 8 hours. It should take less than that on high, around that to slightly longer on low. Just keep an eye on it – the roast will let you know when it's ready by being pull apart tender!
Don't let all the subheadings stress you out. You don't actually do much with the pork and the mariquitas can be made as much as a day ahead of time.
You really don't need any special equipment for this recipe, but it is a great place to use a mandoline slicer. I am really poor at cutting things with knives, but I can slice onions and plantains like a pro with my mandoline! I use our Good Grips Mandolin Slicer at least every other day. The thinnest setting is 1.5mm, or 1/16″. I use this setting for the onions and plantains. To get the best plantain chips for your nachos, cut the plantains on a diagonal. These are some of the un-baked plantain chips here: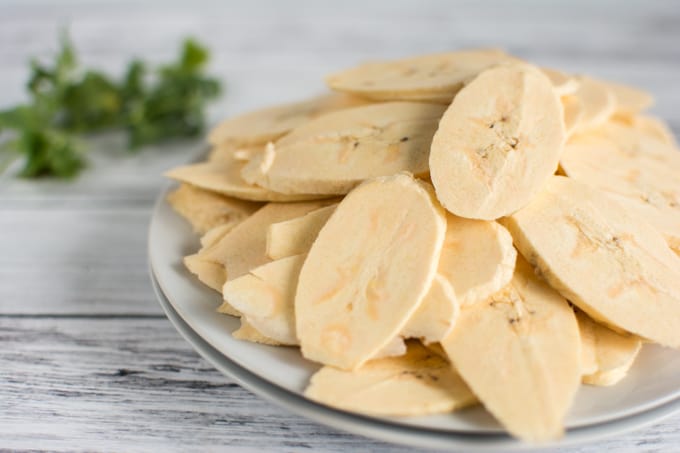 The part of me that uses My Fitness Pal says you should cook one plantain per two people. When I put this recipe into MFP using the exact weights for the ingredients and toppings I used, it was almost 600 calories per serving at four servings. Now, you probably aren't going to eat 1/4 of the pork in one go, but you'll want to have more chips than that!
I know how delicious the mariquitas are, so I'm going to guess you'll want a whole plantain all to yourself. How many plantains you make is your call the meat and beans are certainly enough for four people, probably with some leftovers.
Yield: 4
Cuban-Inspired Slow Cooker Lechon Asado Plantain Nachos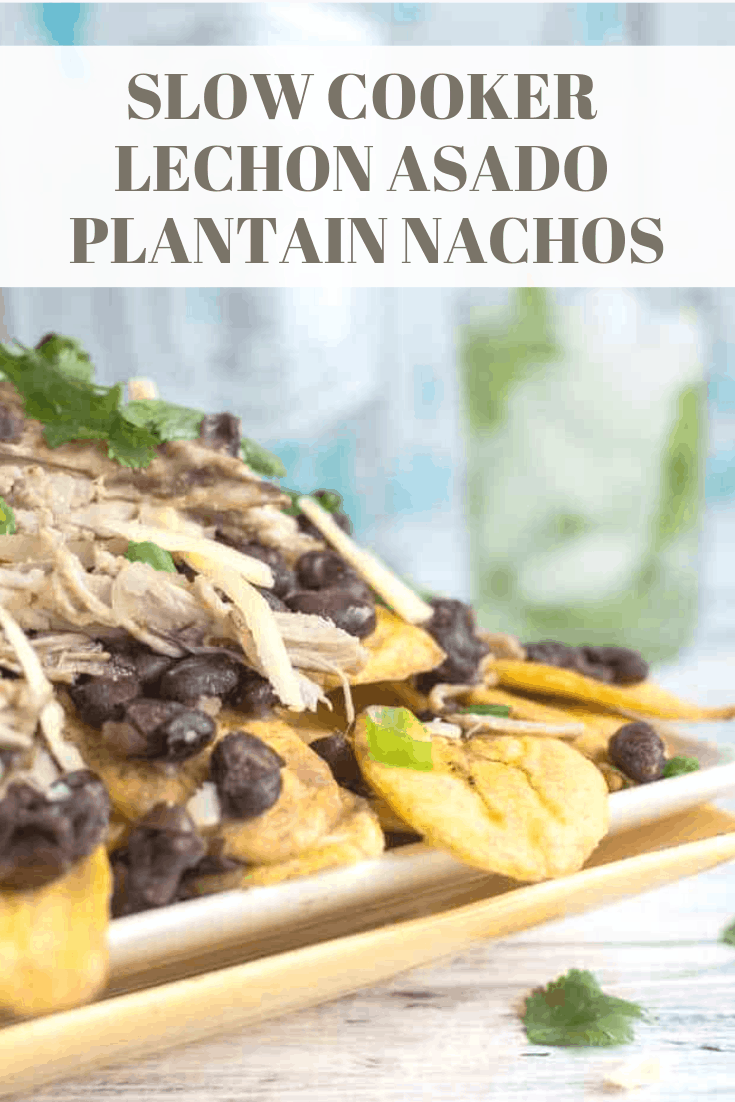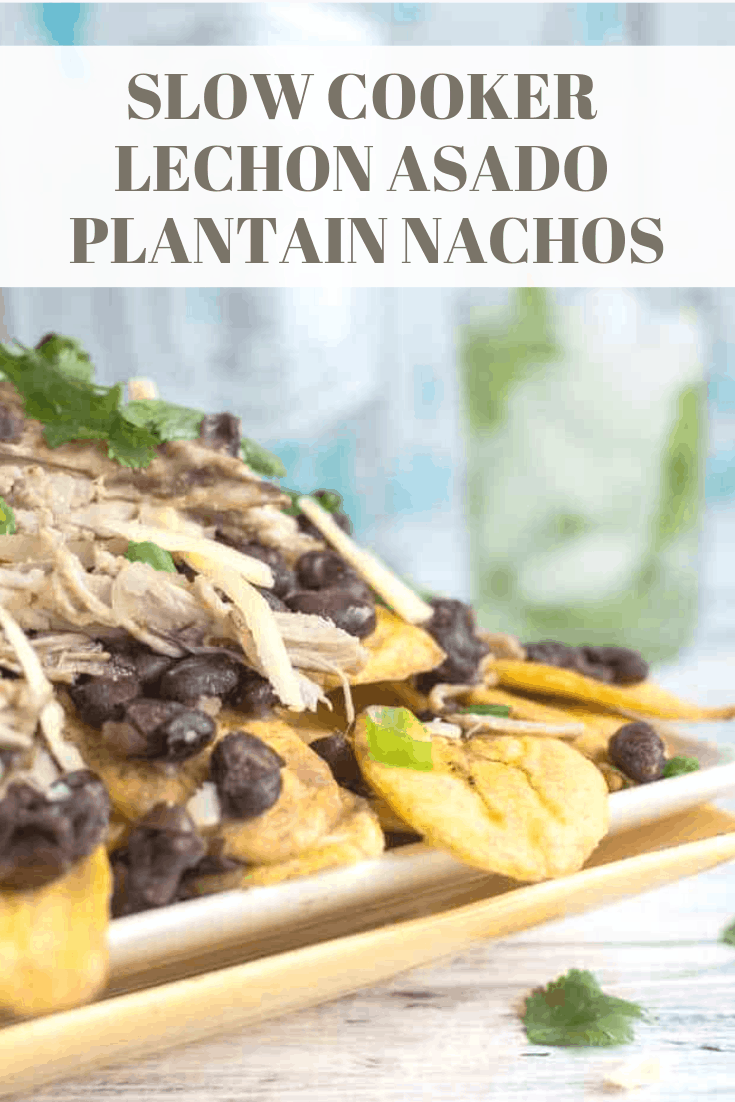 Prep Time 15 minutes

Cook Time 5 hours

Total Time 5 hours 15 minutes
Ingredients
For the mojo pork
2 -3 pound boneless pork roast, trimmed of excess fat
1/4 cup lime juice
1/4 cup lemon juice
1/2 cup orange juice
4 teaspoons minced garlic
2 teaspoons dried oregano
1 1/2 teaspoons cumin
1 teaspoon freshly ground black pepper
1/2 teaspoon salt
1/4 cup cilantro, roughly chopped
1/2 - 1/4 of a medium red, white, or yellow onion, sliced very thin
For the mariquitas
2 green plantains
2-4 tablespoons olive oil
Kosher salt, if desired
For the beans
1 (15 oz) can of black beans, rinsed and drained
1/2 - 1 cup water
1 teaspoon minced garlic
½ teaspoon thyme
½ teaspoon cumin
¼ teaspoon salt
¼ teaspoon freshly ground black pepper
Topping suggestions
2-4 green onions, sliced
Freshly grated sharp cheddar cheese
Additional chopped cilantro
Chopped lettuce
Plain Greek yogurt (a delicious, healthier alternative to sour cream!)
Instructions
For the mojo pork
Combine the lime, lemon, and oranges juices in your slow cooker. Stir in all the seasonings, including the onions, then add the pork roast. Spoon some of the sauce over the roast.
Cover and cook until the meat is almost falling apart tender and can be easily shredded with a fork. This should take 5 or 6 hours on high, 8 or more on low. Use your knowledge of your own slow cooker and the meat's tenderness to decide when it's finished! Open the slow cooker to spoon sauce over the meat periodically.
Once the meat is tender, shred it with two forks, stir it in the mojo sauce, and allow it to continue cooking while you prepare the beans.
For the mariquitas
Preheat your oven to 400ºF.
Cut the ends of the plantains then slice through the thick peel, lengthwise, with a knife. Remove and discard the peel.
Slice the plantains on a diagonal to form nice, long "chips." If cutting by hand, try to make them as uniformly thin as possible. If cutting on a manodline, use the thinnest setting.
Place the plantain slices in a medium bowl, then add 2 tablespoons of olive oil. Toss to coat. If all the plantain slices don't have at least a light coating of oil on both sides, add up to 2 additional tablespoons of oil. Add a light dusting of kosher salt, if desired.
Place the plantain slices in a single layer on a rimmed baking sheet. If you have two sheets, you can bake all of them at the same time. If you have one rimmed baking sheet, you'll probably need to make two batches.
Bake the plantains until they're golden brown and crispy, but not dark brown and burned. This should take 11-15 minutes for thin (1.5mm) slices, up to 20 minutes for thicker slices.
Remove the mariquitas from the oven and allow them to cool on paper towels. Store in an airtight container once they are completely cool.
For the beans
Once the pork has been shredded, or is almost tender enough to shred, combine the beans, water, additional garlic, thyme, cumin, salt, and pepper in a medium saucepan. Bring to a simmer, then cover and reduce heat to medium-low.
Allow the beans to simmer, stirring occasionally, for about 15 minutes. Technically you can eat them whenever you just get too hungry, but simmering allows the flavors to mix and work their magic.
If the beans are in danger of becoming dry before the pork is ready, just add a small amount of additional water.
Lightly mash about half of the beans with the back of a large spoon or spatula by simply pressing down into the pot.
Serve the beans with a slotted spoon to allow the extra liquid to drain out so your mariquitas don't get soggy!
For the nachos
Layer the mariquitas, mojo pork, black beans, and your toppings as desired.
Serve and enjoy!
Neither of us are big drinkers. As Papi Chulo once told a waiter "Look at us! We're tiny!" That having been said, I know exactly what drink would go well with these mojo pork plantain nachos: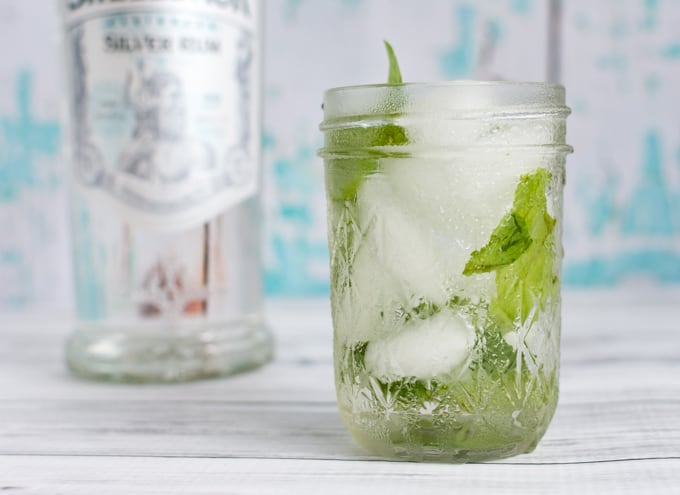 And, yes, we really do use Greek yogurt instead of sour cream, and I actually did put chopped lettuce on my mojo pork nachos! Even if there is such a thing as Cuban nachos, I can pretty much guarantee you this isn't part of the dish. I think it's tasty, though, and there are no Cubans home to complain.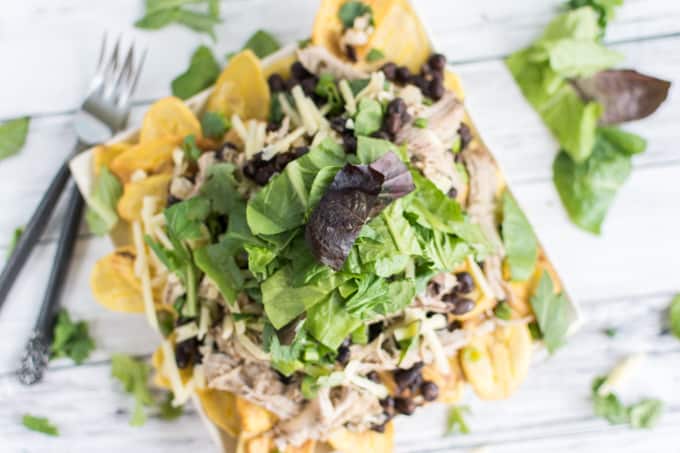 If you like Cuban recipes, then you'll love this easy oven roasted Cuban pork tenderloin: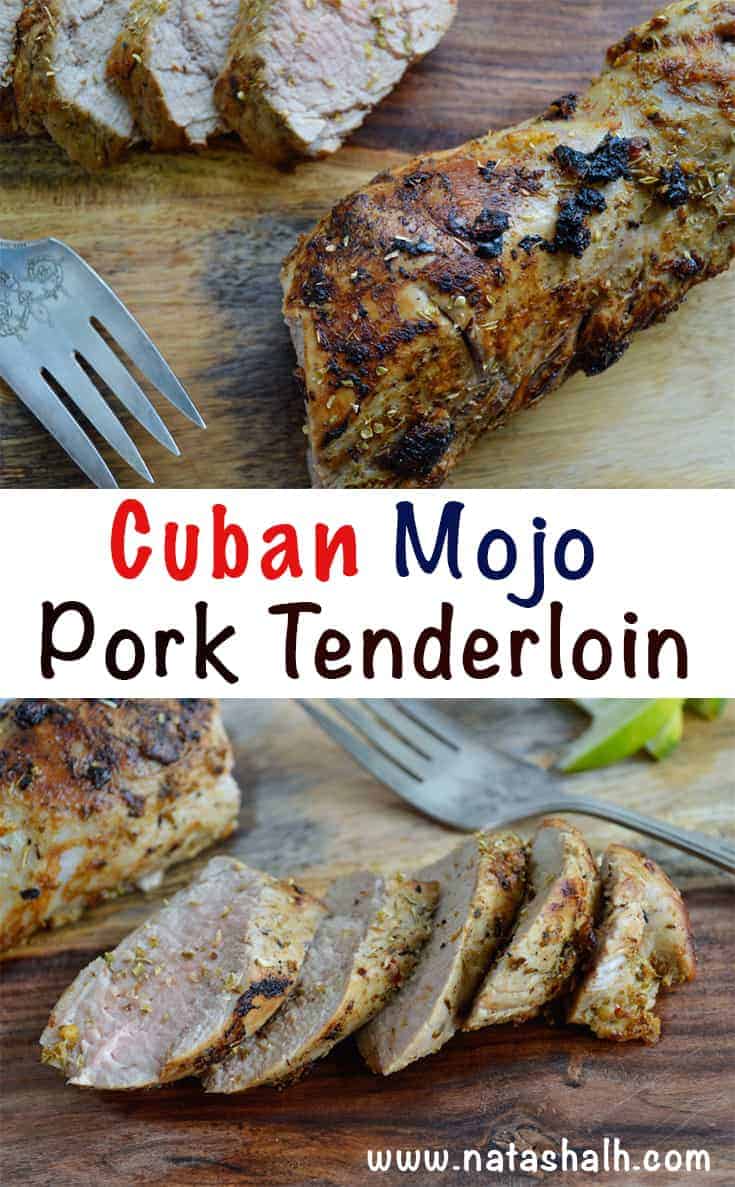 And these oven baked sweet plantains!