This post may include affiliate links, which means I may make a commission on purchases made through these links at no additional cost to you.
Welcome to this tutorial on how to make an easy homemade diffuser with Himalayan sea salt!
Y'all know that I am all about using natural scents from essential oils instead of artificial scents whenever possible! Today I'm sharing a super easy homemade diffuser tutorial that's perfect for adding warmth and delicious scents to your home.
Since it's November at the time of writing, I'm including some diffuser blends for the holidays. I hope you enjoy this crazy easy homemade diffuser and warm holiday scents in your home!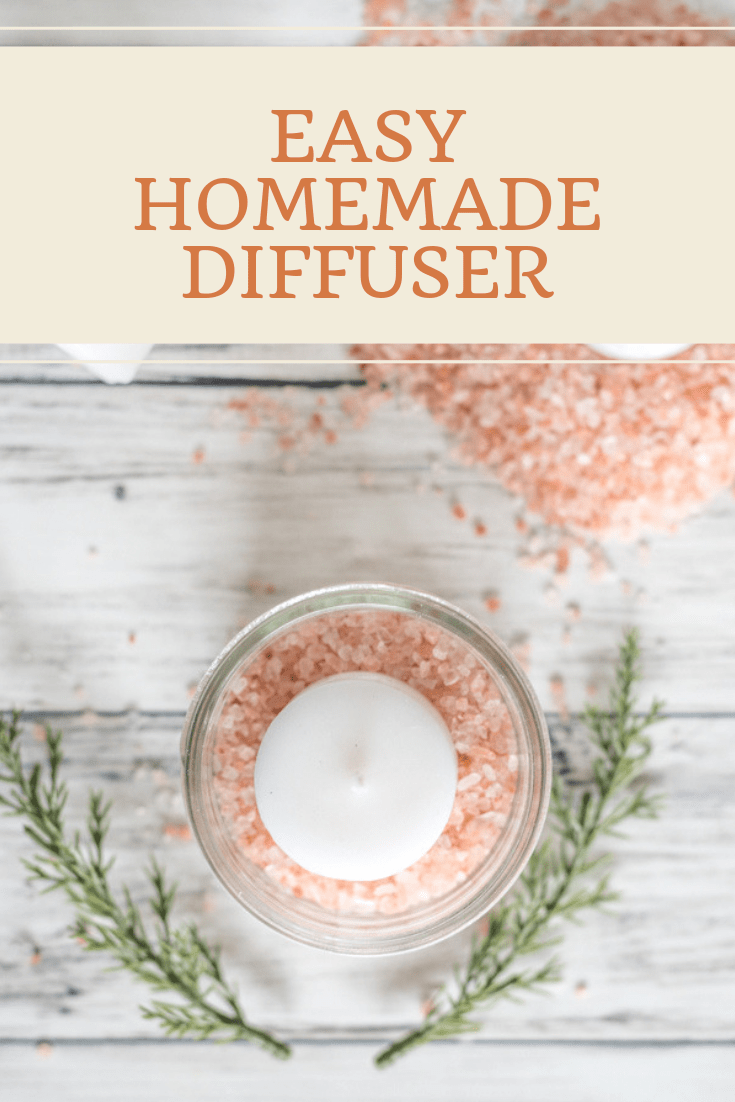 Materials needed for an easy homemade diffuser
A glass jar or ceramic bowl. I prefer a small glass jar or the cut off bottom of a glass bottle. You can learn how to cut glass bottles the best way in this post!
Coarse natural salt crystals. You can use pink Himalayan salt or other sea salt crystals of your choice. Exactly how much you need depends on the size of your jar – you'll need about 1/4 cup each for small jars like the ones shown.
Your favorite essential oils – ~10 drops per 1/4 cup of salt
An unscented votive candle – optional but recommended
A separate small bowl for mixing – optional but recommended
A spoon,

popsicle stick

, etc. to mix with if your essential oils should't be applied topically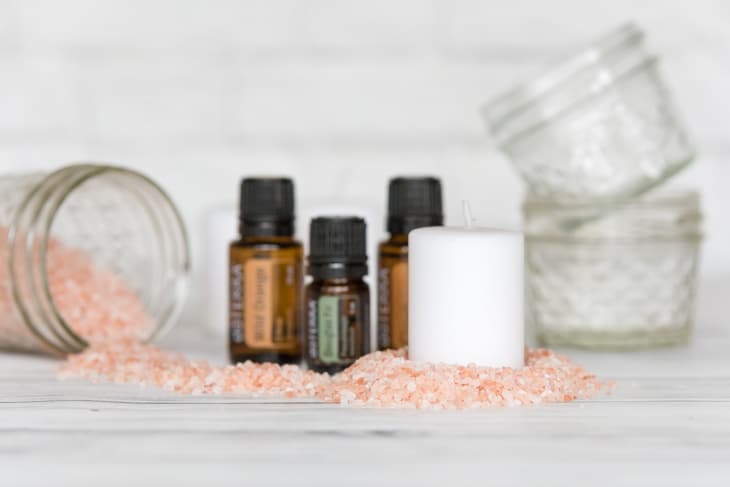 How to make a homemade diffuser with Himalayan salt
Pop your votive candle in your jar or bowl and add enough salt to come about half way up the candle.
Remove the candle and pour the salt into your mixing bowl. Repeat for any additional remaining jar/candle combos.
Add your essential oils a drop at a time and stir to combine. I recommend stirring with a popsicle stick or spoon – something other than your finger! Many of the warm, holiday scented oils are quite "hot" so you don't really want to get them on your skin when they're undiluted. For some holiday essential oil blend ideas, just scroll down a little bit more!
Place your candle back in the jar. It's important for it to rest flat on the bottom to help avoid wax drips. Spoon your salt mixture around the candle until the salt comes about half way up the candle's side.
Light your candle and enjoy! Please keep a close eye on your diffuser and never leave it burning when you're out of the house. When the scent starts to fade, simply drop a little more essential oil onto the salt and, of course, use a new candle when necessary!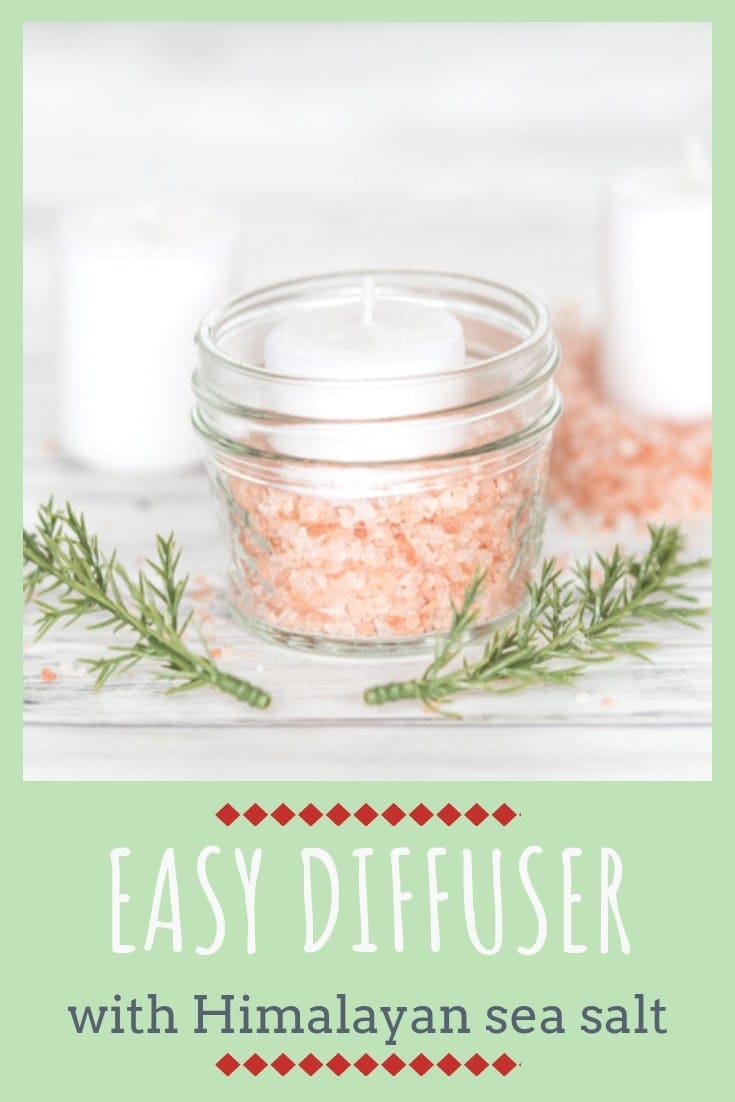 Essential oil blends for the holidays
There are so many delicious, warm essential oils that are perfect for fall and winter! Adjust proportions according to your oils, their particular scents, and your personal preferences. Many of the 'warmer' scents, like clove and cinnamon, are quite strong and can quickly overpower other scents.
To make your home smell like gingerbread: 5 drops ginger, 3 drops cinnamon, 2 drops clove
To make your home smell like a Christmas tree: 4 drops balsam fir, 2 drops cedar wood, 2 drops cinnamon (or just mix and match you favorite pine-y essential oils!)
Orange pomander: 6 drops orange, 2 drops clove
Winter warmer: 4 drops orange, 2 drops cinnamon, 1 drop clove, 1 drop ginger
Gifts of the Magi: 4 drops frankincense, 4 drops myrrh
Christmas morning: 4 drops balsam (or your favorite pine family oil), 2 drops frankincense, 2 drops bergamot
Of course, this diffuser will work with your favorite essential oils, no matter the season!
Don't lose track of this post! Pin it to your favorite board now!

More DIY essential oil diffusers
This is my third essential oil diffuser tutorial! I've also written about how to make a reed diffuser: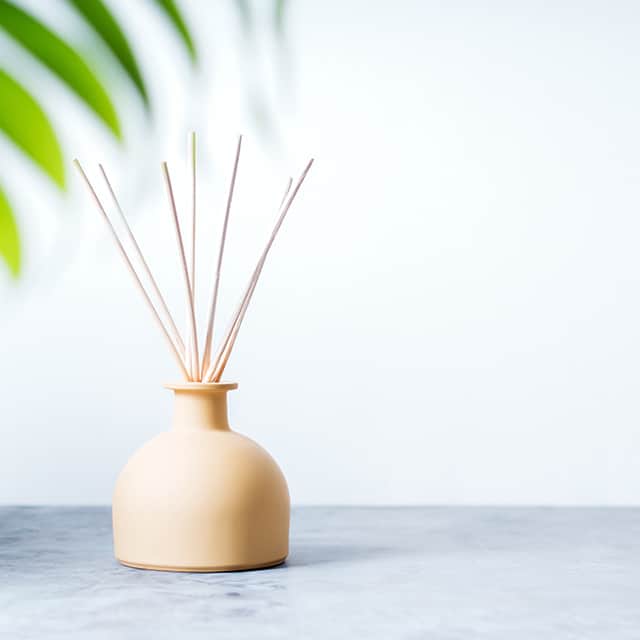 And how to make a water bead diffuser: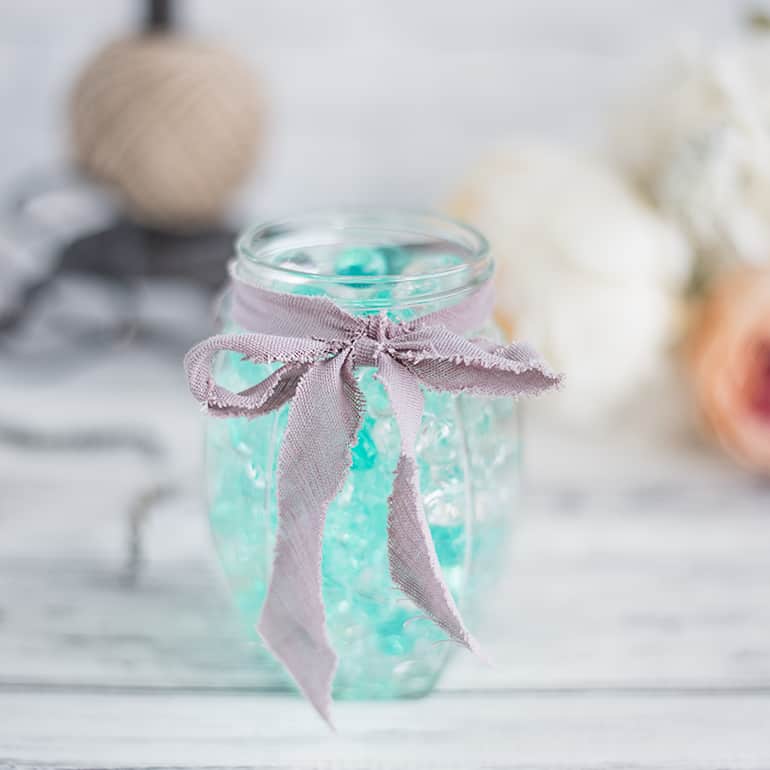 I hope you enjoy your easy homemade diffuser with sea salt and that it brings warmth & holiday joy to your home!