These free printable alphabet matching cut and paste worksheets are a fun, low prep way to help your little learner practice their letters and fine motor skills. They can be used as cut and paste activity pages or turned into a file folder game for repeated use. No matter how you decide to use these alphabet matching worksheets, I hope you enjoy!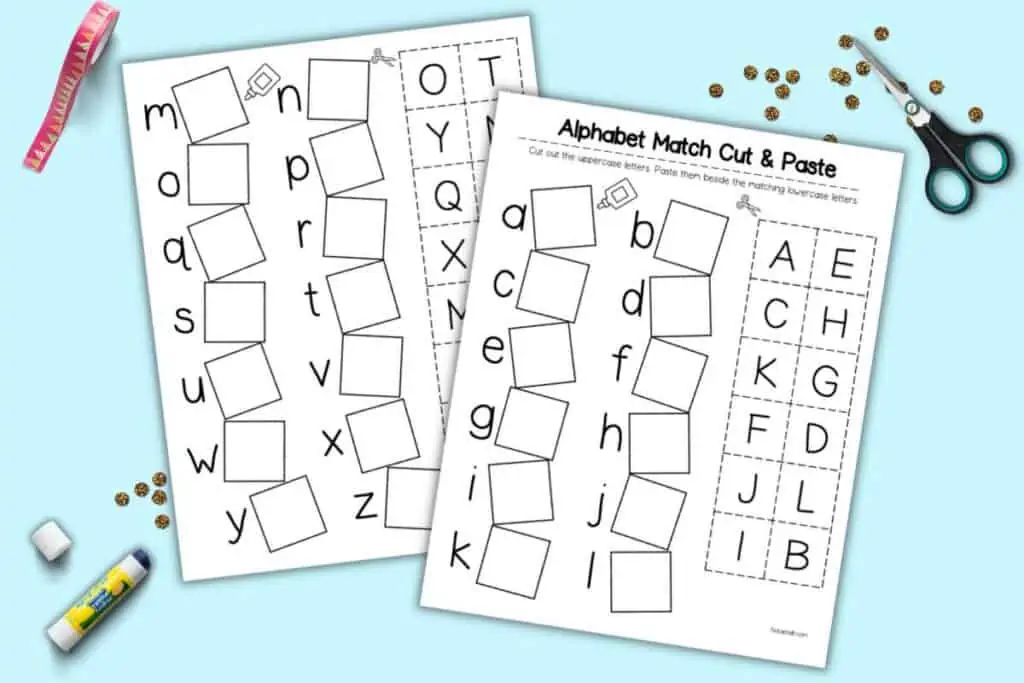 This post may include affiliate links which means I may earn a commission on qualifying purchases at no additional cost to you.
How to use cut and paste worksheets
Most kids love cut and paste worksheets, but they can require a little supervision. Please make sure your child knows basic scissor safety and keep an eye on them while they work.
Materials needed:
Your free printable alphabet match cut and paste worksheet (look for the row of purple arrows lower down in the post to snag your download)
Child-friendly scissors (we use these Fiskars blunt-tip scissors)
Nontoxic glue (I prefer white glue, but you could use glue sticks)
Small cup or glue pot and a paintbrush (optional but recommended)
Plastic work tray and art smock (optional but recommended)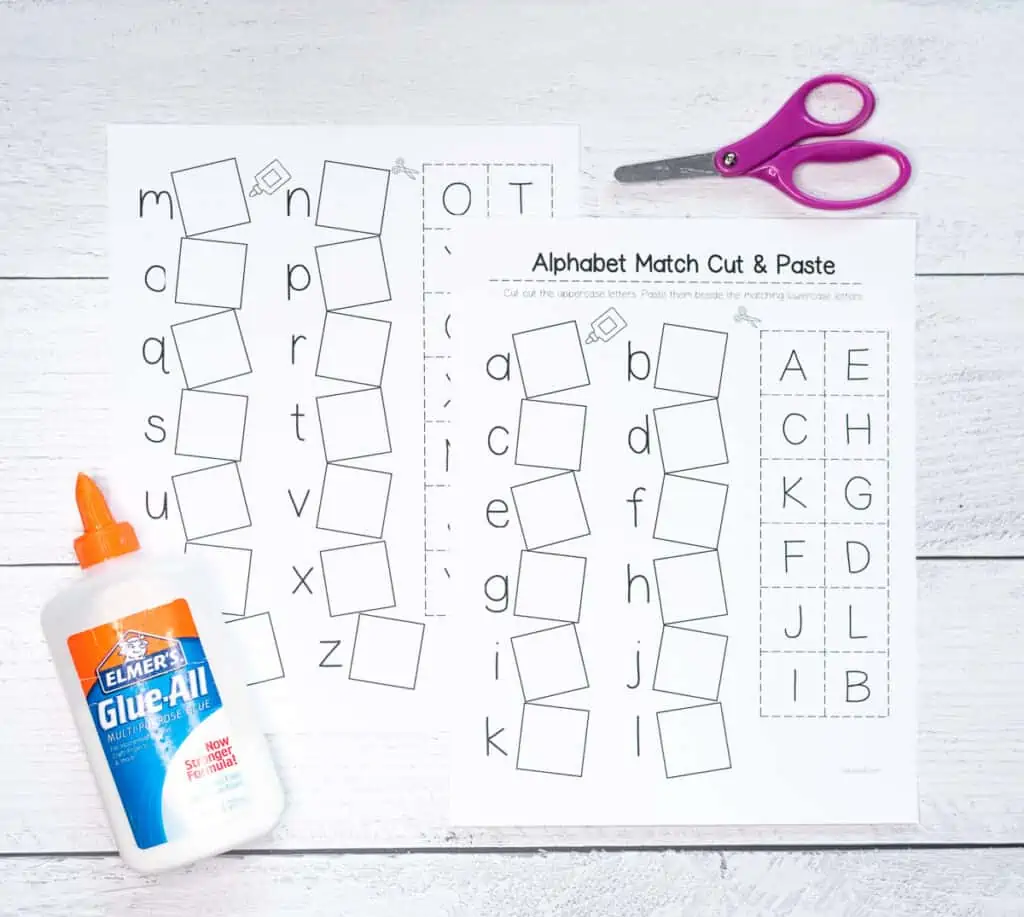 To reduce mess and increase fine motor skills, we typically use a small cup of glue and a paint brush instead of squirting glue straight out of the bottle. We also encourage the use of plastic work trays for easy clean up and art smocks to reduce glue-covered clothing. Of course, my daughter is using neither in the photo below. ¯\_ (ツ)_/¯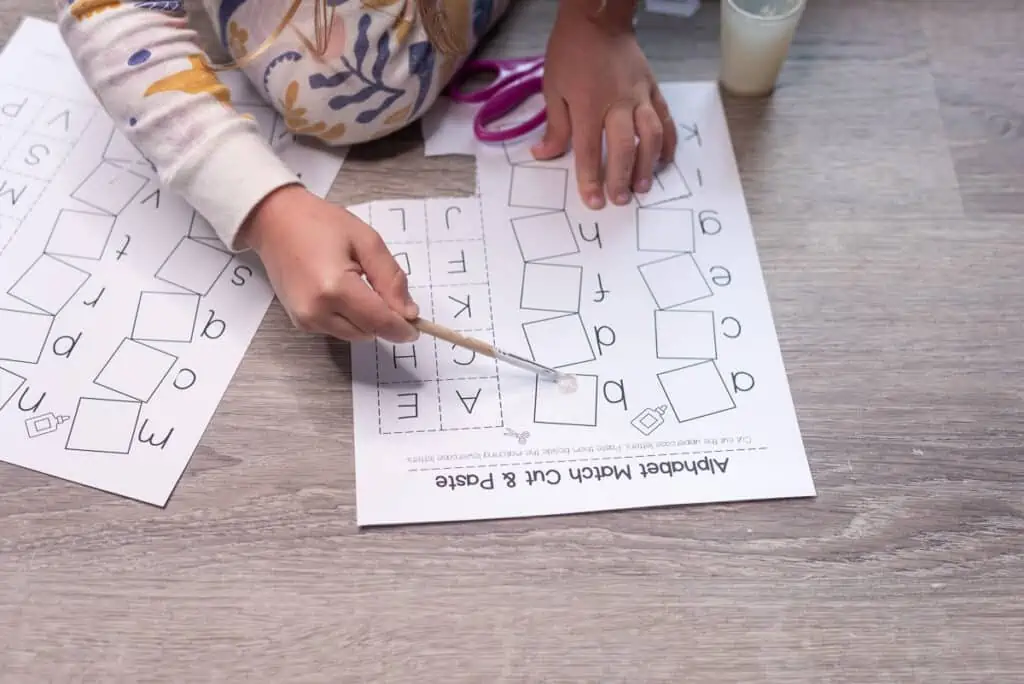 How to use cut and paste worksheets as a file folder game
These worksheets are easy to prepare and use as a file folder game of reusable center activity.
Materials needed:
Free printable alphabet matching worksheets (download link is lower in the post)
Cardstock or paper
Laminator and pouches
Scissors and/or paper trimmer.
Tape
Hook and loop dots (or play dough/poster putty)
Turning a worksheet into a file folder game
Laminate the pages first, then cut out the uppercase alphabet tiles.
Tape the lowercase letter sheets to your file folder. Add hook and loop dots, if using, to each blank square and the back of each uppercase alphabet tile. You can skip the hook and loop dots and have your child/students use poster putty, instead. We use play dough from the recipe in this post with free printable alphabet play dough mats.
I use the "I do, we do, you do" method for new activities. First you model how to match the letters, then you have your child help, and finally they do it independently. If your child or students are already familiar with this type of activity, you can skip this step.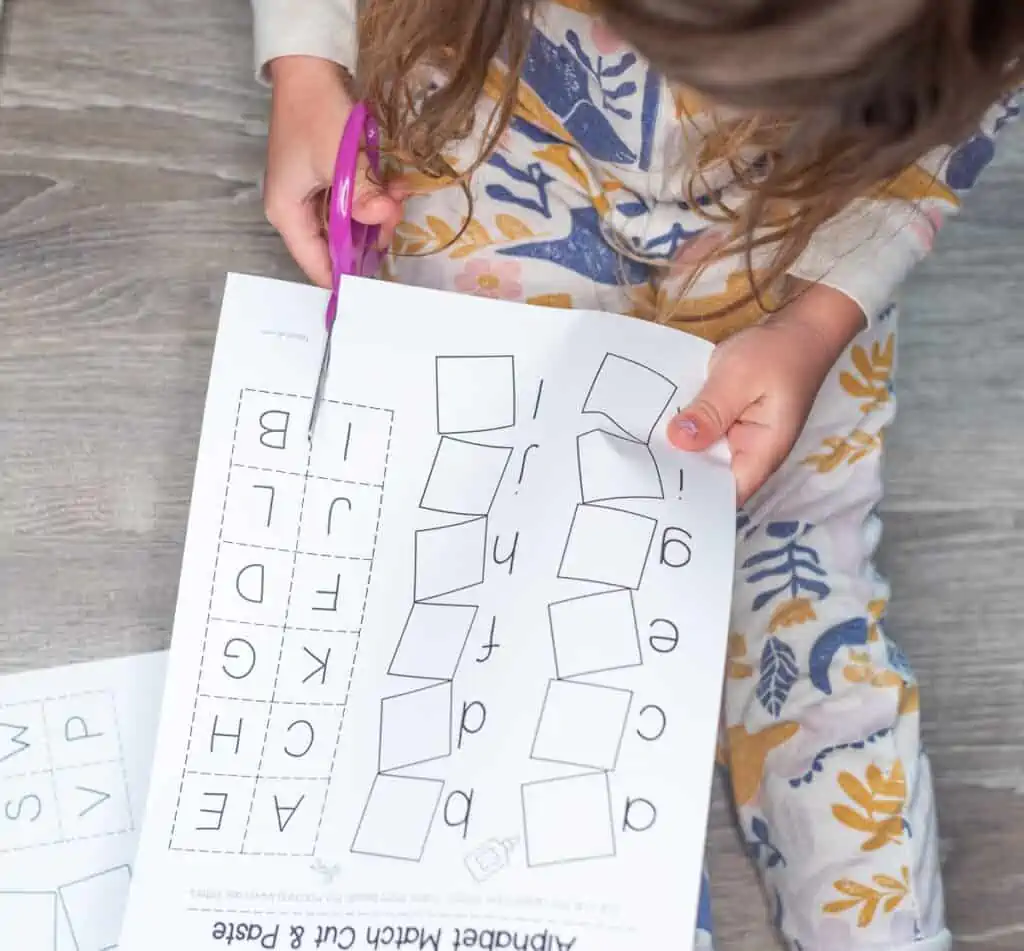 Printable letter matching worksheet download
These alphabet matching worksheets are licensed for personal and single classroom use. They are not licensed for redistribution (of the digital files or printed pages). Please refer your friends and colleagues to this post so they can download their own copies.
If you agree to this license, you may click below:

I hope your little learner enjoys these alphabet matching cards as much as mine does! Be sure to grab these additional alphabet-themed printables while you're here:
Alphabet Emergent Readers
The series of printable alphabet books is a work in progress. Download additional books that are currently available by following the links below.
Check back again soon for more printable books - I'm working hard to get them created and shared so you can prepare for the school year ahead.