This free printable letter C book is a fun and easy way to improve your child's familiarity with soft and hard c sounds, common sight words, correct letter formation, and even fine motor skills.
This free letter c book can be used to introduce the letter c to preschoolers and to build reading skills for pre-k and kindergarten students. It features printer-friendly black and white graphics and ten pages of letter c learning fun.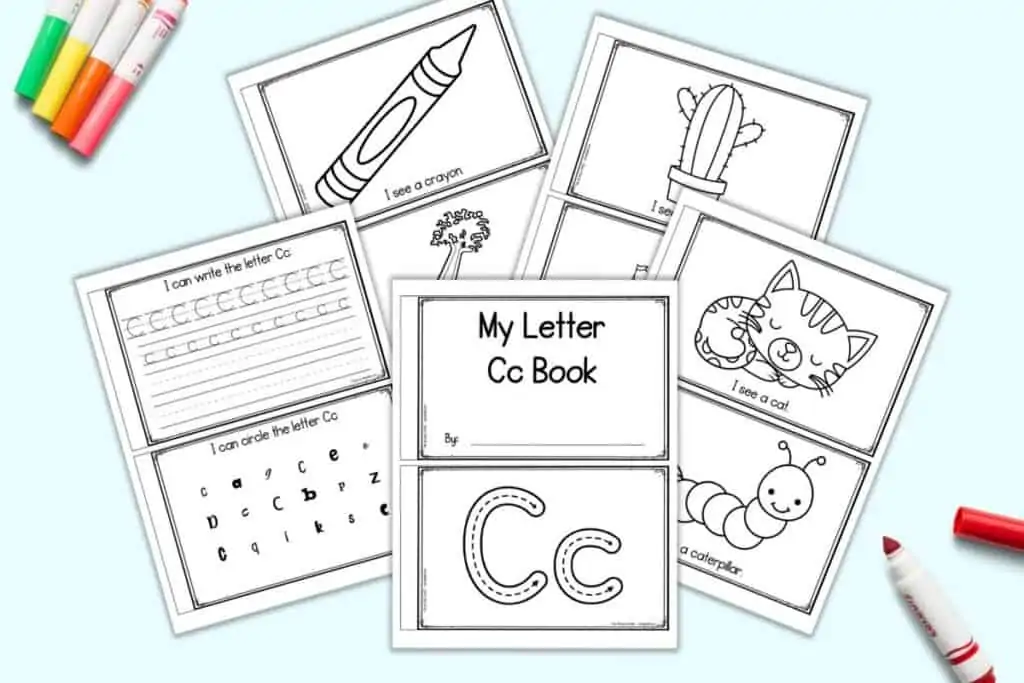 This book mostly features hard c words, but does have "celery" to teach the soft c sound, too. As a general rule, if a c is followed by a, o, or u, the c is hard. If the vowel after is e, i, or y, it is soft.
In addition to six "I see a…" coloring pages, the letter c book also has space to trace and free write letters, correct letter formation graphics to trace, and a page to find and circle uppercase and lowercase c's in assorted fonts. Working with different fonts is important and helps your child recognize that the same letter can appear in different ways.
Please excuse the uncharacteristically poor photos in this post. At the time of writing, I'm unpacking from a move. I had to use my phone camera instead of my "real" camera and it just isn't the same.
The entire alphabet is available in one handy file. Snag the entire bundle now for just $3: (Keep scrolling to the row of purple arrows for your individual book free download.)
This post may include affiliate links which means I may earn a commission on qualifying purchases at no additional cost to you.
Materials Needed
You don't need much to print your own letter C book: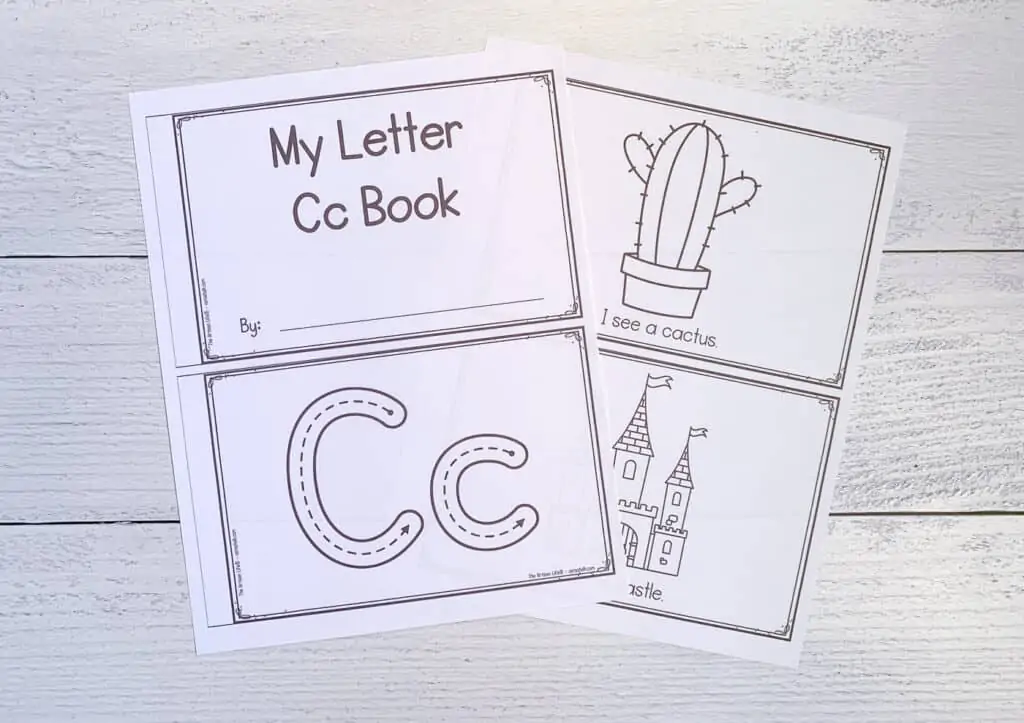 How to print and prepare the letter c emergent reader book
First, grab your download from lower down in the post.
Next, print the pages you want. If you don't want to use every sheet, that's perfectly fine.
Cut out the pages. A paper trimmer or paper cutter is fastest, but scissors can work, too. Make sure to cut around the entire outer rectangle, not just the inner decorative box. There is a margin on the left-hand side of each page for stapling or hole punching. The rectangles should line up across all the pages so you can cut multiple sheets at the same time with a powered paper cutter or guillotine-style paper cutter.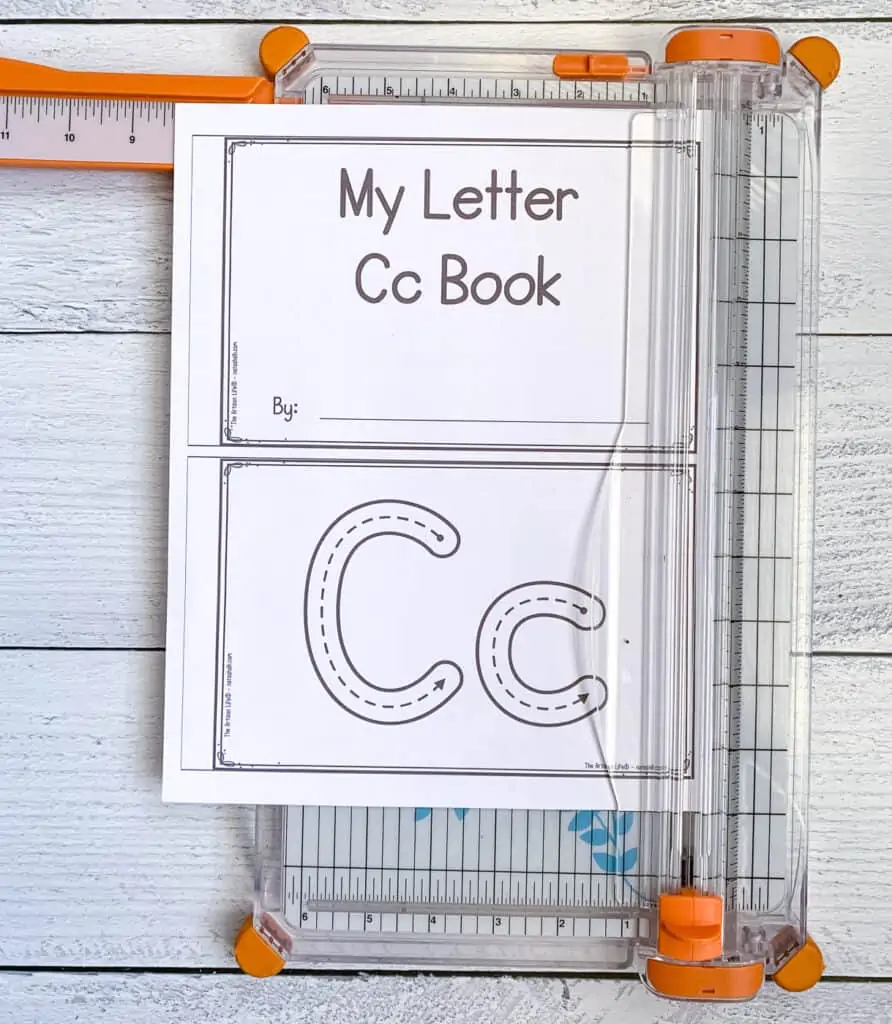 Staple the pages or hole punch to make a flip book with binder rings. Any full sized stapler should work fine, but a mini stapler probably won't make it through all ten sheets. The letter a book is shown below (my stapler was also buried in a moving box when I wrote this post.)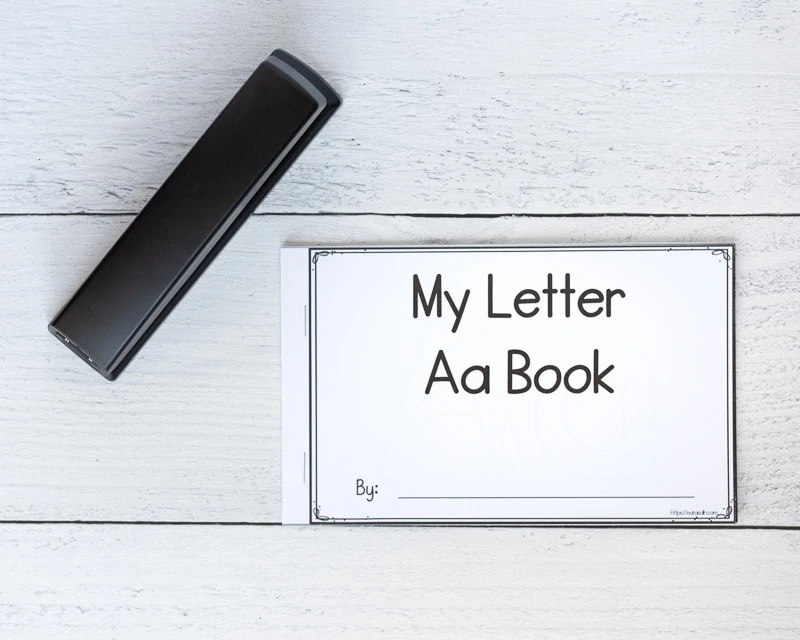 Use with your little learner and enjoy! There are many ways to use this printable letter c book. Here are a few ideas:
Have your child trace the letter formation graphics with a finger, then with a crayon or pencil.
Make the letter c find with different fonts page reusable by having your child cover each C or c with a manipulative instead of circling or dotting the letter.
Read the book aloud to reinforce letter c vocabulary.

You may want to point to each word to reinforce left to right reading order and promote sight word recognition.

Have your child work on independent reading with this simple reader. They may find pointing to each word helpful.
Let your child color the pages.
Make sure to download the earlier alphabet books in the series! The rest of the alphabet is in the words, so be sure to check back again soon.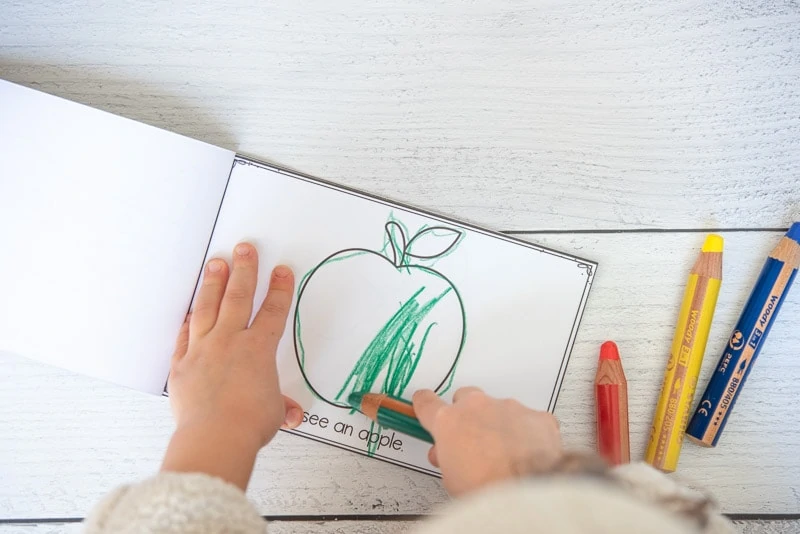 Free printable letter c emergent reader book download
Like all free printables on The Artisan Life, this book is licensed for personal and single classroom use. You are welcome to print and use it with your own children, students, therapy clients, homeschool co-op group, etc.
You are not licensed to redistribute the files or printouts to others adults for use with their children or students. Please refer your friends and coworkers to this post so they can download their own copies.
If you agree to this license, click below:

Preschool Learning Printables
Download these additional free activities to keep your little one busy and learning without tons of prep time.