These free printable bathroom passes and hall passes are available in a variety of formats and sizes to help you manage your student's bathroom trips!
Classroom management is no joke. There are many different ways of managing bathroom breaks, but no matter which way works best for your classroom, hall passes and bathroom passes are a must so that hall monitors can tell your student isn't just skipping class.
In this post, I'm sharing a variety of free printable bathroom passes with and without space for the student's name, bathroom passes with a number of trips allowed, and hall passes. There are also three different sets of graphics so you can pick whichever works best for your classroom!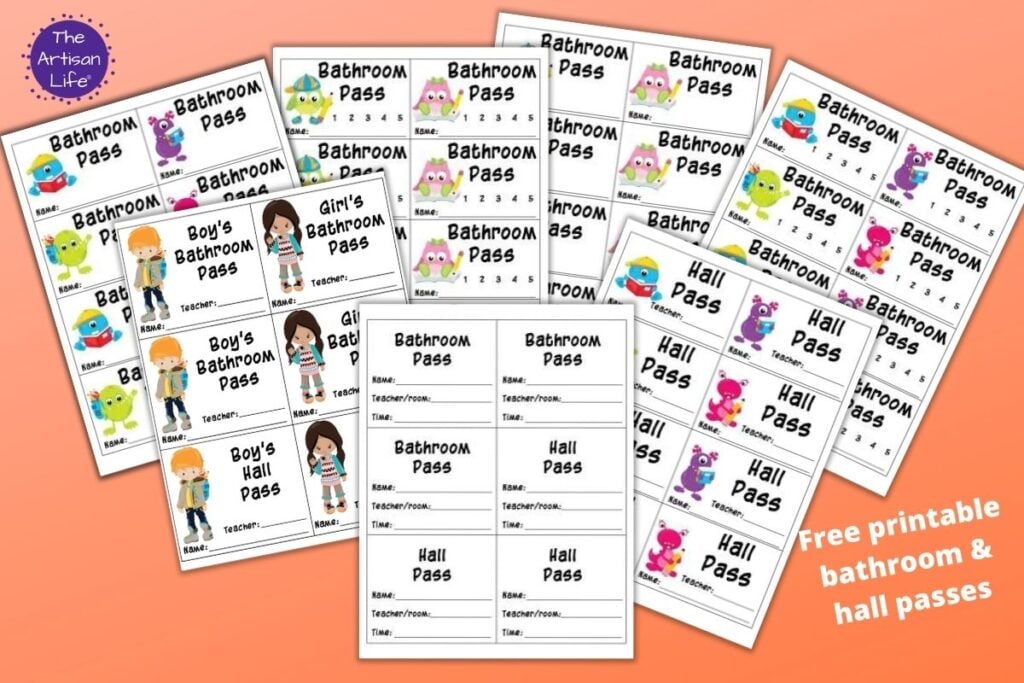 This post includes affiliate links, which means I may make a commission on purchases made through links at no additional cost to you.
How to use these printable bathroom passes
As you probably already know, bathroom passes are most durable they're printed on cardstock and laminated.
If you want a more vibrant image, use presentation paper. It's a heavy weight paper that's coated so you get more vibrant prints.
The difference is more noticeable in real life, but in the picture below the bingo card on the left was printed on presentation paper while the bingo card on the right was printed on cardstock.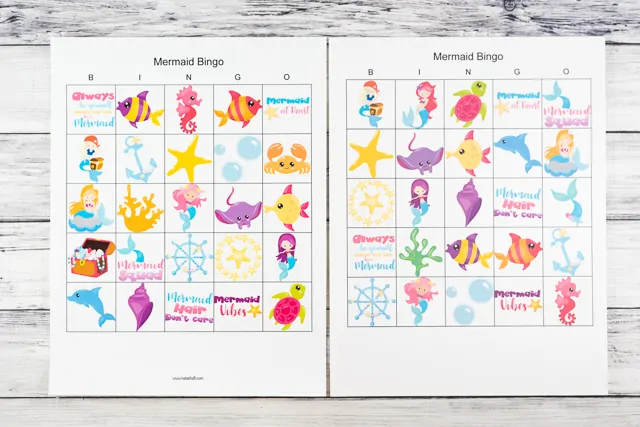 It takes a little more effort the first time around, but it can save you from using up your copy allowance or personal supplies printing new passes all year long. Sturdy, laminated passes can last for years! You can also wipe down laminated passes with Lysol wipes to help prevent germs from spreading.
You can punch a hole and attach the pass to a large keychain, like these 4″ boys' and girls' bathroom keychains, or clip it on a safety lanyard.
If you do laminate your passes, make sure to either write your name on the pass before laminating or use your wet erase markers after laminating.
Free printable bathroom passes & hall passes
These bathroom and hall passes are free for your personal and classroom use. I just ask that you please not directly link to or redistribute the files. Instead, simply share this post so your friends and colleagues can download their own copies.
It would also mean a lot to me if you could Pin this post to your Pinterest account to help spread the word. As a former classroom teacher, I know how scarce time and resources can be. Pinning these free printables will help other educators save time and money!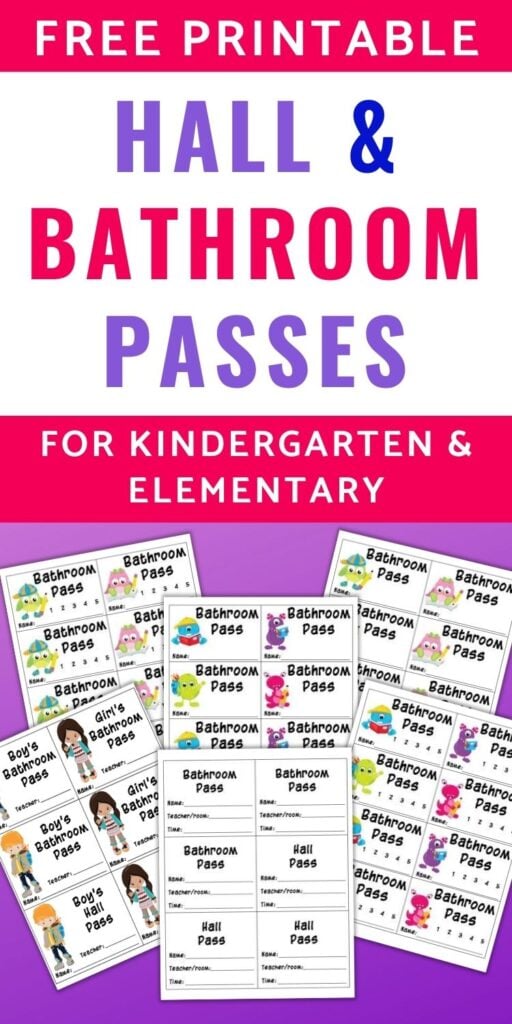 Alright, let's get to the printables. These images are just low resolution previews. Please use the links to download the high resolution PDF files. Download links are highlighted in grey and located below each preview image.
The download links should open a new tab and begin downloading automatically. You may need to authorize downloads from Dropbox if a box appears asking for permission.
First there are plain hall passes and bathroom passes without graphics. These passes have space for your name/room, the student's name, and the time. They're ideal for upper grades and saving your colored ink.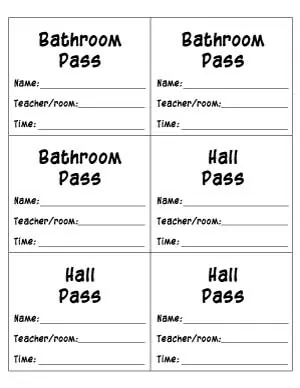 Next there are cute owl bathroom passes with space for a name. This can be your name or the student's name.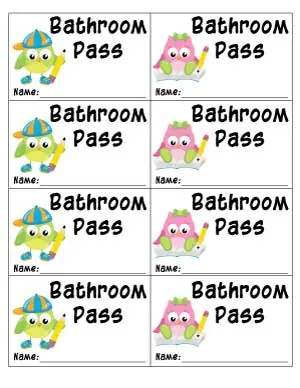 Download boy and girl owl bathroom passes here
There's also a numbered bathroom pass with owls and space for a name. These work well if you write the student's name then laminate. You can circle or cross through each trip as it's used, then wipe the pass clean and reuse it again instead of printing new passes!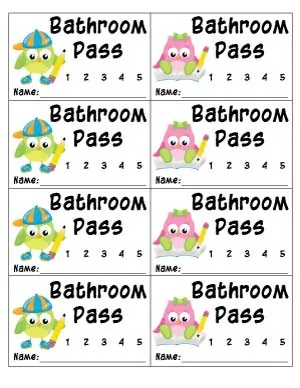 Numbered bathroom pass printable with owls
These bathroom passes feature cute school monsters. Again, there's space for a name.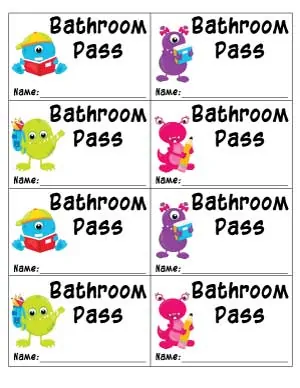 Monster bathroom pass printable
Just like with the owls, there's a numbered bathroom pass with cute monsters.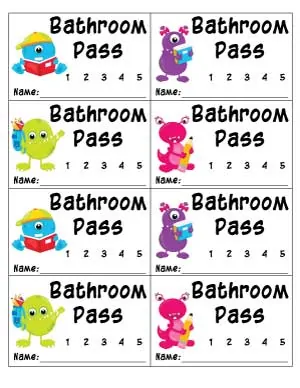 Numbered bathroom pass with cute monsters
And I decided to go ahead and make some cute monster hall passes, too! These have space for your name and the student's name.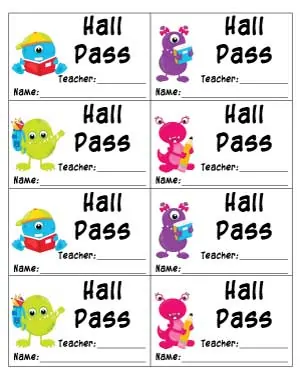 Cute monster hall pass printable
These boy's and girl's bathroom passes and hall passes are a little larger.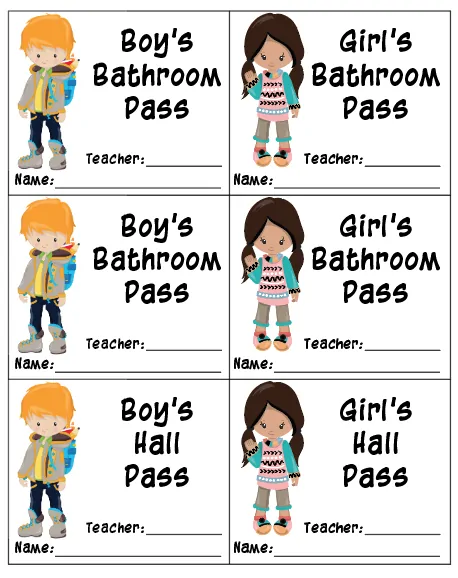 Download boy and girl bathroom passes
More free printable templates