These free printable Cinco de Mayo count and graph pages are a fun, low-prep way to help your child improve their counting abilities, number recognition, finger strength, and fine motor skills. Pick from count and graph and I Spy pages with 1-5 or 1-10 to match your child's level.
These graphing worksheets are great for homeschool preschool lessons about Cinco de Mayo, world cultures, or Mexico. Make sure to grab these free printable Cinco de Mayo dot marker coloring pages and Cinco de Mayo count and clip cards while you're here, too. I hope you enjoy!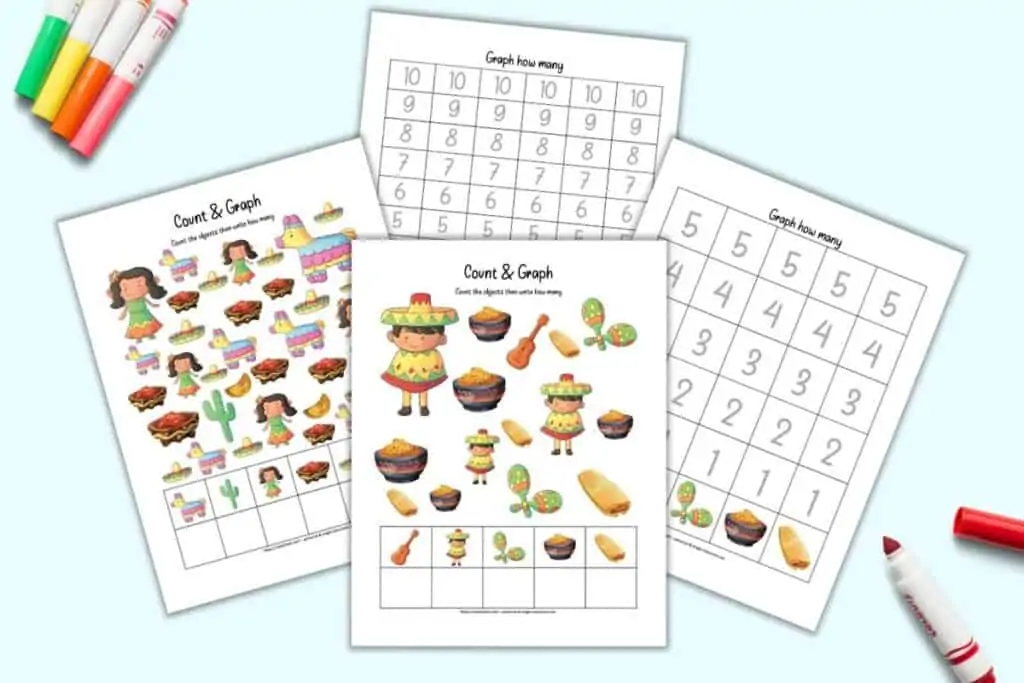 There are two different count and graph worksheet sets with two pages each – an I Spy page and a graphing page for graphing results. Even young preschoolers can practice graphing with a bit of adult help. Keep scrolling to learn how to use these cute Mexico themed math worksheets!
If you're teaching your child about Mexican culture, why not share a bit of Spanish, too? My husband is a Hispanic immigrant and we are a bilingual household. I create and share Spanish language preschool printables in addition to English language printables. I hope you stop by this page to see all the free Spanish preschool printables currently available on The Artisan Life. Check back again soon because the collection of Spanish language resources keeps growing as my daughter does.
This post may include affiliate links which means I may earn a commission on qualifying purchases at no additional cost to you.
Teaching preschoolers about Cinco de Mayo
People frequently refer to Cinco de Mayo as "Mexican Independence Day," but this isn't entirely accurate. The day marks when the Mexican Army defeated the French Army in the Battle of Pueblo in 1862 (source). The holiday has changed a lot over the years. It's become very popular in the United States as a general celebration of Mexican culture.
My daughter loves to read, so I decided to investigate books about Cinco de Mayo for young children to help her learn about the holiday and Mexican traditions. She loves learning about things that are similar to and things that are different from what our Cuban family does and says. (For example, Cuban piñatas are pull-string, not struck with a stick. Cuban tamales are different from Mexican tamales, too. The meat is mixed in with the masa instead of being a dollop in the center.)
The National Geographic Celebrate Cinco de Mayo book in my favorite book about Cinco de Mayo for young learners. The text is geared towards slightly older children, but it features real photographs, not illustrations.
As the book's description says, "Mexico is the birthplace of America's largest immigrant community; a knowledge of Mexican culture is increasingly relevant to students across the United States."
Sale
I may also get El Cinco de Mayo in the Spanish edition. It also has real photos and is from a generally well-regarded educational series.
Music is always popular with young children and a great way to expose them to other languages and cultures. One of my daughter's longtime favorite albums is La Granja by José-Luis Orozco. It's a short (about 16 minute total) album available for streaming on several services. The songs are all traditional Spanish language rhymes, including favorites like El Barquito and Los Elephantes. José-Luis Orozco is a Mexican artist with several children's albums (that aren't super annoying to adults).
Give the titular track, La Granja (the farm) a play and watch your little one clap along! It's very catchy and similar to Old McDonald, but with an entirely different tune.
Many of the songs on the alum are in the book Pio Peep, a fantastic collection of Spanish language nursery rhymes. They are Spanish classics, not translations of English nursery rhymes. English language translations are also provided in the book. We've had our copy since before our daughter was born and it's a well-loved favorite.
Sale
Benefits of count and graph worksheets
These graphing worksheets may seem very simple to you as an adult, but they're challenging for young children. They provide a variety of developmental and educational benefits.
These Cinco de Mayo count and graph worksheets help develop many different skills:
Counting 1-5 and 1-10
Tracing numbers 1-5 and 1-10
Visual discrimination
Attention to detail
Graphing numbers 1-5 and 1-10 in a bar graph
Fine motor skills
Data analysis
Emotional regulation and persistence
They're also an easy preschool math activity for you as a parent or teacher. They're either no-prep or very low prep to use, depending on how you decide to prepare them.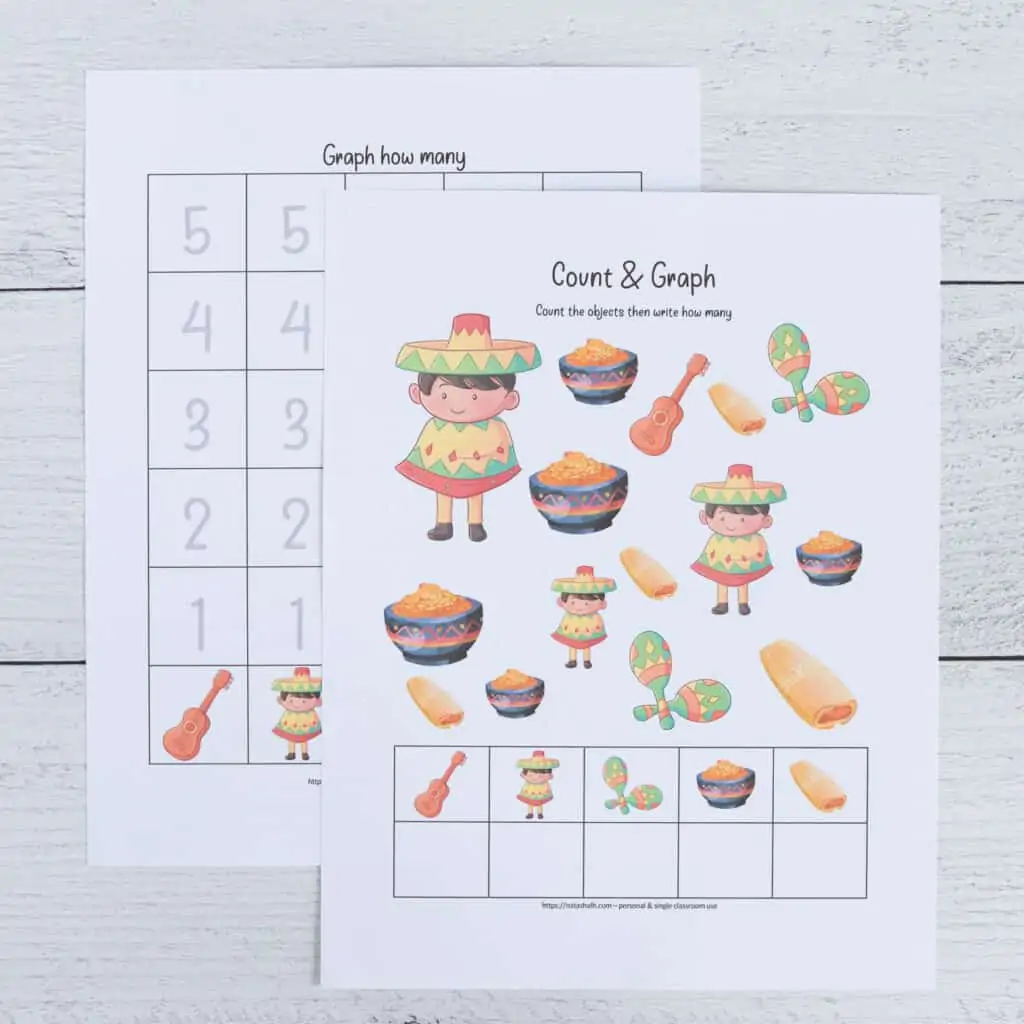 How to print and use count and graph worksheets
Materials needed
Printer and paper

I recommend this bright white 32 lb paper. It's sturdier than normal paper and images look better. Crisper, brighter pictures make it easier for your child to see the images and differentiate between similar ones. It's also the paper I used for the printouts shown in this post.

Something to write with

A crayon, marker, pencils, etc.
You can also use manipulatives to graph, but your child will still need something to write with on the I Spy worksheet

Laminator, dry erase pockets, or page protectors (optional)

Secure page protectors are heavy duty and easy to keep organized in a 3 ring binder. They are what we use most often for count and graph worksheets.
To use your count and graph pages:
First, download and print your printables. The download links for the free math worksheets are lower down in the post.
Print the pages you want. You may only want the 1-5 page for a young preschooler or just the 1-10 page for an older child.
To make your worksheets reusable, laminate them or slip them in a dry erase pocket or page protector. 
We use these secure page protectors with a flap to keep the paper inside. They're laster than laminating and they're reusable, too. As mentioned above, they're also help with organization and tidying up. I keep all my daughter's current worksheets in page protectors in a 1″ three ring binder so they aren't left all over the house.
Sale
Avery 76000 Secure Top Sheet Protectors, Super Heavy Gauge, Letter, Diamond...
Keep contents secure in the protective sleeve with convenient top flap; perfect for holding nonstandard size papers and important items
Get a crisp, clear view of the contents of your documents with diamond clear page protectors featuring a polished finish for high clarity
Ensure your documents stay protected with long-lasting super heavyweight sheet protectors for all of your frequently referenced items
I place the pages so the I-Spy and graphing page pairs are facing one another, like in the photo below. It makes them easier to use.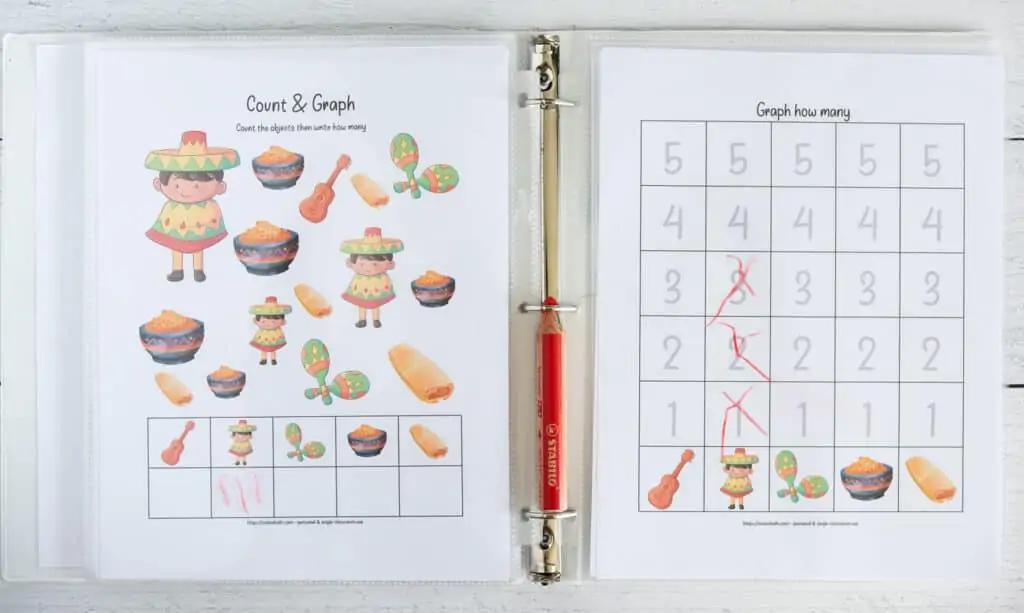 We love Stabilo Woody 3-in-1 pencils and barely use dry erase markers now. Woodies are a large wax crayon in a wood pencil-shaped casing. They work for coloring on paper and can be used instead of a dry erase marker. Unlike markers, they don't have ink to stain everything and don't smell! They come off quickly with a slightly damp paper towel or cloth.
You can see a video of the Stabilo Woody pencils in action in this post with free printable dinosaur coloring pages.
Sale
Count the items on the I-Spy page and record the quantities. 
Transfer these numbers over to the graphing page. There are numbers to trace or your child can color in the squares. 
There are many ways to count and graph. Here are a few ideas:
For the youngest learners:

Have your child use a Do a Dot marker to mark an image on the I-Spy card then immediately mark a square in the corresponding graphing page.
For a greater challenge, have them use a "regular" marker or pencil, count each item, and place a dot in the corresponding record square as they go. Work with them to count the dots after each image has been marked, then transfer this number to the graph paper. This version works well with laminated pages so the activity is reusable.

Children can make tally marks or write the number in the record square.

You can see my daughter's tally marks on the left-hand page in the image above.  

Your child can also cover each counted picture with a small manipulative like an eraser or pompom to keep track of which items they've already counted.
The graph can be colored in, covered with manipulatives. or your child can trace the numbers. 
For a more challenging game, don't give your child manipulatives to assist with counting and don't have your child mark each image as they go along. This can be pretty challenging, especially on the count to 10 pages!
Free printable Cinco de Mayo count and graph worksheets download area
Please note that some of the the artwork in these printables is copyright by DigitalArtsi. Thank you, Jane, for your beautiful artwork and generous licensing.
Like all preschool printables on The Artisan Life, these worksheets are for personal and single classroom use (including use with homeschool co-ops and therapy clients). You are welcome to print and use them as many times as you'd like as long as you are personally organizing the activity (or leaving it for a sub in your own classroom).
I hope your preschooler enjoys these graphing worksheets as much as mine does!
Be sure to discover these Spanish language resources for preschoolers while you're here:
Spanish Preschool Printables