This free printable narwhal craft is so much fun for kids. Pick from a black and white coloring page version or a cute, colorful blue narwhal to cut and paste. Your little learner gets to practice their fine motor skills with cutting and gluing to create their very own narwhal. I hope you enjoy this craft as much as my family did!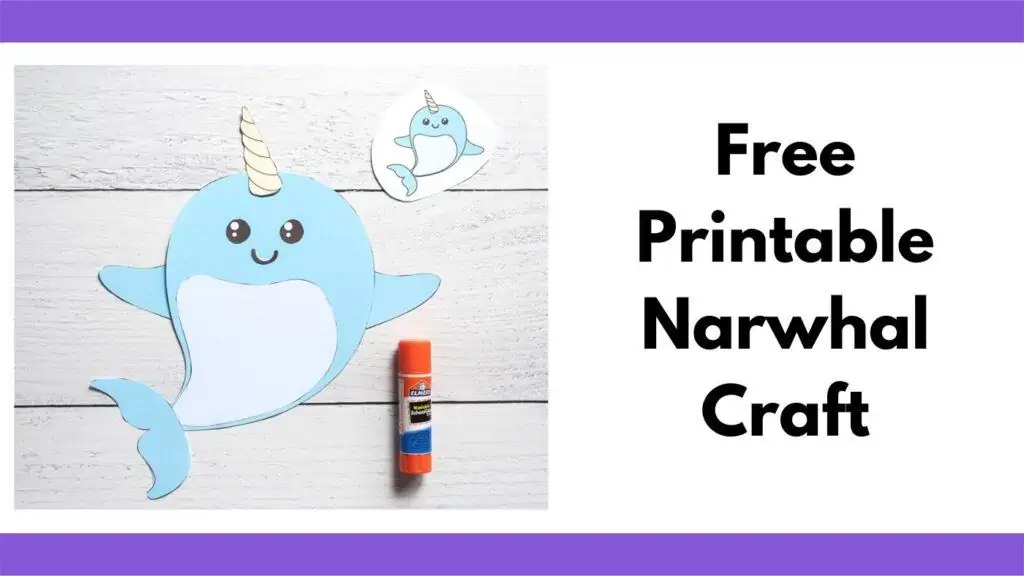 This post may include affiliate links which means I may earn a commission on qualifying purchases at no additional cost to you.
Developmental benefits of cut and paste crafts
This build a narwhal craft has many benefits for your child. Benefits of cut and paste crafts include:
Cutting skills and finger/hand strengthening as they color and cut
Improved fine motor control as they cut and paste
Improved spatial awareness as they build the narwhal
Persistence and emotional regulation. This craft can be challenging for young children. Persevering to finish it, in spite of difficulties, will build emotional resilience and foster pride in their work.
An opportunity to engage in creative play with their finished narwhal. (It makes a great stick puppet.)
Fun and enjoyment!
My daughter (four and a half at the time of writing) thought she wouldn't be bale to cut all the pieces by herself. In the end, she only needed help with the narwhal's mouth. She even got the tail cut out by herself! Let your child try cutting solo – you may be surprised by what they can do.
How to make a cut and paste narwhal craft
This printable craft has two versions: a black and white narwhal and a pre-colored narwhal. We ended up making both because my daughter wanted to color one and have the pre-colored blue narwal.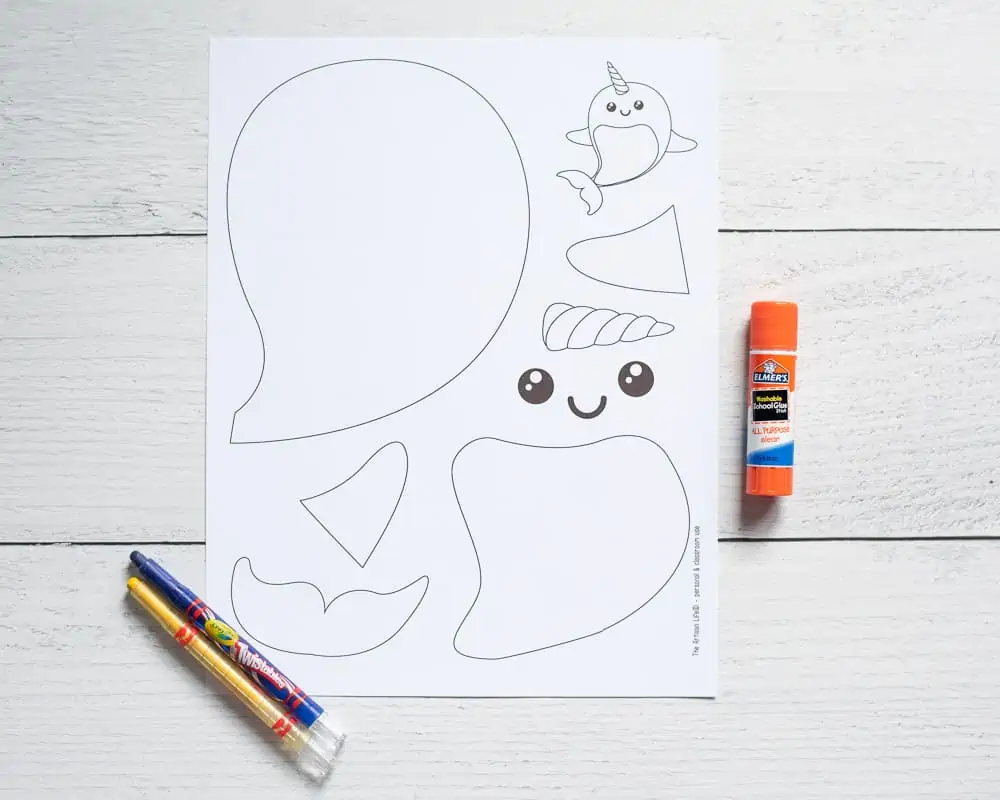 Materials needed:
Printable PDF. Download information is lower down in the post. Look for the row of purple arrows.
Printer and paper. I recommend this 32# HP paper because it's thicker and brighter. Thicker paper means the narwhal will hold up better as a puppet. Heavyweight cardstock is another good choice for puppets.
Crayons or markers. Be sure to check out Twistables if you're tired of sharpening crayons.
Scissors. We use these Fiskars blunt-tipped scissors.
Glue stick or pot of glue and paintbrush.
Stick and tape, if you want to make a puppet.
First, print your desired pages. Each page has a completed narwhal image to use as a guide.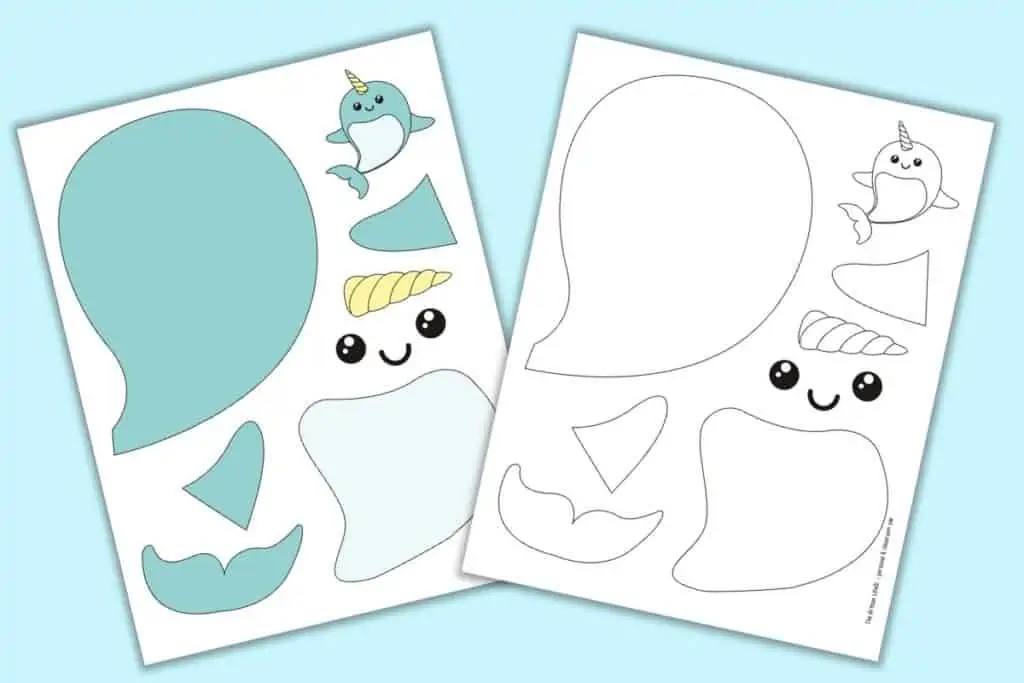 Color the narwhal, if you're using the black and white pages.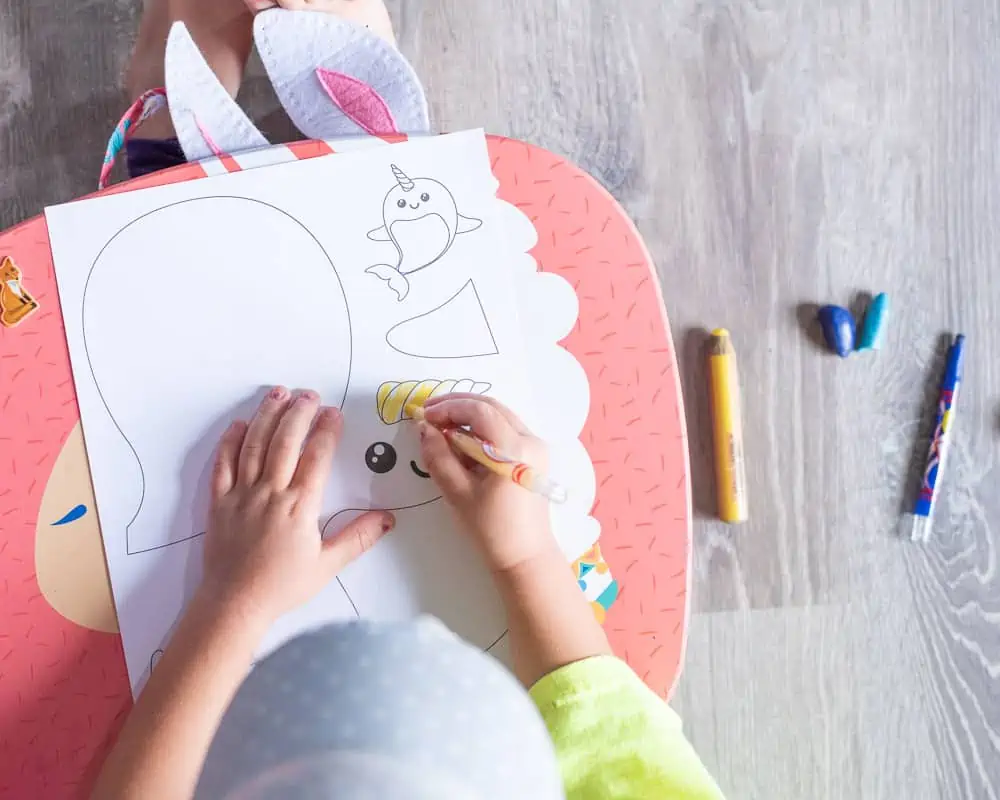 Cut out the narwhal. The eyes and mouth can be tricky. If they're too difficult for your child, they can draw them on, instead. My daughter wants to make another narwhal and use googley eye stickers!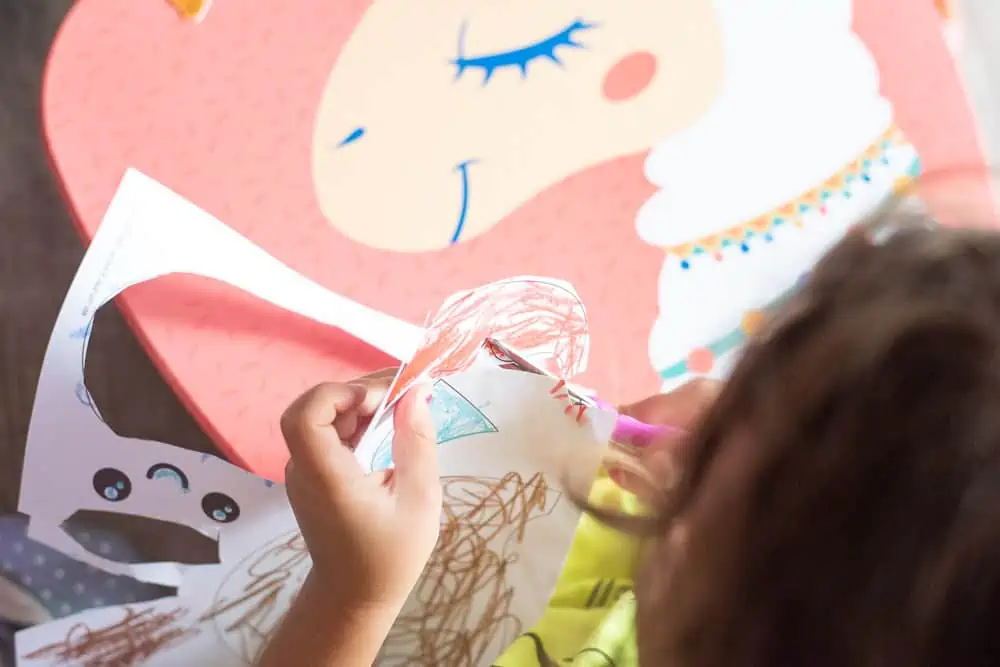 Paste and enjoy! After the glue is dry, you can tape it to a craft stick, or just a stick from outside, to make a puppet. Your child can glue however they want, but these are my suggestions:
Glue the side fins behind the body
Then glue the belly
Add the tail fin on top of the body and belly piece
Add eyes, mouth, and horn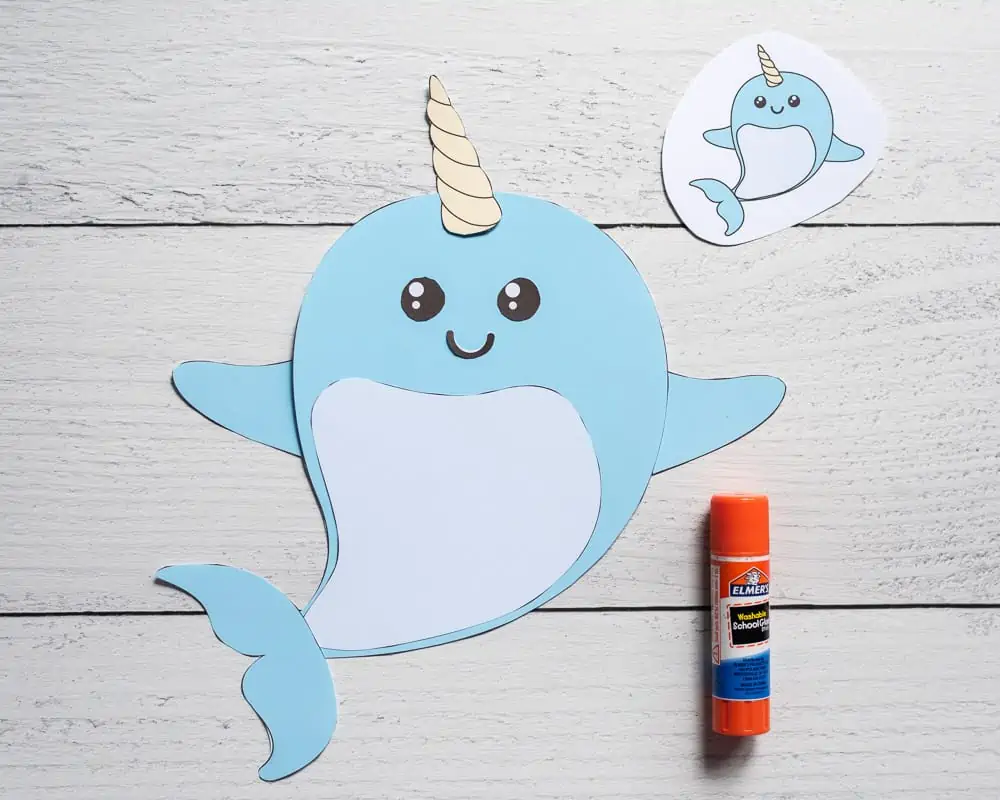 Free printable narwhal craft PDF
This narwhal craft is licensed for personal and single classroom use. You are welcome to use it with your children, students, therapy clients, library activity, etc. as long as you are personally organizing the activity and not charging specifically to participate.
You are not licensed to redistribute the files or printouts to other adults for use with their students/children. Please send them to this post so they can download their own copies. You are not licensed to post the file anywhere online or sell it.
If you agree to this license, you may click below:

I hope you enjoy this cut and paste narwhal craft! We had a blast so I anticipate making more printable crafts soon. Until then, check out these additional ocean themed free printables for little learners:
Mermaids, Fish, and the Ocean
Does your little learner love fish, mermaids, and the ocean? You've come to the right place!