These free printable ocean theme roll and count games are a fun, low-prep preschool math activity. They're great as part of an ocean theme for your preschool lessons or for any time you want a fun math game for your little learner. These counting mats are preschooler tested and approved. Keep scrolling for photos of the counting cards in use!
This preschool math activity helps with your child's number recognition skills, fine motor skills, counting abilities, and one-to-one correspondence. You can even bring gross motor movements into this game when you use the included free printable differentiated instruction cube inserts!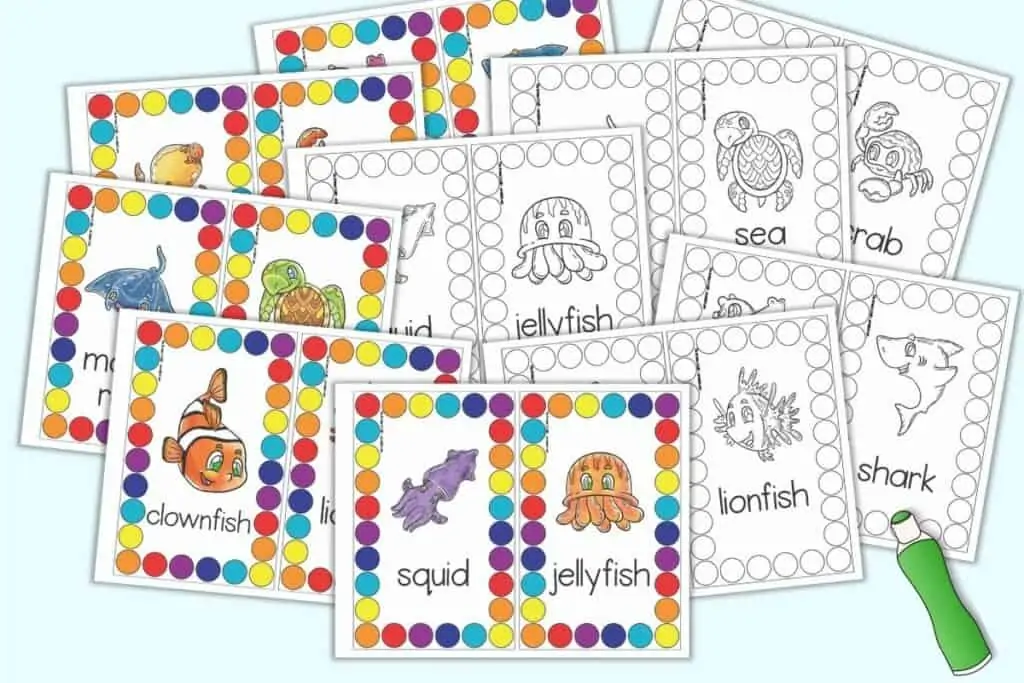 This post may include affiliate links which means I may earn a commission on qualifying purchases at no additional cost to you.
There are ten different ocean animal designs to keep your child interested and engaged. The pages are available in both color and black and white. Each card also has the animal's name so your little one can practice their letters, too.
The roll and count mats can be used with plastic chips, dauber markers, play dough, pompoms, or your child's favorite manipulative. I hope your little learner enjoys them as much as mine does!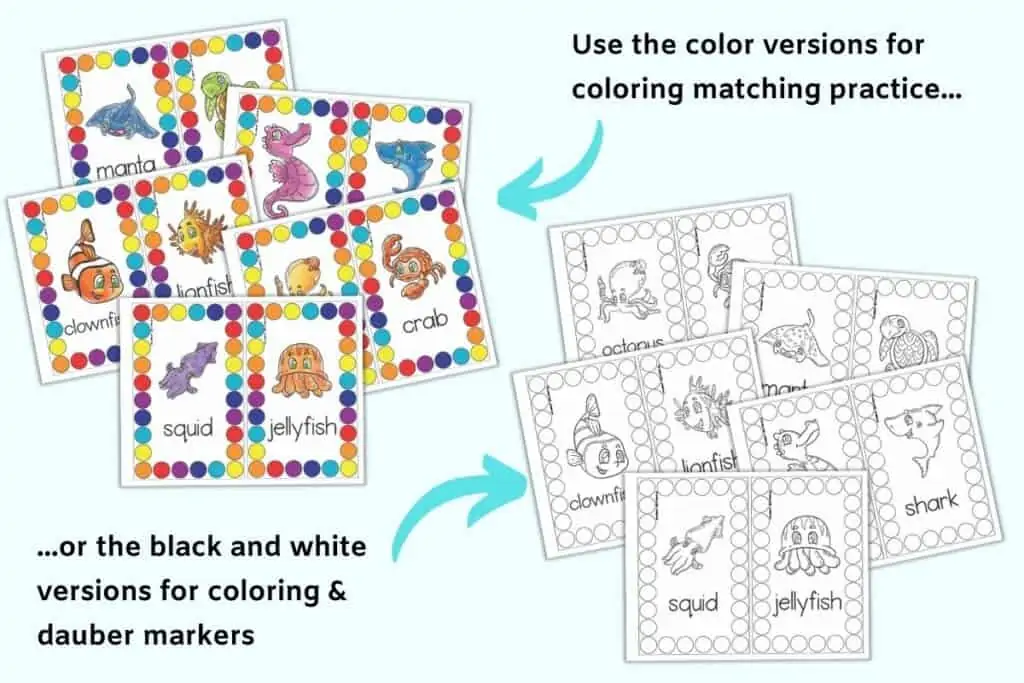 How and use roll and count mats
This free preschool math activity for preschoolers is very low-prep. Your child will be having fun just minutes from now when you download and print these roll and count mats. The only prep work needed is a little bit of cutting.
I usually recommend laminating preschool activities, but it's actually best to not laminate these pages unless you're planning to use play dough. Don't have any play dough at home? Get a recipe for homemade play dough that stays soft in this post with play dough alphabet mats.
This set of roll and count mats includes a bonus free printable numeral die template and numeral gross motor cube inserts. This means the printable dice have numerals (1, 2, 3, etc.) instead of dots. Using a "normal" die with pips is fine, too. Changing things up can help keep your little learner engaged in an activity.
You don't need a differentiated instruction cube to play with these roll and count mats, but it adds movement to the game. This is important because children learn better when they can move around. Using a gross motor cube can improve your child's learning experience.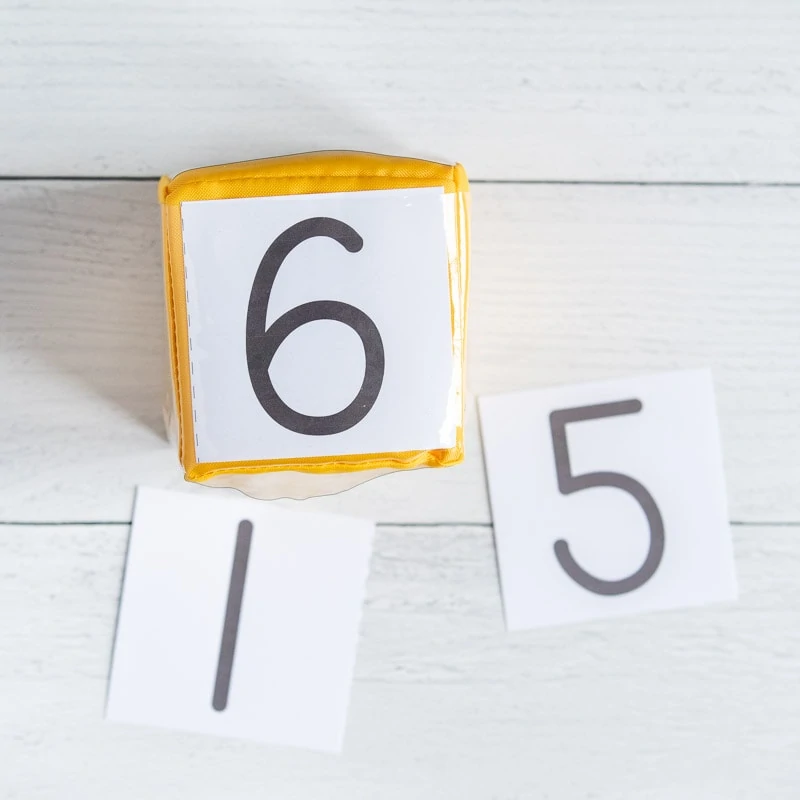 Materials needed:
Your free printable roll and count mats. The download is located lower in the post.

The printable die template and gross motor cube inserts are included in the same PDF.
There are ten pages of roll and count mats – five in color, five in black and white. Each page has 2 cards, so there are 10 animals in both color and black and white.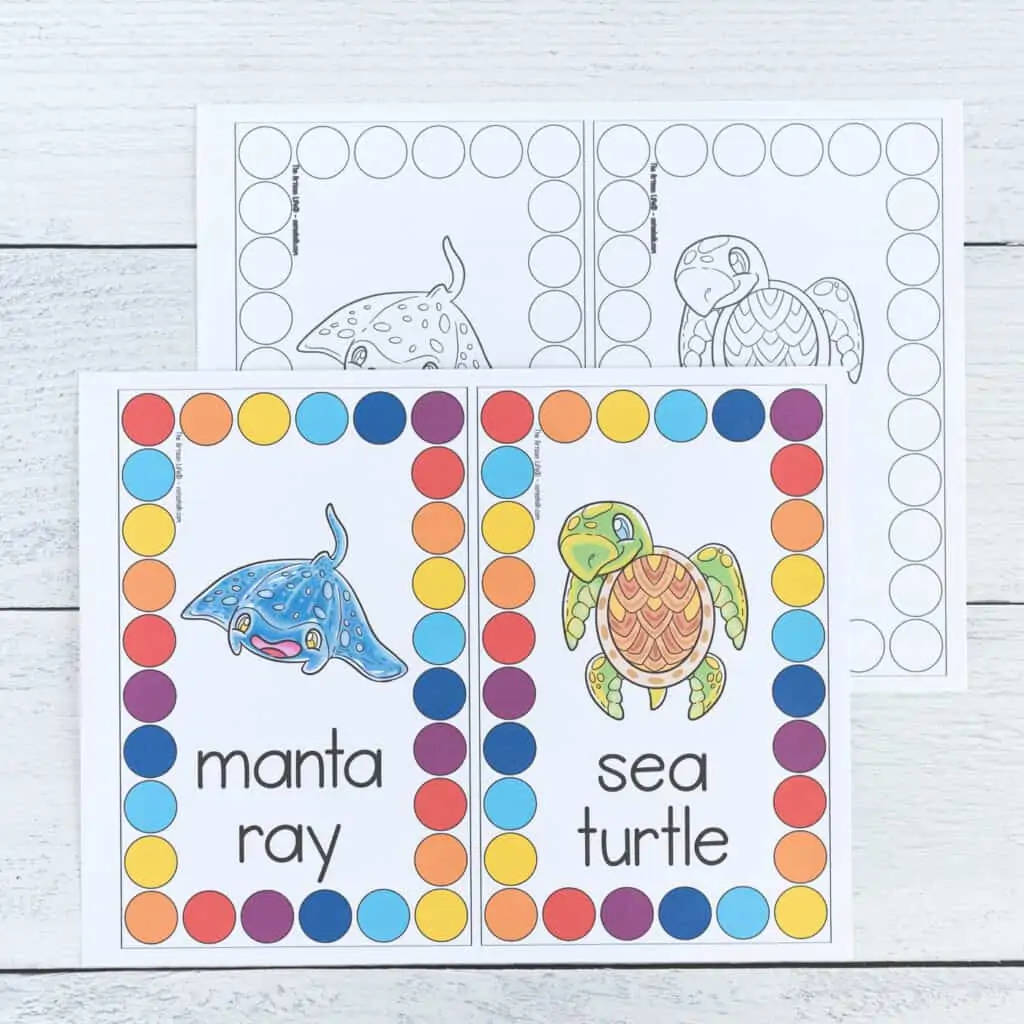 Printer and paper. I recommend 32 lb bright white paper. It's more durable than standard printer paper and is brighter for nicer images.

See this post on the best paper for printables for a comparison of printouts on several papers and cardstocks.
In the image above, the color version was printed on the 32 lb paper. The black and white sheet behind was printed on a more "normal" printer paper.

Laminator and pouches, optional. Laminate your pages if you plan to use play dough, don't laminate for use with dauber markers or plastic chips.
Scissors and/or paper trimmer. I use this paper trimmer with a guide wire.
Manipulatives to cover the numbers.

Plastic chips work well for this game. Make sure to get .75″ or smaller so they fit the circles! If you have rainbow colors, you can have your child work on color matching, too.
Pompoms are another great choice.
The black and white pages are great for using with Do a Dot Markers.

Differentiated instruction cube (also called a gross motor cube). optional, or dice.

For "regular" dice, I recommend large soft dice. They're easier to handle and large dice aren't a chocking hazard for little learners or their smaller siblings.

Glue or tape, if you're making your own die with the printable template.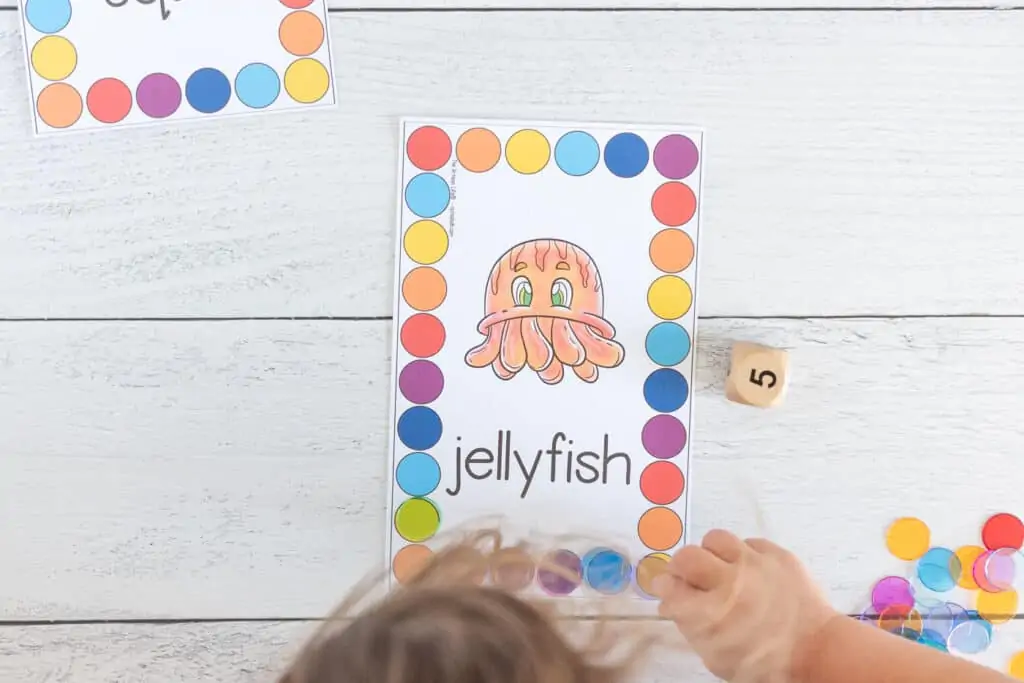 How to print and prepare roll and count mats:
Download your PDF from lower down in the post. Look for the image that that says "click here to download."
Print the pages you want. The last three pages of the PDF have the printable dice. Two pages are differentiated instruction cube inserts, one page is a die template to cut and assemble.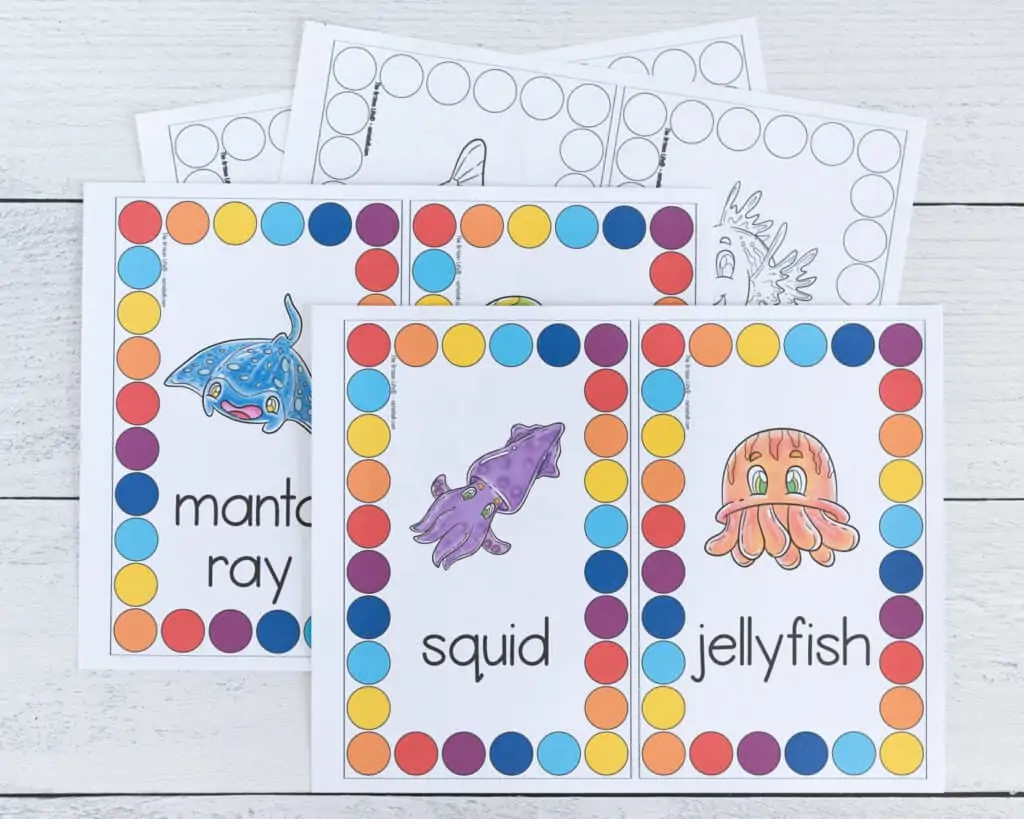 Laminate the roll and count game boards if you want to use play dough or slip them in page protectors. Do not laminate the die template pieces. Don't laminate for use with dauber markers or if you want to use plastic chips. They slide off laminated pages very easily and will probably frustrate your child.
Cut out the cards. This is easiest with a paper trimmer or cutter, but scissors work, too. I just cut the cards out quickly instead of cutting out exactly on each line. My daughter was very eager to play!
If you want to use the differentiated instruction cube inserts, print and cut out the two relevant pages in the PDF. Officially, the opposite faces of a six-sided die add up to 7, like you see in this printable die template image below.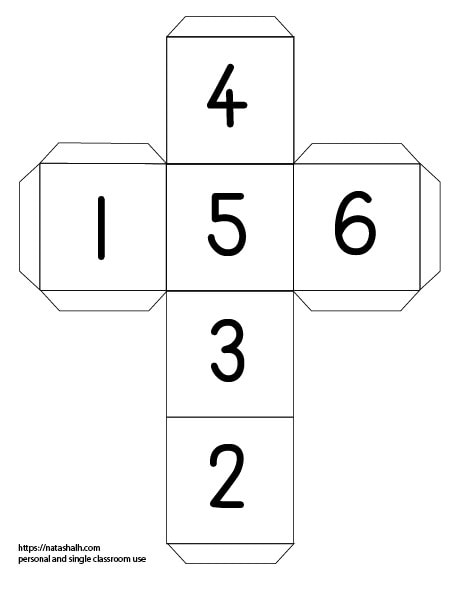 If you're making the printable die:
Cut the die template along the solid lines.
Fold the tabs in and assemble. I recommend using Tacky Glue on the tabs and tape along all the outside edges to improve durability.
Play and learn! Play is simple – a player rolls the die, then counts and covers the correct number of circles. If you have rainbow colored manipulatives, you can have them match colors, too.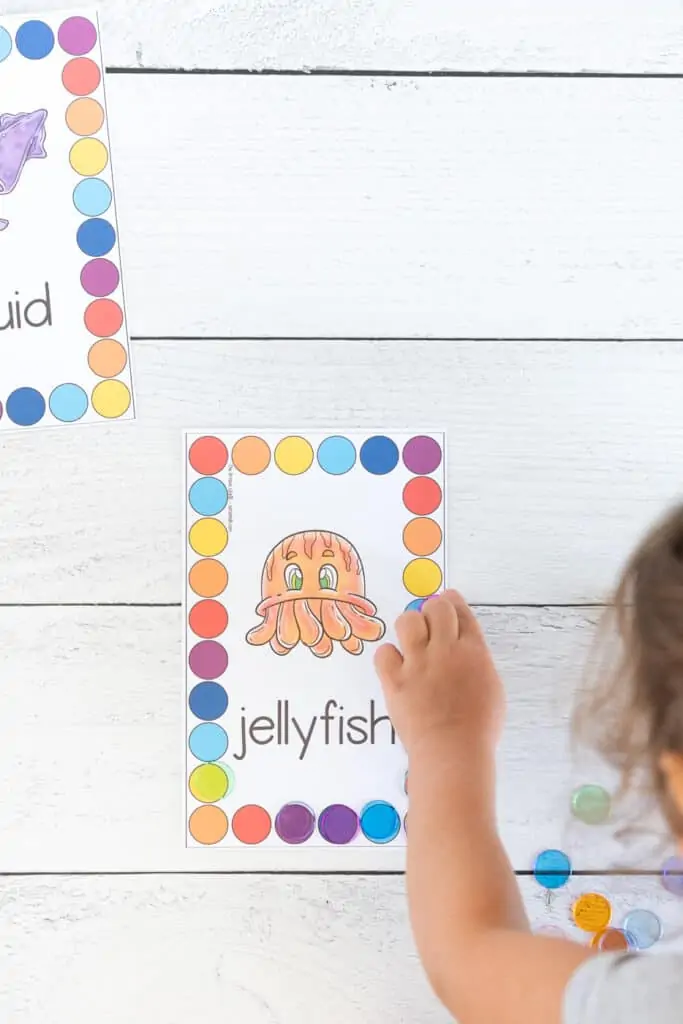 Play ends when all the spaces are covered. Luckily, this set includes ten designs so your child can play again and again!
For more of a fine motor challenge, have your child use tongs to place their manipulative over the circle. This won't work with plastic chips, but it does work with pompoms, counting bears, and many other manipulatives.
The black and white versions are great for using with Do a Dot markers: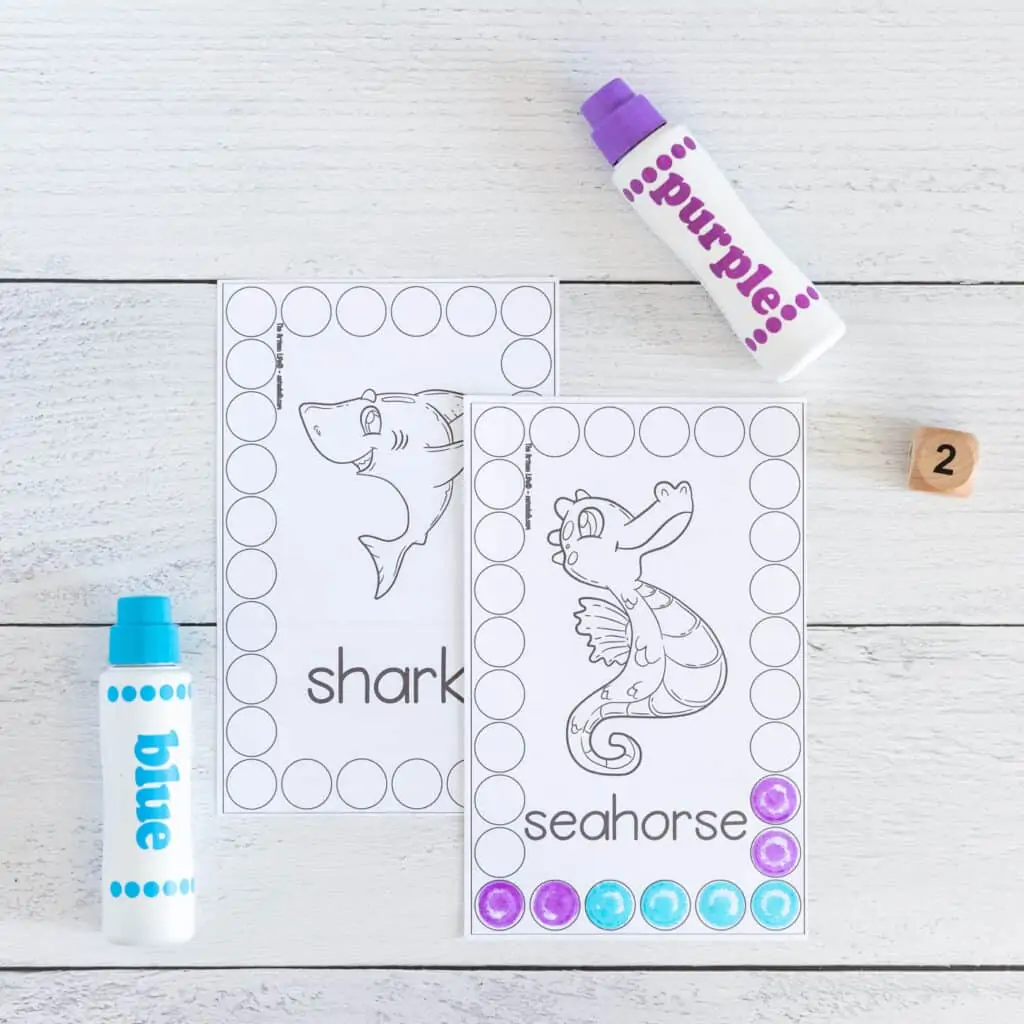 Free printable ocean theme roll and count cards download area
Like all preschool printables on The Artisan Life, these are licensed for personal and single classroom use. This includes use with Scout groups, therapy clients, library activities, etc. as long as you are personally organizing the activity and not charging specifically to participate.
You are not licensed to redistribute the printables to other adults for use with their children or students. Instead, please refer your friends and coworkers to this post so they can download their own copies.
I hope your little learner has fun practicing their numbers and fine motor skills with these roll and count printables! Make sure to grab these additional free printables for preschool learning while you're here on The Artisan Life:
Preschool Learning Printables
Download these additional free activities to keep your little one busy and learning without tons of prep time.