Your mermaid loving child will love practicing their fine motor skills with these free printable mermaid prewriting cards. Use them as a print and play no-prep activity or laminate them for repeated use!
These prewriting practice tracing pages will help your child develop their fine motor skills and hand-eye coordination. They feature a specific set of prewriting shapes that help your child practice stokes that are used in letter formation. They also help reinforce left to right as your child traces from the mermaid on the left to the shell on the right.
If your child loves mermaids and the ocean, be sure to grab these free printable ocean animal dot marker coloring pages and free printable mermaid picture bingo cards.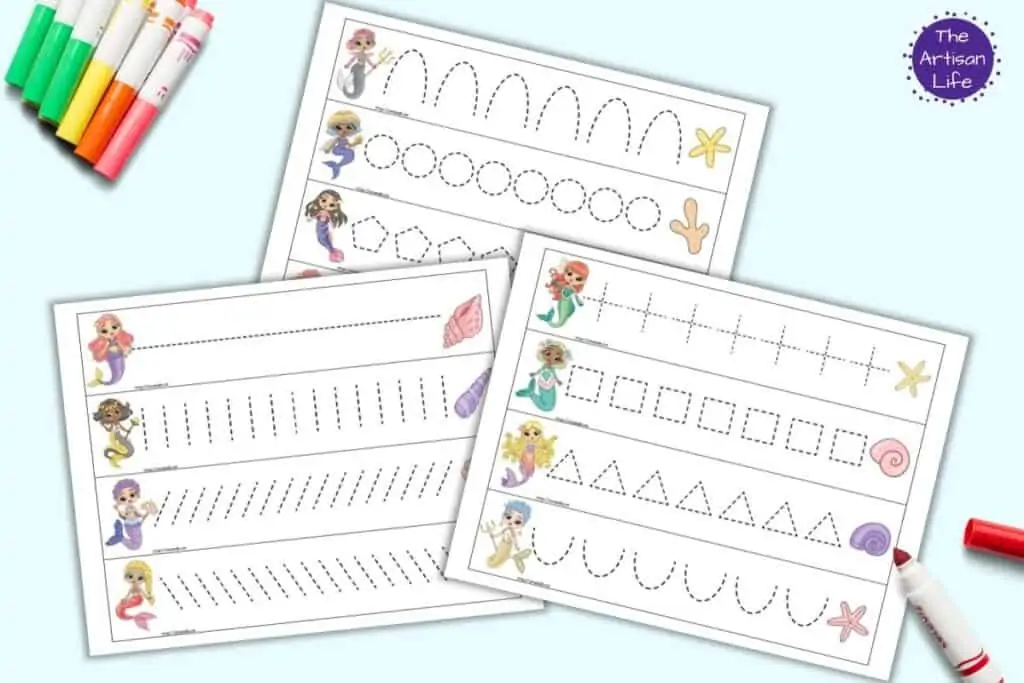 This post includes affiliate links, which means I may earn a commission on purchases made through links at no additional cost to you.
You can make these prewriting practice cards reusable by laminating the pages or placing them in page protectors for use with a dry erase marker or wax crayon. We use secure page protectors with a flap to keep the page inside.
It's also easy to cut the laminated pages into strips that you slip onto a binder ring for a go-bag activity. We use these binder rings because they actually stay shut instead of popping open constantly.
What are prewriting skills?
Prewriting skills are all skills that must be learned before your child can write fluently.
Prewriting skills help your child hold and use a pencil correctly and comfortably, but they also include drawing, coloring, and copying the specific prewriting shapes. These prewriting shapes teach the basic building blocks of letters.
Prewriting skills include both:
Fine motor and manual dexterity skills and…
Specific letter formation shapes: | — O + / \ X Δ and a square. (source)
These printable prewriting cards help your child focus on these specific letter formation shapes needed to write letters confidently and accurately.
Your child won't know how to hold a pencil correctly at first, no matter how many times you demonstrate. This is okay and totally normal. Do demonstrate the correct grasp and make sure to model it, yourself, whenever possible, but don't stress if your child doesn't use it yet. It takes years for correct pencil grasp to develop. Just keep modeling the correct grasp and providing plenty of opportunities to practice.
Fine motor and prewriting skills help your child in many ways. These skills translate to more legible, confident writing, but also help your child perform important tasks like tying their own shoes, buttoning clothing, zipping, and brushing their teeth.
How do I teach my child prewriting skills?
There are many play-based ways to build and reinforce both fine motor and prewriting skills:
Practicing the specific pre-writing shapes
Threading and lacing
Playing with play-dough (download these alphabet play-dough mats for a recipe you can make at home)
Using scissors
Playing with blocks
Using fine motor trays to write in cornmeal, sand, etc.
Tearing paper
Using stickers
Using tongs and large tweezers with manipulatives (bamboo toast tongs are perfect)
Drawing and coloring
Tracing
And more!
These mermaid themed prewriting practice cards are a fun, easy way to help your child practice prewriting skills. They're perfect for homeschool preschool parents, classroom literacy centers and fine motor centers, and therapists.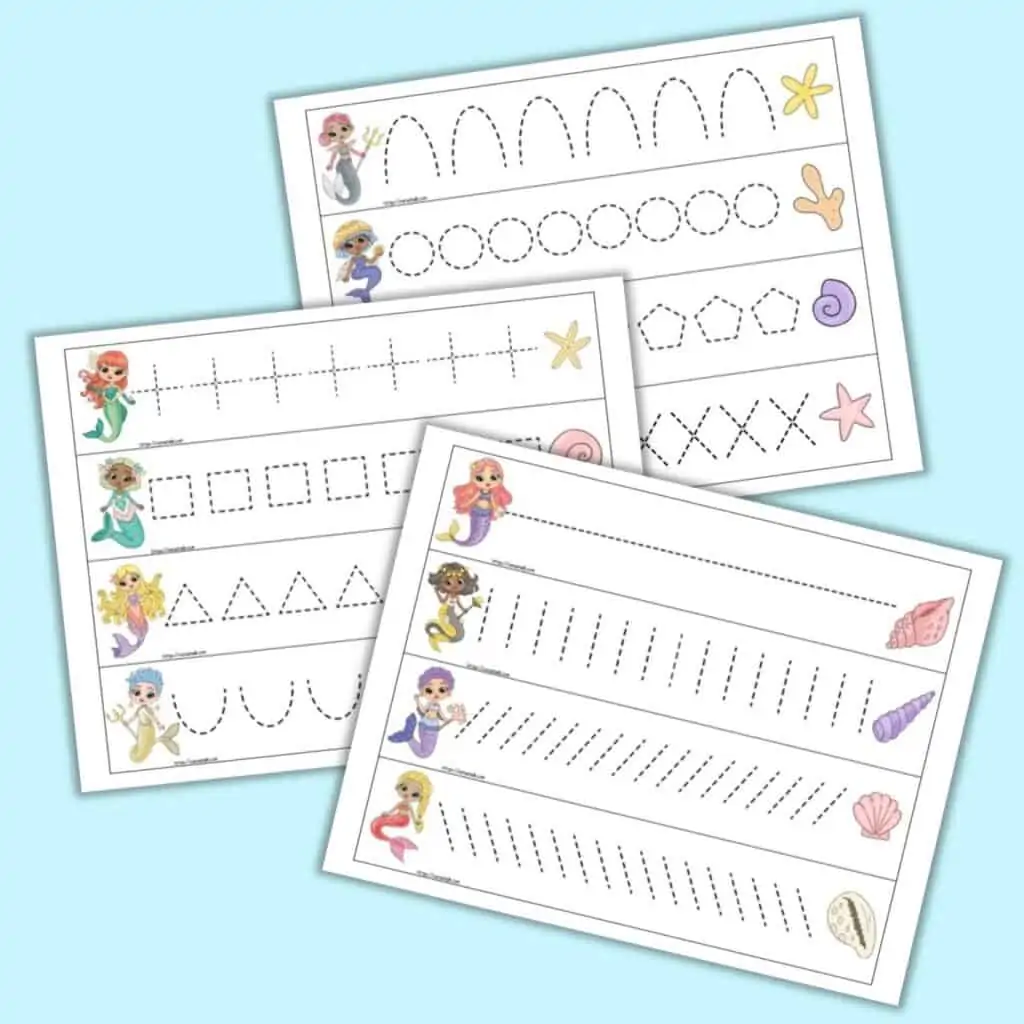 How to print and use prewriting cards
This set has three pages with four tracing paths each. Each "path" is comprised of a row of a specific prewriting shape. The cards feature cute mermaids on the left and shells on the right to help your child work on left to right order.
Materials needed:
How to use prewriting cards
Get your download from lower down in the post.
Print the pages you want to use. The shapes build in difficulty. The first page is the easiest, the third page is the most challenging. (I'm sorry the photo below is so dark/poor quality. My daughter was super excited to use these and was looming over the pages/blocking the light as I tried to take pictures.)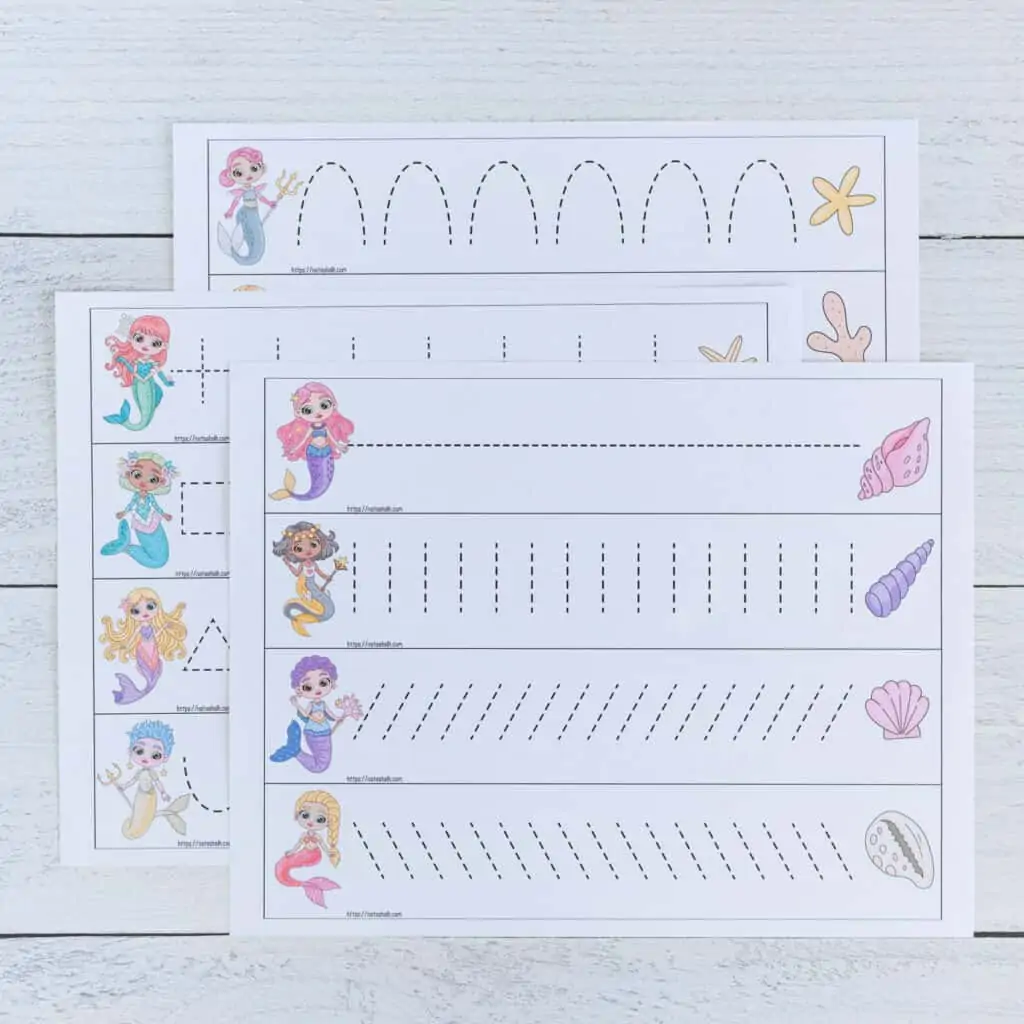 Laminate the pages, if you're laminating. Cut after laminating to save yourself time. (If you cut first, you have to cut everything out again after laminating.)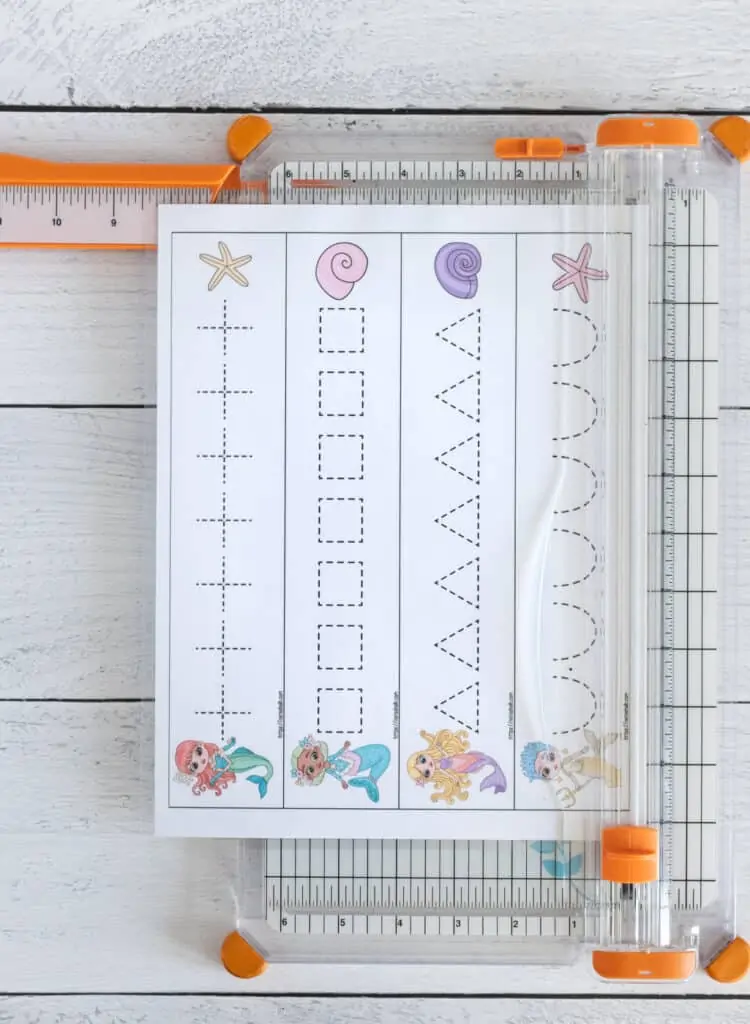 Show your child how to use the pages. You can start by tracing from left to right with your index finger, or you can go straight to using a marker/crayon. As adults, we tend to talk too much.
Try (if you can – it's a challenge!) to simply show how to trace the shapes without describing what you're doing. This allows your child to focus on what you're doing instead of trying to process your words and actions at the same time.
My daughter is used to trace in the path pages, so sometimes she wants me to demonstrate how to trace the separate shapes multiple times.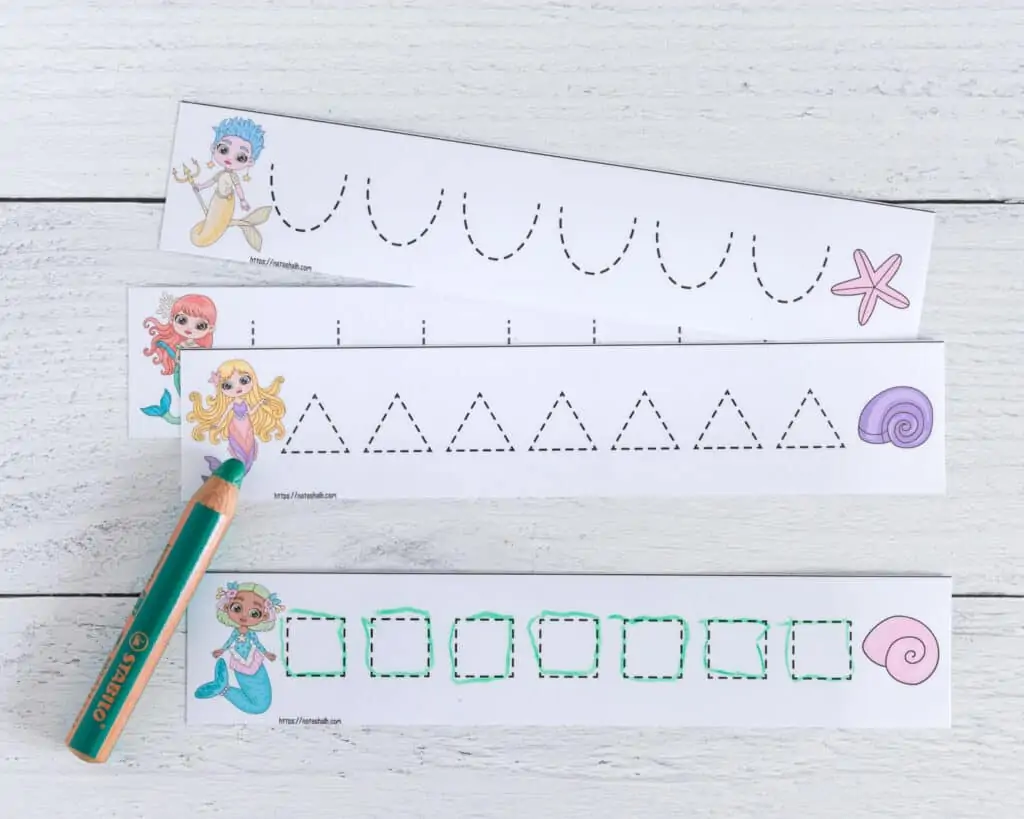 We enjoy using Stabilo Woody pencils instead of dry erase markers. They work on dry erase surfaces (including windows and mirrors), as a "normal" art supply for everyday coloring, and even as a watercolor crayon.
They don't have fumes like a dry erase marker and don't instantly stain clothes, tables, and walls because they are water soluble. They're easy to wipe off with a very slightly damp cloth or towel. If this sounds too good to be true, stop by this post with free printable dinosaur coloring pages to see a quick video of these pencils in action.
You can also make play dough "snakes" and use them to form the tracing shapes. Get a recipe for homemade play dough that stays soft in this post with alphabet play dough mats.
Free printable mermaid tracing cards download area
Like all free preschool printables on The Artisan Life, these are licensed for personal and single classroom use. You are welcome to use them with Scouts groups, home school co-ops, personal therapy clients, etc as long as you are personally organizing the activity and not charging specifically to participate.
You are not licensed to redistribute the files or printouts to others for their personal use. Instead, please send your friends and coworkers to this page so they can download their own copies.
I hope your little learner enjoys these tracing cards as much as mine does! Make sure to grab these educational free printables for preschoolers while you're here on The Artisan Life:
Preschool Learning Printables
Download these additional free activities to keep your little one busy and learning without tons of prep time.