This post may include affiliate links, which means I may make a commission on purchases made through these links at no additional cost to you. 
Hi, everyone! I'm excited to be back after an unplanned one week hiatus with the fourth installment of Getting to Know your Watercolors!
Today's class is on creating swatches with layering, or glazing, so you can see the benefits of layering with your watercolors.
Layering is an essential watercolor technique that adds depth and beauty to your paintings. Painting layered swatches will help you know what to expect when you sit down to create a "real" painting. I hope you enjoy this layered watercolor swatches tutorial!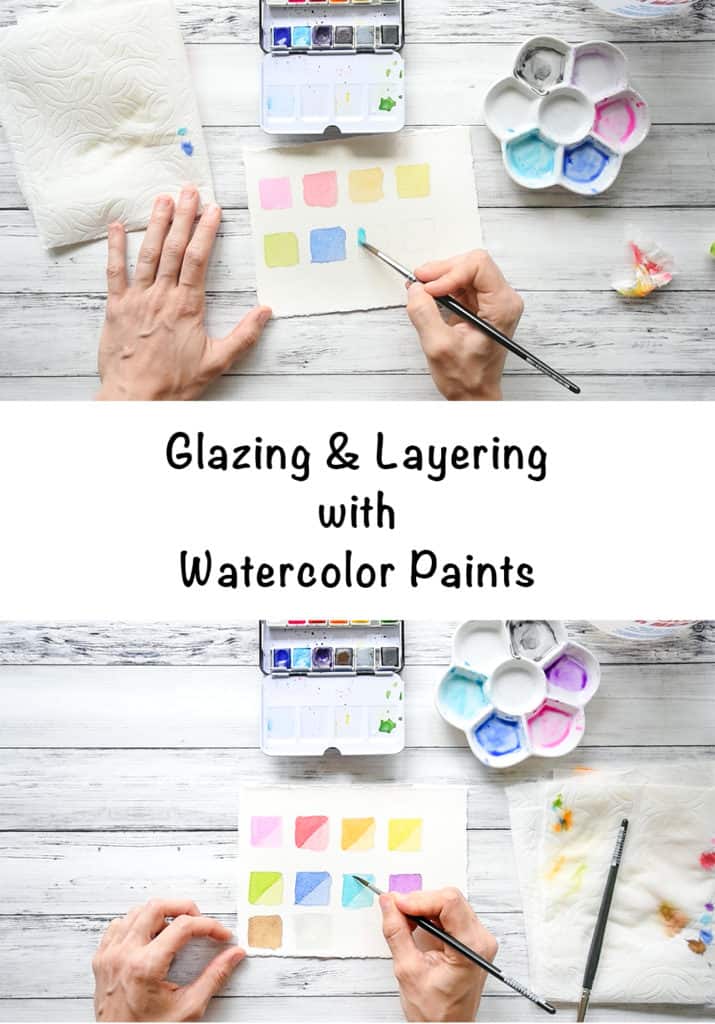 Layering works best with transparent and semi-transparent watercolor paints, so you can put your knowledge from the first class to work! You can also reference your transparency swatches from the third class to help you pick a mid-range value for each of your paints.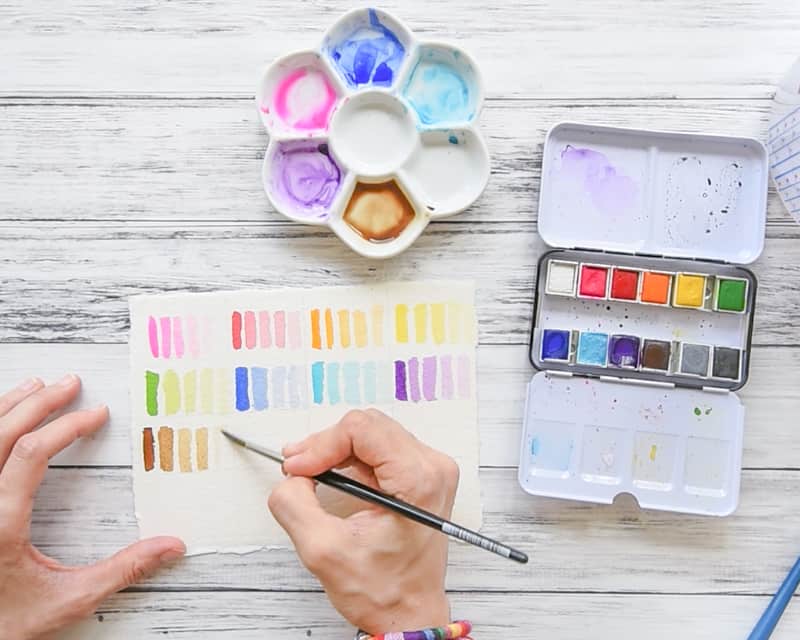 There's also a big change for this class – I've decided to take it to YouTube! I love teaching and helping people learn and I thought YouTube would help me help more people.
Free beginner watercolor technique classes
The first three classes are staying up on Skillshare and will not be moved to YouTube, but any additional classes in the series will be on my YT channel.
These are affiliate links to the classes. That means if you don't already have a Skillshare membership, you can sign up for a free trial (at the time of writing the free trial is two months long!!) with the link and I'll receive a small commission at no cost to you.
2020 Update: While the affiliate links below will still get you a free trial, they won't get you the watercolor classes. 🙁
Skillshare recently (and without notice) removed all of my classes for "violating their policies." Apparently mentioning my blog became unacceptable at some point because they want to keep everyone on the platform, not going to external links.
I am unable to download my own videos from the platform to post them to YouTube. If I ever have the chance to re-film them, I will update this post again with links to the videos.
Unfortunately, I've heard of other creators having their Skillshare channels removed without notice for vague violations. It's a bummer, but I'm grateful for the time I was able to spend on the platform for several years (both as a creator and a consumer) before this happened.
How to test your watercolor paints for transparency
How to test your watercolor paints for staining
How to paint transparency swatches
Materials needed to paint layered watercolor swatches
140lb/300gsm cold press watercolor paper. If you want to go super premium, look for 300lb!
Watercolor paints. Transparent and semi-transparent paints work best for glazing.
A palette. It doesn't have to be fancy – a plastic plate will work! I'm using a ceramic one

similar to this

Plenty of clean water!
Paper towels
How to paint layered watercolor swatches video tutorial
You can find the class on creating glazed/layered watercolor swatches right here! You'll be able to see the full materials list with links if you visit the YouTube page, so it's a good idea to click on over. If you just want to see the video, you can watch it below:
I still have at least one more class to go in the Getting to Know your Watercolors series, but I'm open to adding more! Please let me know if there are any watercolor techniques you'd like to see covered or projects you'd like to see next!