This post may include affiliate links, which means I may make a commission on purchases made through these links at no additional cost to you.
Next week's tutorial will not be beachy or a vase, I promise! But this week I can't resist sharing this painted mermaid vase because I love it so much. It doesn't even matter if you "can't draw" – you can make this vase because I created a printable pattern!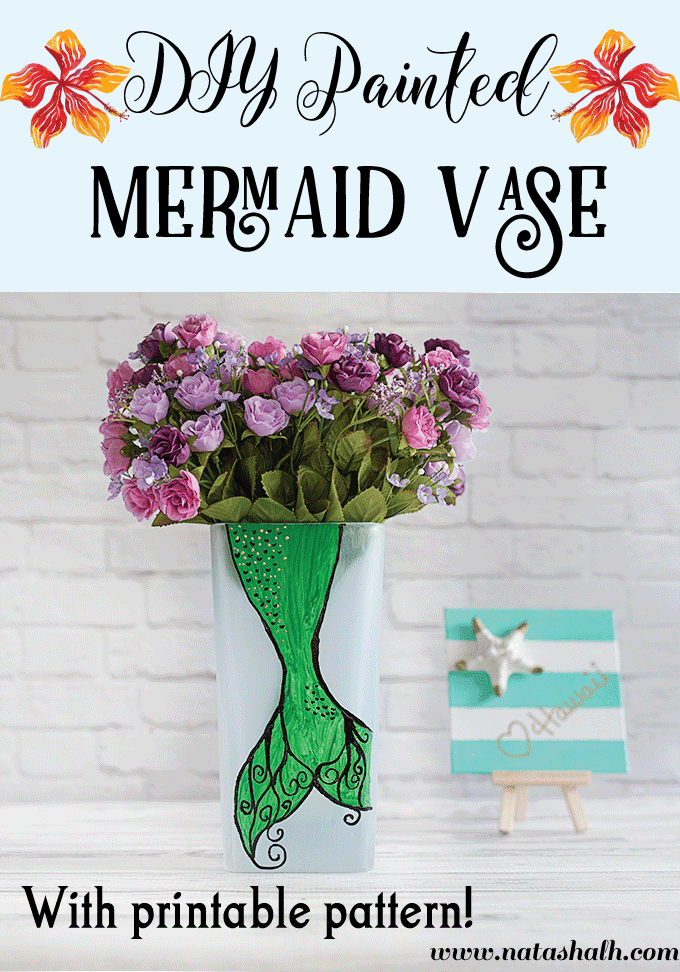 This mermaid vase is way easier than it seems as a result of the pattern I drew. The mermaid tail is 8″ high in the printable pattern you can snag right here, so you can scale it when printing to resize it for your vase. Other materials you'll need for your painted mermaid vase include:
A vase! I used a flat-sided Libby vase I found at local craft store. Virtually any medium or large vase will work. Try to look for a vase that's 8-10″ high, like this one, and you can avoid pattern resizing. =)
A measuring tape or ruler, or the vases's measurements from a sticker/packaging.
Frosted glass paint, either in a bottle or the spray kind (totally optional).
Acrylic craft paint for the mermaid tail (I used green, but purple, pink, blue, or just about any other color would work)
Paint brushes. I used a foam brush and a smaller detail brush.
A fine tip black paint pen or black paint, a small brush, and a steady hand.
Additional paints/paint markers for decoration, if desired.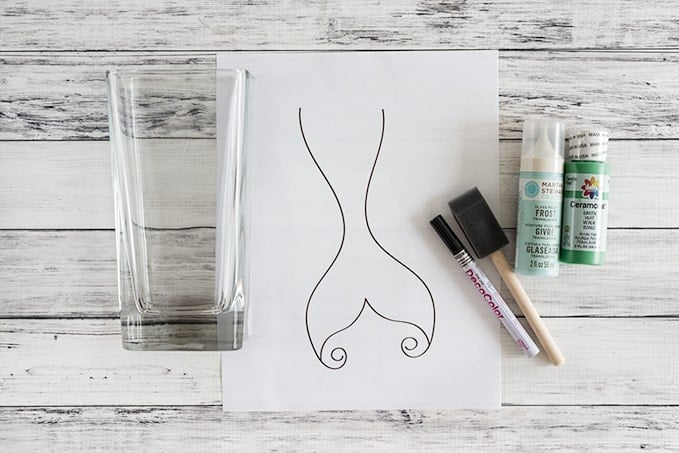 1. Measure your vase's height so you can determine how to scale your printable pattern. It doesn't matter if the whole tail doesn't fit on your vase – I used a flat sided vase and didn't paint the full tail. Print your pattern, scaling as needed.
2. Wash your vase thoroughly and allow it to try. Residues from the manufacturing process and oils from hands can prevent paint from sticking.
3. If desired, add a coat or two of frosted glass paint to your jar. I used my Martha Stewart frosted glass paints which, sadly, don't seem available on Amazon any more (you can read more about these paints and substitutes in my beachy ombre vase tutorial from a couple weeks ago). I applied three thin coats with a foam brush, allowing it to dry between each layer. The new spray paints work well, too. This step is totally optional – you don't need to add frosted paint to your vase!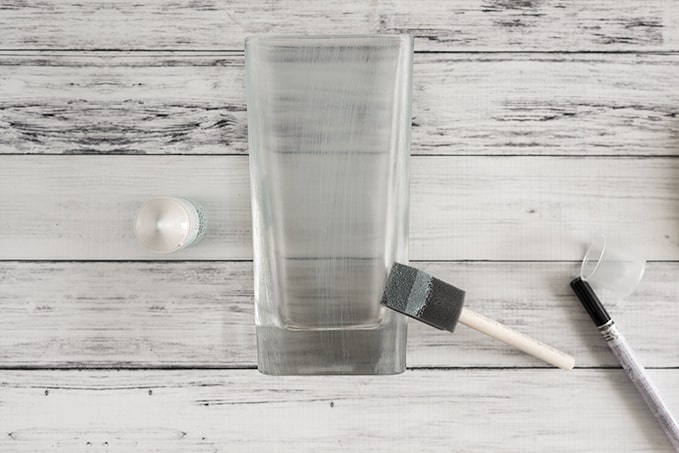 Pro tip: Cover your brush with plastic wrap to avoid having to wash it after each coat of paint!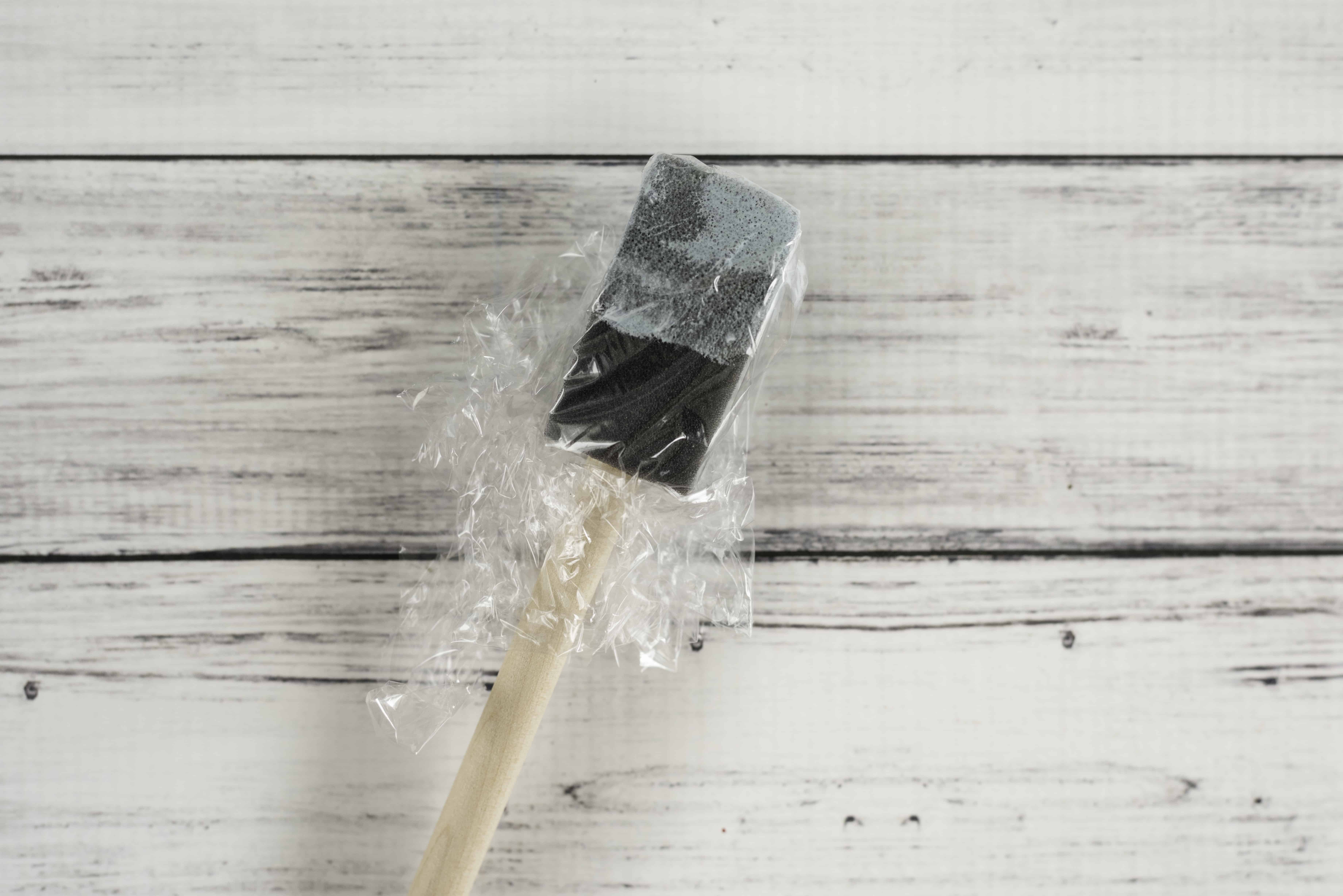 4. After your frosted paint is completely dry, it's time to get your pattern ready! You have a couple of choices. My vase had a very thick bottom and I wanted the tail to extend all the way down, so the first method didn't work well in this particular case. It is a tried and true technique, though, so it will probably work well for your vase! Roughly cut out the pattern and place it inside the vase, then tape it against the surface you want to paint. This gives you a great pattern to simply trace over with your paint!
5. If your vase has a funky shape or thick bottom, like mine, carefully cut the tail out, hold or tape it lightly in position, then trace the tail with a pen or pencil.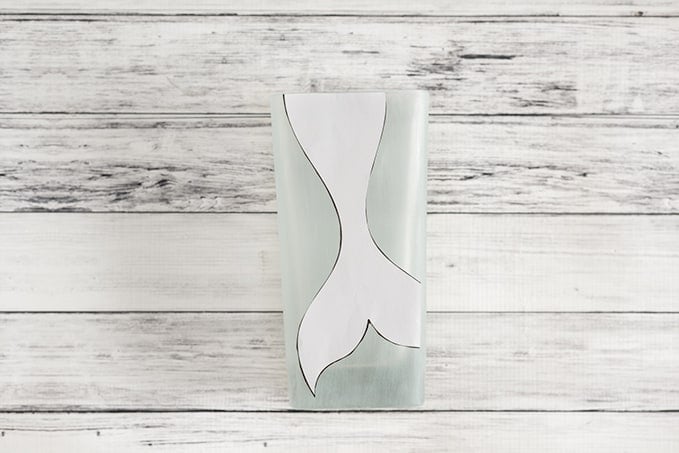 6. Grab your craft paint and a brush and get painting! I used a small detail brush so I could paint within the lines. (Writing that makes me feel like such a conformist!)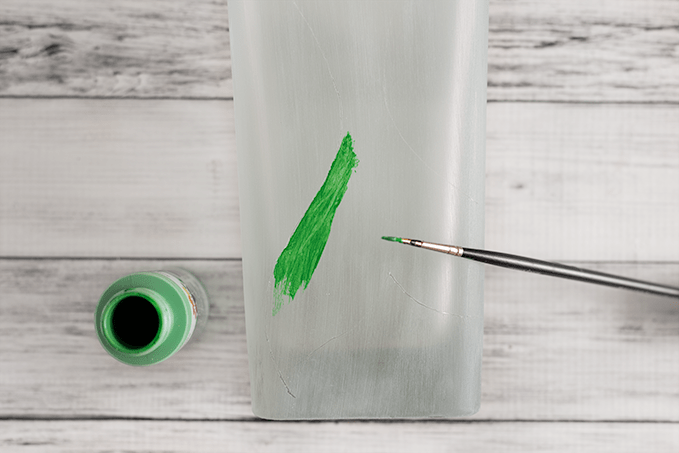 7. Once this paint is completely dry, use your paint pen, or another detail brush and a steady hand, to outline the tail and add any swirls.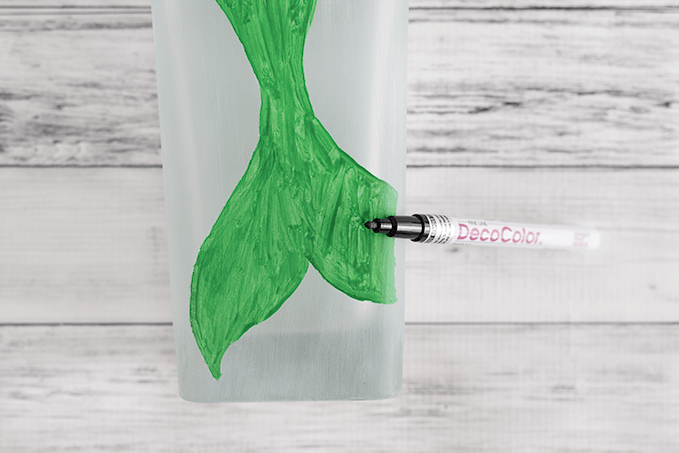 8. I let the outline dry a little bit more, then added fin details and little "u" shapes for scales.
9. I also grabbed a gold paint pen and added a few daubs for extra shine!
After all your paint has dried, your mermaid vase is finished and ready to use! Enjoy. =)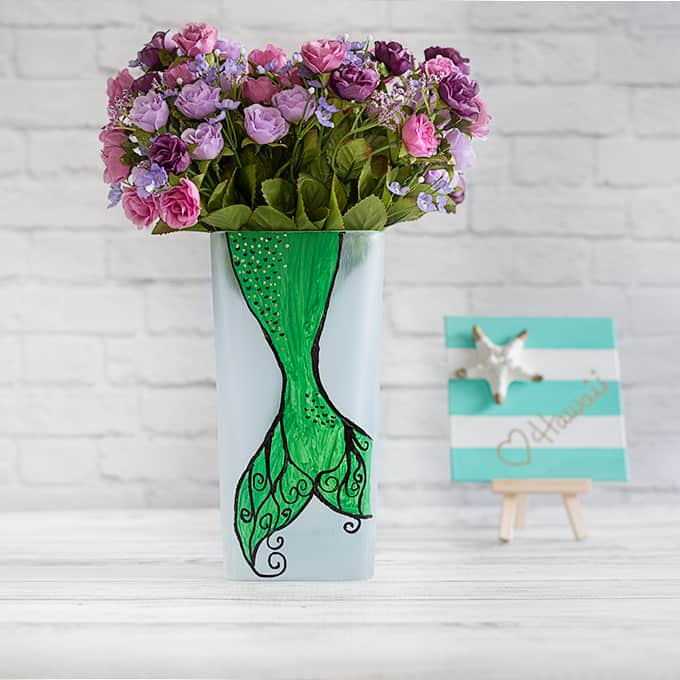 Did you know you can see all of my beachy tutorials organized in a gallery right here? I'm trying to add all my tutorials to the gallery, but I started with my favorite category. =)
I've been really intrigued by painting on glass lately and I keep thinking about drawing other things to trace onto vases. Not next week, because I promised something that isn't a vase, but would anyone like to see other patterns for painting vases? Maybe something for Halloween or Day of the Dead? Let me know!