Have you ever had a plant die because you forgot to water it? Or maybe you let weeds take over your garden because you never actually put weeding on your schedule.
These free printable functional garden planner stickers are here to help!
These functional stickers for gardening can help you stay organized and have a successful garden without using a separate garden binder (that you forget to look at) for every little gardening task. With these stickers, you can turn your favorite planner into a custom garden planner.
The stickers are 1.5″ wide, so they're perfect for Happy Planner Classic and Erin Condren planners. They also fit comfortably inside many wall calendar boxes. I hope you enjoy!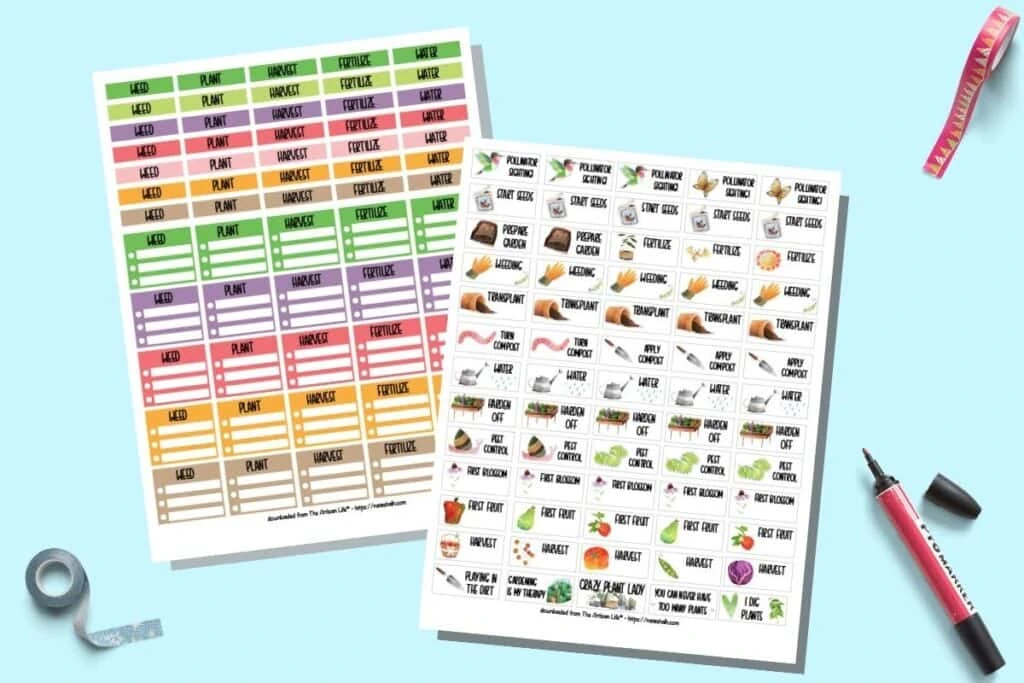 This post may include affiliate links which means I may earn a commission on qualifying purchases at no additional cost to you.
How to print and use planner stickers
Printing your own planner stickers is easy, especially since these functional stickers are all rectangles. There's no need to break out your cutting machine (or wish you had space in your budget for one) – a simple paper cutter or even a pair of scissors will do.
Not sure what functional planner stickers are? Be sure to stop by this guide to printable planner sticker benefits with an explanation of various planner sticker types.
Materials needed:
Download your PDF (download link is lower down in the post. Look for the big blue rectangle with "click here to download.")
Print on your paper of choice. Sticker paper is ideal, but you can also use regular printer paper. I recommend 32 lb HP bright white paper for best results if you go with non-sticker paper.
Cut your stickers out. You can use:
Use your new stickers and enjoy!
These stickers are perfect for cutting with a paper trimmer, like I'm doing with these free printable gratitude stickers in the image below.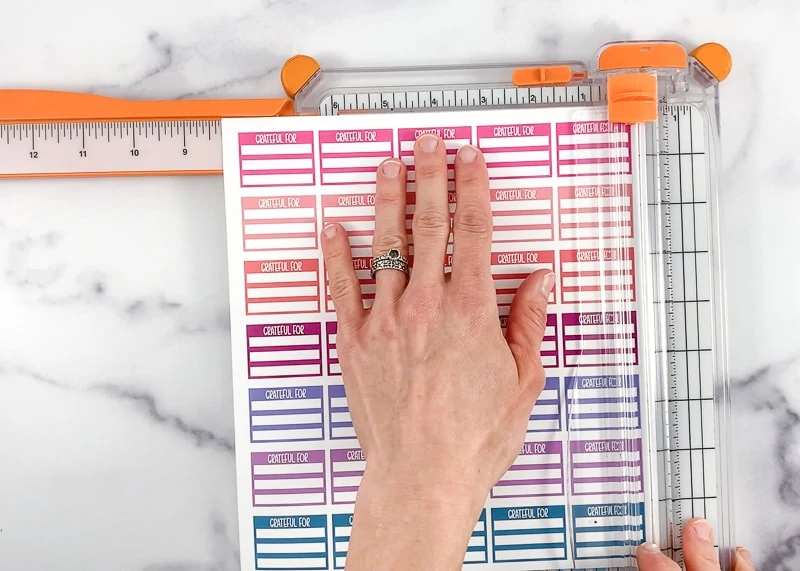 I purchased multiple types of sticker paper to test them out and determine which is the best for printing your own stickers. I haven't written the post yet (because I've been too busy creating printables!), but this Online Labels sticker paper is my top pick for color and affordability. When you buy the 100 pack, the price per page is amazing. (The smaller packages frequently cost just a dollar or two less, so it's worth it to get the big pack.)
Sticker Paper, 100 Sheets, White Matte, 8.5 x 11 Full Sheet Label, Inkjet...
BLANK WHITE MATTE STICKER PAPER - printable adhesive paper - non-yellowing, smudge-proof - permanent - 8.5" x 11" - full sheet - 1 label per sheet -...
NO SLITS ON LINER - no slits on backing for use with electronic cutting machines (Silhouette, Cricut, Brother) - perfect for cutting mats
INCLUDED IN ORDER - 100 full sheet 8.5" x 11" labels + ships in protective, plastic clamshell case, doubles as storage container + free activation to...
How to print planner stickers without sticker paper
If you don't have sticker paper, you can still make your own "stickers. " Here are a few ways:
Free printable garden planner stickers
As mentioned above, these functional garden stickers are 1.5″ wide. They are saved in PDF format with blackout files for use with a sticker cutting machine. You will need to decompress a .zip file to access your printables. An archive tool to decompress files comes pre-installed on Mac computers. You can unzip for free online at ezyzip.com without installing anything onto your computer.
If you have trouble, I found a great resource from an Etsy seller explaining how to unzip any file on any device. This post from a different seller shows how to use blackout files with a cutting machine.
Stickers include:
Banners in 7 colors for weed, plant, harvest, fertilize, and water
Checklist half boxes in 5 colors for week, plant, harvest, fertilize, and water
.65″ gardening activity stickers with clipart. These include a variety of activities and events like spotting pollinators in your garden, tending your compost, hardening off seedlings, conducting pest control, and a handful of just for fun gardening stickers.
My favorites are the stickers for gardening activities with clipart images. Many of these stickers contain space to jot a couple words of notes, such as which seeds you started or which plant you harvested.
Knowing when you first saw blossoms on a plant and when you were able to harvest can help you plan your garden next year. I also keep track of which plants and grow towers (yes, plural) I fertilized or added nutrients to by using these stickers in my Happy Planner.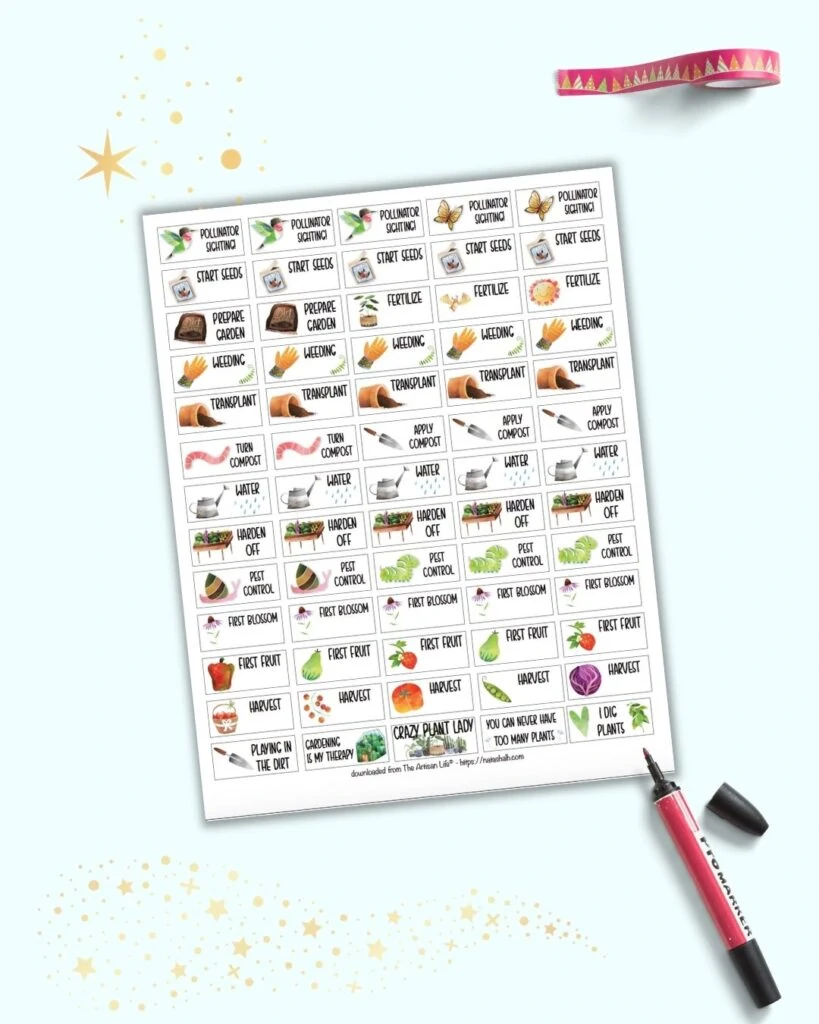 Most of these stickers are best suited to garden plants, not houseplants. I may make a houseplant sticker set in the future – leave a comment to let me know if you're interested!
Like all printable planner stickers on The Artisan Life, these are for your personal use. Personal classroom and small group use is fine, too, as long as you are personally organizing the activity and not charging to participate. (So, for example, if you wanted to give sheets of these stickers to your Scout troop as part of a gardening project.)
You are not licensed to sell or redistribute the digital files or printouts to others for their use (outside of specific single classroom/group activities you are organizing, as explained above). Instead, please refer your friends and coworkers to this page so they can download their own copies.

I hope you enjoy these gardening stickers and put them to good use! Make sure to download these additional free printable planner stickers while you're here on The Artisan Life and check back again soon because I add new stickers almost every week.
Printable Planner Stickers
Printable stickers are a fun way to spruce up your planner and make it more functional without a trip to the store.