Planner stickers are a fun way to make your planner or bullet journal prettier, more organized, and more functional.
If you want to sticker up your planner, journal, or bujo without breaking the bank, then printable planner stickers are the way to go. (Not convinced? Check out this entire post on the benefits of printable stickers.)
Unfortunately, when you don't own an electronic cutting machine, it can feel like you're missing out on all the fun of making your own stickers.
Luckily, this simply isn't true! You can absolutely make your own planner stickers without a cutting machine. Today we're looking at three ways to cut planner stickers at home with a machine like a Cricut or Silhouette .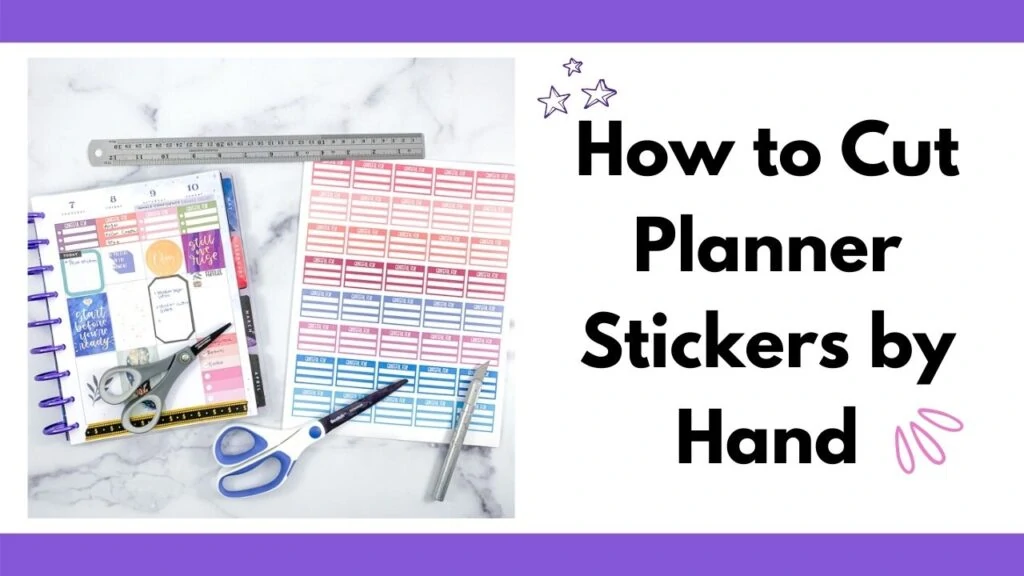 Do you need an electronic cutting machine to make your own stickers?
This post may include affiliate links which means I may earn a commission on qualifying purchases at no additional cost to you.
No!
Yes, an electronic cutting machine can help make homemade stickers appear more professional and it can save you time.
I've owned two Silhouette models and I can safely say that:
They are really cool when they work correctly
They're also a big pain sometimes
There are ongoing costs
The Silhouette software can be frustrating to work with
Cutting machines are cool and I used mine a lot when I had an Etsy store selling physical goods. (And I used it even more while crafting our DIY wedding for projects like this paper flower garland and these paper flower kissing balls.) But they have their own frustrations and problems. You can spend just as much time trying to get your settings correct with a new sticker paper as it would have taken you to just cut the sheet by hand.
A cutting machine is necessary if you want to manufacture a high volume of stickers (or highly professional looking stickers) at home for sale. But if you're just looking to print and use your own stickers without dropping $200+ on a machine, you can absolutely cut your own stickers by hand.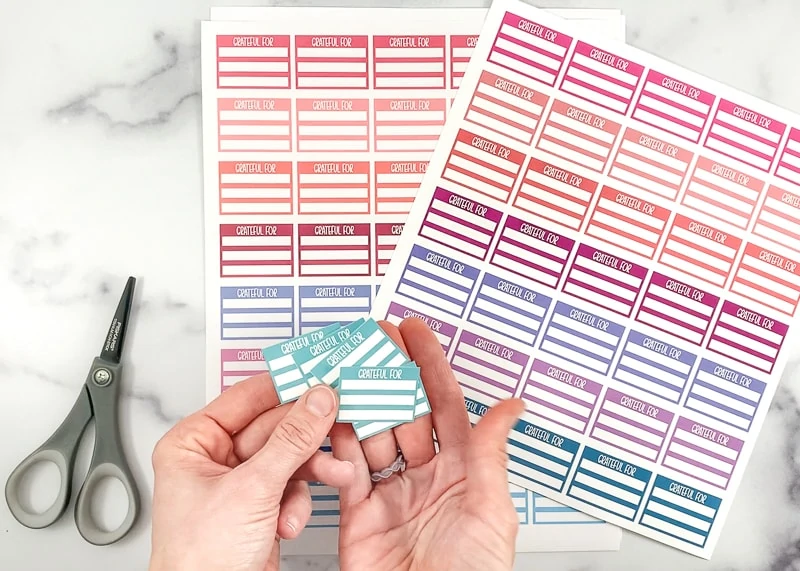 How to cut stickers by hand
Here are ways to cut your own planner stickers by hand. Each one has its pros and cons:
Using scissors

Small scissors are good for making precise cuts and odd shapes. Large scissors work well for longer cuts.

Using a paper cutter or paper trimmer

A paper trimmer is fantastic for long, straight lines like cutting box stickers

Using a metal straight edge and hobby knife (Xacto knife)

If you practice, you can cut just the top layer of sticker paper so you create an actual sticker sheet, not just a pile of cut stickers
For some sticker types, using a paper cutter in combination with small, precise stickers works well. For example, you could easily make the long row cuts from this set of free printable functional vertical flag checklist stickers with a paper cutter, then use small scissors to cut out the notch on the bottom of each sticker.
A tool called the Gyro-Cut can create precise cuts of curves and different shapes, but it has a bit of a learning curve. If you're about to put in the practice time, it can be a great choice. If you'd rather use supplies you already have at home and get started cutting right away, go with one of the methods I'm covering in this post.
How to cut stickers by hand video tutorial
As they say, a picture is worth a thousand words and all that. That's why I created a video showing these three sticker cutting techniques. I recommend watching the video, if you have the chance, and reading the rest of the post for a complete look at how to successfully cut your own stickers by hand.
How to cut stickers with scissors
I do not recommend cutting an entire sheet of stickers by hand with scissors unless its your only option.
For long, larger cuts, use a sharp pair of larger scissors. I recently got some Scotch nonstick titanium scissors and they cut. I've use a lot of scissors in my life (My Etsy store sold both fabric items and signs with cut vinyl, I worked at a copy center after college, and I was a classroom teacher. I've used a lot of scissors.)
Sale
For small, precision cuts, I prefer these small Fiskars nonstick scissors. This is my second pair of these little scissors – I used the first pair for more than 5 years and only replaced them because I lost them.
Small scissors are ideal for more detailed designs. They're a perfect for making small, precise cuts like the "v" in the bottom of these flag checklist stickers. You can also use them for more precise cuts around any clipart design you print to create a more professional looking sticker than just a box.
Fiskars 154110-1001 Non-stick Titanium Softgrip Detail Scissors, 5 Inch
Ideal for cutting tight patterns and making quick snips through a wide variety of materials including paper, cardboard, tape and much more
Non-stick blade coating makes it easy to cut cleanly through materials with sticky adhesives
Titanium-enhanced stainless-steel blades make clean cuts and stay sharp through heavy use
Freehand cutting an entire sheet of box stickers with scissors can wear out your hand and create wobbly edges if you're not super slow and careful.
On the other hand, you probably already own a pair of scissors and know how to use them so you can get started right away. Scissors, especially precise ones, can allow you to cut out more intricate designs instead of just boxes.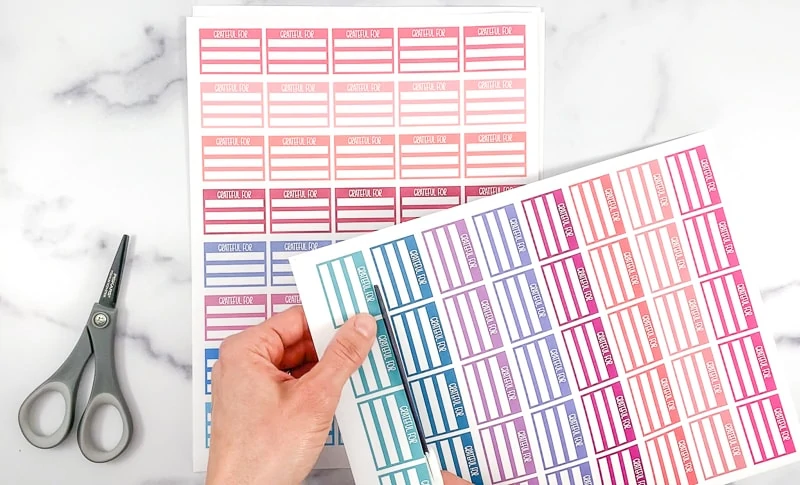 Using a paper cutter to cut stickers
There are two different types of home-use paper cutters: ones with a guillotine-style swing blade and paper trimmers with a small, horizontally moving blade that runs along a guide.
Frequently the swing arm styles are called paper cutters and the less scary-looking ones with a small blade that runs along a guide are called paper trimmers.
Paper cutters are more powerful and can cut through multiple sheets at a time, if everything is aligned correctly and you hold the pages in place securely. That being said, I rarely pull my hulking old paper cutter out of the closet.
I personally find my Fiskar's paper trimmer to be pretty accurate and a whole lot safer to have in the house with a small child. The blade may gum up a bit with lots of sticker cutting, but you can wipe it down between uses and the blades are cheap and easy to replace. A trimmer is also smaller and lighter weight than a "cutter." This is the one I've been using for years:
Fiskars SureCut Deluxe Craft Paper Trimmer - 12" Cut Length - Craft Paper...
ARTS AND CRAFTS STAPLE: Fiskars SureCut Deluxe Craft and Office Paper Trimmer is a great addition to scrapbook supplies, stationary projects, and...
PRECISION ART SUPPLIES: Scale and base deck grid help ensure accuracy; Break- and fray-proof SureCut wire cut-line makes it easy to see where the...
LONG LASTING AND RELIABLE: Lightweight and portable trimmer is easy to transport and store; Fiskars craft supplies and materials are built to last
Cutting stickers with a paper trimmer is fairly easy. Align where you want to cut carefully with the designed cutting line. Paper trimmers have a guide wire that makes this easy. Hold the page firmly in place along the top of the cutter and slice.
I like making long cuts with a paper cutter and using scissors to cut the individual stickers apart. Making many small, short cuts with a paper trimmer is tedious.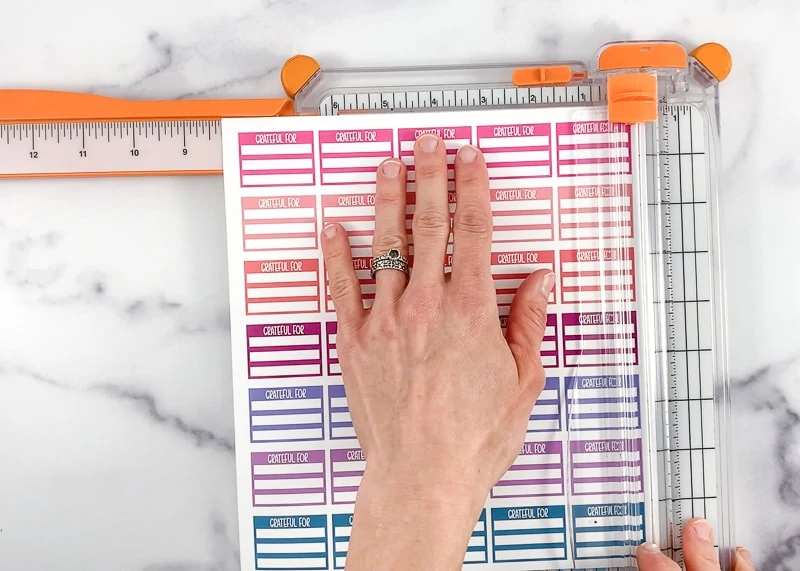 How to cut stickers by hand with a ruler and knife
Last, there's the (potentially) most accurate, but also most time consuming method: cutting stickers by hadn't with a metal ruler and a hobby knife.
It's important to use a metal straight edge, not a plastic or wood. Your knife can easily cut into a plastic or wood ruler, leaving gouges and creating an inaccurate edge. I have this inexpensive multi pack of metal rulers. They're great for bullet journaling, too!
This method is best for cutting straight lines. It can be used for cutting the notch out of flags. You can also (carefully) cut boxes out of stickers if you want to make a frame.
I recommend placing a cutting mat behind your sheet before you cut. If you don't have a cutting mat, you can use a cutting board from your kitchen in a pinch.
Carefully position your ruler along the edge you want to cut. You may want to position it ever so slightly off the exact cut line. Bump it out a little for a small white border or in a little if you want to make sure there is no white showing.
Hold the ruler in place firmly and cut carefully along the edge. With practice, you can use a sharp blade to cut through the layer of sticker paper but not through the sticker backing. This creates more professional looking sticker sheets that are easy to keep in a file or folder.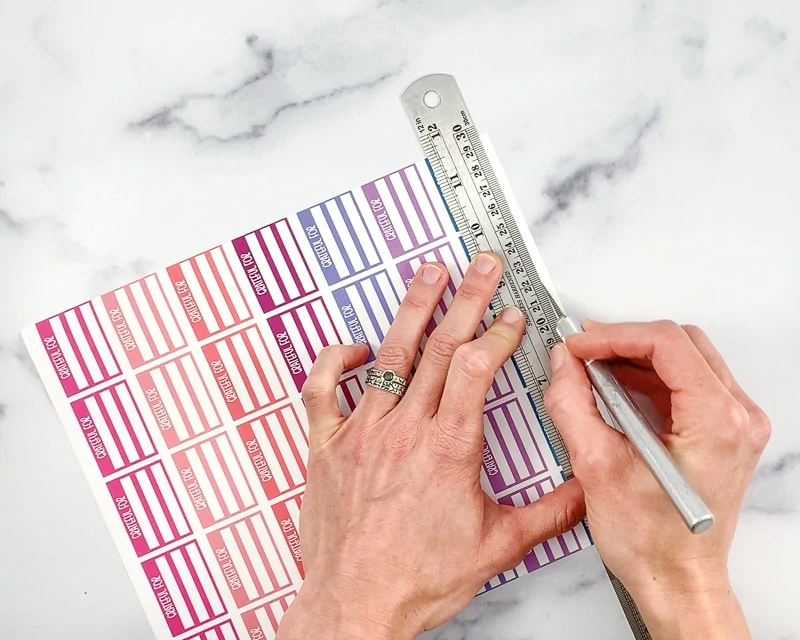 Enjoy your planner stickers!
Now you know how to cut your own planner stickers by hand! Put your new knowledge to work when you download these free printable planner stickers from The Artisan Life:
Printable Planner Stickers
Printable stickers are a fun way to spruce up your planner and make it more functional without a trip to the store.