These free printable vertical flag checklist stickers for Happy Planner Classic feature cute hearts to check off and in a cheerful rainbow of colors for all your checklist needs. Make your to-do list fun with these free printable functional planner stickers!
These vertical flags are full-sized for the Happy Planner Classic. They are 2.5″ long when printed at 100% size. For a shorter box, like Erin Condren, you can scale your print down or simply trim off the top heart to shorten the box.
If you enjoy planner printables, be sure to check out the category page for free printable journals and planners here on The Artisan Life. I release monthly free US letter and Happy Planner Classic planner printables.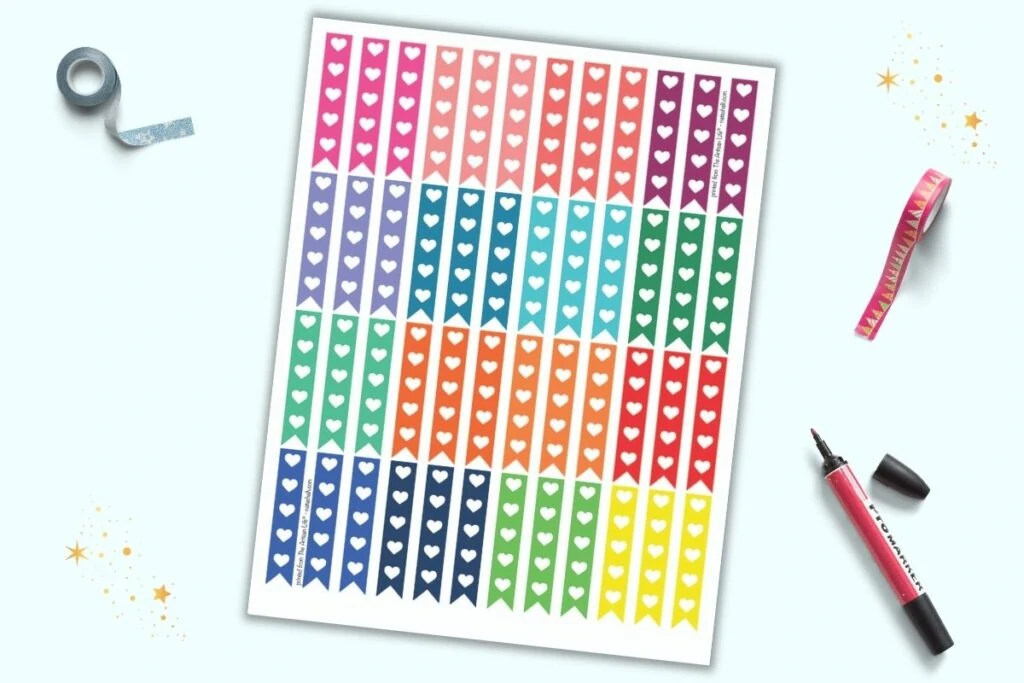 How to print and use vertical flag stickers
This post may include affiliate links which means I may earn a commission on qualifying purchases at no additional cost to you.
Printing your own planner stickers may seem intimidating, but it really isn't. You definitely don't need an expensive sticker cutting machine to make yourself a few stickers at home. You don't even have to use sticker paper – you can simply print the "stickers" on printer paper and glue or tape them in place!
If you're not quite sure about printable stickers, stop by this post to learn about the benefits of printable stickers and the types of printable planner stickers.
Here are the basic steps for printing your own stickers:
Download your free PDF (download link is lower down in the post)
Print on your paper of choice. Sticker paper is ideal, but you can also use regular printer paper. I recommend 32 lb HP bright white paper for best results if you go with non-sticker paper.
Cut your stickers with a paper cutter. You can use:
Use and enjoy!
If you don't have sticker paper, you can still make your own stickers. Here are a few ideas:
Use a few dabs of Eileen's Tacky Glue (it's so much better than the school glue you used as a kid!)
Use a narrow double sided sticky tape. Many double sided sticky tapes are .5″ and these vertical flags are just under half an inch wide, so make sure to get .3″ double sided tape.
Use a Xyron sticker maker to turn your cut outs into stickers. The small version is large enough for planner stickers and barely costs more than a pack of sticker paper. (I snagged mine on clearance at Target a while ago and got an even better deal.)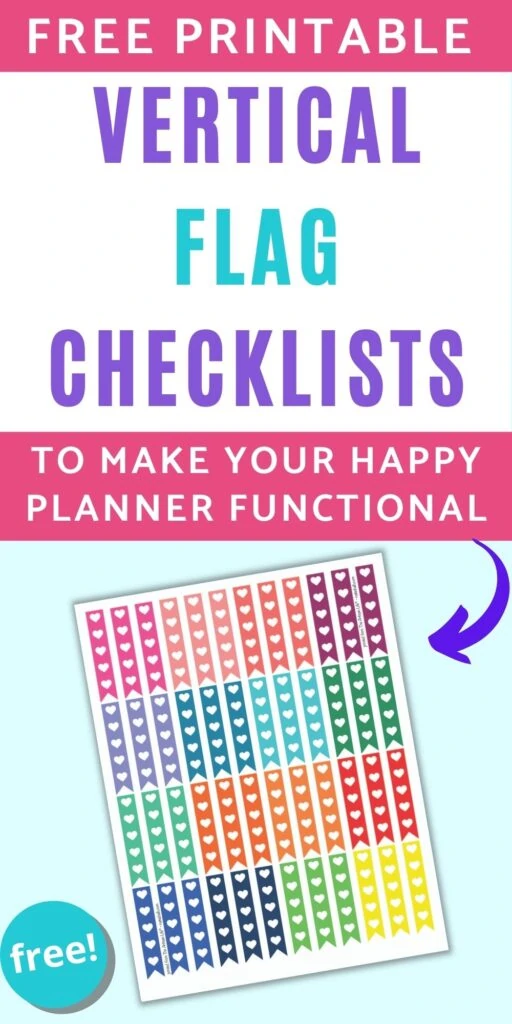 Free printable Happy Planner vertical flag checklist stickers with hearts
First, some important housekeeping. Like all free printables here on The Artisan Life, these are for personal and classroom use. You are welcome to print and use them as many times as you'd like for yourself, your family, or your personal classroom.
You are not licensed to redistribute these files or printouts to others for their personal use or use them commercially. Please just send your coworkers and friends to this page so they can download their own copies.
These vertical flags have 5 hearts each to use as checkboxes and are in 16 rainbow colors. Each sticker is 2.5″ long when printed at 100% size. To ensure stickers are sized correctly, double check to make sure you are printing at 100%/actual size. You can also scale them down to fit shorter boxes.
There are two separate files – one is a PDF and the other is a PNG. Please use the link for the file(s) you want.
The download link is located below the preview image. It should open in a new tab and begin downloading from Dropbox immediately. You may need to authorize downloads from dropbox if a box appears asking for permission.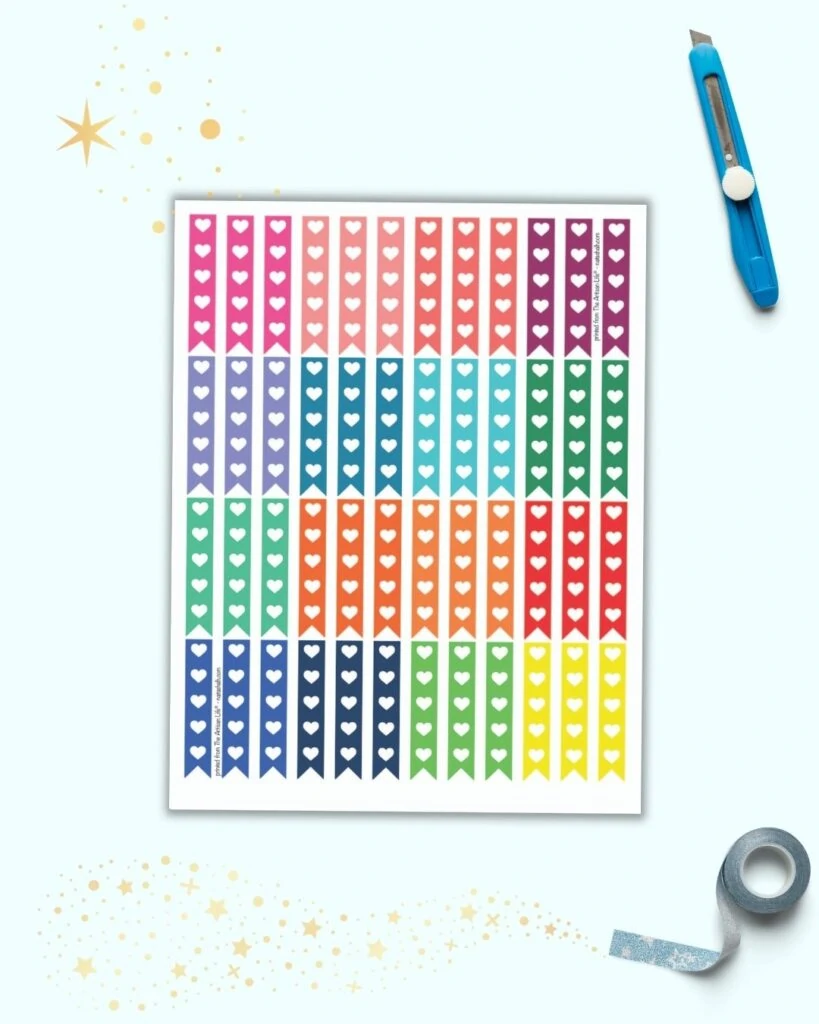 I hope you enjoy using these fun little functional stickers. Please leave a comment letting me know what type of printable planner sticker you'd like to see next!
Planner Printables
Plan your year with free, colorful monthly themed planner printables in US Letter and Happy Planner Classic sizes! The entire year is available now so you can plan ahead.
There are also non-month specific planner printables and free printable planner stickers.