Do you love having a pretty planner or journal, but hate paying tons of money for sticker books that are 50% stickers you don't even like?
Or maybe you enjoy "no white space" planning where you cover your page with stickers every week.
Using printable stickers can help you have a colorful, organized, and pretty planner without going to the store, waiting for the mail, or breaking the bank.
Using printable stickers when journaling and planning can help boost productivity and keep your book organized and updated. They are cheaper than buying new packs and useful for decorating and fixing mistakes, too.
There are numerous reasons to use printable stickers in your planning processes. There are also different types of printable stickers that will up your journaling game and keep you focused on the day's tasks.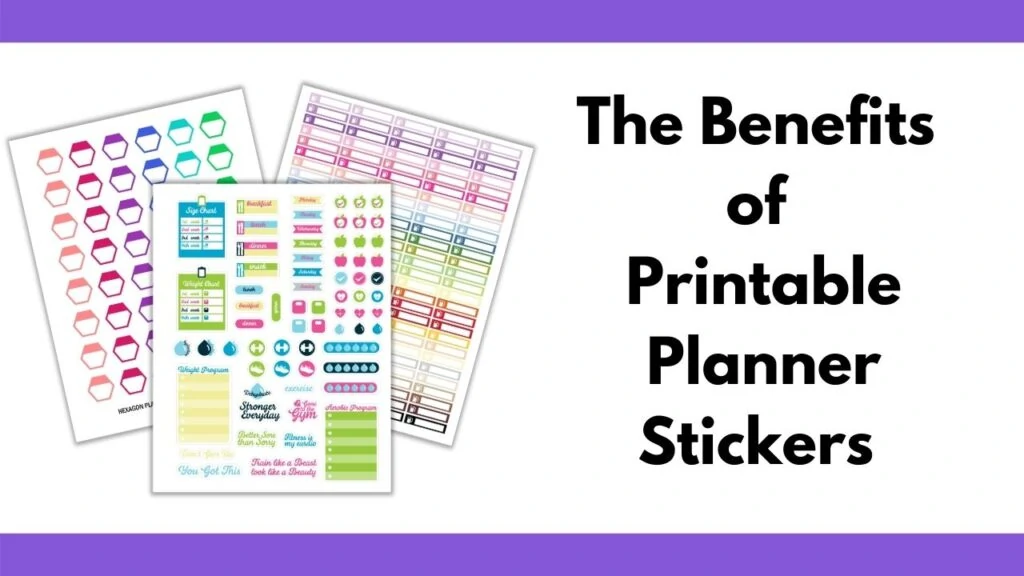 I love creating and using printable planner stickers in my Happy Planner Classic. That's why I have a set of printable stickers included with each monthly planner printable set I create. Months created so far include:
These planner packs always come in US letter and Happy Planner Classic. Make sure to check back for even more months soon!
Before printing stickers, make sure to check out this post on the best paper for planner printables. If you scroll down, you'll find a whole section on different sticker papers and how to tell the difference between writable and non-writable sticker paper.
This post may include affiliate links which means I may earn a commission on qualifying purchases at no additional cost to you.
Why Use Printable Stickers?
Whether you want to use printable stickers a few times every few pages or cover each page with plenty of colorful stickers, they are a great addition to any journal. Here are just a few reasons you should use printable stickers in your planning and journaling sessions: 
Save Money on Buying New Sticker Packs
Whether you create your own icon and box stickers or download a PDF of your favorite checklists and symbols, it's cheap and easy to print out your own. You don't need to stock up on packs and can print as you need. 
Also, there are so many options to choose from when you can print from home. You're not limited to whatever MAMBI decides to make this season or what you can find at the Target Dollar Spot. There's no need to worry about shipping or waiting for your stickers to come in the mail, either.
They Add a Pop of Color
Easily add a pop of color using printable stickers! They stick (haha) out on the white pages and give you a beautiful aesthetic that will make you smile each time you open your notebook. They also stand out amongst a lot of text and make each page more easy to process so you don't miss important reminders.
With printable stickers, you can get creative and add your own personality. You can make your own stickers using free programs like Canva
They are an Easy Way to Flag Important Dates, Tasks, and More
Need an easy to use but hard-to-miss way to flag due dates, tasks, or other essential items? Add a sticker!
Designate different stickers to different tasks – use an icon for chores or a star for high-priority items. You can even use a flag sticker that will stick out of the page for easy bookmarking.
Stickers Enhance Your Planner's Organization
Do you have a hard time keeping your planner neat and tidy, or do you have messy handwriting that makes your pages look cluttered and untidy? You can use category stickers to help clean up the mess and keep things in order.
Designate a different color for each subject, whether you're writing about school, chores, exercise, bills, etc. To further enhance your planner game, write each section using the same color as the designated sticker. They'll also help clear out some desk space. Being able to print stickers as you need keeps your desk from becoming cluttered with packs of stickers. 
Stickers Boost Productivity
Some stickers can boost your productivity and help focus on important tasks. Stickers like the "top three" ones let you choose the most important things you need to do each day or week and keep them at the top of the page and in your mind. These daily reminders will ensure you never miss a due date! 
You can also use stickers to track your habits. Whether you're tracking how much water you drink or the number of days you worked on a project, stickers keep you on task. Use icon stickers to set reminders for cleaning, laundry, exercise, or whatever activity you want to do each day. 
No Harm Done If You Mess Up
Suppose you messed up some penmanship or put the wrong date down. With stickers, there's no need to worry about staring at old blemishes! Have you messed up writing in your journal? Place a smiley face over it! Wrote down the wrong tasks in your box sticker? Put a new sticker on top!
If you mess up printing a sticker – it's too big, or the ink blotched the paper – you can click a button to reprint. There's no need to wait for a new pack to come in the mail.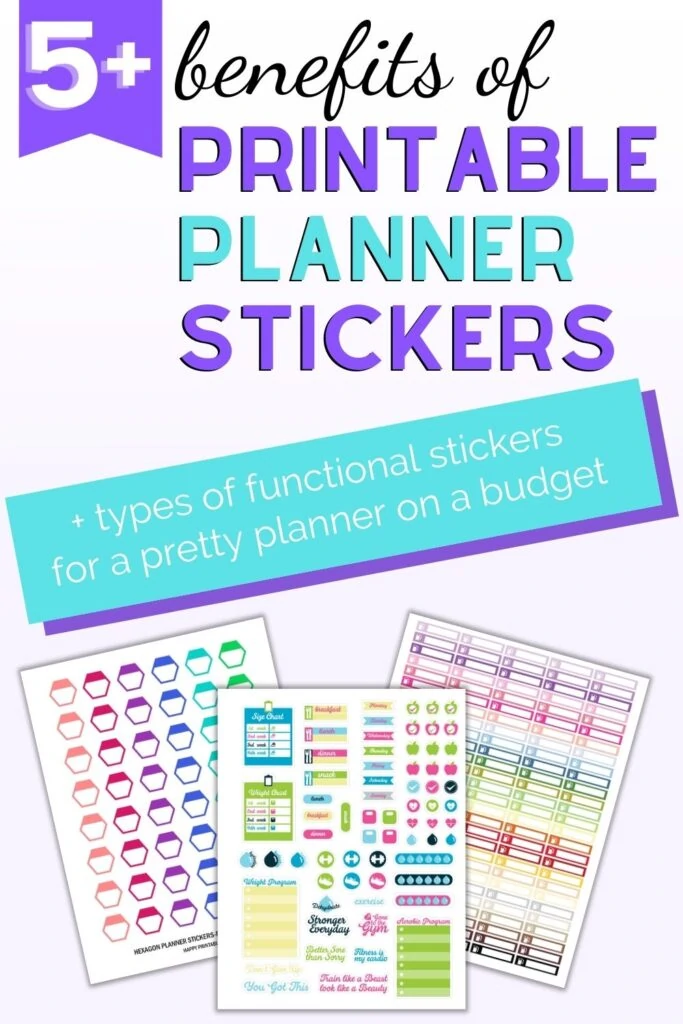 Types of Printable Stickers
There are many types of printable stickers available. Whether you're looking for cute decorations to add to your journal or want something useful for planning, here are a few types of printable stickers to consider, along with a few examples: 
Icon Stickers
Icon stickers come in all sorts of shapes, from dumbbells to bills.
Their small sizes make it easy to put anywhere on the page and designate as reminders for workouts, chores, homework, and more. For example, use a cake icon to remember birthdays or add a plane sticker to a travel date. If you don't care to plan, use them as cute decorations in the sidebars.
Printable Icon Planner Stickers
Icon stickers can be cute, functional, and a whole lot of fun with these printable planner icon listings from Etsy designers! They're also way more affordable than printed stickers - most are only a couple of dollars.
Box Stickers
Box stickers are useful for productivity, creativity, and decoration. They come in quarter, half, and full sizes and are best used for weekly spreads. Use your imagination with these or find a practical use, such as:
Blocking out time
Highlighting essential events or tasks
Layering with other stickers for a neat aesthetic
Many printable box stickers are designed to fit Erin Condren or Happy Planner Classic. EC full sized are slightly shorter, but fit fine in the HPC weekly spread pages. HPC full sized boxes are a little long for the EC area and may stick into the box above or below a little bit.
If you have a different planner system, make sure to read sticker listings carefully and measure your planner boxes to see how compatible they are with your pages.
Printable Box Planner Stickers
As noted above, make sure to read listings to ensure you're getting stickers that will fit your planner easily. Erin Condren and Happy Planner Classic box stickers are generally pretty compatible, but other planners may need different sizes.
Checklists
Checklist stickers help organize to-do lists in a fun and simple manner. Whether you want to make a note of the most important things you need to do or have an ongoing list of tasks, checklist stickers are easy to use and great for keeping track. The best part? If you mess up or need to replace your list, just put a new sticker over the old one!
Checklist stickers are frequently box stickers with lines already added. You can also find vertical flags with circles to check off, vertical rows of check boxes, and even tiny individual circle stickers to add a checkmark spot next to any line in your planner.
Printable Planner Checklist Stickers
Many checklist stickers are compatible with basically any planner, but full sized box stickers may be more planner specific. Make sure to check the description, especially if you use a system other than EC or HPC.
The "worst" part about checklist planner stickers is that there are so many different useful options and printable stickers are super affordable so it's easy to fill your hard drive with tons of sticker packs. 😅
Functional Planner Stickers
Functional planner stickers can belong to any of the categories listed above. Functional stickers might be icons, checklists, to-do reminder flags, box stickers, or banners.
Functional stickers are stickers that help you stay organized and don't "just" decorate your planner. Of course, many pare pretty to look at, too!
Because functional stickers are so useful, you can frequently find functional sticker sets in specific color themes and styles to suit your planning needs.
Headers and Dividers
Header and divider stickers help you divide pages and create sections. You can write on divider tabs or use them for decoration. You can also find pre-labeled header stickers for things like to do, today, and this week.
Printable Header Stickers
Although many planner header stickers are cross-compatible, check the width of your planner boxes to make sure they're a good fit.
Symbols (Stars, Bullets, Etc.)
Like icons, symbol stickers are little shapes that you can use to attach meanings to your stickers. These come in stars, bullet points, and other conditions that can help you highlight important tasks or make a note of something. Use a checkmark sticker to notate a completed job or add an Asterix next to a quote you want to remember.
Conclusion
Printable stickers are an easy way to keep track of your life with your favorite planner planner. Stay organized and focused, or create a beautiful page using different stickers. Printing stickers at home saves time, money, and storage. No need to wait for your stickers to ship to you, and you can easily print as you need.
Planner & Journal Printables
Looking for more planner and journal printables? Check out these freebies on The Artisan Life!