Today I'm excited to share a new set of printables to boost your child's reading confidence, attention to detail, and even their fine motor skills: the sight words word search puzzle book!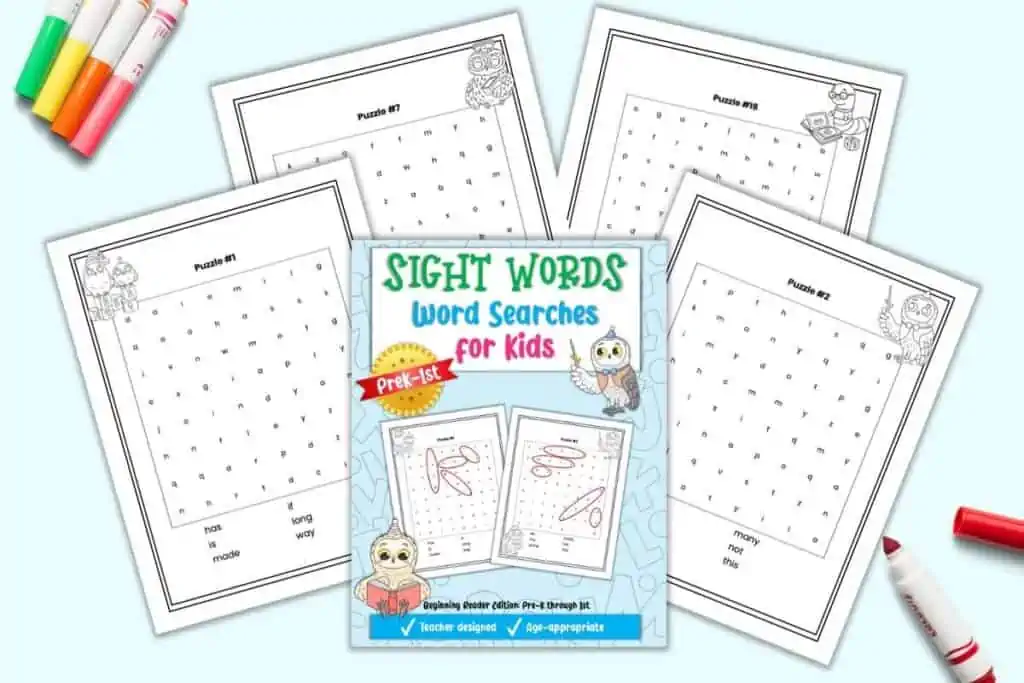 This word search puzzle book or kids is available in printed form from Amazon and as a printable PDF that your little learner can start enjoying just minutes from now. Let's take a closer look at the workbook, what's included, and how it can benefit your child.
This book includes more than 200 sight words your child should learn in pre-k, kindergarten, and first grade. Mastering sight words builds your child's reading fluency and confidence. Solving crossword puzzles engages their brains and increases attention to detail while physically circling the words improves their fine motor skills and pencil grip. Each page also has educational owls or cute bookworms to color.
There are two sections in the book with a larger puzzle grid and more words per puzzle in the more challenging, first grade level Section 2.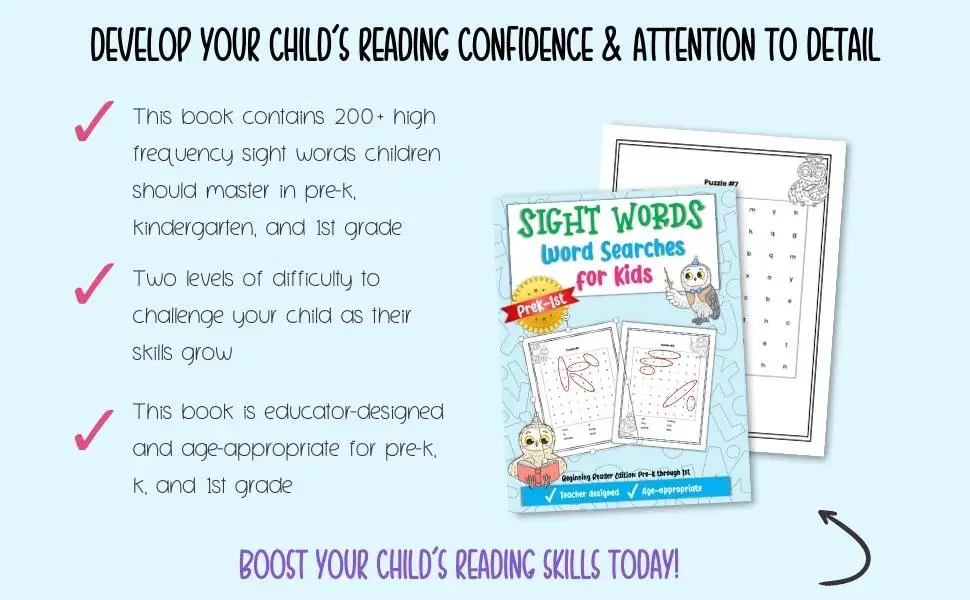 This post may include affiliate links which means I may earn a commission on qualifying purchases at no additional cost to you.
What are sight words?
Sight words are common, high frequency words. Learning how to quickly recognize sight words helps your child gaining reading fluency and confidence. Many, but not all, sight words don't follow regular phonics rules and are difficult to sound out. For example, sight words like "to," "of," and "was" don't follow standard phonics rules and are challenging to sound out correctly.
Sight words are also called popcorn words (because they "pop" up constantly), star words, and core words.
You may see people refer to Dolch sight words and Fry sight words. Both of these are commonly used sight word lists based on analyzing the frequency of words in stories for young children. The Dolch sight words lists were complied in the 1930s and 40s and the lists are still commonly used today. The Fry sight words list has been updated more recently. Many of the words are the same, but there are a few differences.
This sight words word search book uses words from both the Dolch and Fry lists.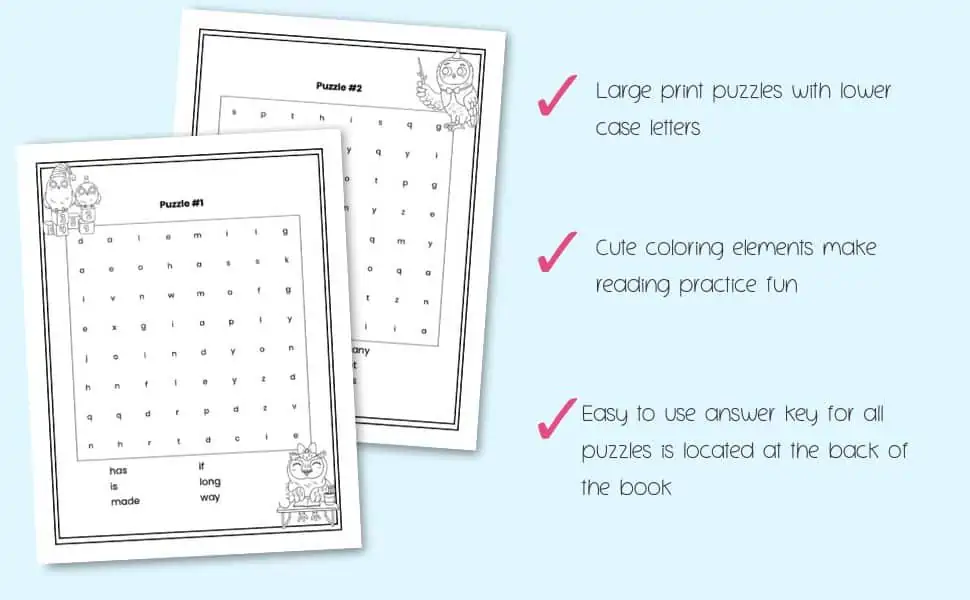 How to use word search worksheets
Whether you purchase the printed hard copy of the book or the printable format, this section can help!
As adults, we usually want new, different word puzzles. Children, on the other hand, like doing the same activity over and over multiple times. It's likely that your child will want to solve the same word search again. Whether you have the printed copy of the workbook or the printable version, you can make the word puzzle pages reusable to save yourself time and money.
If you print copies of a worksheet, you can slip them the pages into heavy duty page protectors. These thicker page protectors hold up better to repeated writing and erasing and they're easy to keep organized in a three ring binder. We like to use these 1/2″ binders for worksheets.
Sale
Avery 76000 Secure Top Sheet Protectors, Super Heavy Gauge, Letter, Diamond...
Keep contents secure in the protective sleeve with convenient top flap; perfect for holding nonstandard size papers and important items
Get a crisp, clear view of the contents of your documents with diamond clear page protectors featuring a polished finish for high clarity
Ensure your documents stay protected with long-lasting super heavyweight sheet protectors for all of your frequently referenced items
If you have the printed copy of the book, you can carefully cut the pages out of the book and slide them into page protectors. I created a video tutorial on how to quickly, easily, and accurately cut pages out of coloring books. The process is the same for workbooks. You can see the post on how to remove pages from a coloring book or watch the video below:
If you don't want to make the pages reusable, that's fine! I recommend getting a preschool pencil that's easier for your child to hold so they can practice their pencil grip.
Channie's Easy-to-Hold Presharpened Big Pencils for Preschoolers,...
Cute Pencil Set for Children - Pre-sharpened number 2 beginner pencils for writing and drawing; Easy to hold for small hands, perfect for...
Jumbo Barrel - Medium point and 2B graphite core creates thick, dark lines; Each pencil is 4.7'' long and 0.5'' in diameter and weighs 5 oz to help...
Complete School Set - Ready to use in kindergarten or preschool; Pencils include bulky erasers and come pre-sharpened for immediate use; Pack includes...
Where to get your sight words word search book
This book is available in printed format on Amazon and as a printable PDF.
Purchase Sight Words Word Searches on Amazon here
You can also purchase the printable PDF directly from my Shopify store.
Purchase the sight words word search book PDF here
You can also get the printable version using the widget below:
I hope your little learner enjoys these word search puzzles as much as mine does! Please remember to email me for your coupon code if you purchase the printed book this week.
Browse more printed book options below:
Printed Coloring Books & Activity Books for Kids