If you want to remove a coloring page from a book without perforated pages, you've come to the right place! I'm going to show you how to quickly, easily, and accurately remove pages from a coloring book, puzzle book, or activity book without perforated pages.
People frequently try to tear pages out of books, which leaves a rough edge and can rip the page. People also try to cut pages out of books with scissors, but it's difficult to cut a straight line that's close to the margin. I'm sharing a way that is better and easier than either of these methods.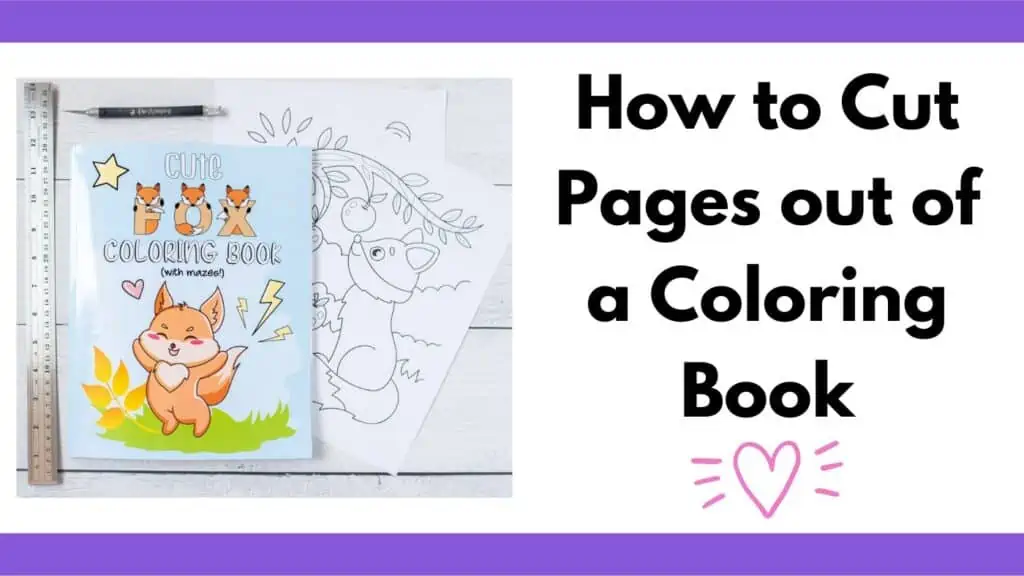 I read a lot of product reviews when I started publishing coloring and activity books using Amazon's print on demand service. I look out for negative product reviews to see what people don't like about other books so I can avoid the same mistakes.I've told regular readers about my printed coloring books and have my Amazon Author page set up under my real name. I'm proud of my work and I want to create the best coloring, puzzle, and activity books possible!
One of the common complaints I saw in reviews was a lack of perforated pages. People want to take pages out of coloring books to make them easier to color (this is especially true for lefties), to display their finished page, or to make activity books easier for their child to use.
Unfortunately, KDP (Amazon's print on demand service) does not offer a perforated pages option. Luckily, I've worked at both a copy shop and a hobby shop so I know how to cut pages out of books easily and accurately. Let me show you how!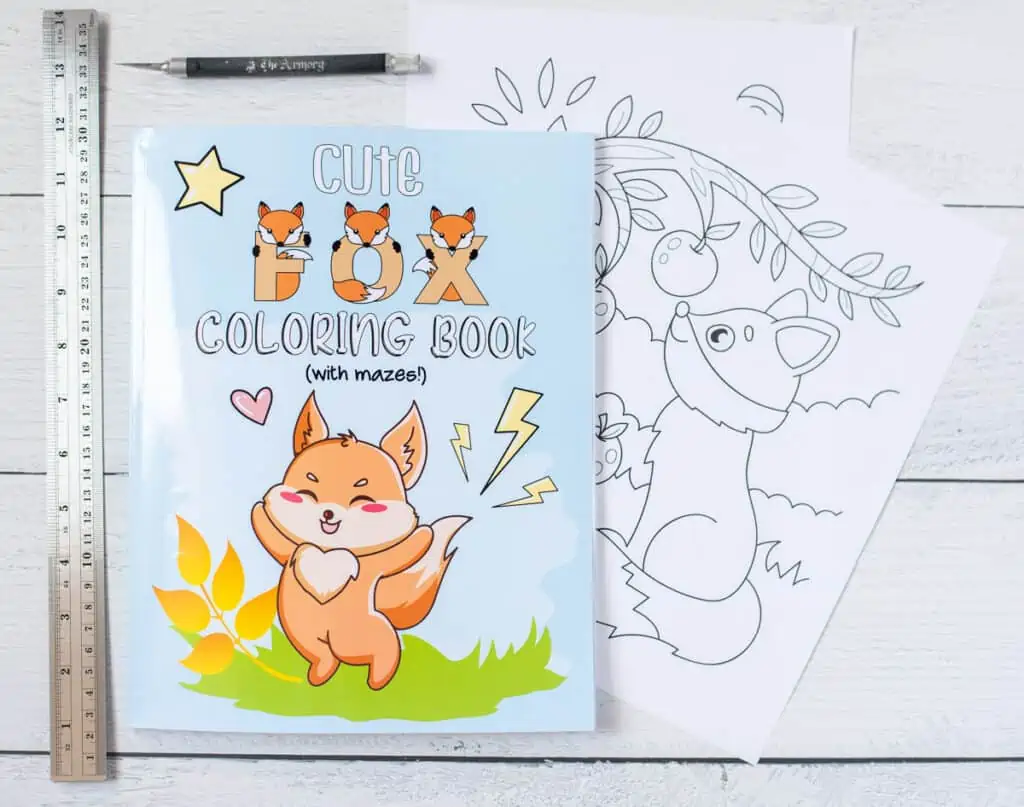 Materials need to cut pages out of book
You don't need much to cut pages out of a coloring book, or any other book for that matter:
Your book. I'm demonstrating using the cute fox coloring book for kids.
A straight edge or ruler
A sharp hobby knife (for example, and Xacto brand knife)

Make sure to use a sharp, clean blade, If there are nicks, rust, bits of old glue, etc, it can mess up your page
That's it! You may also want a scrap piece of paper or two, but it isn't 100% necessary.
How to remove pages from a book
This process is simple, but you will need to work carefully. Please be very careful because you can cut yourself with a hobby knife.
I recorded a quick video showing the process. The video is located below this brief step-by-step guide.
First, turn to the page you want to remove. You may want to place a scrap sheet of paper behind it. I typically do not, but I've had a lot of practice. You may want to be safe and add a scrap sheet behind the page you intend to cut to make sure you don't accidentally cut through an extra sheet.
Place your ruler or straight edge along the bound margin of the page. Make sure it's evenly spaced from the bound edge and hold it in place very firmly.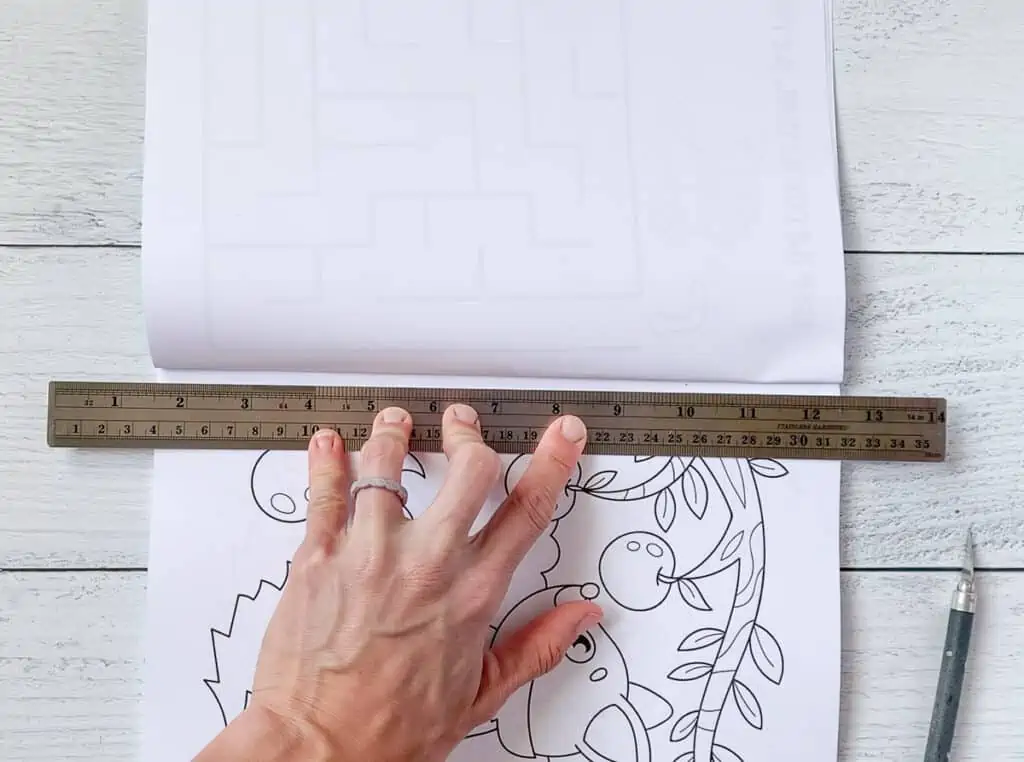 Using the ruler as a guide, cut through the page with your hobby knife. Press firmly and draw the knife along the ruler's edge. This is why metal is the best option – it's easy to accidentally cut into a plastic or wood ruler.
Hold the ruler firmly to make sure it doesn't move and go slowly so the knife doesn't slip. Cut firmly, but not so hard that you cut through multiple pages. It sounds tricky, but take it slow and you'll be fine. It's difficult to apply enough pressure to cut through multiple pages at once.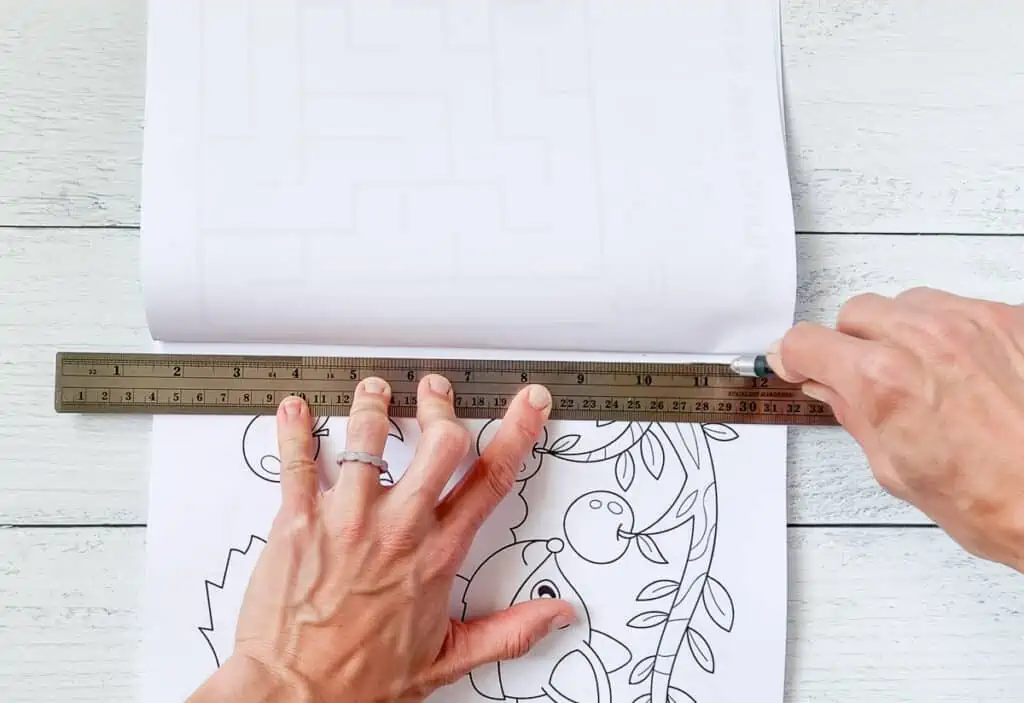 Remove your page! Pull carefully in case you missed any spots that need a touch up cut. With practice, and a sharp knife blade, you'll figure out how to apply the exact right pressure to get a clean cut without removing multiple pages at one.
That's it! Enjoy your removed page with a nice, clean, straight edge.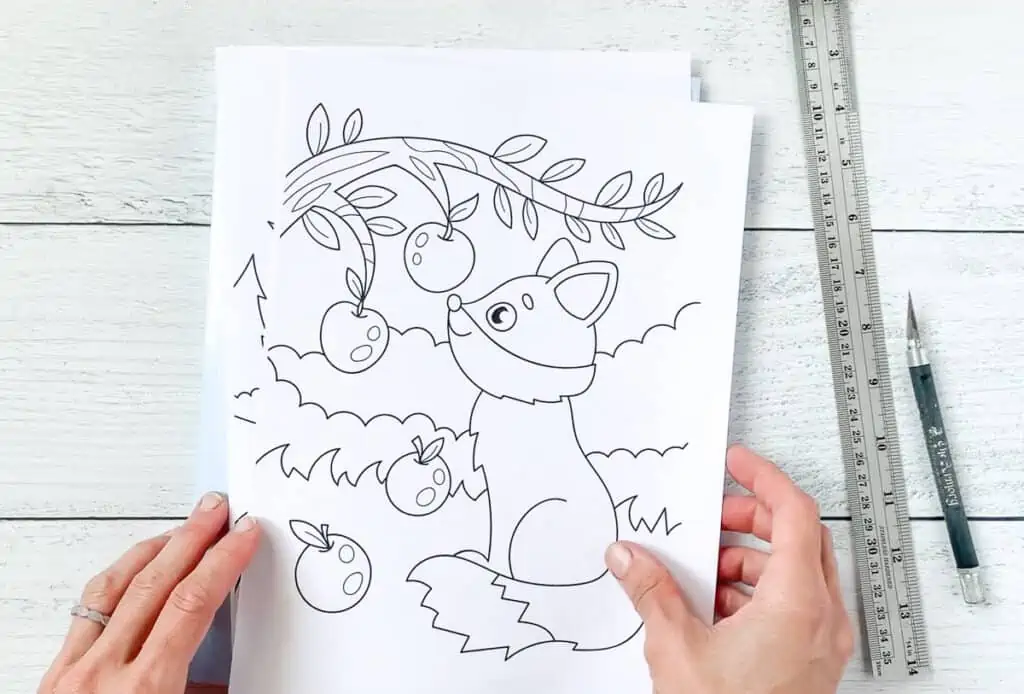 You can watch the process in the video below:
I hope you found this helpful and that you're able to easily and cleanly remove pages from your coloring books now, even if they don't have perforations!
If you enjoy coloring books or activity books, be sure to check out the printable options here on The Artisan Life and put your new cutting skills to use with one of The Artisan Life's printed coloring books:
Printed Coloring Books & Activity Books for Kids
Coloring Books for Adults
Good Vibes Hippie Coloring Book for adults features 30 unique images and 6 trippy mazes. Click through to preview the pages!
Color your cares away when you escape to the 1950s with the Fabulous 50s coloring book for adults! It features 30 fantastic 50s ladies with classic cars, diners, motels, and more. The designs have just the right amount of detail to make coloring interesting without creating overwhelm.
Take a minute to relax and unwind with this Tropical Hummingbirds stress-relief coloring book for adults! It features 30 hummingbirds and floral, tropical backgrounds to color. The designs have just the right amount of detail to make coloring interesting without creating overwhelm.
Escape the stresses of everyday life with this magical mandala coloring book for women! Coloring is an affordable, enjoyable way to practice self-care and this coloring book makes a great self-care gift for women.
Color your cares away with this mandala whales stress relief coloring book for adults! This book takes you on an ocean journey with 30 detailed pages to color with whales and zen-style backgrounds.