These free printable space and solar system matching cards are fun for toddlers and big kids, too!
Younger children enjoy playing with the outer space and planet cards face up as a matching game. Older children love the challenge of playing outer space memory with the cards face down.
I hope you enjoy this space matching game as much as we do!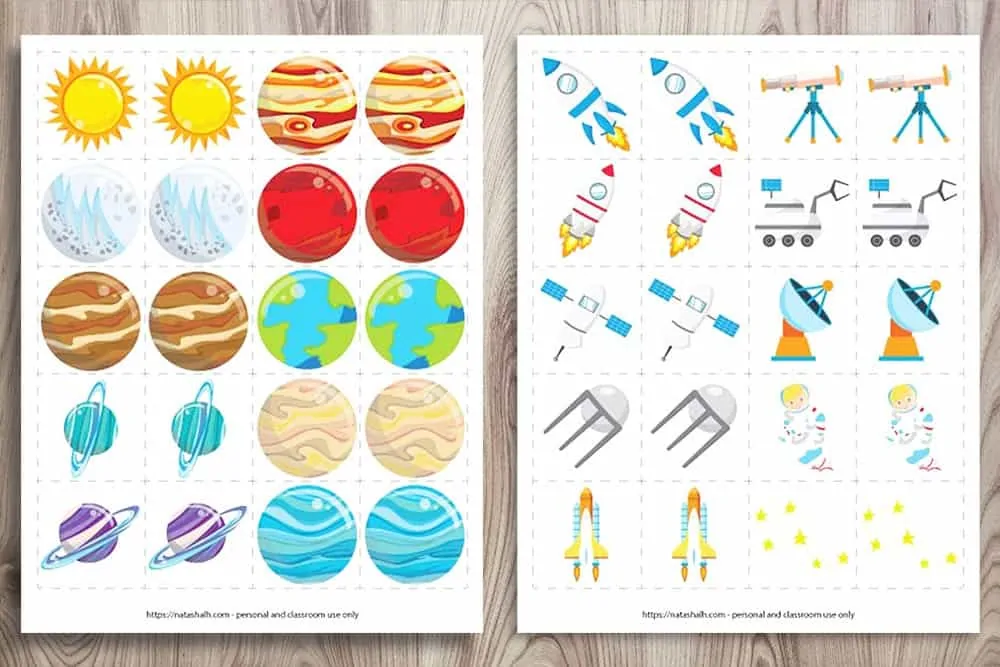 This post may include affiliate links which means I may earn a commission on qualifying purchases at no additional cost to you.
Making this outer space & solar system matching activity is easy!
Materials needed:
Printable space matching cards and/or solar system matching game (Download links are lower in the post. No email address is required – just keep scrolling until you get to the links!)
Printer & paper or cardstock

I always use presentation paper, a type of heavyweight paper with a special coating for crisp, vibrant images. If I'm going to use my colored ink, I want the printables to look their best!

Scissors or paper cutter
Laminator & laminating pouches. Optional but highly recommended.
I'm always talking about presentation paper in my printables posts. I really do love and use it every time I print a matching game or bingo board. If you don't have presentation paper, use white cardstock or your brightest white paper.
Sale
You can't see the difference as well in the photo as you can in real life, but the mermaid bingo board on the left was printed on presentation paper and the one on the right was printed on cardstock: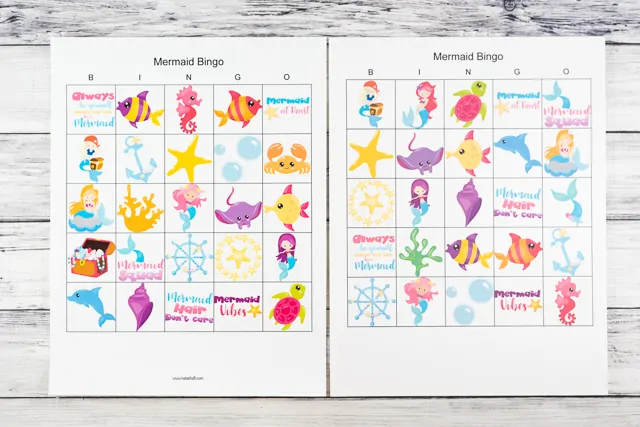 If you have a laminator, I recommend laminating these matching cards before cutting them out. I am so thankful I bought a cheap at-home laminator so I can make printables more durable for my toddler!
How to print and use your matching or memory game:
First, download your desired printables below. There's a version featuring outer space images like rockets, telescopes, and astronauts. There's also as second planet matching game with nine planets at the sun. (Yes, Pluto is there, too.) Please note that the planets are cartoon-y, not hyper realistic. I will probably make a more realistic solar system matching game in the future so be sure to Pin this page and check back again soon!
Print out your printables. As stated above I recommend using presentation paper or cardstock. Plain paper does not hold up well for repeated use.
Laminate the printables, then cut them out. If you don't have a laminator, you can "laminate" them with clear packing tape. It isn't the same, but it's better than nothing.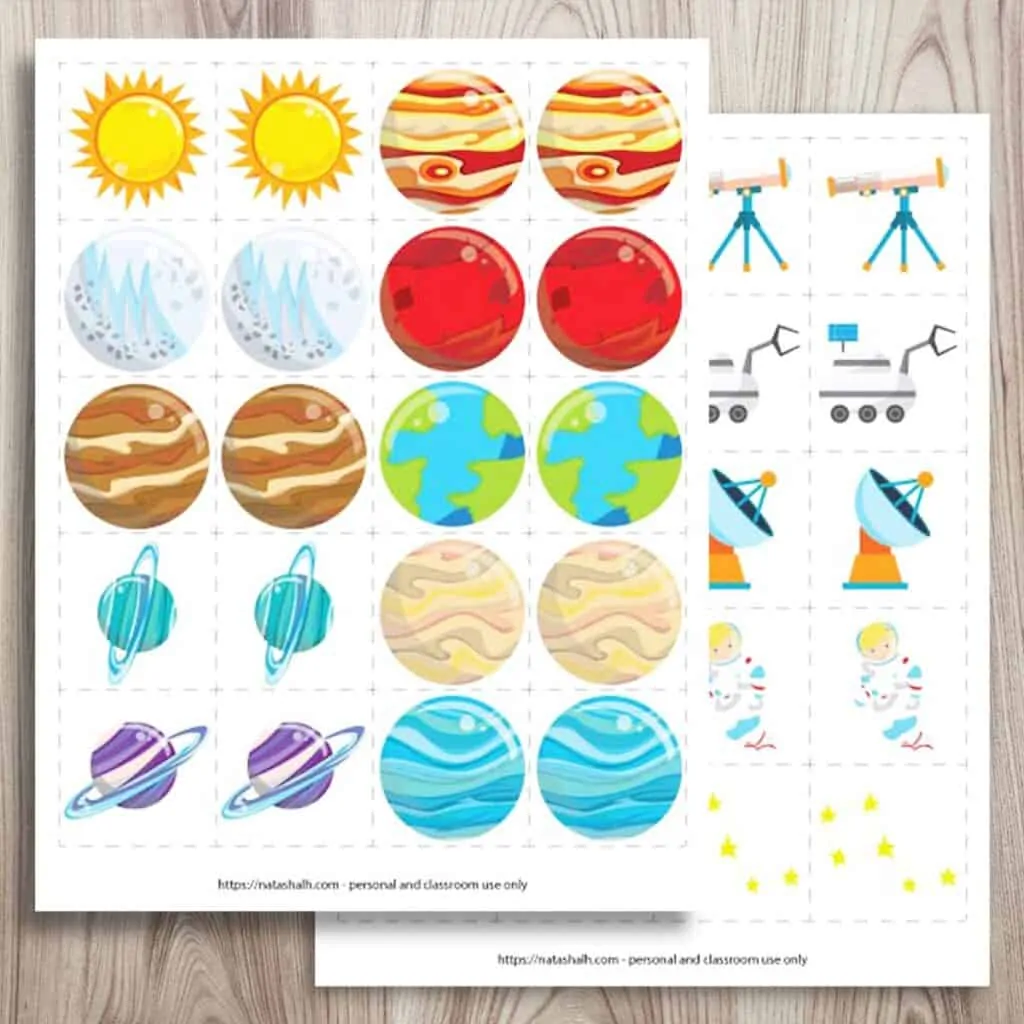 You can play with the cards face up as a matching game for toddlers or preschoolers.
Older children can play memory with the cards by placing them face down. Have your child flip over two cards. If they match, the cards are paired up and removed from the board. If they don't match, the cards are flipped face down again. Play continues until all pairs have been matched.
Memory can be played as a solitary game or with multiple players taking turns. For a multi-player game (or a more difficult solitaire game), combine the outer space and solar system cards.
You can also remove pairs from the set to make the memory game easier for younger children. My two year old can play memory with three or four sets of cards if she has adult help.
Related: Free printable space bingo
Free printable outer space matching game
Please note that, like all Artisan Life printables, these are available for personal (non-commercial) and classroom use. Please do not redistribute the files or printouts to others for their use. Instead, please refer your friends and coworkers to this post so they can download their own copies.
The preview images are low resolution and will look horrible if printed. Use the download links below the images to get your high resolution PDF files. The links are highlighted in grey to make them easier to find.
Space matching cards
This outer space game is fairly easy on your ink. If you're running low on ink, print this one instead of the planet matching game!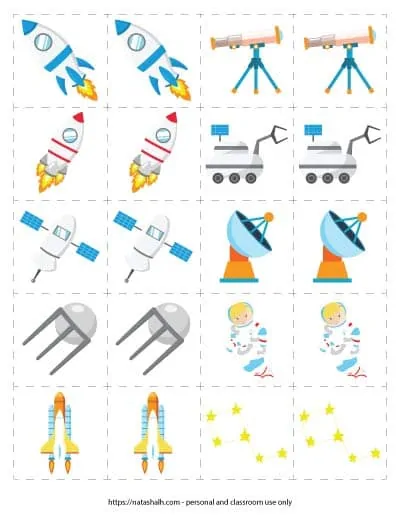 Download the outer space matching game here
Solar system matching game
The solar system matching game is so colorful and cheerful! It features all nine planets and the Sun. Yes, I included Pluto (which is currently classified as a "dwarf planet").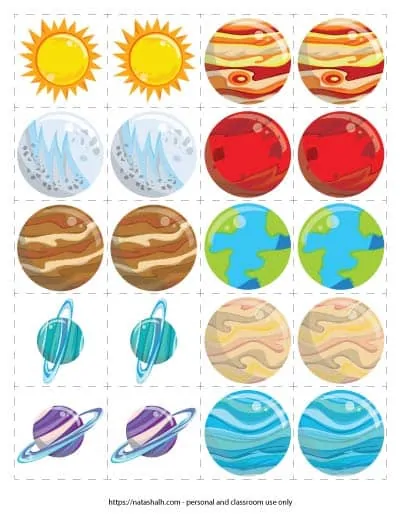 Download the solar system matching game here
Looking for more low-prep activities for kids? Join The Artisan Life and receive a free printable woodland animal activity pack!
Printables & Activities for Children
I believe you shouldn't have to pick between fun and education. These free printables keep your kids busy and learning without resorting to screen time.
Make sure to join The Artisan Life family newsletter so you can get the latest freebies and low-prep activities for your littles.