It's finally fall, and for many people that means deer season! My home state of South Carolina has a very long deer season. I've seen farm raised venison at the grocery store before, but it's typically pretty easy to land yourself some deer meet from a friend, coworker, or neighbor (especially by the end of the season when freezers are getting full!).
I think venison is delicious, but you can't just sub it into every ground beef recipe. Deer meat is naturally very low fat, which means it's easy to dry the meat out. (It also means it's really healthy!) Moist recipes are wonderful for ground venison, which is why I decided to create a venison picadillo.
In case you don't know, picadillo is a popular Latin American dish made in Spanish-speaking areas throughout the New World. It's sort of like hash, only more exciting. You can, of course, use ground beef instead of ground deer – please don't let a lack of venison deter you from making this delicious meal! Venison is simply my take on the classic. People usually use beef or substitute turkey, but you could use a meat-substitute protein, if you'd prefer.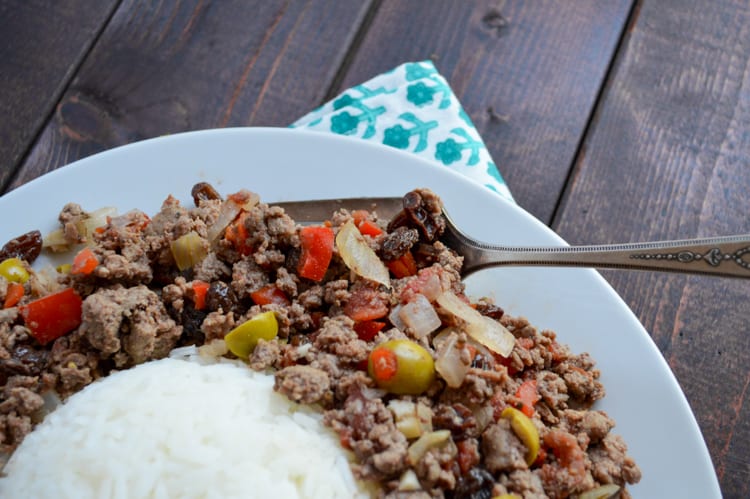 This post may include affiliate links, which means I may make a commission on purchases made through these links at no additional cost to you.
Picadillo goes well with rice and baked green plantain chips, so make sure to pick up a plantain while you're out grocery shopping! In case you aren't aware, tostones are twice-fried green plantains and are sort of like the Latin equivalent of French fries or potato chips, only way more awesome and easy to make at home.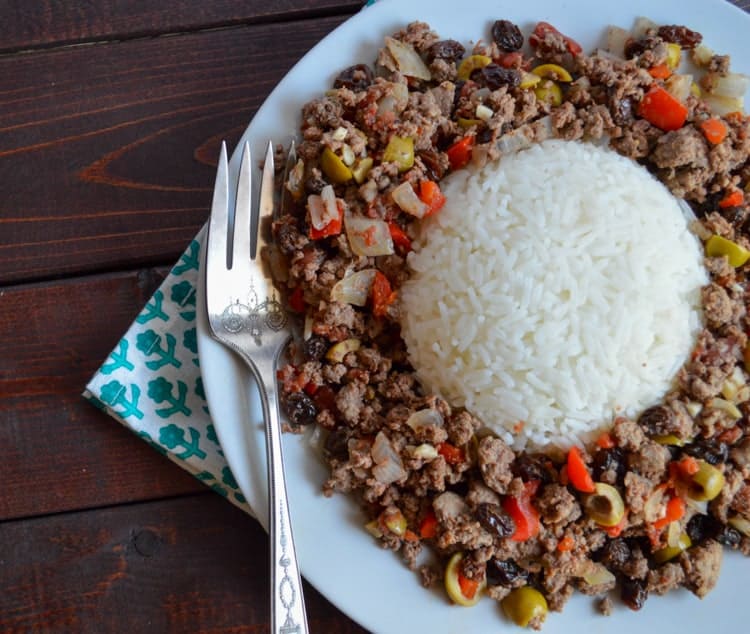 Venison Picadillo - Ground Deer Recipes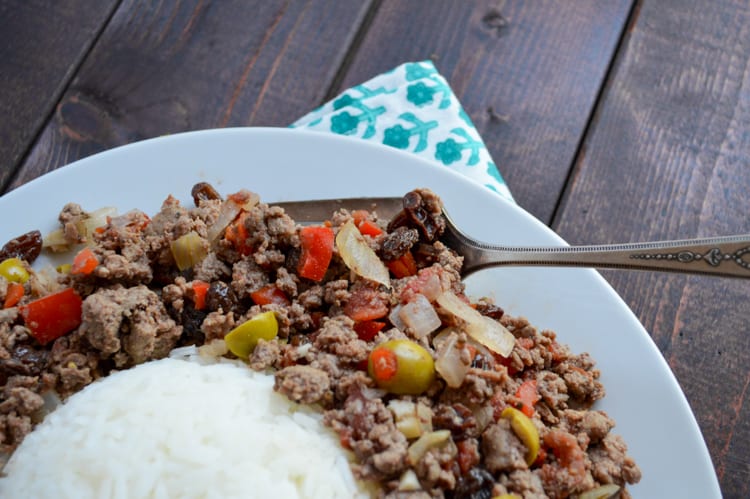 Ingredients
1/2 a large onion, chopped fine
1/2 a large bell pepper, seeded and finely chopped
1 tablespoon of olive oil for sautéing
3 cloves of garlic, minced
1 pound of ground venison (or your protein of choice)
1/2 a cup of petite diced tomatoes (unseasoned), or two roma tomatoes, peeled, seeded, and diced
1 teaspoon cumin, ground
1/8 teaspoon cinnamon
1 tiny pinch of ground cloves
1 teaspoon oregano (preferably Mexican instead of Italian)
1/4 cup green olives, chopped
1/4 cup raisins
1/2 teaspoon salt and black pepper (to taste)
Instructions
Before doing anything else, make sure all your vegetables are prepped. Mince the garlic, chop the onion, bell pepper, and olives, and make sure you prepare tomatoes, if you're using fresh tomatoes.
Heat the oil in a large frying pan over medium-high heat and then add the onions and bell pepper. Sauté, stirring occasionally, until the onion is softened and turning translucent, about 5 minutes.
Stir in the venison (or protein of choice) and garlic and brown the meat for 5-7 minutes, or until fully browned.
Add the tomatoes, cumin, cinnamon, cloves, and oregano. Reduce heat to low, cover and simmer for about 15 minutes. Stir occasionally and add additional liquid, if needed, and turn down the heat if it begins to boil.
Add olives and raisins and simmer 5 minutes longer. Salt and pepper to taste.
Serve hot over white rice and, for a real treat, cook up some tostones, too!
Picadillo really doesn't take that super long to make because it usually takes somewhere between 30 and 45 minutes to cook. I consider that a pretty short amount of time, when compared to other Cuban favorites that take hours or even days of preparation.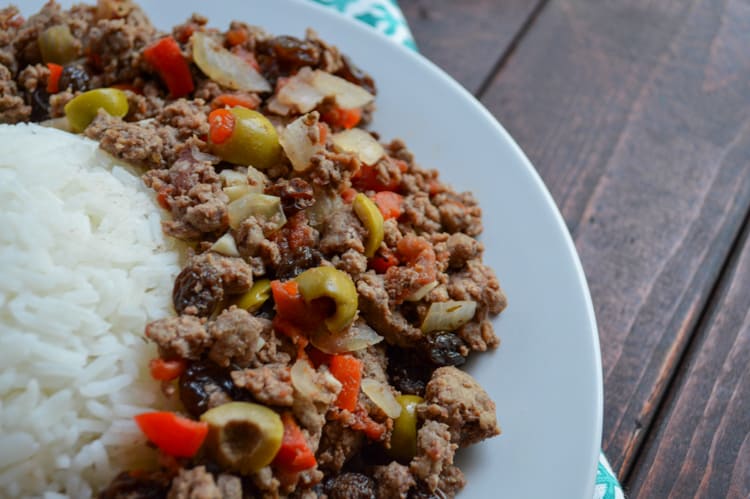 I've seen recipes call for every type of bell pepper you can imagine – green, yellow, red, or orange. I personally like going for a yellow or red just for variety, but feel free to use your favorite. I've also seen it made with golden raisins instead of brown raisons. Once again, the choice is yours! No matter how you make it, I hope you love this recipe as much as I do.
More Cuban recipes