This cute llama preschool pack is a fun, low-prep way to keep young children learning and entertained! Grab 25+ pages of educational (and fun) free printables to help your child or students practice their fine motor skills, visual discrimination, letter recognition, position words, and more.
This llama learning pack is designed for children 3-5, but younger and older children can benefit from it, too. For example, my 2.5 year old enjoys playing with the matching cards and we can work on the counting clip cards together. The activity pack is great or use at home, for homeschool preschool/totschool, or in the classroom.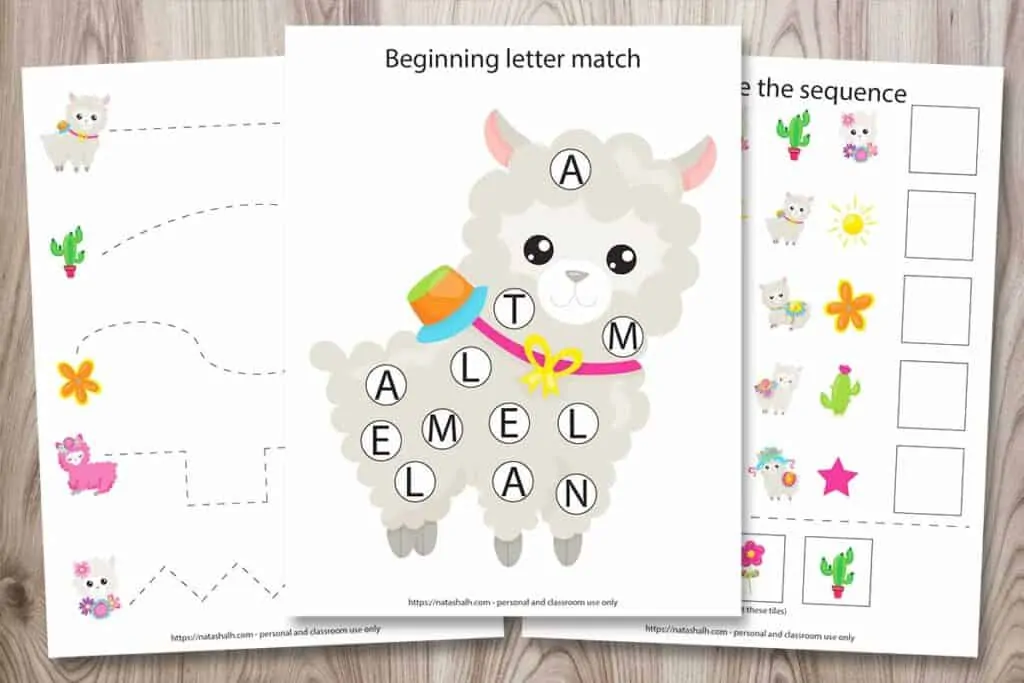 You are welcome to use these printables in your personal classroom or with your own therapy clients. Please do not share the printables with other adults for use with their children or students – simply refer them to this page so they can download their own copies!
I've had considerate readers emailing to ask if they can share the files with their distance learning students. Given everything that's going on the world right now, yes, you may digitally share the files with your own students. However, if possible, please encourage parents to visit this page to download their own copies.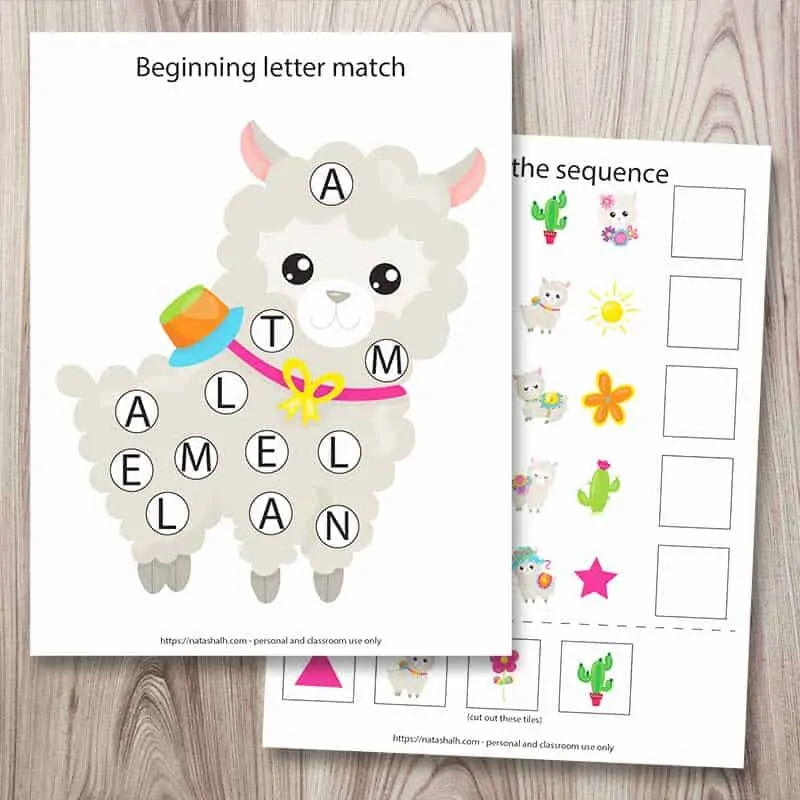 This llama preschool/kindergarten activity pack includes:
Matching cards
Complete the sequence
Cutting strips
Fine motor/pre-writing practice
Beginning letter match do a dot
Letter/word coloring pages
Two part puzzles
Color by size
Color practice
Counting clip cards (1-12)
Lacing cards
Number building puzzles (1-10 and 10-100 by 10s)
Positional word coloring and activity book
A play dough mat *
Which one is different? *
Roll and cover *
Count and graph *
Beginning letter match clip cards *
This post includes affiliate links, which means I may earn a commission on purchases made through links at no additional cost to you.
Suggested materials for printing and using the llama learning pack:
Paper & printer. I love using bright white 32 lb paper for activity pages. The paper is thicker than standard printer paper, which means they hold up to vigorous learning. The images are also brighter and crisper on this super bright white, sustainably produced paper.
And, of course, you can always print the pages on plain printer paper.
Laminator. I recommend laminating virtually all of the pages for increased durability. I laminate basically everything except for cutting practice and coloring pages. If you want use do a dot markers, don't laminate those pages, either. If you don't have/use do a dot markers, you can laminate these pages and use pompoms or something else to cover the circles.
When you laminate pages, your child can use them time and again. They can trace lines with a marker or crayon, do puzzles time and again, and enjoy countless games of matching cards or memory.
Laminated pages are also easy to stick in a folder to use again another year or even with other children.
Sale
Dot markers. Do a Dot markers are fun, but you can use this learning pack without them if you don't have any on hand. We have the classic "Rainbow" pack of 6 Do a Dot Markers.
Pompoms or other small markers like flat marbles are helpful, especially if you don't have dot markers.
Do A Dot Art! Markers 6-Pack Rainbow Washable Paint Markers, The Original...
🇺🇸MADE IN THE USA. Designed and manufactured in our own factory guaranteeing that you are getting the best product without the risk of unknown...
👍EASY TO GRIP BOTTLE FOR LITTLE HANDS: With generous 2.5 ounce bottles. Do A Dot Art makers have more paint per bottle than other dot markers. Just...
🧒FUN ART MEDIUM FOR CHILDREN OF ALL AGES: Do A Dot Art markers have a PATENTED large sponge tip dauber engineered to be mess free, never dry out,...
If your child will be using pompoms, add an additional challenge by having them move the pompoms with a pair of tongs or plastic tweezers. We use a pair of 6" silicone tip tongs for pompoms. I used two pairs of pliers to pry the metal keeper bar off. It kept sliding down and holding the tongs closed, which frustrated my daughter.
Sale
HINMAY Mini Tongs with Silicone Tips 7-Inch Serving Tongs, Set of 3 (Green...
【DURABLE METERIAL, EASY ON YOUR HAND】HINMAY mini food tongs are made from a thick, corrosion resistant stainless steel for unbeatable strength and...
【NON STICK, HEAT RESISTANT AND DISHWASHER SAFE】 our tongs are manufactured from a premium 100% Food Grade Silicone that won't scratch your...
【MULTI-PURPOSE USAGES】Great for taking vegetable, food, meat, cheese, bread, ice and more, lightweight and convenient, easy to carry at any place,...
Clothespins for the clip cards. Working with clothespins provides fine motor practice, finger strengthening, and hand-eye coordination. If you don't have clothespins, your child can mark letters or numbers on the clip cards with something else (like with a pompom or by circling with a crayon or marker).
Sometimes small clothespins, like the ones my daughter is using with this sock matching printable in the photo below, are easier for little hands.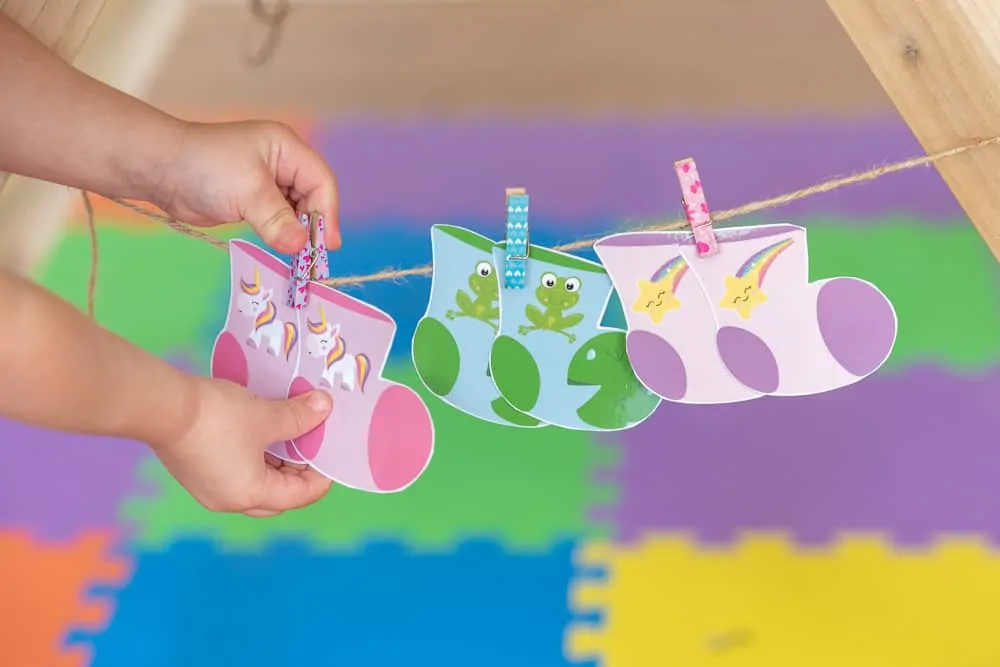 Child-sized blunt tipped scissors for the cutting activities. We use these small Fiskars.
For gluing practice, make sure to provide a glue stick. Don't provide glue if you want the complete the sequence and positional activity book pages to be reusable.
You may also want a paper trimmer and/or a pair of adult-sized scissors for cutting out clip cards and puzzles. I've personally used this paper trimmer for years. The wire guide makes it accurate and it is much safer than one of those guillotine-style cutters.
Hole punch and lacing string (or shoelace) for lacing cards.
Llama learning pack printables
Individual download links are located below each section detailing the printables and how to use them.
You can download 25+ pages of this activity pack for free in multiple different PDFs, or you can save yourself valuable time when you grab the entire pack PLUS bonuses for the very low price of $3.99.
This download has 35 pages in one convenient PDF and it's an affordable way to support my work and keep me making printable activities for you!
Yes, the premium version has more pages than the free version. If you purchase the paid version of the llama preschool pack, you receive 6 additional pages as a thank you. The pages marked with a * in the list above are included in the premium version.
Matching cards/memory game
My daughter loves matching cards. I always laminate matching card games for increased durability. Young children can play with these cards as face-up matching cards and older children can play with them as a face-down memory game.
Matching/memory cards help improve visual discrimination, attention to detail, and memory skills. Picking the cards up can provide fine motor practice for young children, too!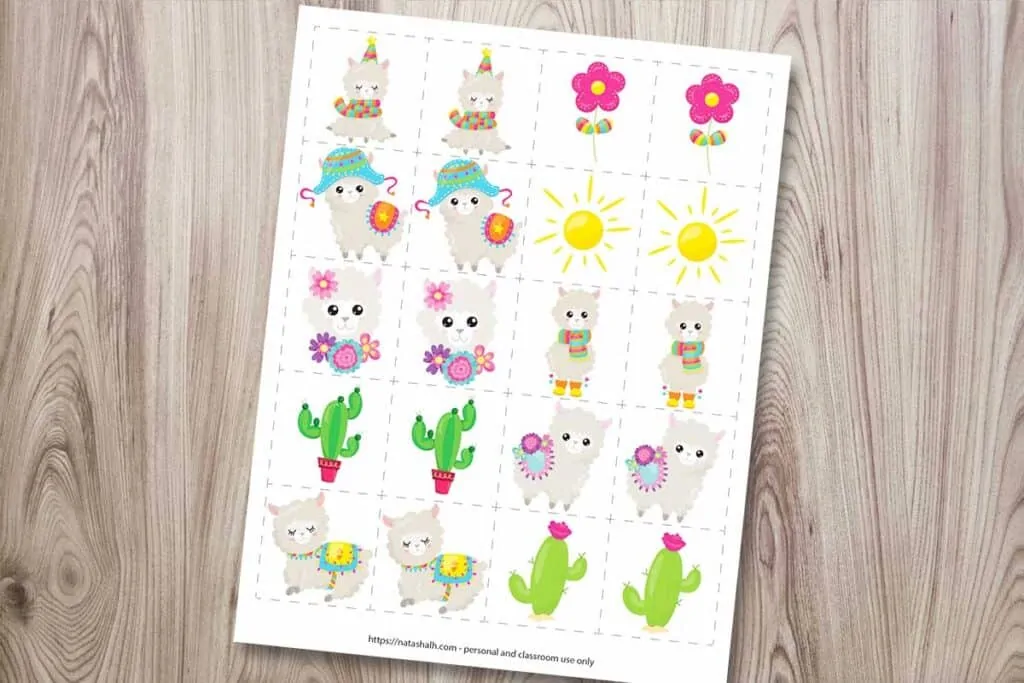 Download the llama memory game here
Complete the sequence
To use the complete the sequence printable, either cut out the image tiles yourself or have a child help. You can turn this page into a cut and paste activity, or you can have your child place the sequence tiles without gluing them to make it reusable.
(The fifth tile is missing in the photo below – oops! Don't worry – all tiles on the PDF printable.)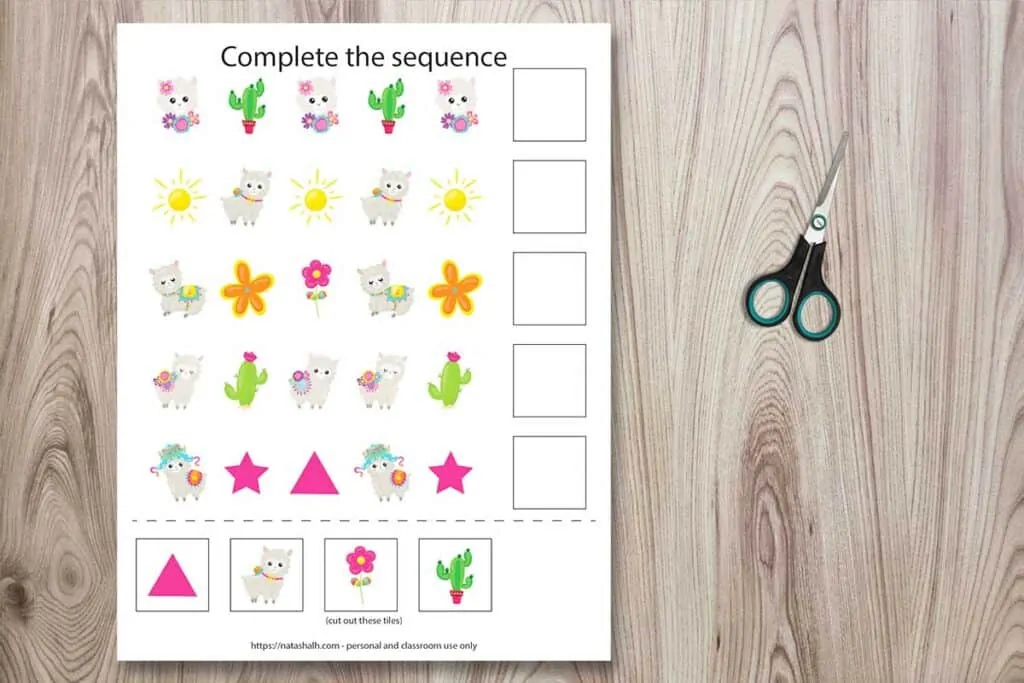 Download llama complete the sequence here
Cutting strips and prewriting/fine motor activities
Developing fine motor skills is incredibly important. Children today are at risk for poor fine motor skills due to increased use of technology. These cutting strips and fine motor activity printables can help your little one improve their finger strength and dexterity.
First there is a page of cutting strips. Cut the long strips from the page, then have your child snip between the image tiles. There is a lined gap between each image to give your child a place to cut.
Next there's a page with lines to trace or cut. Younger children can trace the lines and older children can practice cutting them. Make sure to laminate the page to make the traceable lines reusable.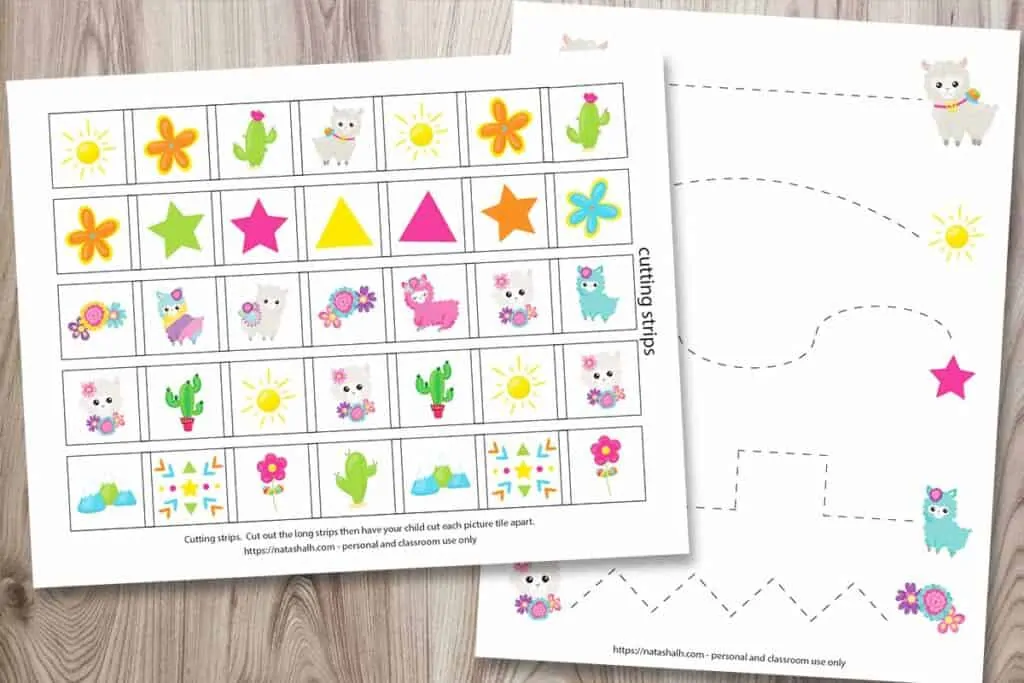 Finally, there are three full sheet tracing/fine motor activities. You can use these in a variety of ways. Here are a few ways you child can use these pages, from easiest to most challenging:
Trace the dotted line with a finger
Trace the dotted line with a crayon or marker
Move small objects (like a flat marble) along the line
Use tongs to move a small object along the line
Cut along the line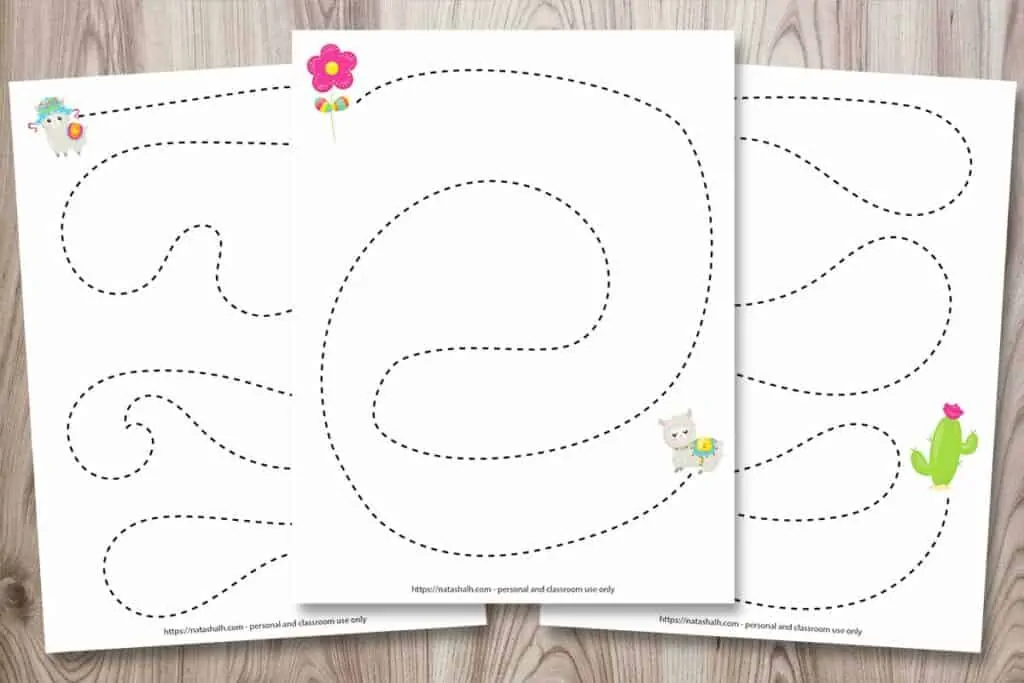 Download llama prewriting practice sheets & cutting strips here
Beginning letter match
There are two bright and cheerful beginning letter match dot marker printables. Have your child dot, or cover, the appropriate letter for each page. To make the pages reusable, cover the letters with pompoms instead of using a dot marker.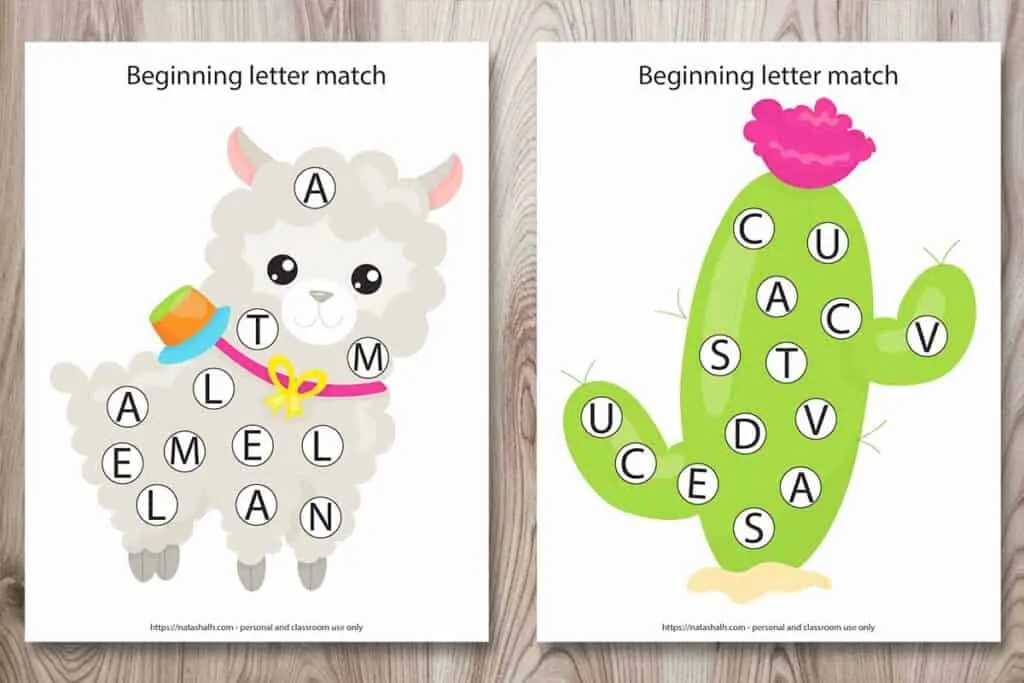 Download the beginning letter match printables here
Coloring pages
Three coloring pages provide more literacy practice and the chance to color. The letters and words are outlined so they can be colored in and the images are large for young children to color. There are pages for llama, cactus, and flower.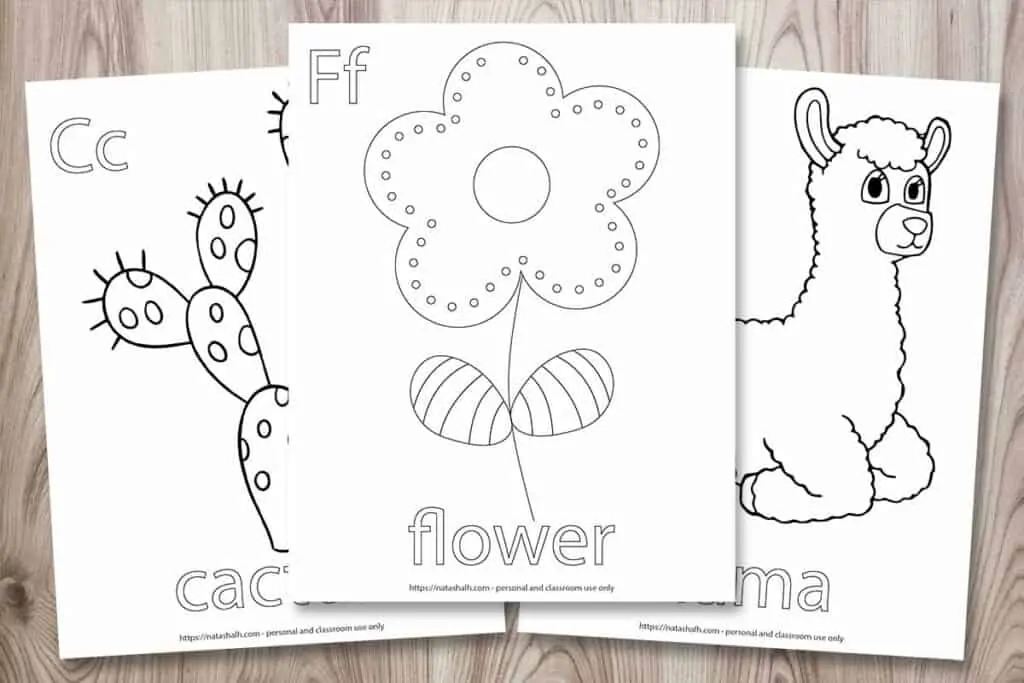 Download the letter coloring pages here
Lacing shapes
Next there are three lacing shape printables. I highly recommend laminating these pages! Lacing cards are a fun way to improve hand-eye coordination and fine motor skills.
To use the cards, print them, laminate, and use a single hole punch to punch out the designated holes. You can use a cord from a lacing set, a shoelace, or even a piece of yarn. If you're using yarn, wrap the tip with tape to make a point and prevent fraying.
At first, don't worry about how your child laces the shape. Simply allow them to lace, even if thy zig-zap back and forth across the shape and miss holes.
Once your child has mastered the basic mechanics of lacing, you can encourage them to lace the holes in order.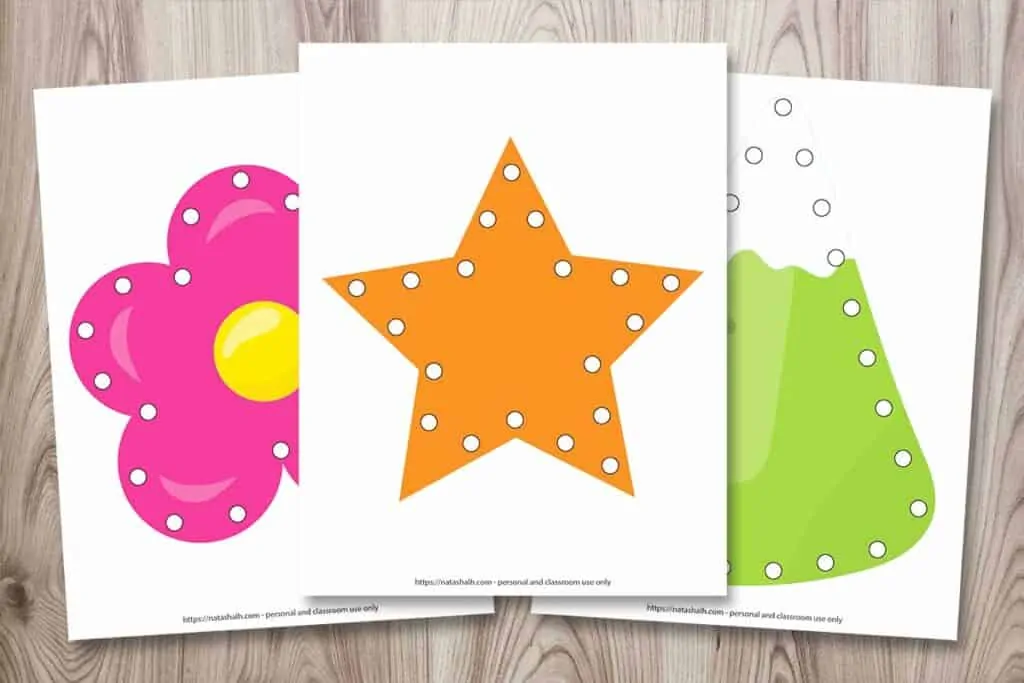 Download the lacing shapes here
Number building puzzles
Number building puzzles are a lot of fun! I recommend laminating the pages and using a paper trimmer to cut the puzzle strips. There are two number puzzles that count from 1-10 and one puzzle that count's by 10's to 100.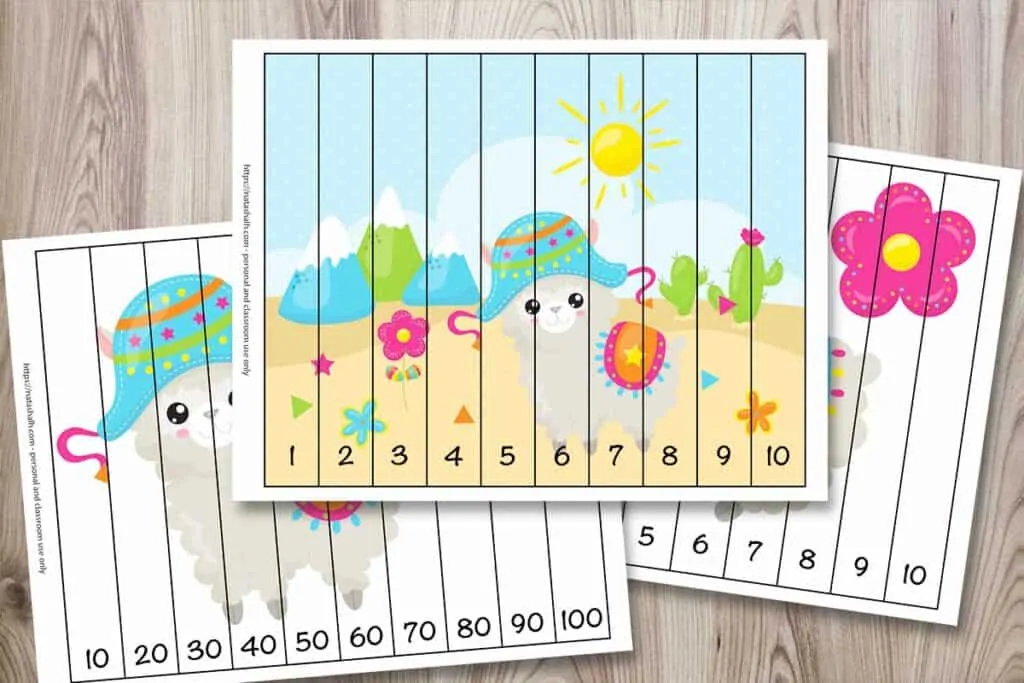 Download the llama number building puzzles here
Counting clip cards
Counting clip cards help your child work on numbers while strengthening their fingers. Print and laminate the pages, then cut out the cards. Have your child mark the correct number with a clothespin. If you don't have clothespins, numbers can be marked with an object. There are three pages of clip cards with numbers 1-12.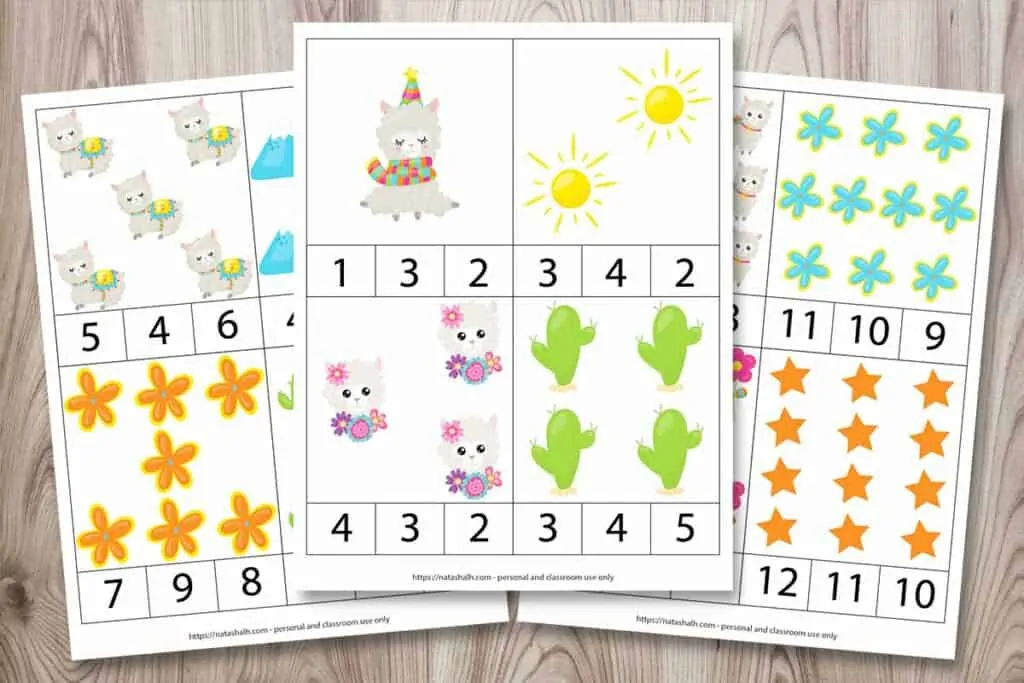 Download the llama counting clip cards here
Colors, size, and 2 part puzzles
I decided to bundle these three pages together because downloading individual pages gets pretty boring!
There is a page called "I know my colors!" that asks your child to color words and flowers the appropriate color.
Next there's a page with 2 part puzzles. Because the puzzle shapes are interchangeable, your child needs to pay attention to the images to ensure they match.
Finally, there's a size recognition activity that asks your child to color the big images one color and the smaller images a different color.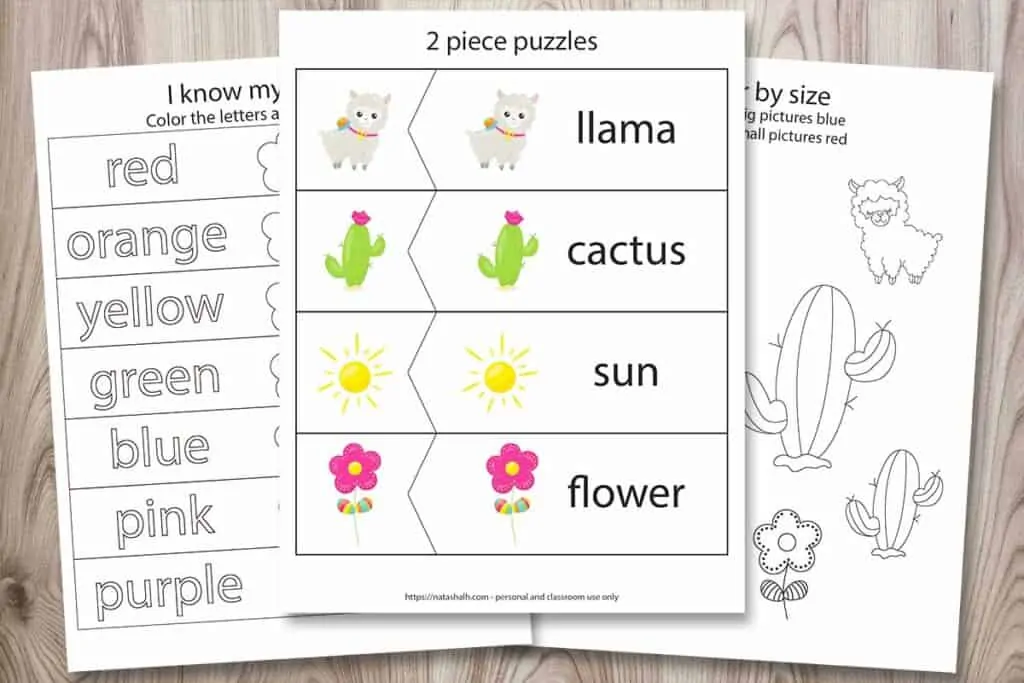 Download the 2 part puzzles and color & size recognition pages here
Positional words activity book
This positional words activity book provides your child the opportunity to color, cut, paste, and practice their positional words.
Cut out each page and staple in the marked margins. Cut out the image tiles on the final page and have your child place them according to each page's instructions. This activity book is fun to do with younger children, even toddlers.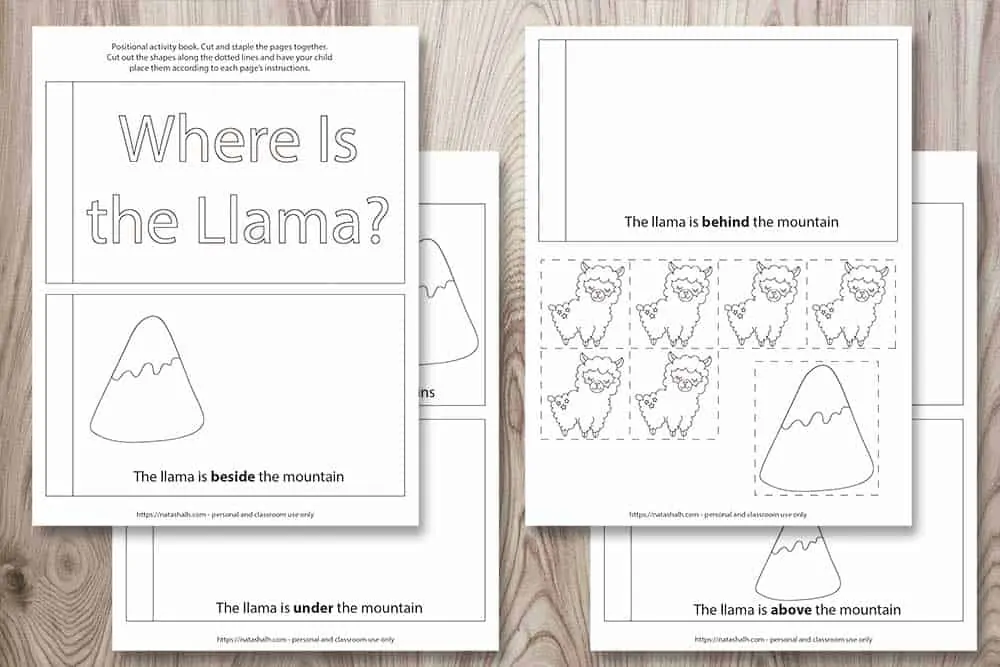 Download the llama positional words activity book here
Premium bonus pages – play dough mat, llama roll & cover, and more!
Now that you've seen the free printable llama activity pages, let's take a quick look what's included in the premium printable pack!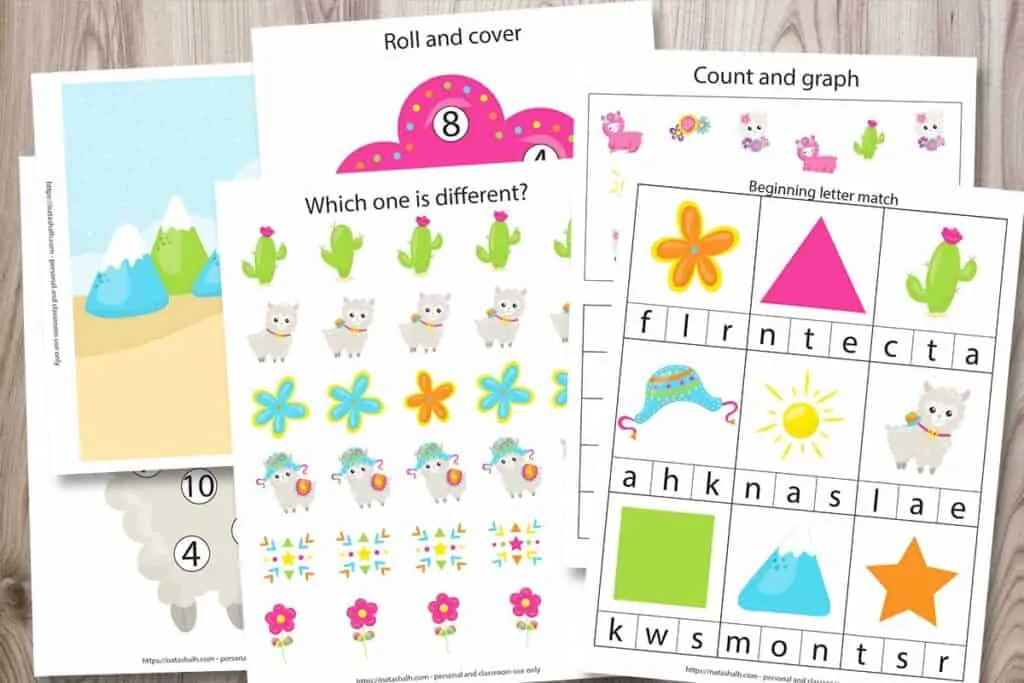 The premium version has everything shown above in one handy PDF, plus:
A desert scene play dough mat
Beginning letter clip cards
2 roll and cover sheets (a llama and a flower)
Which one is different?
Llama count and graph
I hope you and your little one enjoy this free printable llama activity pack. Leave a comment to let me know what learning pack theme you'd like to see next!
Printables & Activities for Children
I believe you shouldn't have to pick between fun and education. These free printables keep your kids busy and learning without resorting to screen time.
Make sure to join The Artisan Life family newsletter so you can get the latest freebies and low-prep activities for your littles.