This printable sock matching game is fun for toddlers and preschoolers! Print the sock matching cards or the sock-shaped cutouts so your little one can practice their clothespin skills by pinning them on a line.
My daughter loves matching games. When I received a reader request for sock-themed printables, I knew I had to make a printable sock matching game ASAP! This game has three different options: classic matching cards, mirror image sock matching cards, and a sock matching activity with larger socks to ping and cut.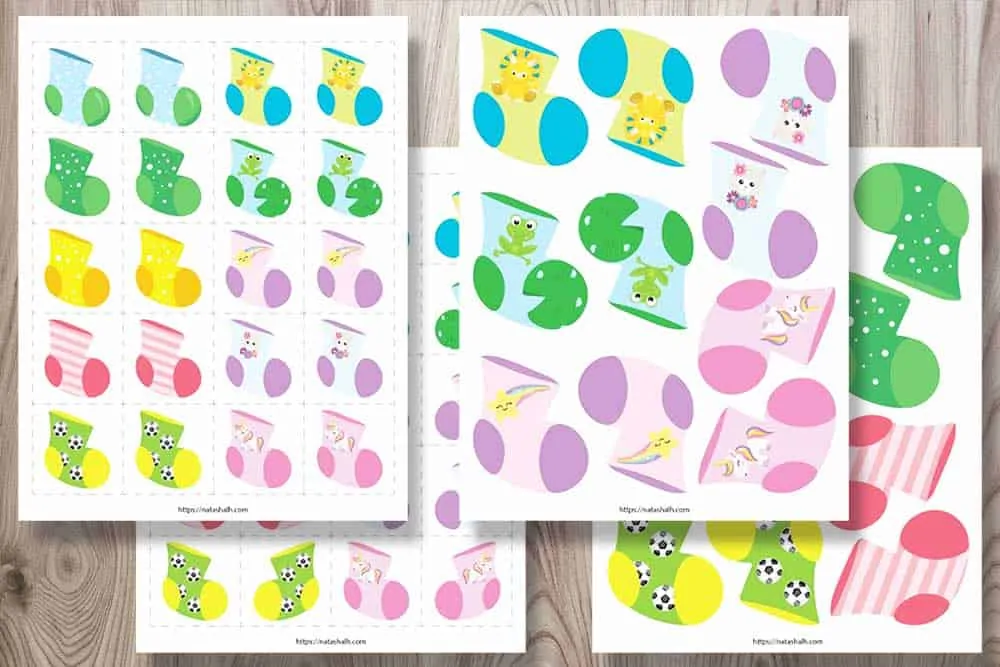 How to play a sock matching game with printables
This post may include affiliate links which means I may earn a commission on qualifying purchases at no additional cost to you.
Making this sock matching activity is easy!
Materials needed:
Printable sock matching cards or activity pages (Download links are lower in the post. No email address is required – just keep scrolling until you get to the links!)
Printer & paper or cardstock

I always use presentation paper, a type of heavyweight paper with a special coating for crisp, vibrant images. If I'm going to use my colored ink, I want the printables to look their best!

Scissors or paper cutter
Laminator & laminating pouches. Optional but highly recommended.
Twine & clothespins. Optional for the sock matching activity.
I'm always talking about presentation paper in my printables posts. I really do love and use it every time I print a matching game or bingo board. If you don't have presentation paper, use white cardstock or your brightest white paper.
Sale
If you have a laminator, I recommend laminating these matching cards and printable socks before cutting them out. I am so thankful I bought a cheap at-home laminator so I can make printables more durable for my toddler!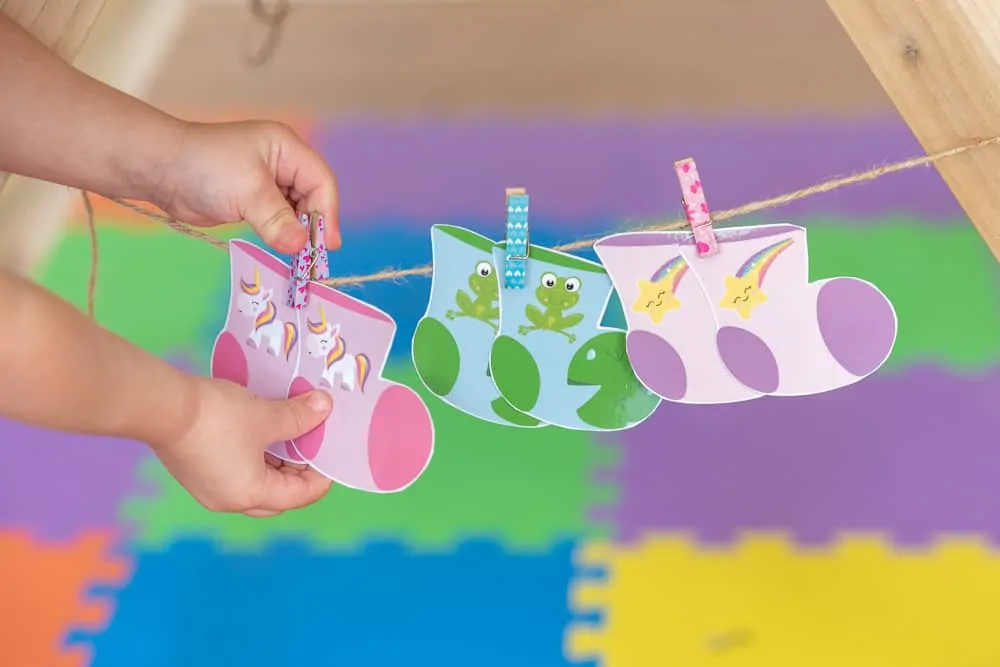 First, download your desired printables below. There's a classic matching card set with images that are exact copies. There is also a mirror image matching set for a bit more challenge. Finally, there are two pages of larger printable socks to cut out. Download one or download them all!
Print out your printables. As stated above I recommend using presentation paper or cardstock.
Laminate the printables, then cut them out. If you don't have a laminator, you can "laminate" them with clear packing tape. It isn't the same, but it's better than nothing.
The cards and sock shapes can be used face up as a sock matching game. For more challenge, place the cards face down in a grid for a game of memory!
To add interest and difficulty, string up a piece of twine and provide your child with clothespins. Show them how to clip matched pairs of socks to their clothesline. Small clothespins can be easier for little hands, but large clothespins work well, too.
To introduce this activity, I clipped pairs of socks to the line and showed my daughter how to unclip them. Unclipping is easier and still works finger strength! Seeing those little fingers at work makes my mama heart so happy.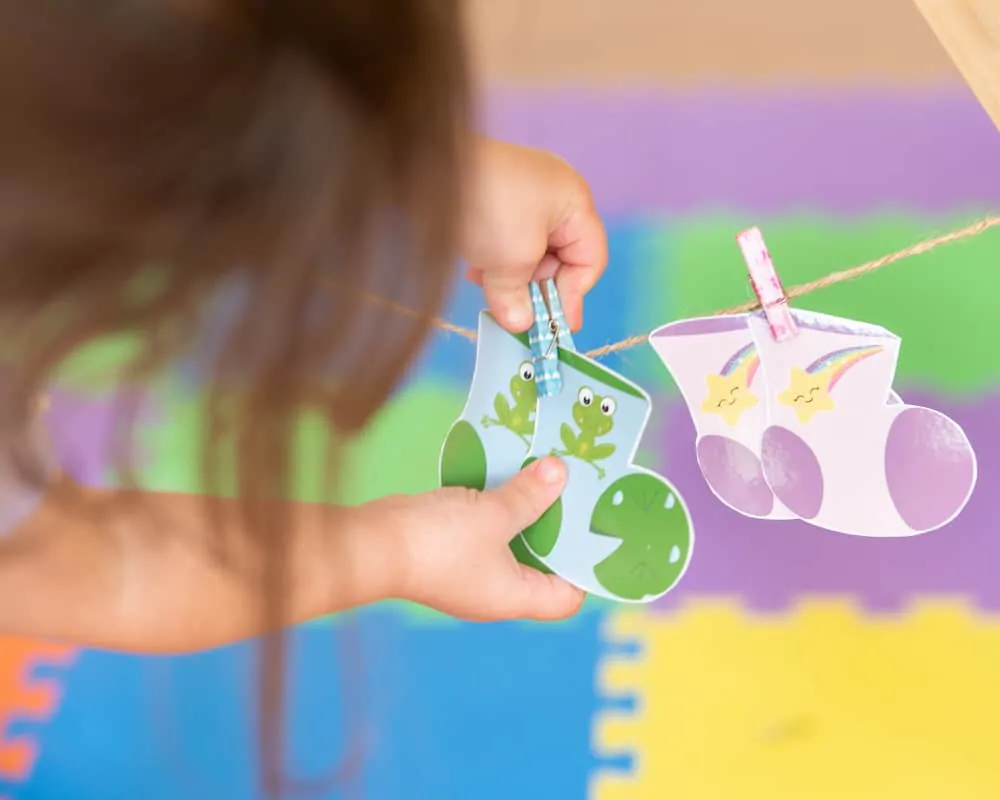 This simple sock and clothespin activity can help your child develop important fine motor skills, finger strength, and hand-eye coordination. Children today are entering school with worse fine motor skills because of heavy electronics use. Encouraging play with thee socks and clothespins is an easy way to help your child develop these important skills!
Free printable sock matching game for toddlers & preschoolers
Alright, let's get to the free printables!
Please note that, like all Artisan Life printables, these are available for personal (non-commercial) and classroom use. Please do not redistribute the files or printouts to others for their use. Instead, please refer your friends and coworkers to this post so they can download their own copies.
The preview images are low resolution and will look horrible if printed. Use the download links below the images to get your high resolution PDF files. The links are highlighted in grey to make them easier to find.
First there's the basic sock matching card game: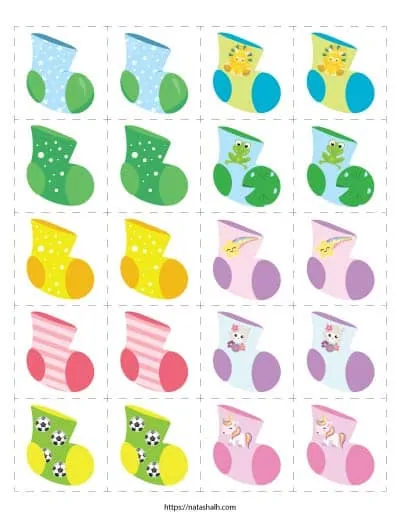 Download the sock matching game for toddlers here
Next there's the mirror image sock matching game. It's a bit more challenging. My 2.5 year old can do this version, but it's pretty difficult for her and she can't always make all the pairs.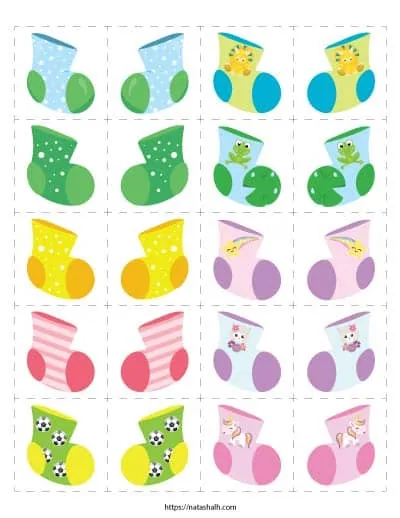 Download the mirror image matching game with socks here
Finally there's the sock cutout matching activity! These socks are larger. Instead of cutting them into tiles, cut the shapes out individually. They are great for clipping to a line, sorting into baskets, and more. Older children can work on their cutting skills by helping you cut the socks out.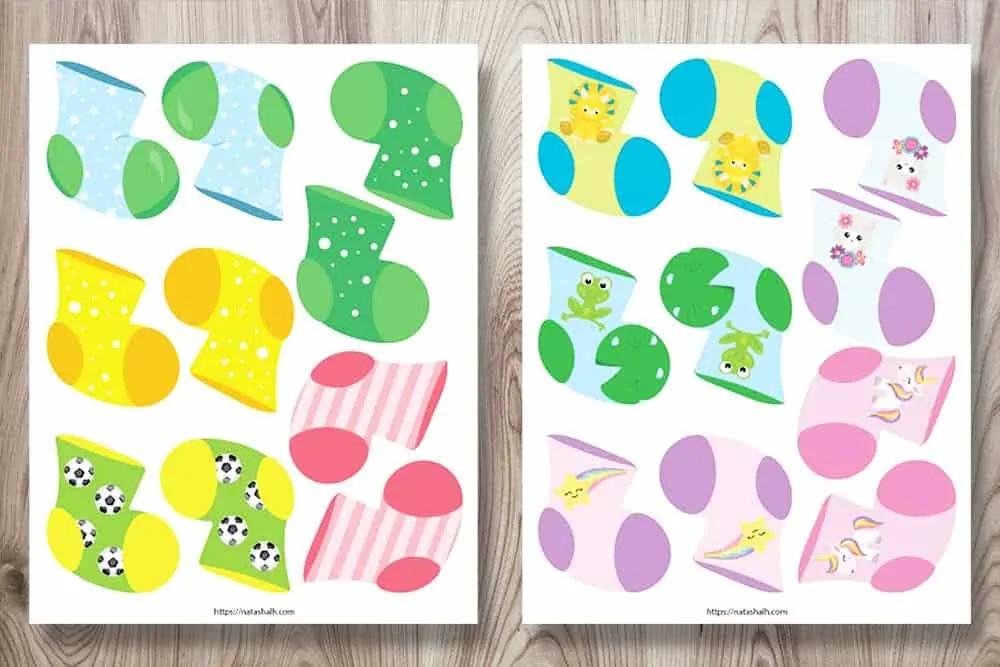 Download the sock cutout matching activity here
If you want more low-prep, educational activities for kids, join The Artisan Life and grab your free printable woodland animal activity pack today!
Please take a moment to Pin this now so you don't lose track of it! (Pinning is also a quick & easy way to support my work and keep me making free printables for you.)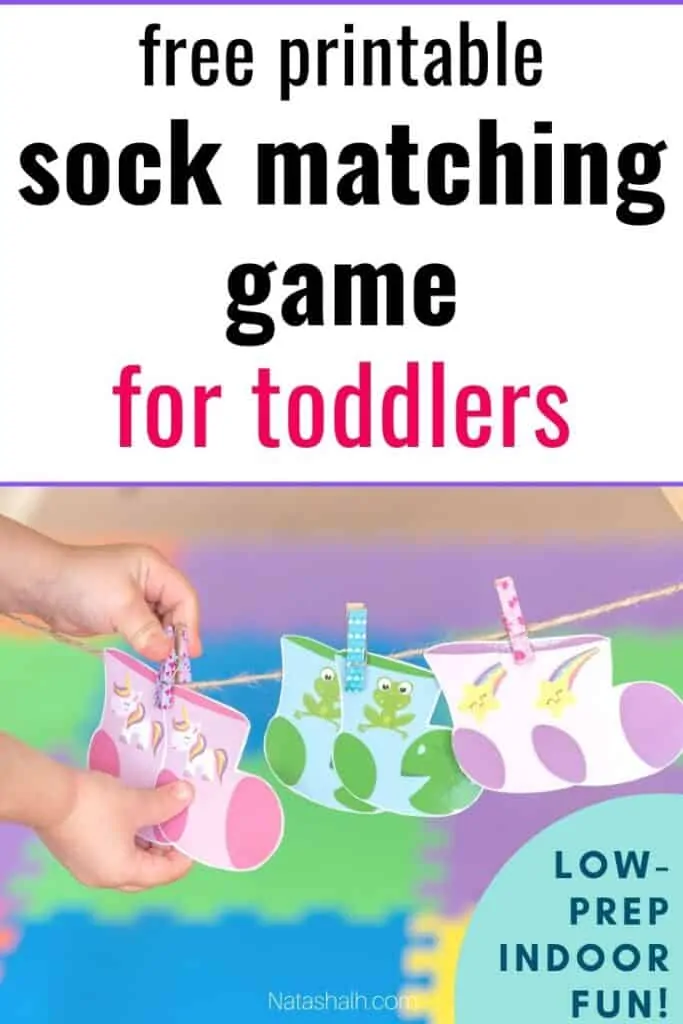 Toddler toys & books
I'm a "picky mom" when it comes to toys, books, and, well, basically anything I'm giving my daughter. I want everything I give her to be developmentally appropriate, nontoxic, and high-quality.
Get the benefits of my hours of research by checking out these toddler toy and book guides!