This free printable Easter bingo is fun for the whole family! Print out a set to keep your kids busy while you cook Easter dinner, put them in Easter baskets, or use them with your Sunday school class.
I always make several sets of printable bingo cards to share, but I created even more options for these printable Easter bingo cards. You can pick from purely secular Easter bingo boards or download a version with religious symbols if you'd prefer.
No matter which set you decide to go with, I hope you enjoy these Easter bingo printables as much as we do!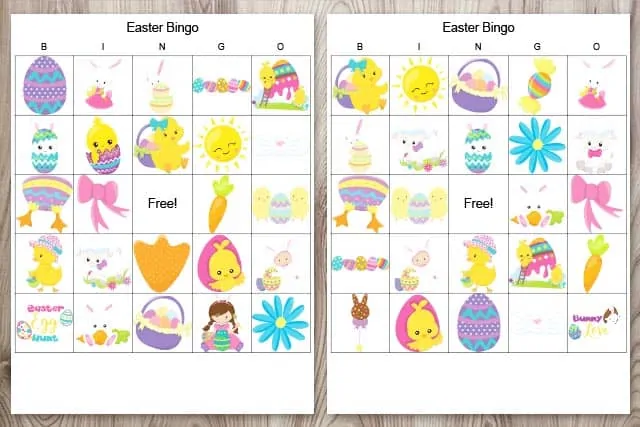 How to play Easter bingo
This post may include affiliate links which means I may earn a commission on qualifying purchases at no additional cost to you.
Picture bingo is a fun game that everyone in the family can enjoy. Even very young children can play with a bit of help! It's a great way to spend screen-free time together as a family and helps children practice their visual discrimination skills.
Playing picture bingo is easy.
Because there are "extra" images, you do need to print the call sheets at the back of the PDF. If you print an extra bingo board and cut it into squares, you will miss 8 possible images.
Cut the call sheets into tiles and place the pieces in a bowl. Draw randomly from the bowl and describe the image and show it to everyone.
If you don't want to cut, just call off images randomly from the call sheet. Make sure to mark each one as you call it so you can keep track of what you have and haven't called!
For a special Easter treat, use pieces of candy or small toys like erasers as bingo markers and let everyone keep whatever pieces they accumulated during the game!
I print bingo boards on 32 lb bright white paper. It's a heavyweight paper that's super bright and has great looking images. If I'm going to use my colored ink, I want everything to look its best! You can see a side by side comparison with this paper and several others in this post on the best paper for printables.
HP Paper Printer | 8.5 x 11 Paper | Premium 32 lb | 1 Ream - 500 Sheets |...
Made in USA: HP Papers is sourced from renewable forest resources and has achieved production with 0% deforestation in North America.
Heavyweight premium printing: HP Premium32 is a heavyweight (32 pounds), brighter (100 bright) and whiter (163 whiteness) paper with a super-smooth...
Certified sustainable: HP Premium32 presentation paper is Forest Stewardship Council (FSC) certified and contributes toward satisfying credit MR1...
Free printable Easter bingo boards
These bingo boards are all available for personal and classroom use. This means you're welcome to print as many copies as you'd like for your own children, classroom, Sunday school, scout troop, etc.
I ask that you please do not share the printouts or digital files with others for their use. Instead, just send your friends and coworkers to this post so they can download their own copies!
Secular Easter bingo
There are three different sets of the secular Easter bingo.
You can purchase a set of 30 cards for just $3 to use with your entire classroom or extended family.
There is also a set of 10 unique cards available to Artisan Life members.
Finally, you can get 4 cards for free right here in this post – no email address required!
All sets are unique and can be used in combination for a total of 44 separate cards.
Set of 10 printable Easter bingo boards
The set of 10 bingo cards is available for free – just tell me where you want the file emailed using the form below.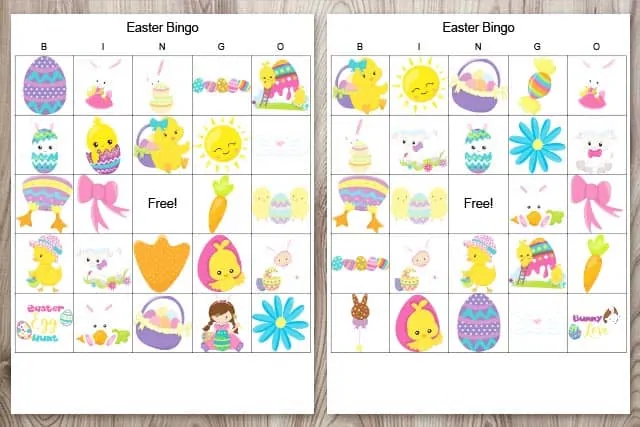 Set of 4 free printable Easter bingo cards
Looking for just 4 bingo cards? Grab four printable Easter bingo cards for free without an email address!
Religious Easter bingo cards
These bingo boards still have popular Easter symbols like chicks and bunnies, but there are also several different crosses and a dove.
If you're looking for religious Easter activities, make sure to grab the religious Easter word search in this post. There's a version with only Easter-related religious words.
Again, you have three options: a set of 30 bingo cards (great for Sunday school classes!), a set of 10, and a set of 4. All cards are unique and can be combined to for a total of 44 unique bingo cards.
Set of 30 Christian Easter bingo cards
This set of 30 bingo boards is perfect for a Sunday school class or church picnic.
Set of 10 Easter bingo cards with crosses
The set of 10 unique cards is free – just let me know your email address so I can send you the file. Please fill out the form below the preview image to get your bingo cards!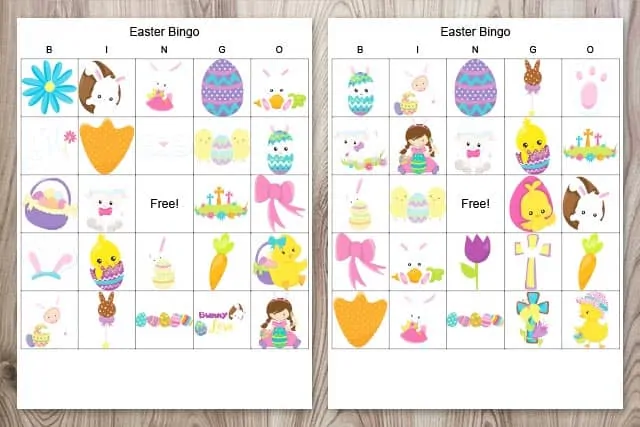 Set of 4 free religious Easter bingo cards
And, finally, you can get a set of 4 bingo cards in the post, no email address required. (Download link is highlighted in grey below the preview images.)
I hope you have a wonderful Easter holiday with your family! Make sure to keep scrolling for more Easter printables and craft ideas on The Artisan Life!
Easter Printables & Crafts
Looking for free Easter printables or easy Easter crafts for kids? You've come to the right place!