This free printable St. Patrick's Day matching game is fun for kids of all ages! Use it face up as a matching game for toddlers, flip it over for a game of St. Patrick's Day Memory, or use the shamrock matching cards for an even more challenging game.
They say everyone is Irish on St. Patrick's Day, but my Cuban husband remains completely Cuban every day of the year. Our daughter is her Papa's mini me and usually acts like she's straight out of Miami, but she's very Irish on my side of the family.
I made her this St. Patrick's Day matching game printable to help introduce the holiday to her. I hope you enjoy it as much as we do!
There are two difficulties of memory game printable. You can use them alone or mix them for one big game!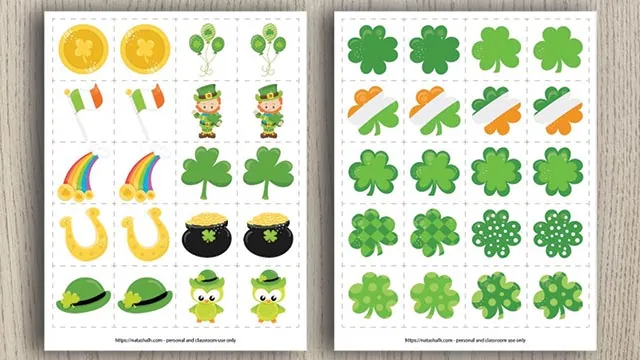 How to print and use your St. Patrick's Day matching game
This post includes affiliate links, which means I may earn a commission on purchases made through links at no additional cost to you.
First, print and cut your matching game cards. I recommend using cardstock or something called presentation paper.
Presentation paper is a heavyweight paper with a special coating for beautiful images. Pictures are always more crisp and vibrant on presentation paper, so it's what I personally use. If I'm using my colored ink, I want everything to look its best.
Next, laminate your printed sheets. This isn't 100% mandatory, but I highly recommend laminating the cards. If you don't have access to a laminator, you can cut the cards out individually and then "laminate" one or both sides with clear packing tape. It isn't the same, but I've totally done it before.
Finally, cut out the cards. A paper cutter works well, but scissors are fine, too!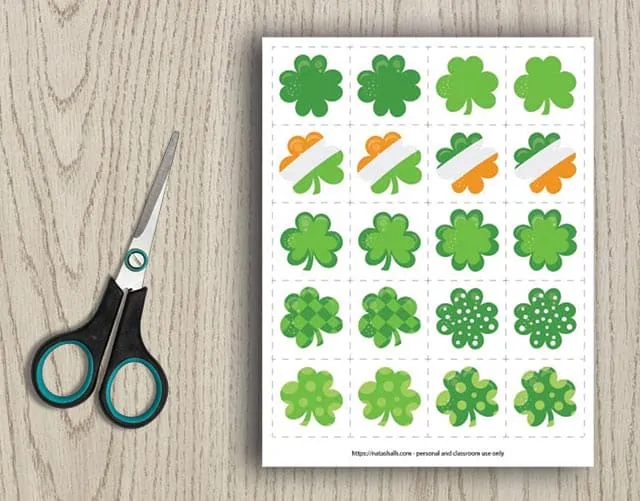 How to play with matching cards & memory games
There are several ways to play with these printable matching cards.
Playing with matching cards helps children develop their visual discrimination skills and attention to detail. Playing memory also improves memory and attention span. They're fun and educational – it's a win-win!
If you have a young child (toddler or preschool) who hasn't played with matching cards before, place them all face up. Talk about the cards and find the pairs together. Talking about the images and counting to two is a great opportunity to work on vocabulary, object and color recognition, and counting.
My daughter wasn't interested in shape matching cards I made her for about a year. Suddenly at 25 months she picked them up and started doing them on her own. Now she loves matching games and I give her an entire set of 10 at a time (face up).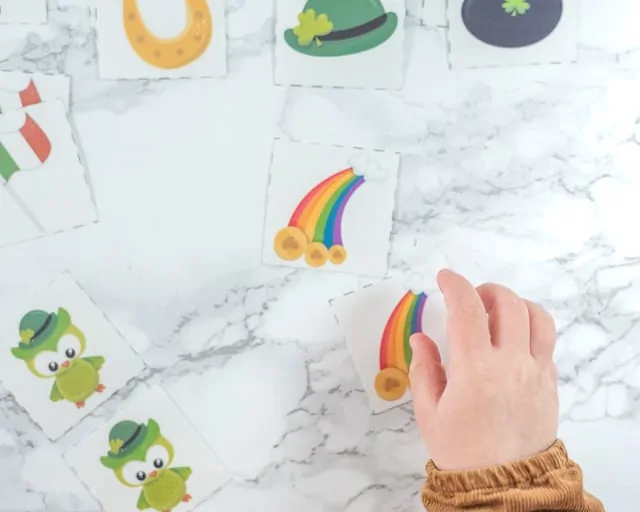 To play a modified memory game, place half the cards face up and half the cards face down. You can also play a smaller game of memory with only a few pairs at a time. My toddler can play memory with up to four sets of cards as long as I'm there to help.
To play memory or concentration, place all cards face down in a grid. Have your child turn over any two cards. If the cards match, they get to keep the pair. If they don't match, flip them back over and try again. This game can be played solo or with two or more players. The game is over when all the cards have been matched.
Related: free printable shamrock templates
Free printable matching cards for St Patrick's Day
These printable matching games are free for personal (non-commercial) and classroom use. This means you can print and use them with your children, personal classroom, scout troop, etc.
Please do not redistribute the printed games to others for their use or send the digital files to others. Just share the URL to this post so people can come download their own copies.
Use the download links below the preview images to get the high resolution PDF files from Dropbox. I've highlighted the links with a grey background to make them easier to find.
St. Patrick's Day memory game
First we have a set of St. Patrick's Day memory cards. There are 10 images family-friendly St Patrick's Day images to match up. It's a great opportunity to introduce new vocabulary for younger children, too. My daughter still calls the leprechauns "niños," but hey, we're working on it.
Shamrock matching cards
Next we have a more challenging set. All 10 images are shamrocks! They're all slightly different, but it's definitely more difficult to keep track of them all if you're playing memory.
These shamrocks are also great for younger children to play with face up because they have to play close attention to detail.
Looking for more low-prep, educational activities for your kids? Grab your free printable woodland animal activity pack today!
I hope you enjoy playing with this St. Pat's matching game! Make sure to keep scrolling for more St. Patrick's Day free printables on The Artisan Life.
Don't lose track of this game – Pin it to your St. Patrick's Day board now!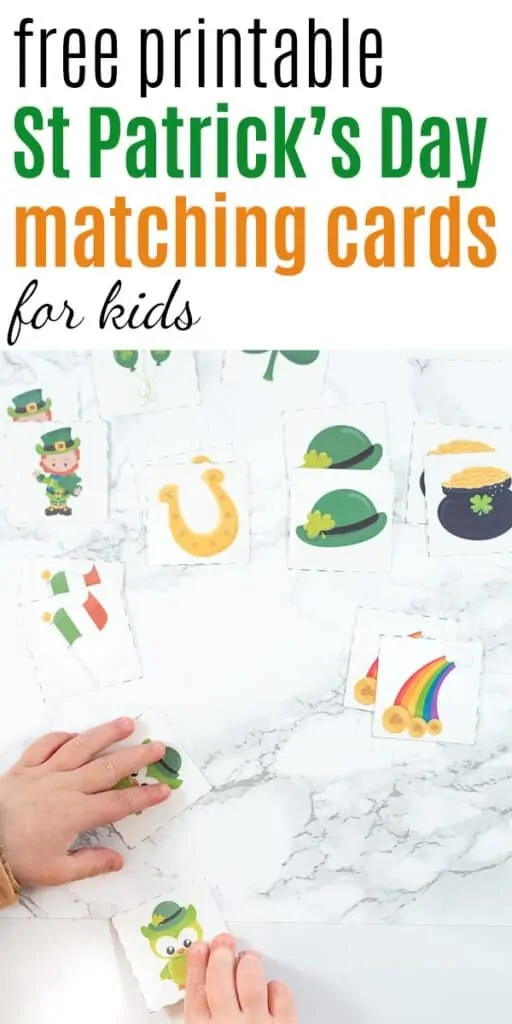 St. Patrick's Day Free Printables and Crafts
If you're looking for St. Patrick's Day printables, you've come to the right place!