This free printable St. Patrick's Day word scramble is a fun, educational, no-prep activity! Enjoy it with your children or print copies for your classroom St. Patrick's Day celebration.
I love word puzzles. They're a great, no-prep, screen-free activity you can feel good about giving your kids. Today I'm sharing a free printable St. Patrick's Day word scramble in color and ink-saving black and white. Both versions come with the answer key so you can help your child, even if you don't want to personally solve the puzzle.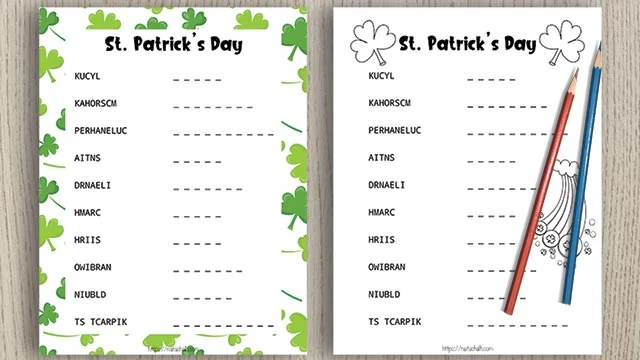 The benefits of word jumbles
Word games are so beneficial for people of all ages! Word puzzles are particularly beneficial for children, English language learners, and older adults.
Playing word games can improve:
Vocabulary
Attention to detail
Spelling skills
Word discrimination abilities
Problem solving skills
Patience and perseverance
And, of course, printable word games are an easy, screen-free way to keep your kids busy.
I also have a free printable St. Patrick's Day word search if you'd like more word games!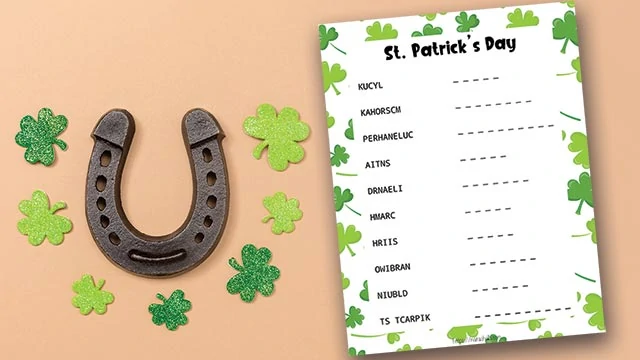 Related: Free printable St. Patrick's Day bingo
How to use your printable St. Patrick's Day word scramble
This post may include affiliate links which means I may earn a commission on qualifying purchases at no additional cost to you.
First, download your preferred word scramble. The same puzzle is available with a shamrock background or in ink-saving black and white. Download links are below!
Print your printable. For colored printables, I prefer to use presentation paper. It's a type of heavyweight paper with a special coating for vibrant colors.
Next, you may want to laminate your printable or place it in a dry erase pocket. Kids learn through repetition, so they may want to do the same puzzle more than once. If you homeschool, laminating or using a dry erase pocket allows you to reuse the same printable again next year or with other children.
Finally, give your child the word scramble! The answer bank is not included on the printable. If you want to make the puzzle a bit easier, you can give your child an answer key. Write it out or just copy/paste the list below!
The puzzle features 10 St. Patrick's Day-related words to unscramble:
Dublin
Irish
Ireland
Leprechaun
Lucky
March
Rainbow
Saint
St Patrick
Shamrock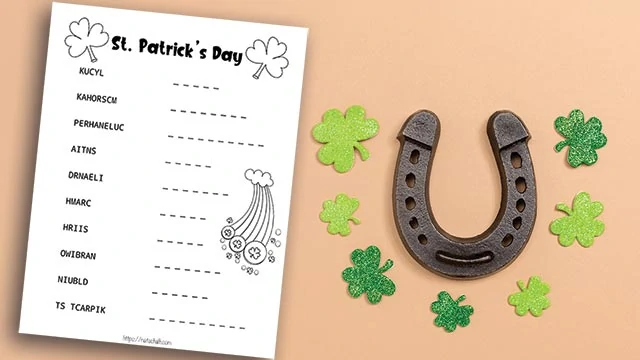 Related: Free printable rainbow templates
Free printable St. Patrick's Day word scrambles
Alright, let's get to the printables!
These word scrambles are available for personal and classroom use. This includes use with your scout troop, Sunday school class, homeschool co-op, etc. As long as you are personally involved with the activity (or leaving it for a substitute teacher in your classroom), it's fine to use these!
Please do not share the digital or printed files with other adults for their use. Just send them a link to this post so they can download their own copies.
Download links are located below the preview images. I've highlighted the links with a grey box to make them easier to find. The PDF files include the answer key.
First there's the cute and colorful word scramble with a shamrock background:
Then there's an ink-saving black and white word search for St. Patrick's Day with coloring page elements:
St. Patrick's Day Free Printables and Crafts
If you're looking for St. Patrick's Day printables, you've come to the right place!