These free printable shamrock templates are perfect for St. Patrick's Day crafts! They're ideal for decorating, preschool crafts, or even for use as coloring pages. There's even a green shamrock template to print and use so you don't have to buy construction paper. I hope you enjoy!
Last year I shared four leaf clover templates, so this year I thought I'd make some classic Irish shamrock templates with three petals.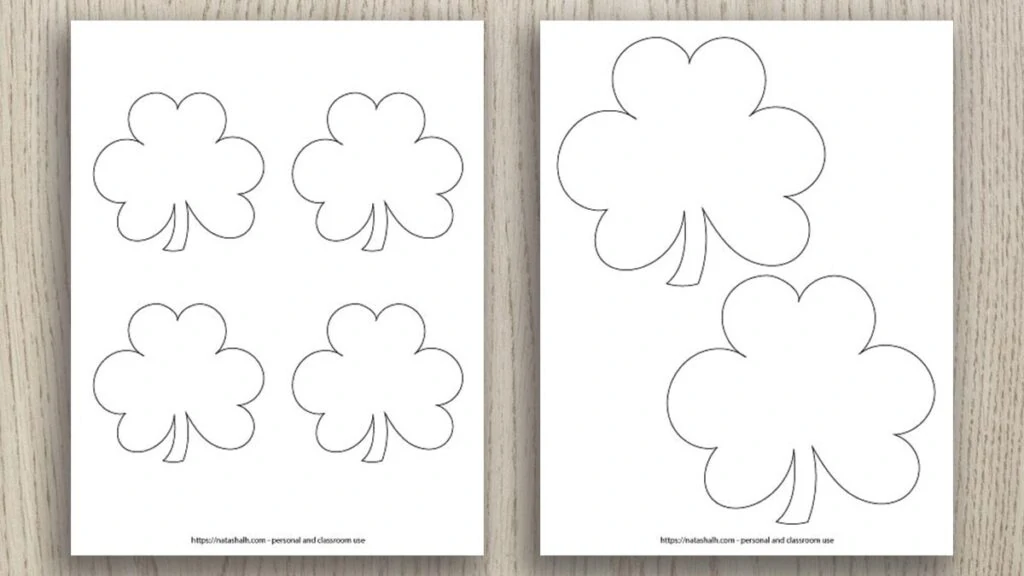 This post may include affiliate links which means I may earn a commission on qualifying purchases at no additional cost to you.
The three leaf clover, or shamrock, is a traditional symbol of Ireland. According to legend, St. Patrick used it to help teach the Holy Trinity (Father, Son, and the Holy Ghost).
Fascinatingly, this legend seems to have appeared in the 1500s…over 1000 years after St. Patrick was alive! By the 1700s, shamrocks were frequently worn on hats and clothing to celebrate St. Patrick's Day.
Even if St. Patrick didn't actually use shamrocks as a teaching aide, they've been used a symbol of Ireland for centuries. When Irish immigrants to the US were unable to find shamrocks, they began substituting the color green during St. Patrick's Day celebrations. Today, shamrocks and the color green are universally recognized as symbols of Ireland.
I hope these shamrock templates help you celebrate the day with your family or classroom!
Related: Free printable St. Patrick's Day bingo
Shamrock craft ideas
Not sure what to do with your three leaf clover outlines? Here are a few St. Patrick's Day craft ideas to get you started!
Have your little one practice their cutting skills by cutting the shamrock shapes out with a pair of blunt-tipped scissors.
Combine them with these printable pot of gold templates.
Use them with these rainbow templates.
Use them as stencils for painting. Print on cardstock to make your stencil more durable.
Make shamrock sun catchers like these from Sarah in the Suburbs.
Print the green shamrock templates and tape them to a wood dowel to make a shamrock fairy wand.
Related: Free printable St. Patrick's Day mazes
Free printable shamrock templates
These shamrock printables are all free for personal and classroom use. You may print and use as many copies as you'd like, as long as you are personally organizing the activity. Please do not share the digital or printed files with other adults for their use. Just send your friends and coworkers to this post to download their own copies!
Individual download links are located below each preview image. The previews are low resolution – please don't print them because they'll look terrible. Use the download links to access the high resolution PDF printables.
Save yourself valuable time – download all six classic shamrock templates in one handy file for just $1! You'll also receive access to 16 additional four leaf clover and shamrock templates. That's a total of 22 printable clovers!
If you'd rather take some extra time and download the files one at a time, just keep scrolling a little more.
Extra large shamrock pattern
This extra large shamrock template takes two pages! Print and cut both halves, then tape them together. The patterns overlap by .25″ to make them easy to tape.
Shamrock template – large
This large shamrock is the biggest that will fit on one page.
Medium Irish shamrocks
There are two different medium shamrocks. The first version has two 5.5″ wide shamrocks on one page:
Then there are 3.5″ wide shamrocks:
Shamrock template – small
Next there are small shamrock templates. They are 3″ wide and come six to a page. (If you need even smaller ones, please visit this post with four leaf clover templates.)
Green shamrock template
Finally we have a set of green shamrock templates. These are so handy for crafts and decorations. There's no need to trace and cut on colored paper. Just print them out and use them!
Don't lose track of these shamrock printables – Pin them now!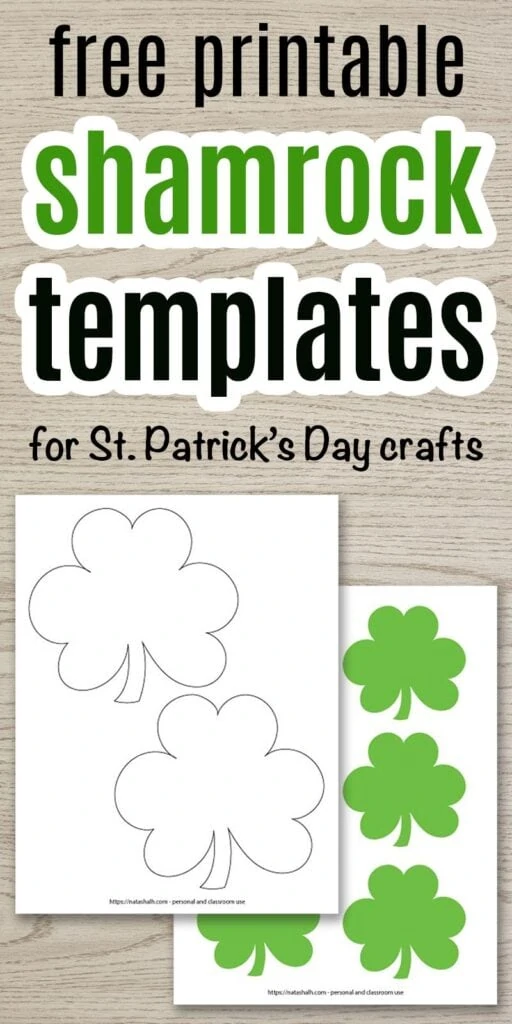 Free Printables for St. Patrick's Day
These printables for St. Patrick's Day are all available for personal and classroom use.
There are activities for "big kids," like word scrambles and searches, family activities like picture bingo, and games for toddlers and preschoolers like St. Patrick's Day matching cards and do a dot printables.
I hope you enjoy!