This free printable Easter word search is a fun, low-prep activity and easy candy free Easter basket idea! Pick from a secular or a religious Easter word search printable in color or ink-saving black and white.
I love creating (and solving!) word searches. They're so easy to print and use and they're great for your brain! Word searches are also a great screen-free way to spend time with you family on Easter.
Today I'm sharing secular and religious Easter word search printables so you can pick whichever suits your family best. Use them as part of a lesson on Easter, to keep your kids busy while you cook Easter dinner, or as a fun family activity!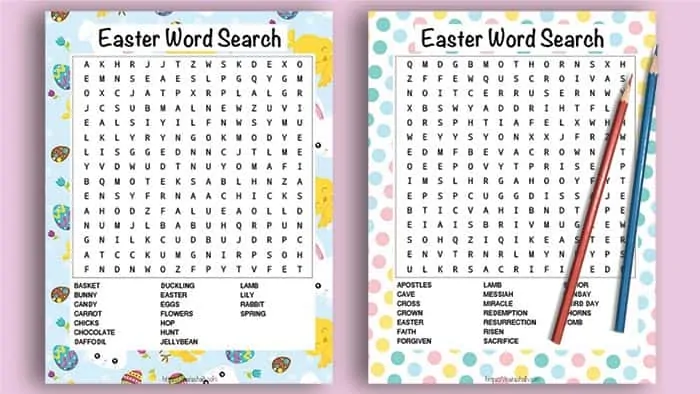 How to use word search printables
This post includes affiliate links, which means I may earn a commission on purchases made through links at no additional cost to you.
Obviously you just print and use, right. 😉
Yes, basically, but there are a few tricks to help you make the most of your printables.
Unless you want the word search to be a one off handout (like in your Sunday school class), laminate the printable or place it in a dry erase pocket. A dry erase pocket is basically super duty page protector.
When you laminate or use a page protector, your child can work the word search over and over again. That may sound weird to you as an adult, but kids frequently enjoy doing the same activity several times. Reusing the printable means multiple children can use the same printout, which is great for your colored ink tanks! You can also put the printable away with your seasonal decorations to use again next year.
I have a basic at home laminator and I love it. Laminating pages at a copy shop will cost you at least a dollar, plus you have to make a trip to the store and then wait around for your job to be completed. It's so much easier to plug my laminator in at home!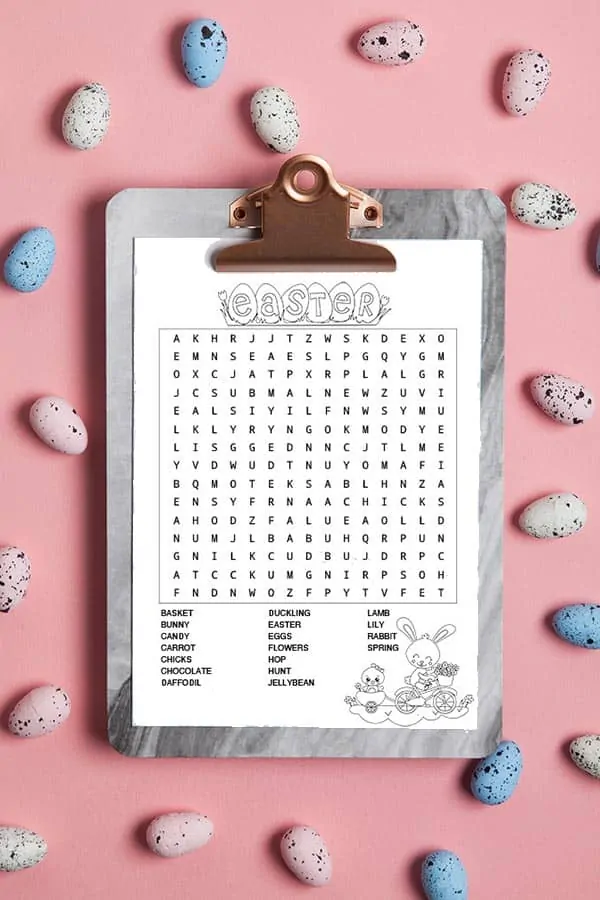 Free printable Easter word search
These printables are free for personal and classroom use. Feel free to use them with your own classroom, Sunday school, scout troop, etc. as long as you are personally organizing the activity.
Please do not redistribute the printouts to other adults or send them the digital files. Just share the link to this blog post with your coworkers and friends so they can download their own copies!
Use the download links below the preview images to get the high resolution PDF files. I've highlighted the links with a grey box to make them easy to find. The images are low resolution previews that will look terrible if printed so please get the files from Dropbox using the links!
The answer key for the color and black & white versions of each word search are the same (and, of course, the answer key is included in each PDF download!)
Both puzzles have words hidden forwards, backwards, and on the diagonal. Words can also share letters with other words.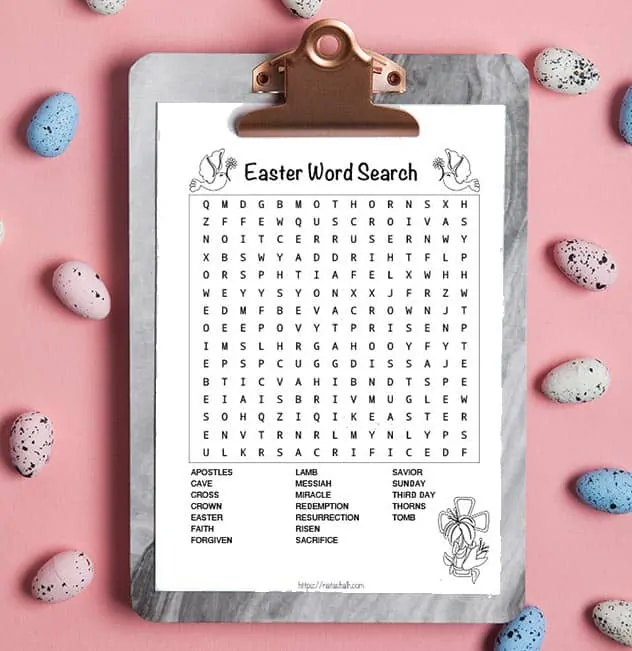 Secular Easter word search printable
The secular Easter word search features 18 words:
basket
bunny
candy
carrot
chicks
chocolate
daffodil
duckling
Easter
eggs
flowers
hop
hunt
jellybean
lamb
lily
rabbit
spring
First we have the secular Easter word hunt with a cute colorful background:
Then there's the black and white Easter word search with Easter pictures to color:
Christian Easter word search
The religious Christian Easter word search has 19 words:
apostles
cave
cross
crown
Easter
faith
forgiven
lamb
Messiah
miracle
redemption
resurrection
risen
sacrifice
savior
Sunday
third day
thorns
tomb
Make sure to get these Easter Story dot marker pages for your little learners, too.
The colorful version has cute pastel dots in the background:
And, of course, there's a black and white version with coloring elements:
Easter Printables & Crafts
Looking for free Easter printables or easy Easter crafts for kids? You've come to the right place!