These free printable Thanksgiving dot marker pages are fun for kids and help your toddler or preschooler develop their hand-eye coordination, grip strength, and fine motor skills. Oh, they'll also keep your kiddos busy while you're cooking or while they're sitting at the table for Thanksgiving dinner. 😉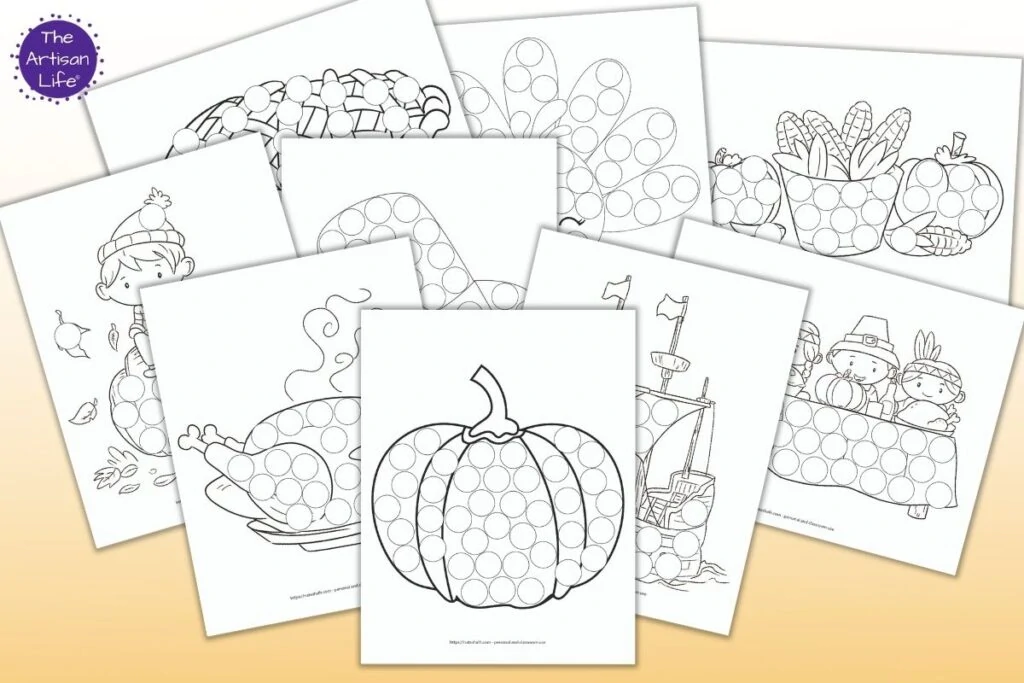 My daughter (almost 3 at the time of writing) adores dot painting printables. She's enjoyed doing them for at least the last 6 months. I was so surprised the first time I gave her a do a dot printable and she dotted exactly in the circle!
Her love of her "dot coloring pages" hasn't diminished with time. She loves these Thanksgiving do a dot printables – I hope your little ones do, too.
These are specifically Thanksgiving themed do a dot coloring pages – please see this post for non-holiday fall do a dot printables.
Benefits of dab a dot marker printables
Do a dot worksheets can help your child develop important skills such as hand-eye coordination, grip strength, finger strength, manual dexterity, and fine motor skills.
Children are increasingly are starting school with poor fine motor skills and low manual dexterity. Researchers hypothesize this is because of increased screen time and decreased time for other, more "traditional" toys and activities. One study found that preschooler's manual dexterity was inversely related to their screen time. In other words, the more screen time the preschooler received, on average, the worse their manual dexterity was.
These Thanksgiving do a dot marker printables are an easy way to keep your toddler or preschooler's development on track – and they'll have fun, too!
We literally have a stack of dot marker coloring pages printed out in a drawer next to my daughter's table so she can help herself to one whenever she wants. That's how much she enjoys these! Here she is coloring an owl from this set of fall dot marker printables: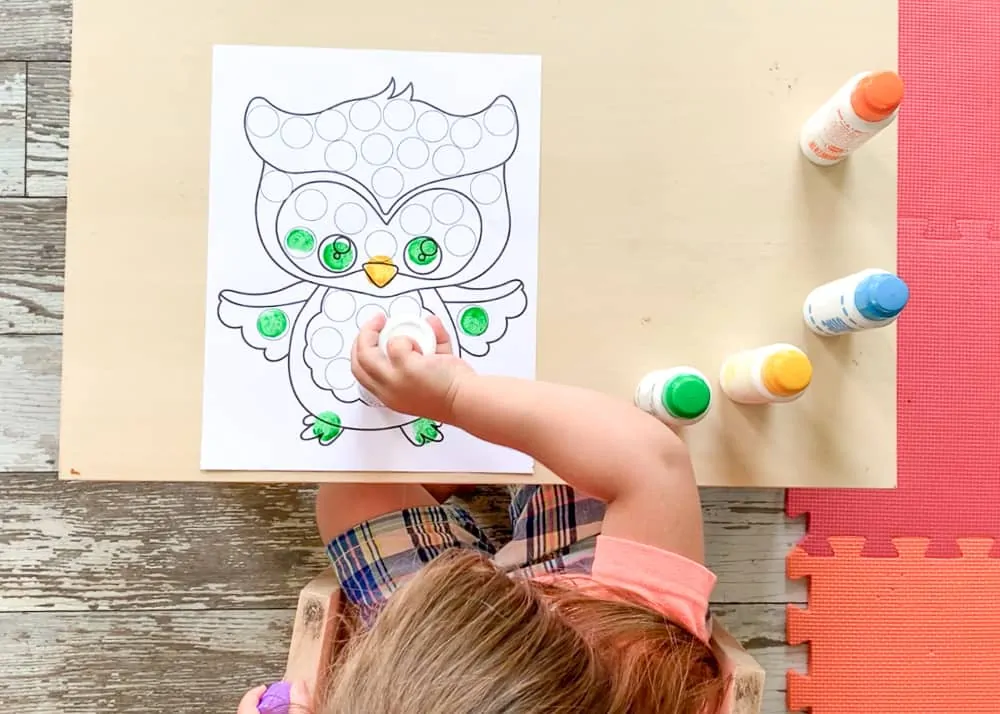 How to use printable dot marker coloring pages
This post may include affiliate links which means I may earn a commission on qualifying purchases at no additional cost to you.
I created these printables with Classic Do a Dot Markers in mind. The circles are perfectly sized for this line of markers, but they also work fine with other dauber style markers.
Dot markers are fairly low mess, but toddlers can figure out how to make basically anything messy. For a guaranteed low-mess activity, use these dot printables with colorful round label stickers. This makes a great road trip activity or easy activity for a doctor's office waiting room. Make sure to get 5/8″ or 3/4″ round stickers – 1″ round stickers will be too big for these printables.
Speaking of size – make sure you print the pages at 100% to ensure the circles are the correct width.
If your older toddler or preschooler needs a greater fine motor challenge, use these dot marker printables with small manipulatives like pompoms or large buttons. Have your child place the pompoms with their hands or have them use bamboo tongs, plastic tweezers, or small silicone tipped tongs to transfer the pompoms from a bowl onto the coloring page.
Laminate your printables to make them reusable with stickers and manipulatives.
Free do a dot printables for Thanksgiving
Thanksgiving do a dot marker images include:
A pumpkin
Thanksgiving ham
Thanksgiving roasted turkey
A pie
The Mayflower
A boy sitting on a pumpkin
Pumpkins with a bowl of corn
A pilgrim hat
A turkey
The First Thanksgiving
Here's a preview of everything that's included:
Like other free printables on The Artisan Life, these are for personal and classroom use. This includes use with scout groups, homeschool co-ops, and other similar groups. You are welcome to print and use them as many times as you'd like for your own children, students, therapy clients, etc. as long as you are 1) personally organizing the activity and 2) not charging specifically to participate.
Thanksgiving printables for kids
These printable acitivites and templates for Thanksgiving are a great way to keep your kids busy without more YouTube time. Grab these printable activities today for free!