These free printable Thanksgiving matching games are a fun, low-prep, and educational way to entertain your toddler or preschooler while you're busy preparing for the holiday or as part of your Thanksgiving theme at school.
Pick from three versions of the printable matching cards to suit your child's level of development: a classic match-up game, shadow matching, or a mirror image matching card game for Thanksgiving. All three are available for free in the post with no email address required!
These Thanksgiving matching cards can be played face up as a matching game for younger children or face down as a memory game. Memory can be played with two players or as a solitaire card game.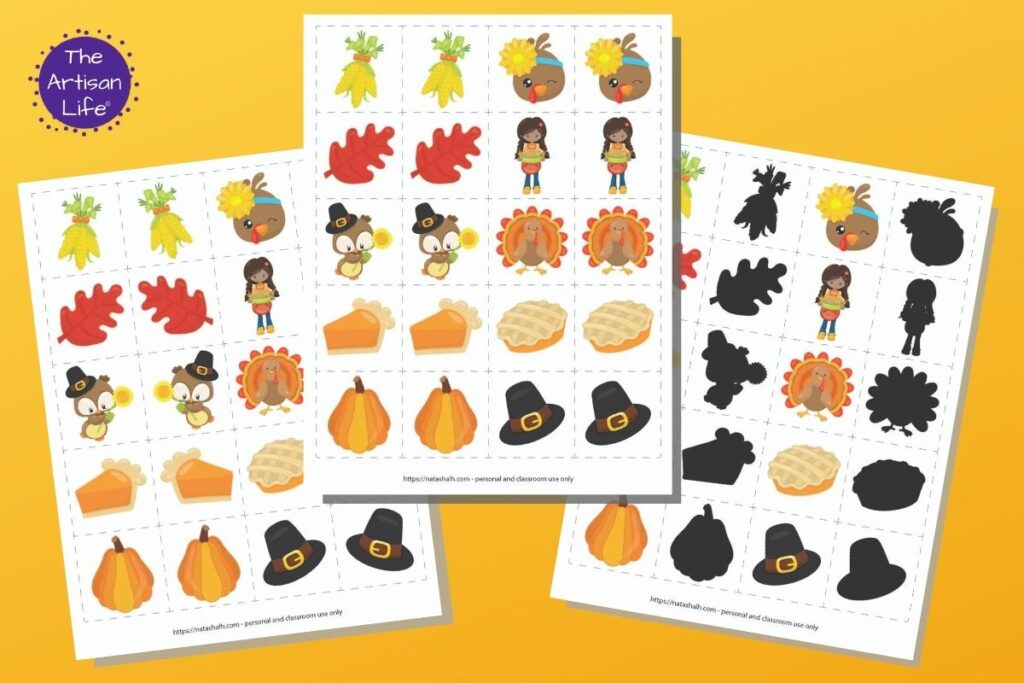 Benefits of matching games for children
This post may include affiliate links which means I may earn a commission on qualifying purchases at no additional cost to you.
Matching games are beneficial for children of all ages. They can be helpful for older adults, too! Readers write every week to share how they use free printable matching games and bingo games from The Artisan Life as printable memory games for older adults.
These matching cards for Thanksgiving help busy parents, too. We all need a few low-prep, low-mess, quiet activities in our toolkit! You can even store them in a zippered pouch or pencil case for an easy go bag activity.
Matching and sorting are important pre-math skills that children need to master before learning how to count.
Match-up and memory games can improve:
Sorting and grouping skills
Critical thinking abilities
Awareness of patterns and relationships
Fine motor control (picking up the cards is hard work for little fingers)
Concentration
Visual discrimination
And more!
These games also give your child the opportunity to demonstrate his/her knowledge and a sense of pride and accomplishment.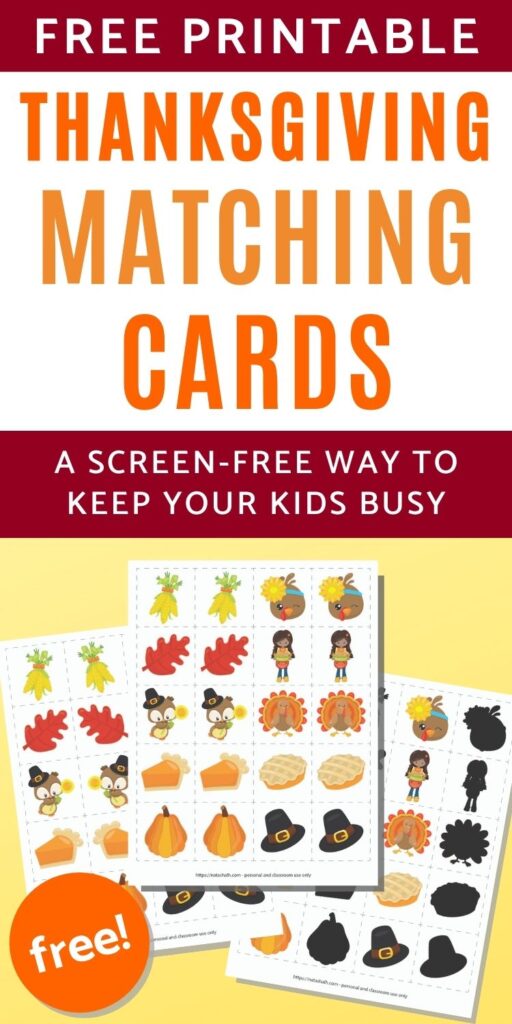 How to print and use Thanksgiving matching cards
Please note that these are Thanksgiving theme match up cards. If you'd prefer a general fall theme, please see this fall matching game. Only one image is identical between the two sets so you can also combine the two for a longer, and more challenging, game.
Materials needed for Thanksgiving matching cards:
Printable Thanksgiving themed matching cards (Download links for the PDFS are lower in the post.)
Printer & paper or cardstock

I always use presentation paper, a heavyweight paper with a special coating for crisp, clean images. If you don't have presentation paper, use white cardstock or bright white printer paper. Cardstock will be more durable, but the bright white printer paper will have better pictures.

Scissors or paper cutter. I like my Fiskar's paper trimmer with a guide wire. I like how easy accurate cutting is thanks to the guide wire.
Laminator & laminating pouches. Optional, but highly recommended. If you don't have a laminator, you can "laminate" the individual cards with 2″ clear packing tape.
How to print and use your matching or memory game:
First, download your printables below. There are shadow matching cards, mirror image match cards, and classic match-up game cards. You can combine multiple sets for a more difficult matching or memory game.
Print. Like I wrote above, I recommend using presentation paper, cardstock, or bright white printer paper. Cardstock cards will be more durable, images printed on bright white paper will look brighter and cleaner.
Laminate your pages before cutting the tiles out along the dotted lines. If you don't have a laminator, you can "laminate" them with clear packing tape.
Cut out the cards along the dotted lines. The tiles are about 2″ square when cut out.
Play! If your child hasn't played with matching cards before, demonstrate how to use them with 2 or 3 pairs. Add in more pairs as their confidence and abilities grow.
Here's a picture of my toddler enjoying her dino matching game. She's playing with the shadow matching cards at about 27 months: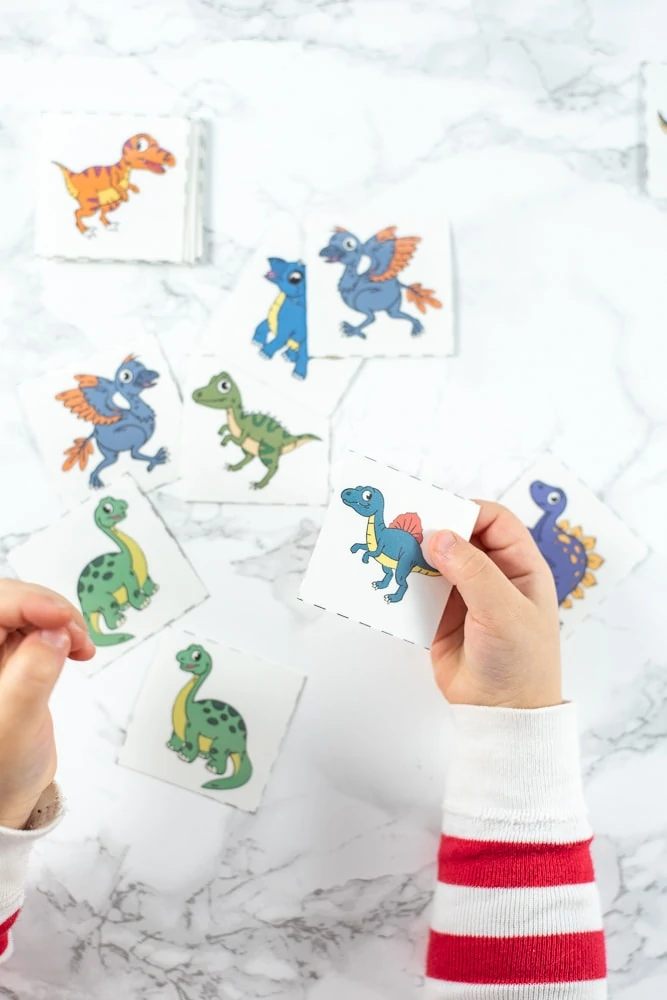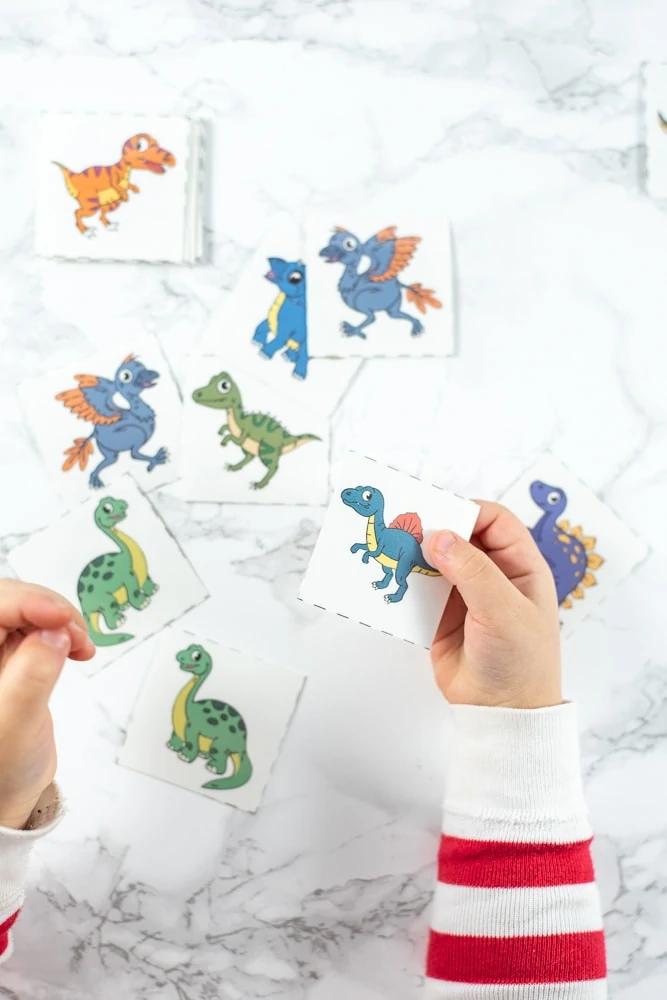 Older children can play memory with the cards by placing them face down. This can be played with multiple players or as a solitaire game.
Place all of the cards face down. They are usually placed in a grid, but they don't have to be. Have your child flip over two cards. If they match, the cards are paired up and removed from the board. If they don't match, the cards are flipped face down again and replaced in their original location. Keep playing until all the cards are paired up.
Related: Free printable Thanksgiving bingo
Printable Thanksgiving matching cards
Like all free printables on The Artisan Life, these matching games are free for personal and single classroom use. You are welcome to print and use them as many times as you'd like with your own children, students, Scout troop members, Sunday school class, therapy clients, etc. As long as you are personally involved with organizing the activity and not charging to participate, you're good to go.
You are not licensed to sell, alter, or redistribute the digital files or printouts to other adults for their personal use. For example, printing them for your students is fine. Giving them to another teacher to use with their students is not.
The files are available in PDF format. Individual download links are located below each preview image and highlighted with a grey box to make them easier to find.
Your time is valuable – save time and clicking around when you buy all three files in one handy PDF for the very low price of $1!
Thanksgiving shadow matching game
First we have the shadow matching game. This set features 10 images and their greyed out counterparts. Even though the images are very distinct and the game seems simple to adults, it's quite a challenge for the little ones!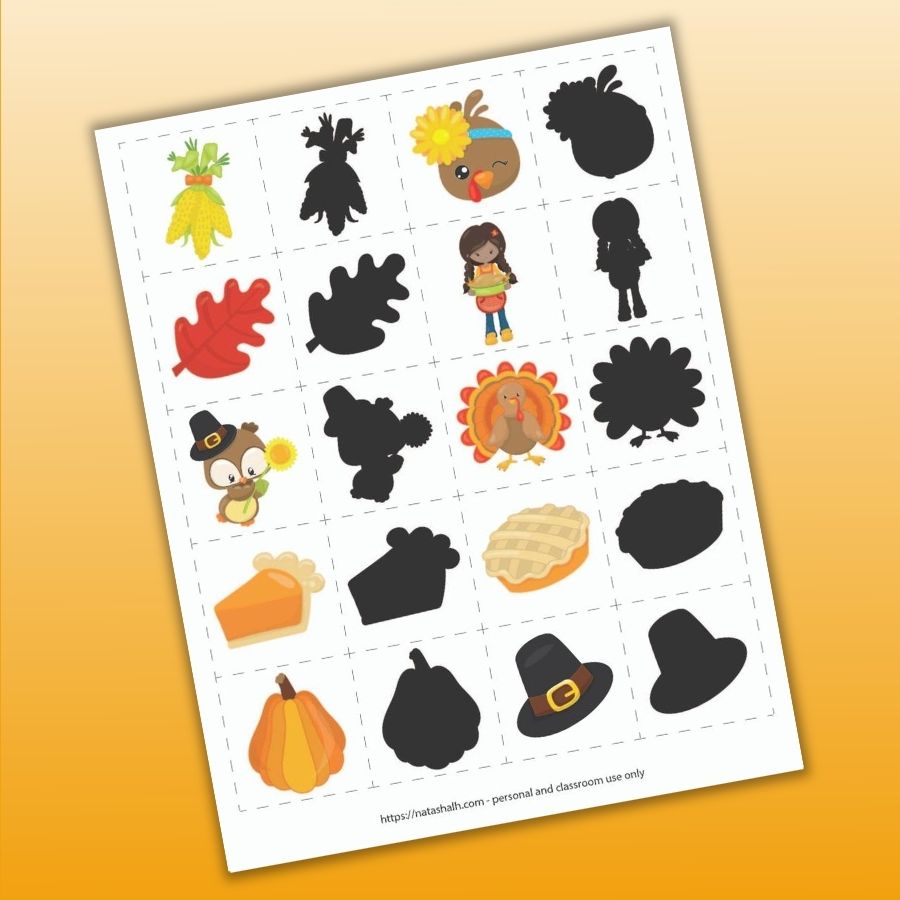 Thanksgiving shadow matching game PDF
Thanksgiving mirror image matching cards
Up next is the mirror image matching game for Thanksgiving. This one is also pretty challenging for toddlers and preschoolers.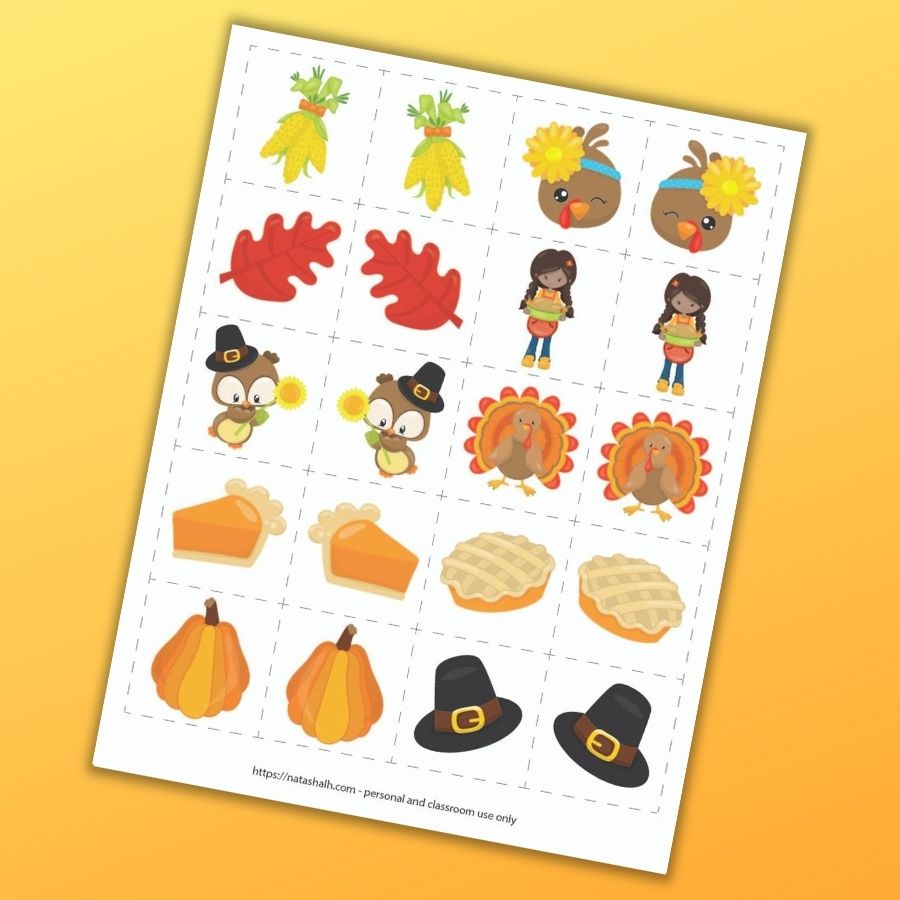 Mirror image matching game download
Thanksgiving matching game for toddlers
Last but not least, we have the classic matching game. These cards are a great introduction to matching for your little learner! They also make a fun memory game for preschoolers and older kids.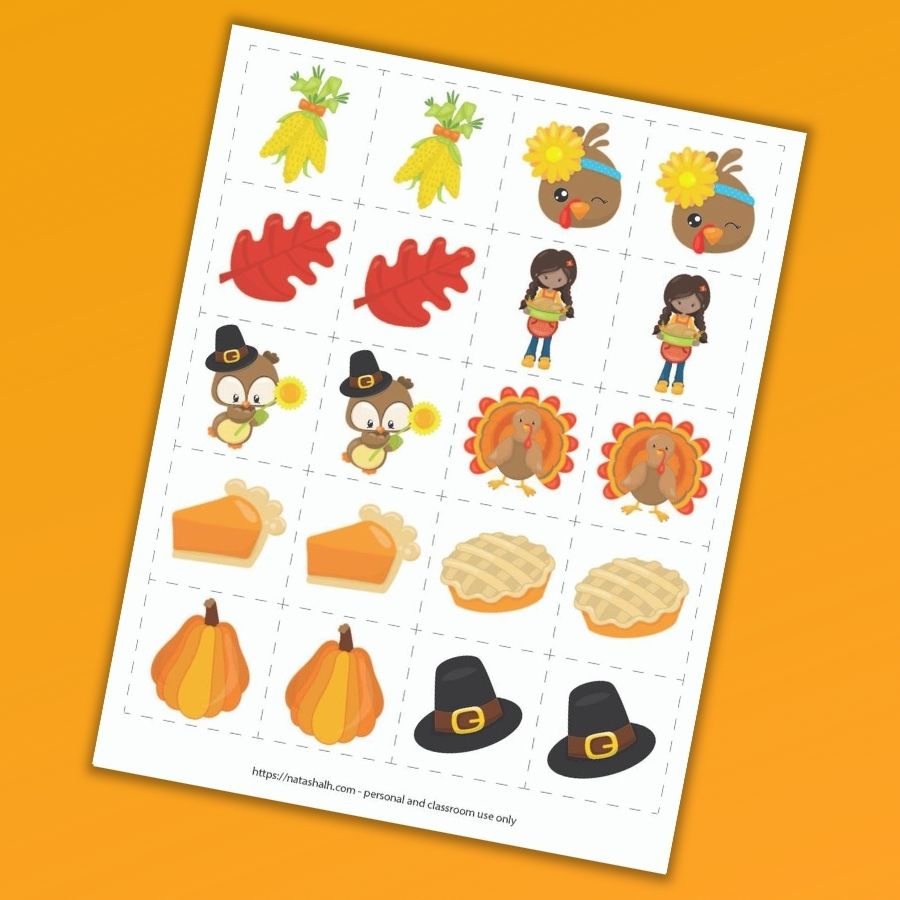 Thanksgiving matching game for toddlers and preschoolers
I hope your family enjoys these matching cards as much as mine does! Every time my daughter sees a new matching game printable on my screen she asks "You are making this new game for me?"
Be sure to join The Artisan Life family so you can save time when you receive the latest seasonal printables for children straight to your inbox. Join today and snag your free printable school readiness guide:
Christmas & Holiday Printables
Looking for printables for the holidays? You've come to the right place! Discover Christams templates for DIY ornaments and decorations, Christmas games for families at home, and more.