These free printable Thanksgiving number puzzles are self-correcting and a fun way to help your preschooler practice their numbers! These Thanksgiving themed two part number puzzles are a fantastic way to help your little learner become more familiar with their numbers. Use them to help your child learn to count and recognize numbers 1-12.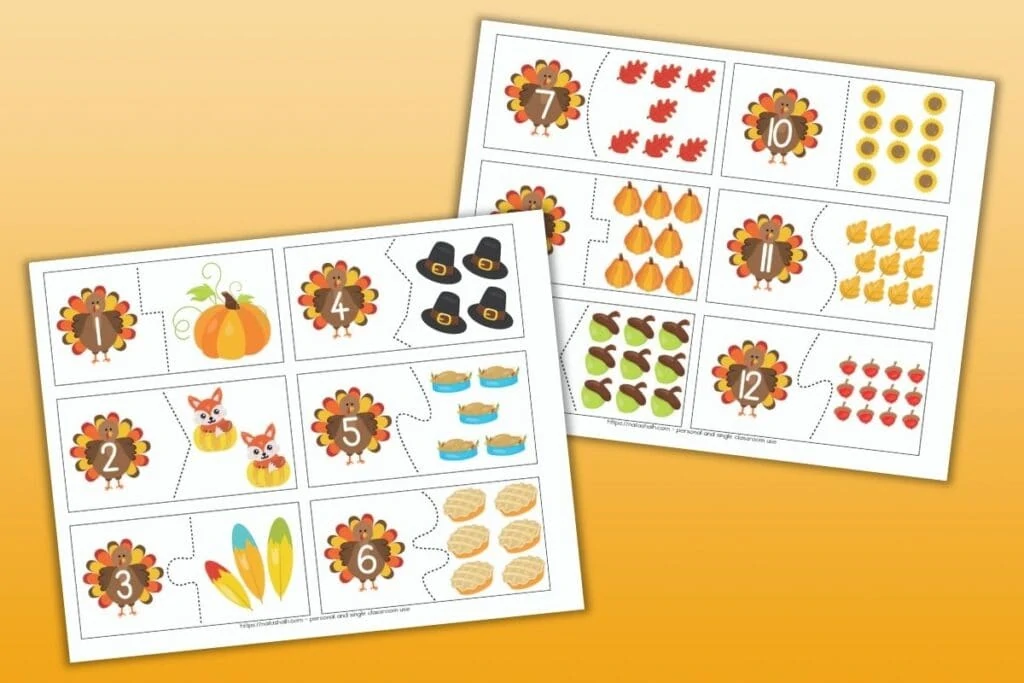 This counting game can also make an easy go-bag or quiet time activity for traveling, waiting for Thanksgiving dinner, or a trip to the doctor's office. When you laminate the cards, they're easy to clean off with your favorite sanitizing wipes so you can have peace of mind.
Make sure to grab your free printable Thanksgiving matching cards and free printable turkey alphabet tracing strips to keep your little one happily busy and learning for even longer.
This post may include affiliate links which means I may earn a commission on qualifying purchases at no additional cost to you.
How to prepare your two part number puzzles
These two part number puzzles for Thanksgiving are a little higher prep than many of the preschool printables I share, but they're still pretty easy to put together. If you have an older child they can practice their cutting skills and help you out!
Materials needed:
Your free printable PDF (located further down the page)
Cardstock or presentation paper. Cardstock is sturdier, presentation paper will have nicer images.
Laminator – optional but highly recommended.
Scissors and paper cutter. You don't have to have a paper cutter, but it will make your life easier. You do need to have scissors.
How to print and prepare the number puzzles
Print the printable puzzles. The are two pages: one has numbers 1-6 and the other has 7-12.
Laminate before cutting, unless your specific laminator directs you to do otherwise.
Cut out the cards. Make sure to cut around each card along the solid line and along each dashed line to separate the two halves. I prefer to use a paper cutter for the outer lines and scissors for the dashed lines.
Play! Introduce a few of the puzzles to your child and demonstrate how they work.
Remember to introduce just a few sets of the numbers at first if your child is new to this type of activity.
Children learn at the edge of their comfort zones, but presenting a child who's just learning their numbers with all 12 puzzles at once may cause overwhelm and frustration.
You know your own child best – start with numbers you they at least mostly know, show them how to play, then add on more numbers as their skills and confidence grow.
Related: Free Thanksgiving do a dot marker printables
Free printable Thanksgiving number puzzles
Let's get to the printables!
Like all free printables on The Artisan Life, these are for personal and single classroom use.
You are welcome to print and use them as many times as you would like for your own students, children, homeschool co-op class, therapy clients, etc.
You are not licensed to redistribute the files or printouts to other adults for use with their children/students/etc. even though you're getting the download for free. Please refer them to this page so they can download their own copy. The Artisan Life is a user-supported site so your cooperation means a lot to me.
These number puzzles are self-correcting, meaning that each number turkey has only one match that will fit correctly if the pieces are oriented correctly. Two sets of the puzzles could theoretically be "matched" if the cards were up side down or backwards. If your child has trouble with this, your can give them reminders like "the turkey's feet need to be at the bottom" or that the cards should all be face-up.
The download link is located below the preview image. It should open in a new window and begin downloading automatically. If a dialogue box appears asking for permission to download items from Dropbox, please accept.
I hope your little one has fun learning with these free printable Thanksgiving turkey number puzzles!
Be sure to check out these additional Thanksgiving printables to keep your family happily occupied over the holiday without resorting to more screen time:
Thanksgiving Preschool & Toddler Printables
Do you need low-prep and no-prep activities for your toddler or preschooler? You've come to the right place!