This free happy birthday unicorn banner printable is perfect for your upcoming unicorn birthday party! Get the free version to spell out "happy birthday!" or get the complete alphabet with numbers to make your own custom unicorn banner for birthday parties and baby showers.
I absolutely love making printables. Creating this unicorn banner was such a joy! I hope you enjoy using it with the special unicorn-lover in your life to make their big day extra happy.
If you're planning a unicorn party, make sure to check out more free unicorn printables and projects on The Artisan Life:
And for after the party, be sure to check out these free printable thank you coloring pages! There are easy instructions for turning them into cards and there's a cute unicorn thank you to print and color.
How to make a unicorn banner with printables
This post may include affiliate links which means I may earn a commission on qualifying purchases at no additional cost to you.
Printing and using this happy birthday banner with unicorns is so easy!
First you'll need to download your free printable (located below).
Next, print your banner pendants. If you're using the free version, just print every page. If you purchase the full alphabet version, print only the pages you need.
It's incredibly important to pick the right paper for your printable banner. Do not use plain copy paper. It simply won't look that nice. Instead, print on white cardstock or, my personal favorite, presentation paper.
Presentation paper is a heavyweight paper with a special coating for crisp, vibrant images. When printables are printed on presentation paper instead of cardstock, the pictures are a lot brighter and more clear.
This banner has plenty of white space so you can print it at home without using all of your ink. If you don't want to print at home, you can also take it to a copy center for printing.
Next it's time to cut the banner pendants out. I find it easiest to use a paper cutter on the straight lines and scissors for the diagonal cut-out at the bottom of the pendant.
Now it's time to string up your banner! You can punch two small holes along the top of each pendant and thread them onto ribbon or twine. You can also use clothespins to clip your banner to a ribbon. This technique is quick and easy, but doesn't always work as well with cardstock.
A colorful organza ribbon like this one works well. It isn't slippery, so the pendants will stay in place better (plus the unicorn rainbow colors are a perfect fit for a unicorn party!)
Hang your banner and enjoy!
Free printable unicorn happy birthday banner
Okay, let's get you the printable banner!
This unicorn banner printable is available for personal and classroom use. Please do not use it commercially or redistribute the files to others. Just send your friends to this page so they can download their own copy!
The free version comes with the text "Happy birthday!" and two cute unicorns: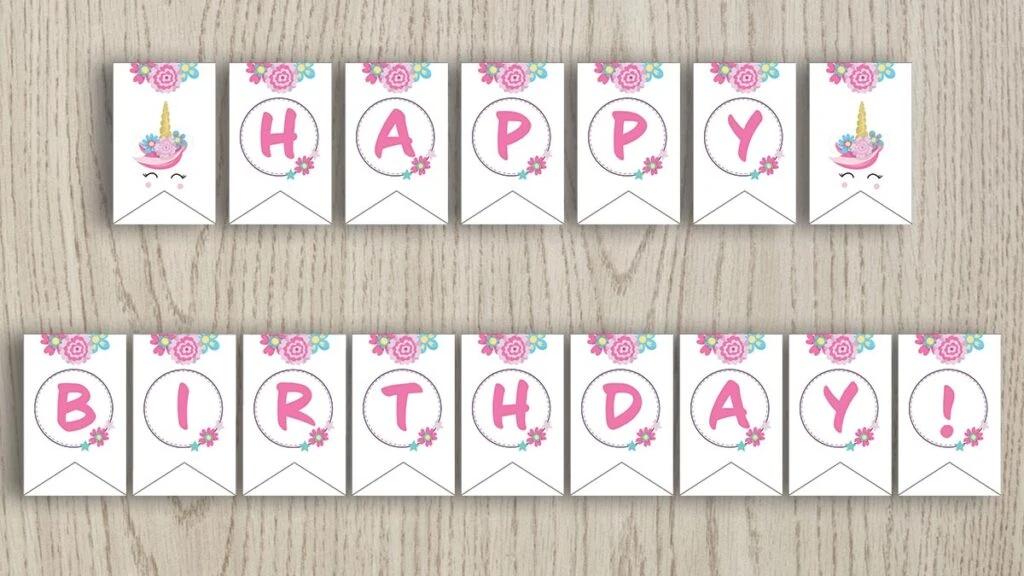 Download the "Happy Birthday!" unicorn banner here
The pendants are nice and large. They're approximately 4.8″ wide and 7.5″ tall so they're easy to read and perfect for photos!
If you'd like to personalize your banner, grab the deluxe alphabet unicorn banner printable. This unicorn banner printable comes with each letter of the alphabet, three different unicorn images, and a full set of numbers. Pick from standard numbers (1,2,3, etc) or from 1st, 2nd, 3rd, etc. style numbers. You also get an exclamation point and a comma.
Snag the full unicorn alphabet banner for one very low price.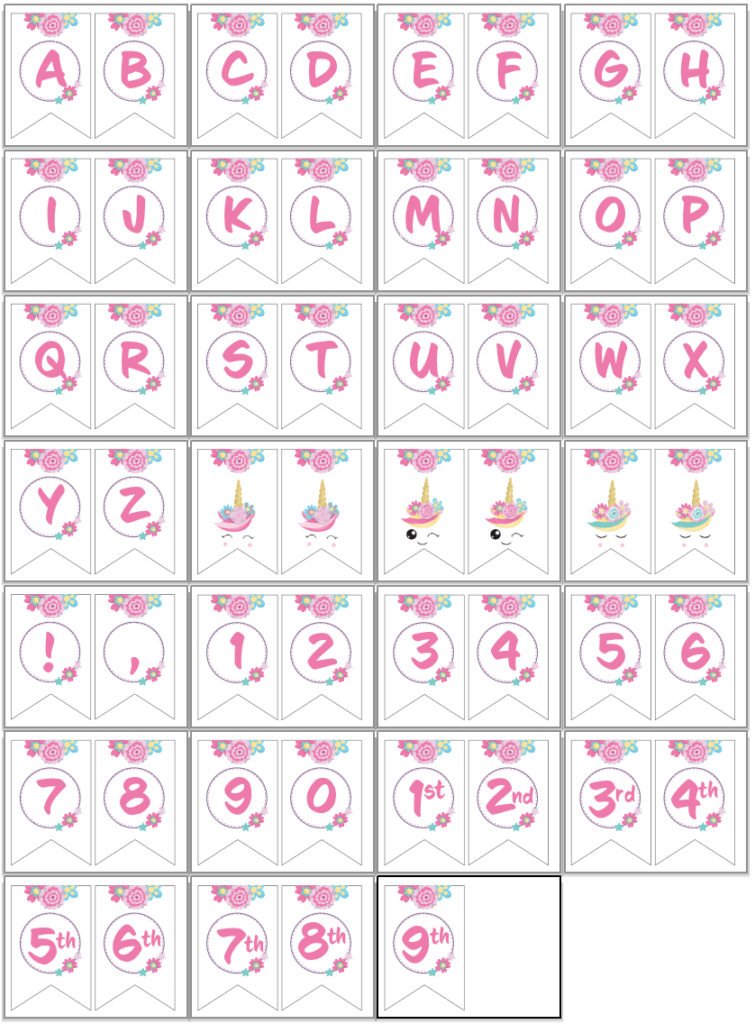 Pin this post now to your party planning board so you don't lose track of it! (Follow the link to open this image on Pinterest.)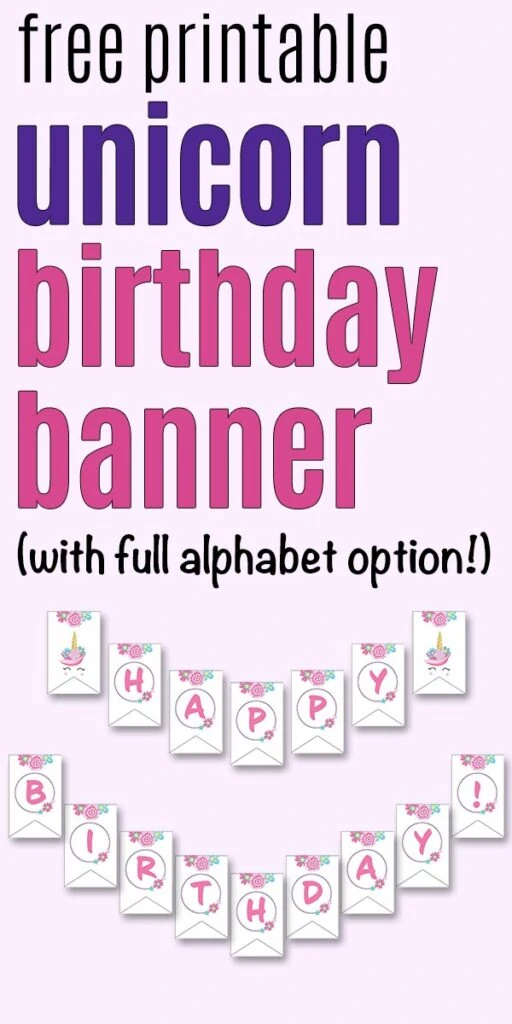 Make sure to check out more great unicorn projects on The Artisan Life and leave a comment if there's a unicorn printable you'd like to see added!
Unicorn printables & DIY projects
These free unciorn printables and DIY unicorn projects are pefect for the unicorn-lover in your life!