This cute, no-sew unicorn banner is so easy to make with a free printable unicorn pattern!
I enjoy sewing, but I know not all of my readers are sewests. That's why today I'm sharing an easy unicorn banner with a simple no-sew option! If you can trace, cut, and glue, I'm confident you can make this cute unicorn banner for your wall. 🙂
Since there is no sewing, this unicorn banner is a fun and easy project to make with your kids. Grab some felt, scissors, and your free printable pattern and get started!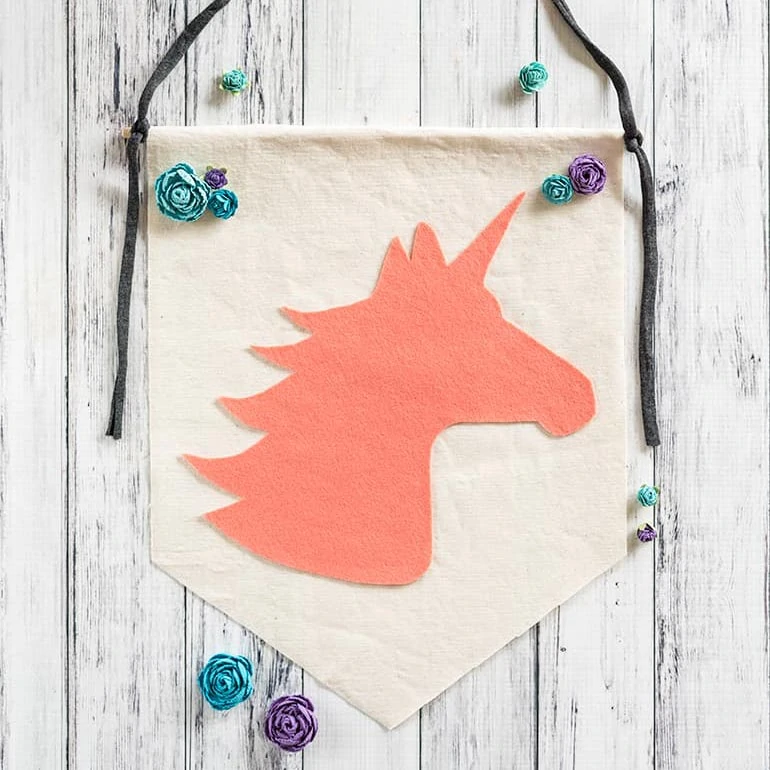 This post may include affiliate links, which means I may make a commission on purchases made through these links at no additional cost to you.
Materials needed for your no-sew unicorn banner
11″x16″ of fabric or felt for your banner

I used natural-colored canvas duck from my local fabric store and the banner template provided with this tutorial!
You could also use a large piece of felt for your banner instead of woven fabric.
Stuck at home? Get creative and upcycle an old pillow case, shirt, dress, or even a placemat.

A piece of felt

in your desired unicorn color. I highly recommend using wool felt because it's nicer and more durable, but acrylic craft felt is less expensive and easy to find at virtually any craft store.
Printable unicorn silhouette and banner template & one extra sheet of paper
Tape
Scissors
A fabric marker, ball point pen, or felt-tip marker
Fabric glue or Original Tacky Glue. I've personally had better luck with Tacky Glue and felt than with 'regular' fabric glue.
Hot glue (make sure to check out my post on hot glue gun tips & tricks if you have any hot glue questions!)
A narrow wooden dowel at least 12″ long
Ribbon, embroidery floss, thin rope, yarn, twine, etc to hang your banner
Embellishments – optional. You might want to attach sequins to your banner, hang tassels or pompoms from the dowel, add flowers, etc. This is totally optional and up to you!
Fray check – optional and only needed if you want to be sure your edges won't fray. If your banner is just being displayed on the wall, unless you use a particularly fray-prone fabric, fraying shouldn't be a problem. Felt does not fray so you won't need this if your banner is also felt.
Update: I don't know how I lived without silicone finger protectors for as long as I did! I don't even know how many burns I could have prevented with these inexpensive finger caps.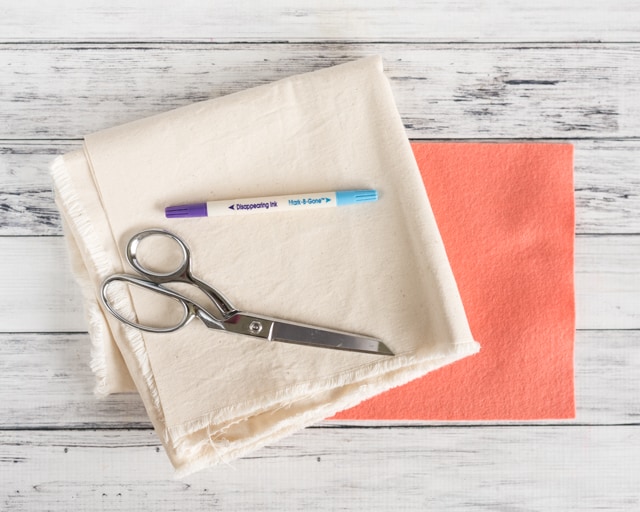 How to make an easy unicorn banner
Print your pattern and cut out the unicorn head silhouette. In case you missed the link above, you can download your unicorn banner pattern right here.
Update: I've created more free printable unicorn templates! See the additional unicorn patterns here.
Trace the unicorn onto your felt and cut out.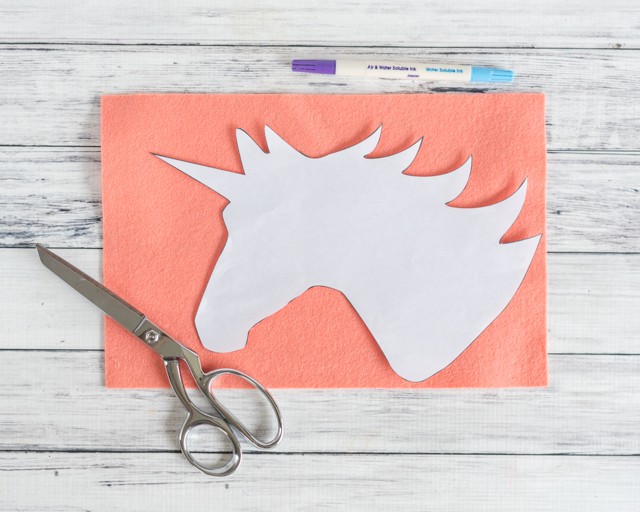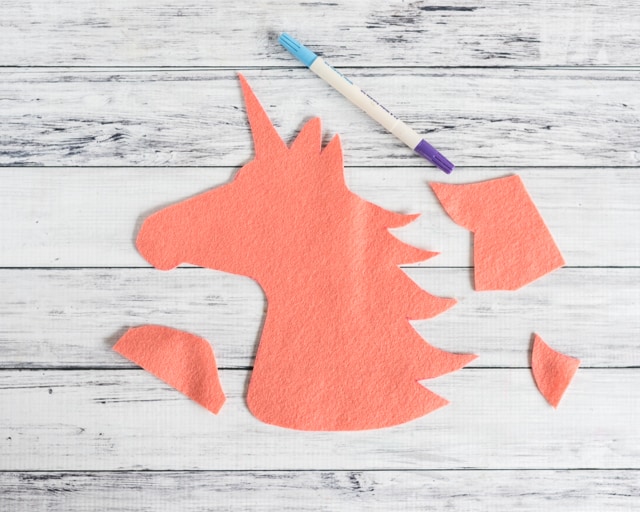 Assemble your banner pattern:
Cut the point on the bottom half of the printable page, making sure you cut all the way to the edge of the paper (if you don't have borderless printing, the line won't print all the way to the edge).
Take your 'extra' sheet of paper and align one long edge along the straight line on your printed page. Tape in place.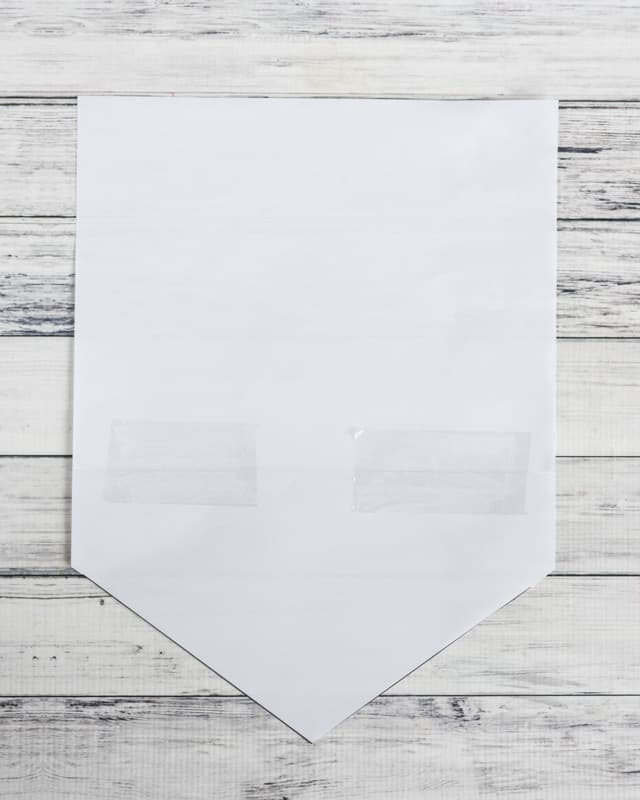 Trace your banner pattern onto your banner fabric and cut out. I highly recommend ironing your fabric before tracking/cutting if it's wrinkly.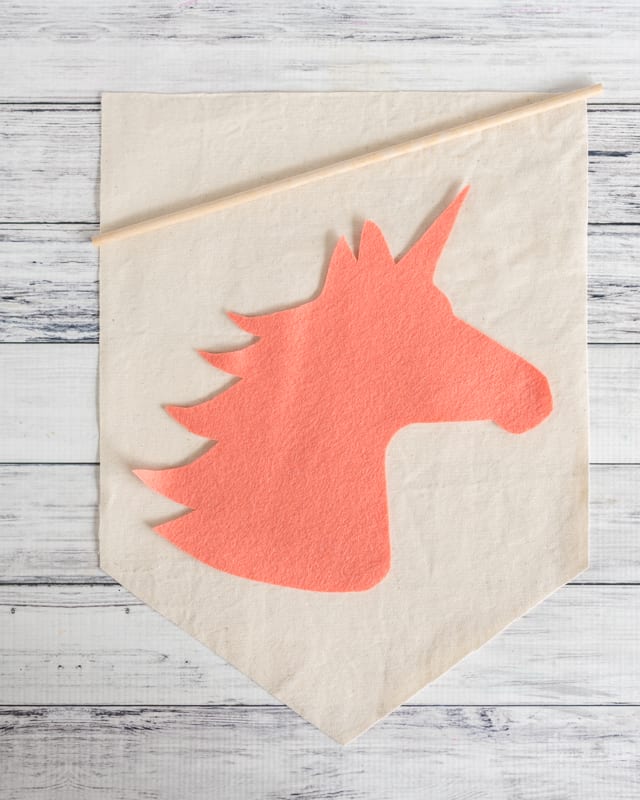 If you can see a bit of your tracing pen/marker on the banner or unicorn – don't stress! Simply flip the pieces over so the side with visible marks becomes the back.
Use Tacky Glue or hot glue to glue your dowel along the top, back edge of your banner. If you're using hot glue, I suggest working a couple inches at a time.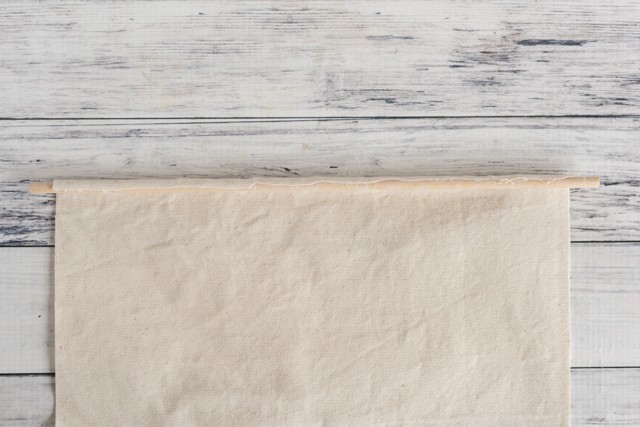 Roll the banner up a little so the cut edge is completely concealed and glue again.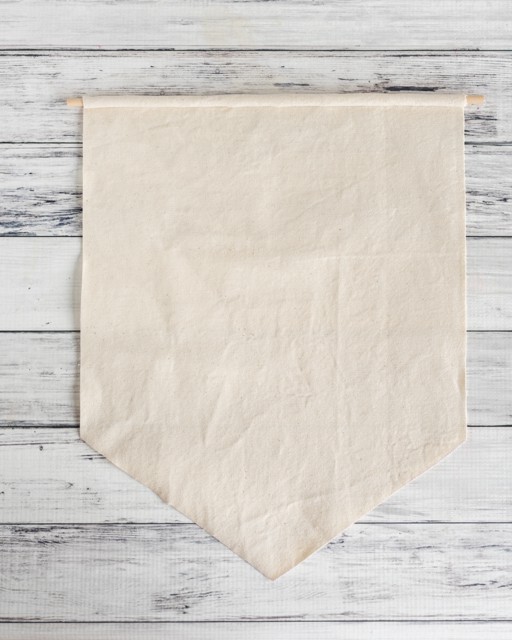 Flip your banner front side up, decide where you'd like your unicorn silhouette, and then glue it in place. Use glue all the way around the edge of the silhouette, but place it a little bit to the "inside" (about 1/8″ or so) to help keep glue from leaking out when you press the silhouette in place. You don't need to coat the entire inside of the silhouette with glue, but do add a few lines of glue to help hold it in place.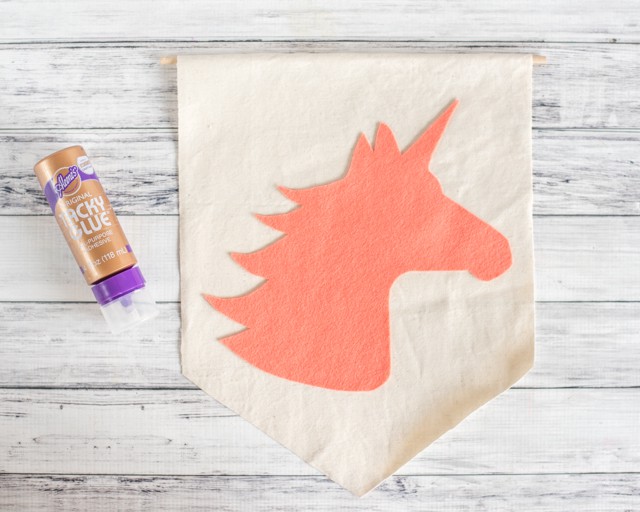 Allow your glue to dry completely. I pressed mine under a thick book to help it stay down.
Add an extra embellishments, if you'd like. You might want to add pompoms or tassels to the dowel, glue on sequins, or attach flowers. The choice is yours!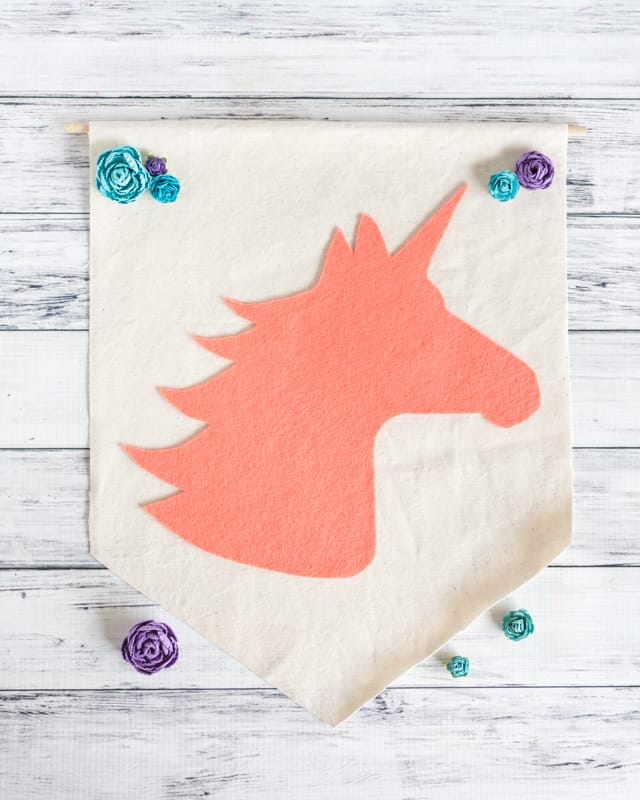 Cut a piece of ribbon, twine, etc. to hang your banner with. The exact amount you'll need will depend on how much space you want between the hanging point (nail, hook, etc) for your banner and the top of the banner, but I used about 26″. Tie your ribbon onto the dowel and your awesome, easy unicorn banner is ready to hang!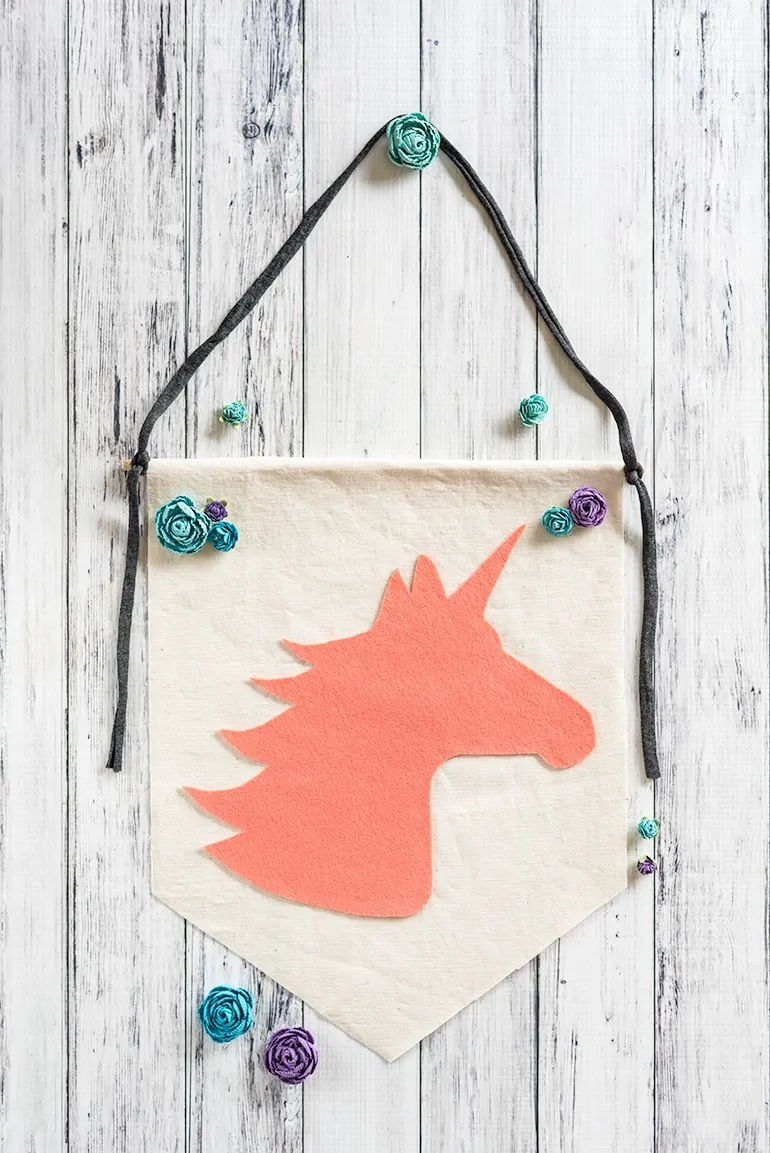 Related: Free printable unicorn bingo
Make sure to Pin this post now so you don't lose track of it!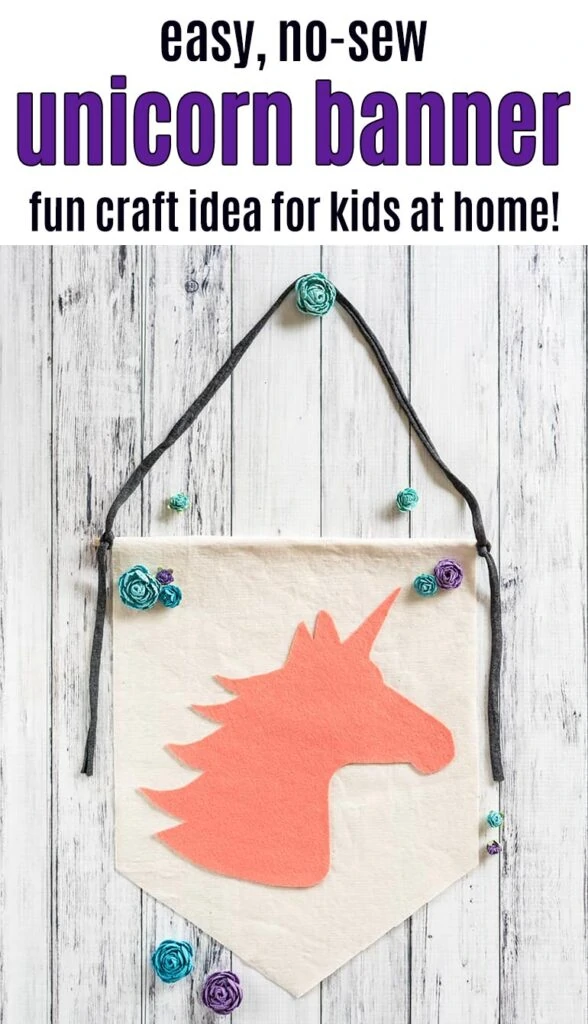 Unicorn printables & DIY projects
These free unciorn printables and DIY unicorn projects are pefect for the unicorn-lover in your life!