This printable pin the horn on the unicorn game is the perfect game for your unicorn party! Pick from a large, poster-sized unicorn or a smaller 8.x5x11 unicorn you can print at home.
Pin the horn on the unicorn is a variant on the classic "pin the tail on the donkey" party game. It's fun, easy to play, and sure to bring lots of laughs to your unicorn party!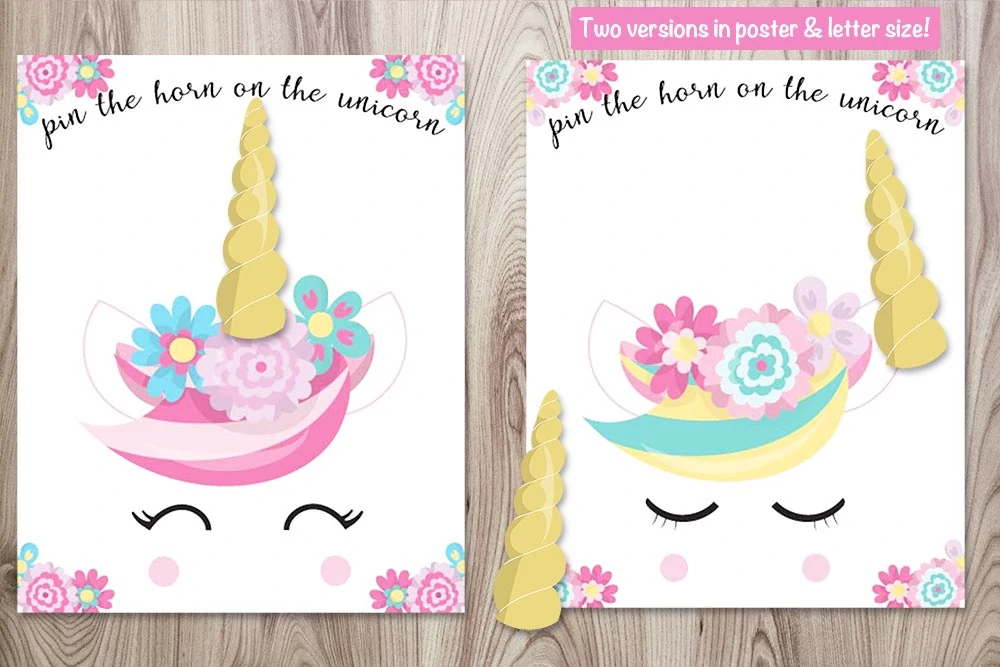 How to play pin the horn on the unicorn
This post may include affiliate links which means I may earn a commission on qualifying purchases at no additional cost to you.
Download your unicorn poster and unicorn horns (download information is below).
Print off your unicorn printable and print/cut out horns. You'll need at least one horn for every party attendee. It's always best to print a few extras, just in case!
The unicorn poster is available in 16×20 poster size and letter size. You will probably need to print at a copy shop/office copy center. Most home printers simply won't print this large, though if you happen to have a large printer at home (I do), then you can print it off, yourself.
You can also print the poster in four sections and tape them together. If you have Acrobat Reader (it's a free download), select the "poster" option. You will need to trim away the margins with a paper cutter, but you can print four pages and tape them into one big poster without a trip to the copy shop. You can select the "cut marks' option if you'd like a visual guide.
Related: Free printable unicorn bingo
The letter size unicorn poster is (obviously) much smaller and makes a more difficult target. This could be fun for older kids! It also saves you a trip to the copy center and you don't have to tape four sheets together.
The horn printables for both sizes of poster fit on regular 8.5×11 sized paper. There are three larger horns per page and eight of the smaller horns per page. Simply print as many pages as you need.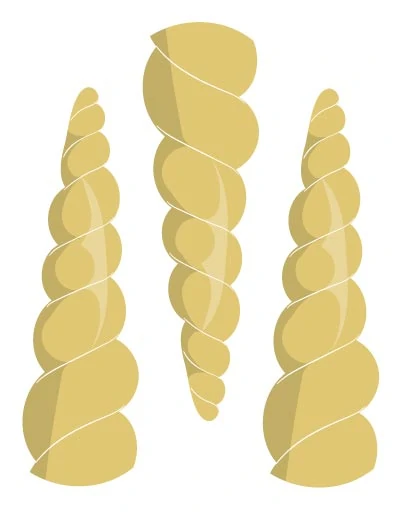 If you're printing at home, I recommend using cardstock or, my personal favorite, 32 lb bright white paper. This paper is heavier and brighter than normal printer paper, which means your game holds up better to play and the images look fantastic.
You can see a side by side comparison of several papers, including cardstock and 32 lb paper, in this post on the best paper for printables.
HP Paper Printer | 8.5 x 11 Paper | Premium 32 lb | 1 Ream - 500 Sheets |...
Made in USA: HP Papers is sourced from renewable forest resources and has achieved production with 0% deforestation in North America.
Heavyweight premium printing: HP Premium32 is a heavyweight (32 pounds), brighter (100 bright) and whiter (163 whiteness) paper with a super-smooth...
Certified sustainable: HP Premium32 presentation paper is Forest Stewardship Council (FSC) certified and contributes toward satisfying credit MR1...
Write each guest's name on the back of a horn so you can tell whose it is. For older children, you can have them write their own name before playing.
Tape the poster to the wall, fridge, or door. Make sure it's at an appropriate height!
When it's time to play, line all the participants up. Give them their horns and place a piece of double sided sticky tape on the back of each horn.
Use a blindfold or scarf to cover the first child's eyes. If you don't have a scarf, you can have them close their eyes tightly. Other participants will gladly keep an eye out for any cheating!
Spin the blindfolded player around 3-5 times, then point them in the direction of the unicorn poster.
The player with the horn closest to the "right" position wins! You can play multiple rounds to allow for multiple winners. Children are usually eager to play again and have another try!
Unicorn swag like unicorn bracelets and keychains make great prizes for the game winners!
No products found.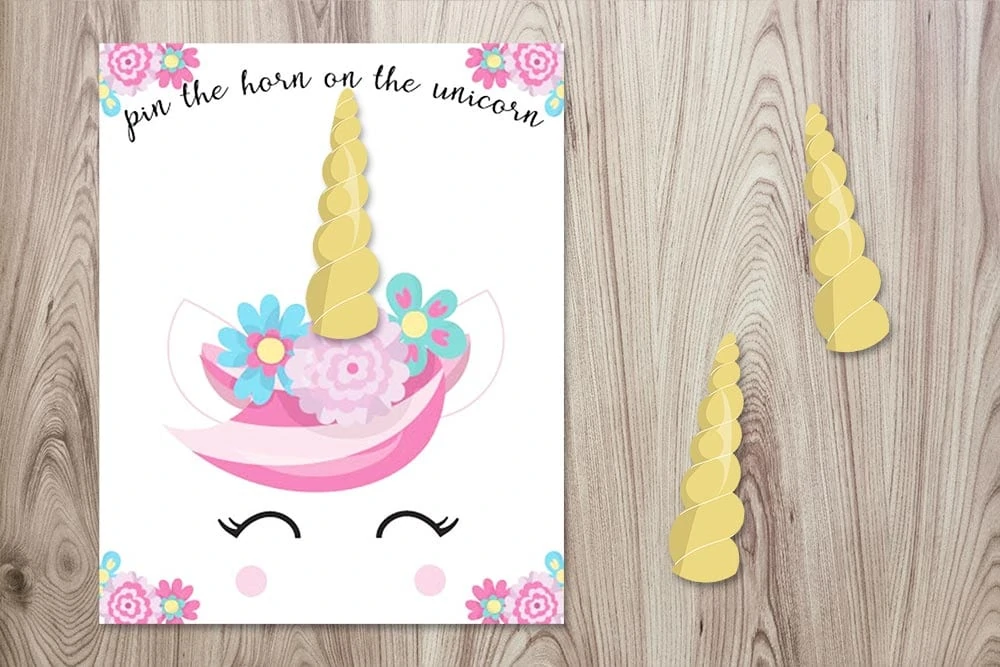 Hosting a unicorn party? Be sure to grab your free printable happy birthday unicorn banner!
Printable pin the horn on the unicorn game
Alright, let's get to the printables!
This game is available for personal and classroom use. Please do not share the files or printouts with others for their use – just send them to this page to download their own copies!
There are two different versions of the unicorn poster. They are very similar, but one unicorn has more teal hair and the other unicorn has pink hair and different eyes. Both styles are available in both 16×20 and 8.5×11 sizes and come with appropriately-sized horns.
Download the 16×20 pin the horn on the unicorn game here
Download the letter sized pin the horn on the unicorn party game here
If you're planning a unicorn party, make sure to keep scrolling for even more free unicorn printables like coloring pages, notebook paper, and unicorn templates that are perfect for unicorn silhouette painting projects.
Unicorn printables & DIY projects
These free unciorn printables and DIY unicorn projects are pefect for the unicorn-lover in your life!