Taking notes is so much more fun with your own free printable unicorn notebook paper! Grab cute notebook paper with unicorns for free in this post with no email address required.
I am super excited to share these awesome new printables with you. Like, I can't even explain how excited (and I wonder why I didn't think to create my own notebook paper years ago).
I got so excited and carried away that when I tried to create a preview picture with all the pages available, the individual pages were so small you couldn't even really see them because this pack has 48 individual printable notebook pages with unicorns.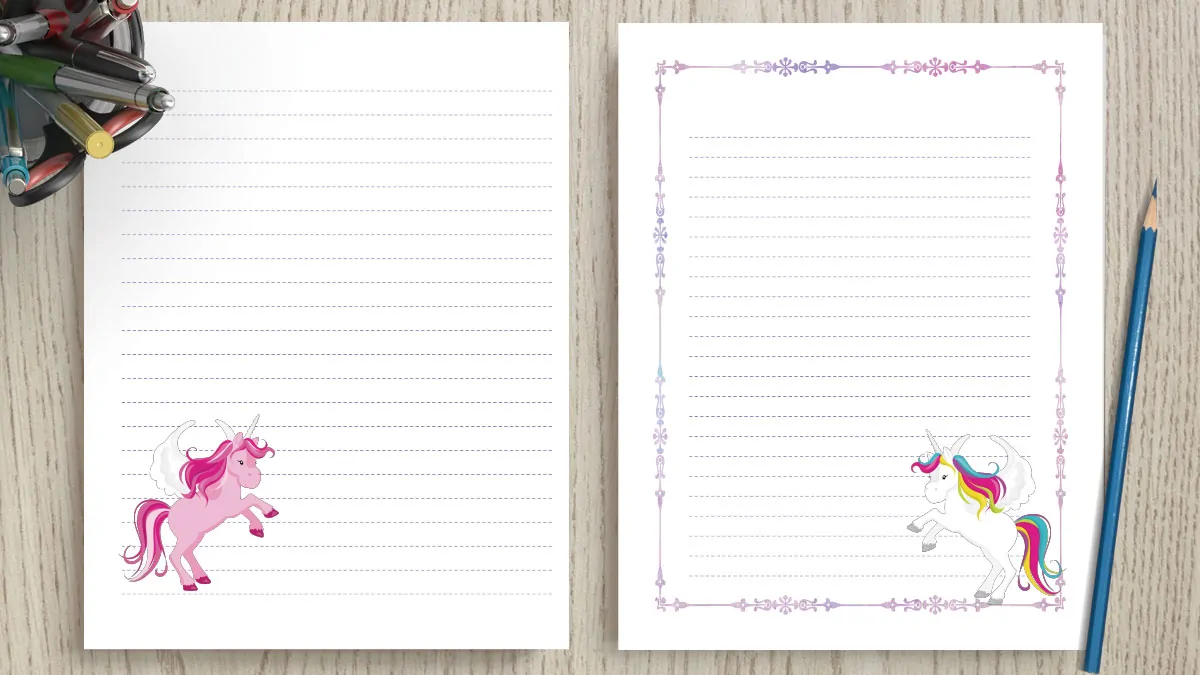 This post includes affiliate links, which means I may earn a commission on purchases made at no additional cost to you.
You can use these printables as pages notebook filler for a 3 ring binder, or you can scale them down to fit in your Happy Planner Classic.
If you want to use these pages as Happy Planner printables, simply print them at 84%. Then trim the pages down to size! (Which is 7″ x 9.25″). I always use this paper trimmer. I love how accurate the wire guide is!
There are several ways to add pages to your planner, but using the Happy Planner hole punch is by far the easiest and best.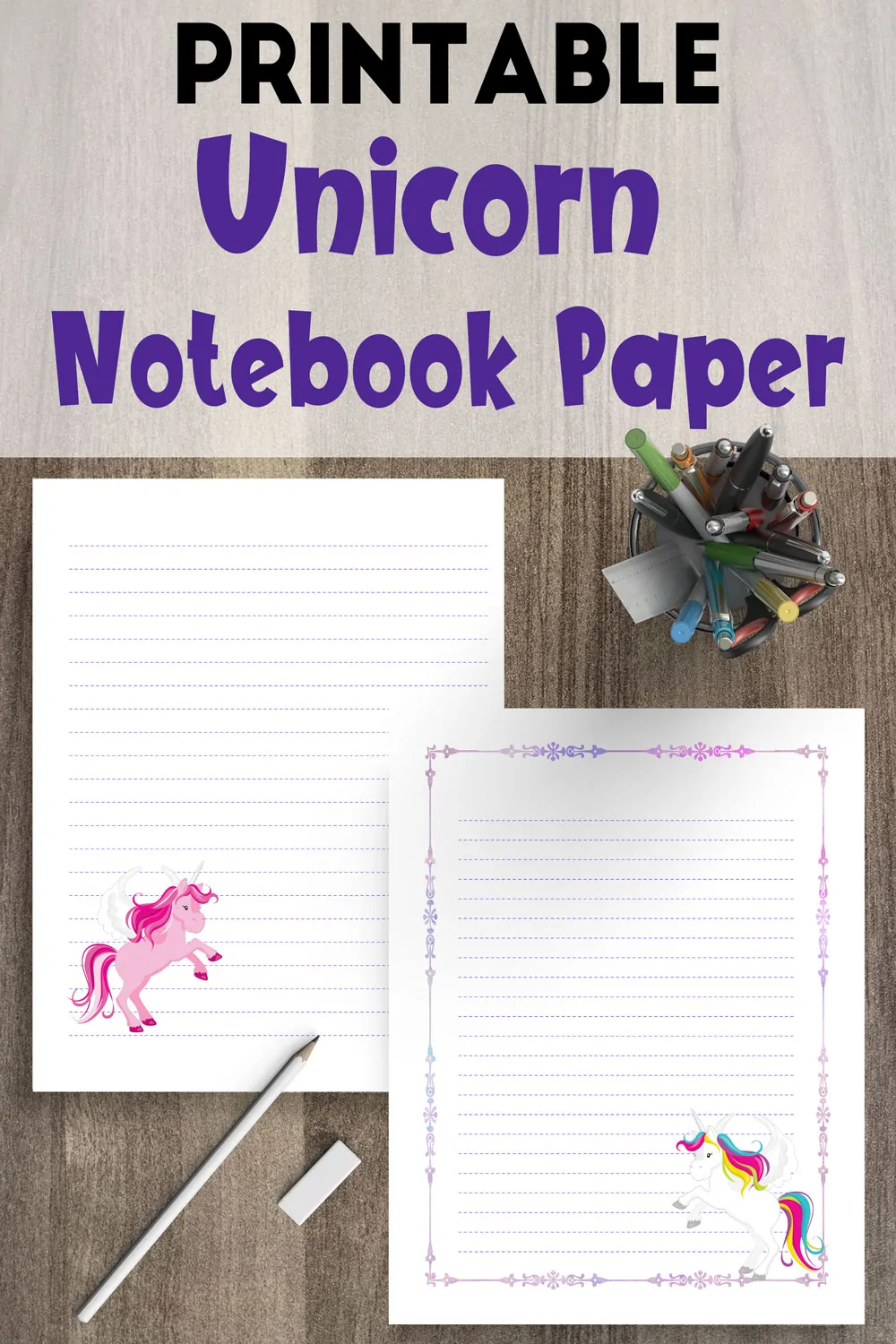 Unicorn Notebook Paper Printables
Let's take a look at what's in this printable unicorn paper pack! The download ink is located below the preview images and slideshow.
Like all unicorn printables on The Artisan Life, these are available for personal and single classroom use. Please do not alter, sell, or redistribute the files to others for their personal use. Just send them to this page to download their own copies!
There are 12 different lined pages. Each one has a unique unicorn. The paper is wide ruled so that it isn't way too small to write on if you resize the paper to fit your planner (and so that your kids can enjoy it, too!)
Then there are 36 more pages of lined paper with pastel frames. These pages also have wide ruled lines inside a decorative frame.
These pages work wonderfully both as journaling printables and as notebook paper.
PS – Some of the lines look a little funny in the preview but it's just a rendering error because it was so much data for Illustrator to put on the screen at once. If you watch the preview video, you'll see that the lines are all just fine!)
Here's the slideshow/video preview of all 48 pages if you want to see them more clearly.
Download your free printable unicorn notebook paper here
Don't lose track of these free printables – Pin them to your unicorn board now!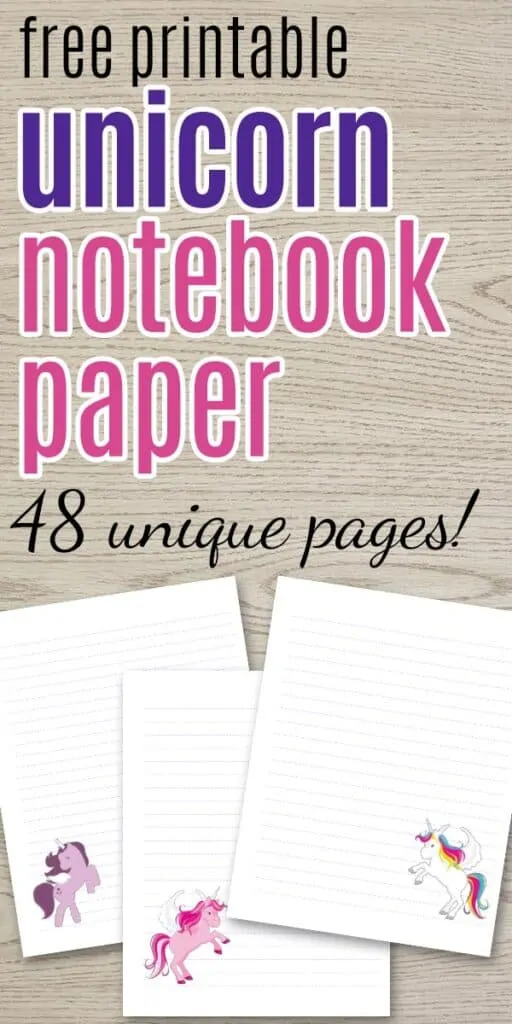 Free unicorn printables
Do you love unicorns? You've come to the right place!