This daily intentions planner is easy to use with a DIY dry erase board!
Setting daily intentions and practice gratitude are key to experiencing an uplifting, joyful day and manifesting the life you want, but it can be difficult to remember to consciously set an intention each day when your morning is busy.
I've found that a visual reminder right on my desk really helps me, which is why I created this daily intentions planner page.
I am so excited to be sharing this free printable daily intentions planner with you all today along with tips on how to make a super easy DIY dry erase board so you can use your printable over and over! I know it's helped me stay on track with my intentions, affirmations, and gratitude. I hope it helps you, too.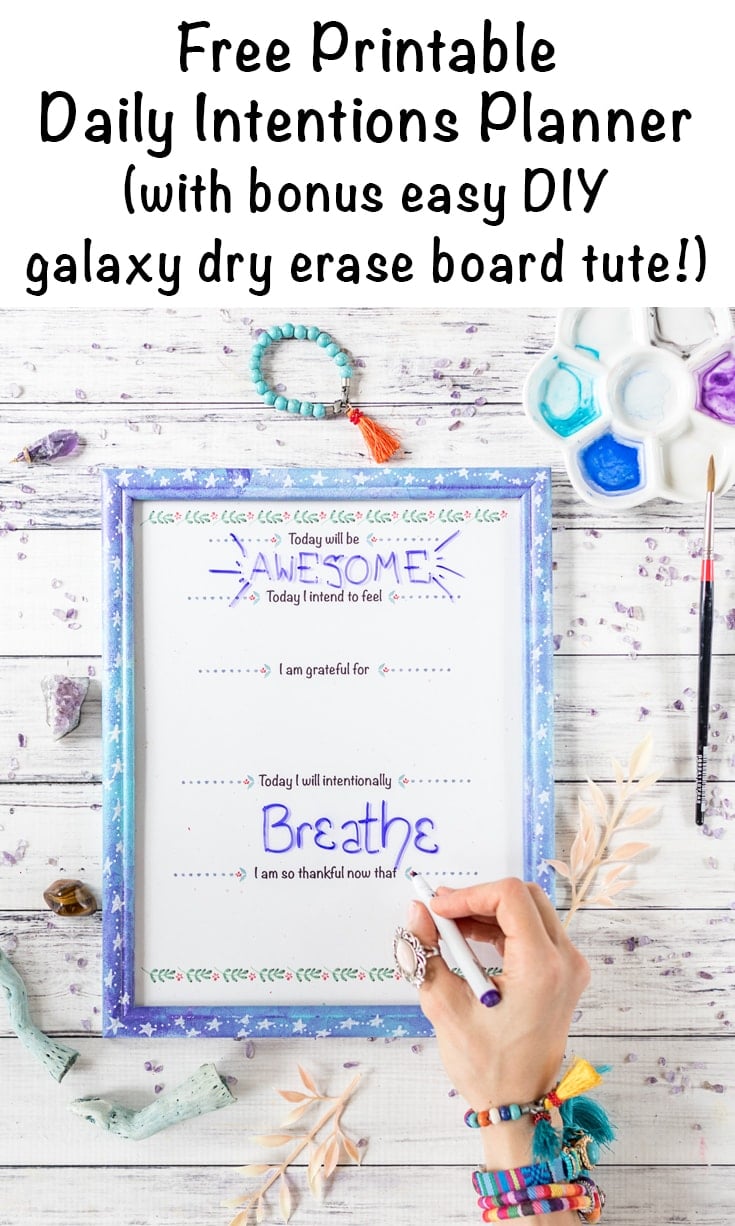 This post may include affiliate links, which means I may make a commission on purchases made through these links at no additional cost to you.
How to make a picture frame dry erase board
It's unbelievably simple to make! Literally all you need is a picture frame with a glass front.
I used an 8.x5x11″ picture frame that's meant to hold an award certificate. You could also use an 8×10 picture frame – I'm providing the intentions planer printable in both sizes!
If your frame is kind of uninspiring, like mine was, you can easily fancy it up with some paint! Spray paint is a quick and easy way to alter the frame.
Remove the glass, then spray on some paint.
Pro tip: warm your paint by setting it in hot water or leaving it in the sun for a few minutes, but apply the paint in the shade. This helps you get a nice, smooth coat! (I used to work at a hobby shop, so I have a weird amont of experience with spray paint!)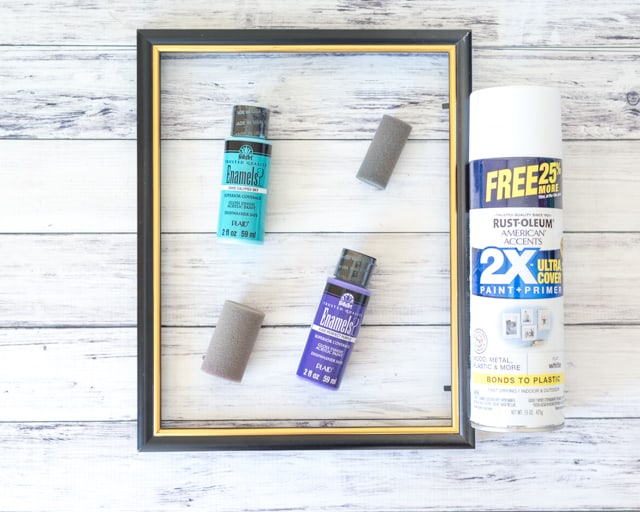 Leave your frame with a sleek, modern look from the white spray paint or grab some craft paints and keep decorating! I used the same purple and blue dishwasher safe galaxy mug tutorial and foam pouncers. Then I couldn't help myself so I grabbed an extra fine Sharpie paint marker and added stars!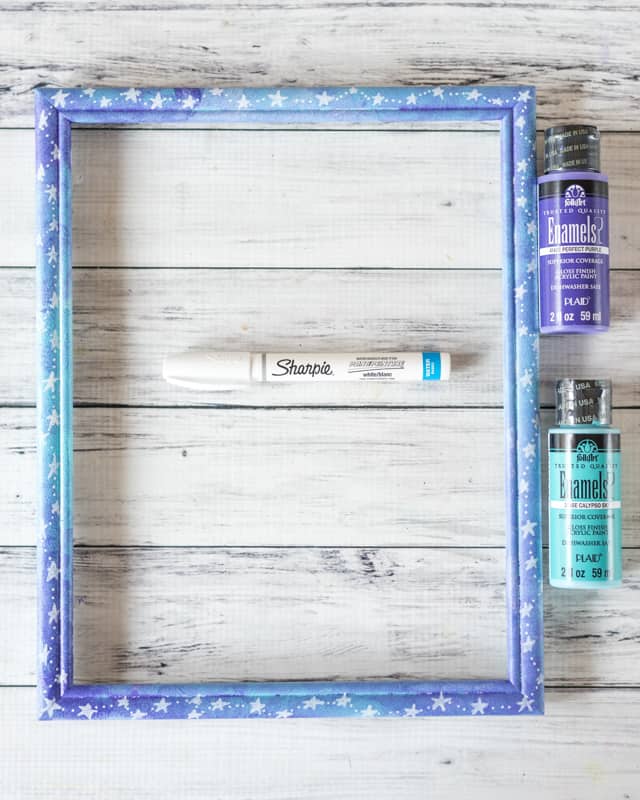 The paint pouncing and star drawing is just like what you see in this galaxy mug video if you'd like to see exactly what I did:
Replace the glass once the paint is dry. Add your intentions planner and, voila! Instant DIY dry erase board that you can use over and over to plan and create the day you desire! It also works fantastically well as a dry erase daily planner. Just pop in your favorite daily planner sheet instead of the intentions printable!
You can also use wet erase markers on the glass or even a Sharpie. I've found Sharpie marker is pretty easy to remove from glass without shadowing or staining. You can use nail polish remover, alcohol, or even another Sharpie. Write over top of your old letters with a Sharpie and then quickly wipe away with a paper towel! I've even scratched fresher Sharpie off glass with my fingernail, so you have lots of options if you decide to go that route!
Your free daily intentions planner printable is available in 8.5×11 size right here. Grab it in 8×10 format here. No sign up required! If you'd like to say thanks, please just subscribe using the box below this post or follow me on Instagram or YouTube so you don't miss future conscious living practices and printables. 🙂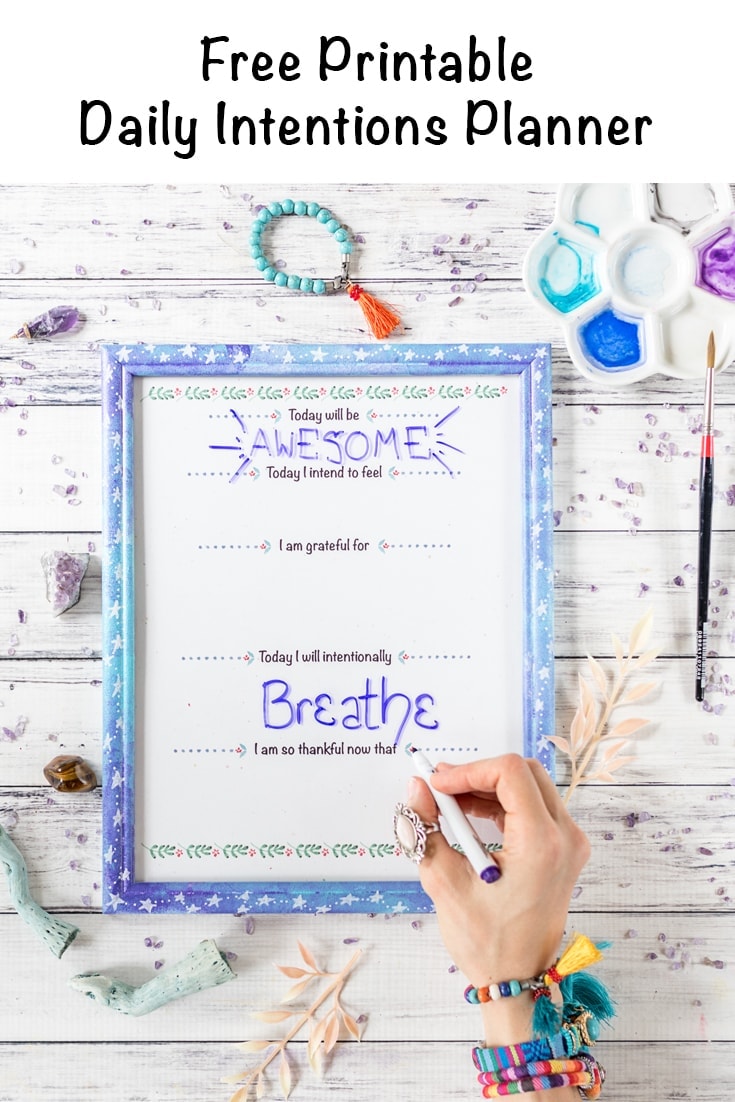 If you're looking to create a more conscious, joyful life, then you may also enjoy learning about this gratitude challenge.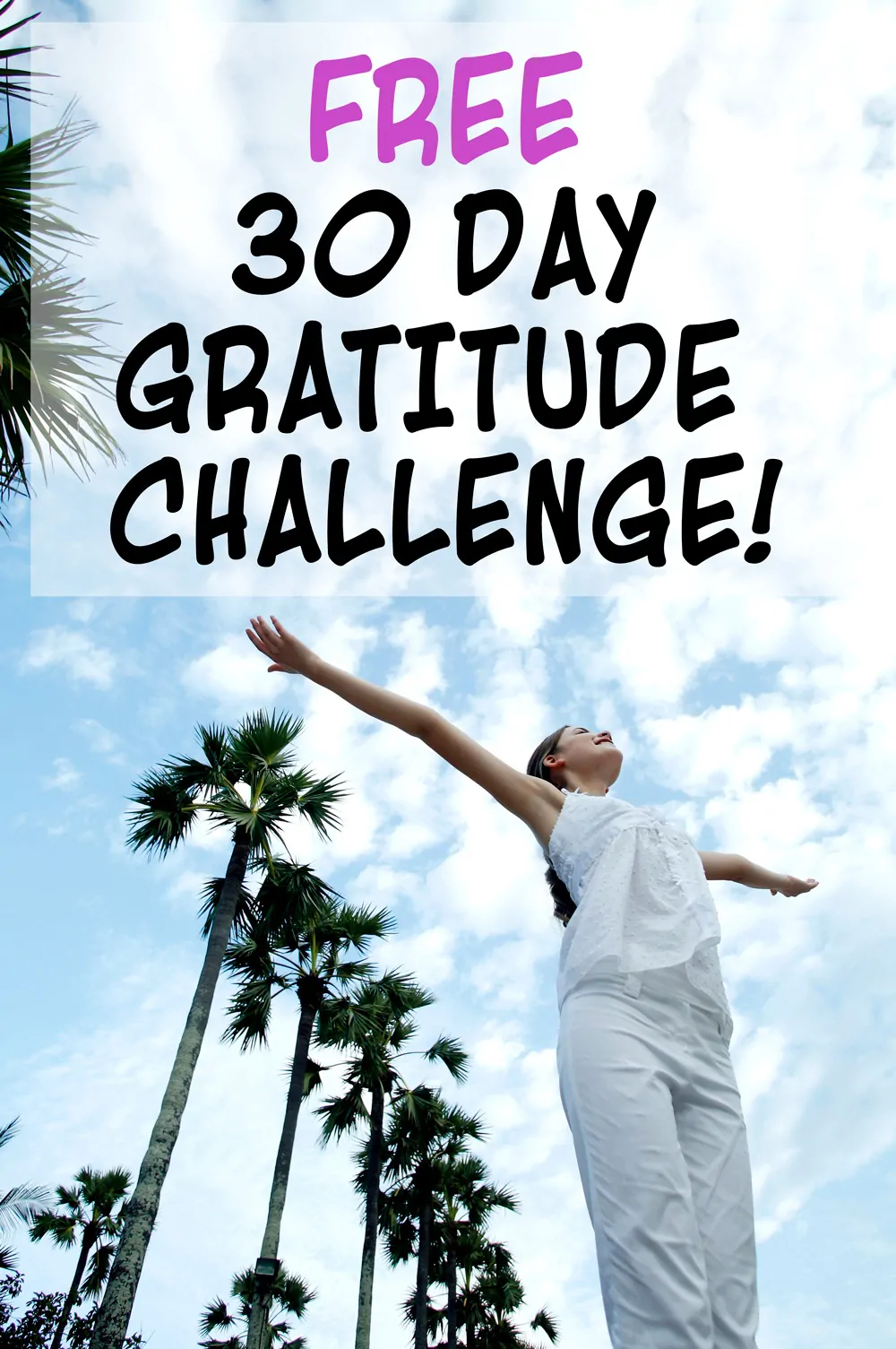 Discover the best gratitude journals for busy women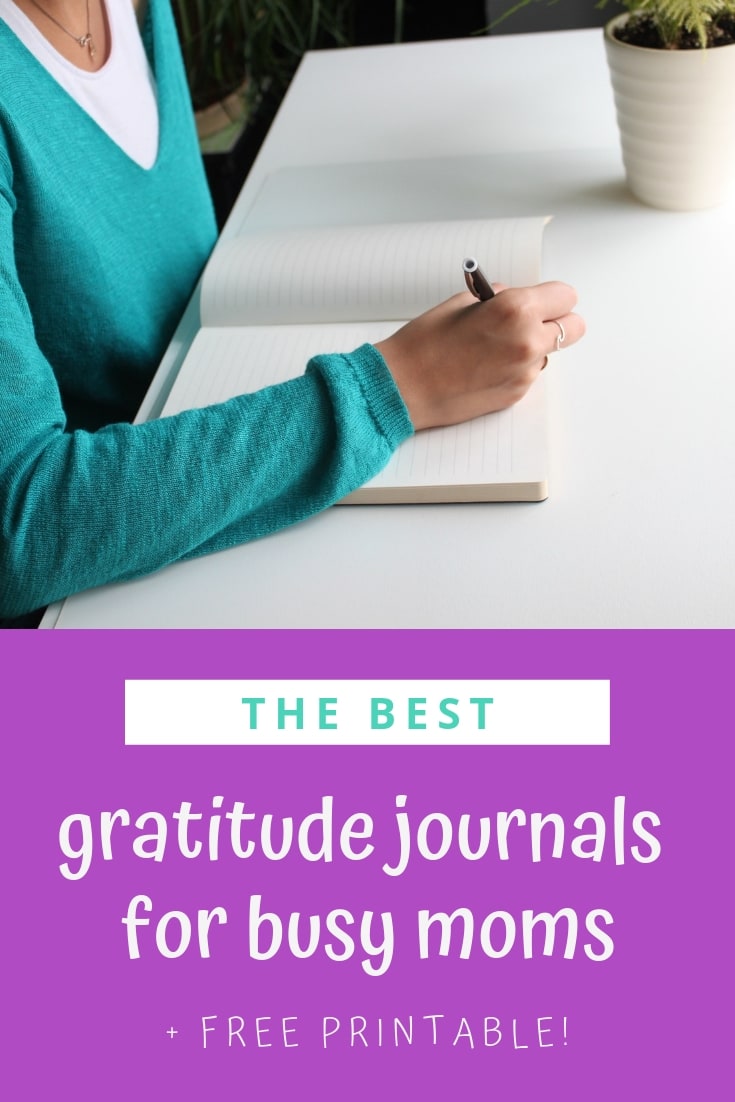 How to change your money mindset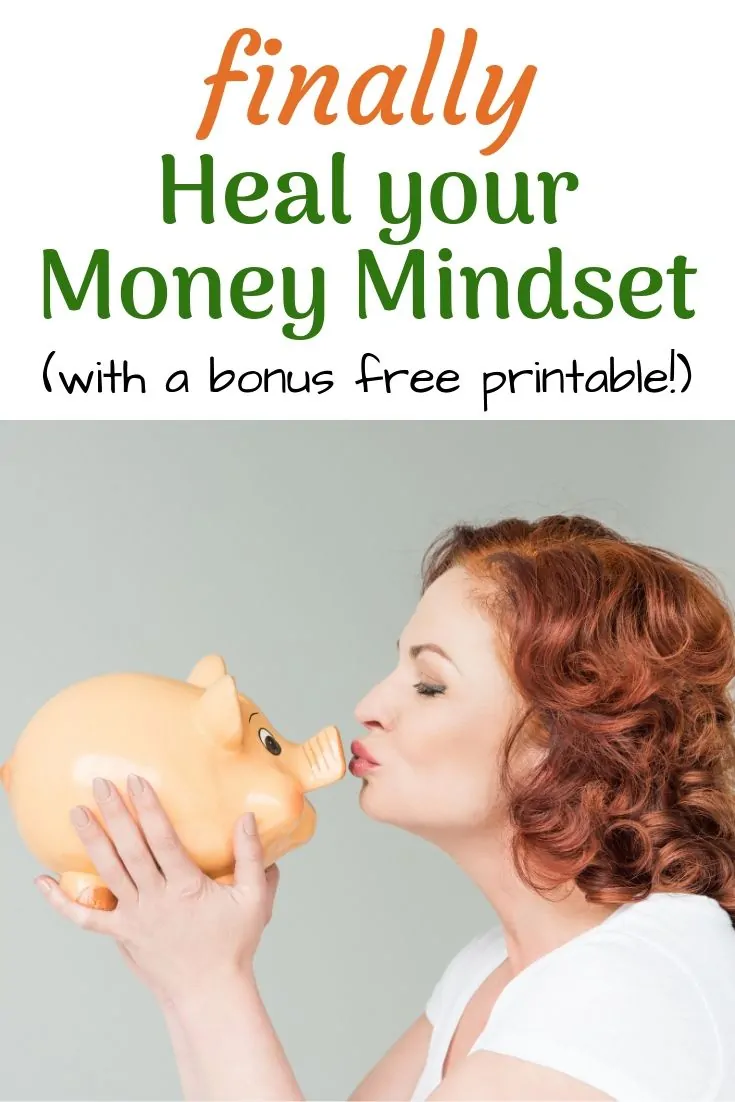 What amazing day will you create using your new daily intentions planner printable?