These free affirmation station printables are perfect for classrooms, home, or even offices! I hope you enjoy this set of bright and cheerful rainbow affirmation station printables.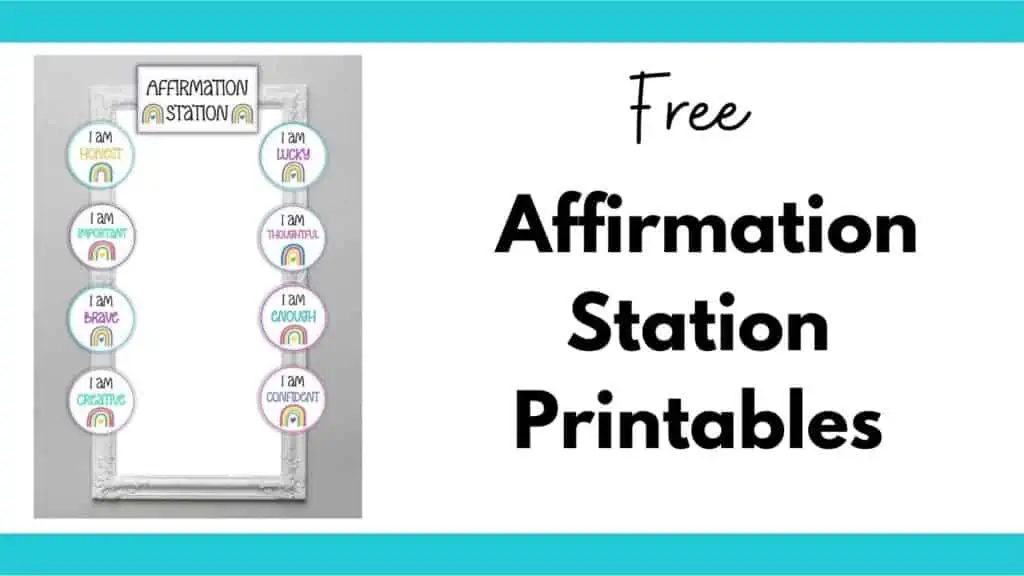 This set of affirmation station printables includes 24 positive affirmations with signs two to a page. There are also two blank circles to fill in and an "affirmation station" sign.
Do you need ideas of what to write? Make sure to check out this post with positive adjectives to describe a child. It is one of the most popular posts here on The Artisan Life! I also have another post of positive affirmations for children you may want to check out.
This post may include affiliate links which means I may earn a commission on qualifying purchases at no additional cost to you.
What is an affirmation station?
An affirmation station is an area where you post positive affirmations. It's popular to place the printables around a mirror so you, or your students or children, can look at yourself while repeating the affirmations. Louise Hay recommended that everyone do mirror work every single day! If you'd like to experience transformations in your life, take her 21 day mirror work challenge.
A full body mirror is best for your affirmation station, but a smaller mirror works, too. You can also post the affirmations around a bathroom mirror at home. If you need to use a smaller mirror, a cute mirror like a heart-shaped mirror can help make mirror work more fun.
mwellewm Heart Makeup Mirror Heart Shaped Hanging Mirror Bedroom Tabletop...
You will get: You will get a heart shape makeup mirror, cute and romantic, bright in color and durable in material, can be placed on the table, or can...
High quality material:The heart mirror frame is made up of quality ABS and flannelette, which is sturdy and durable, feels comfortable and delicate,...
Perfect Size: The size of the pink heart mirror is approximately 27*28cm/10.6*11 inches.It fit perfectly on the dresser's desktop or on the wall.It is...
An affirmation station can help boost your child's confidence and self-worth. You can designate a particular time of day to say affirmations, or you can make the affirmation station available anytime your child or students need it.
Your child can say or read all the affirmations, or pick one that feels particularly relevant. They could select an affirmation that matches how they feel that day, or they could select one that reflects how they want to feel. Either way is fine.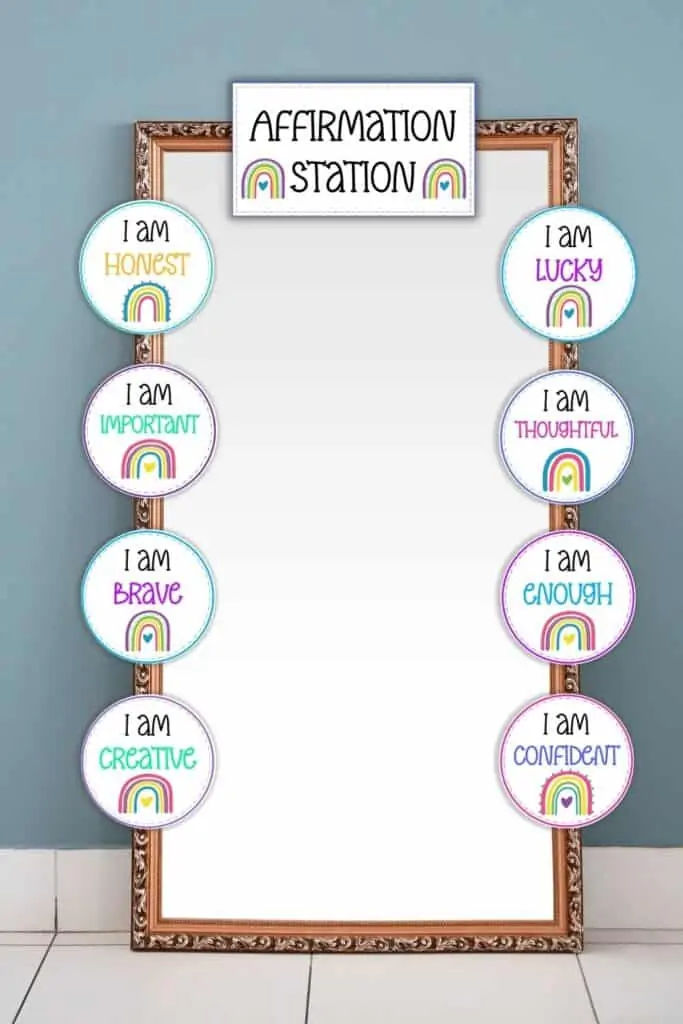 Materials needed for affirmation station printables
You don't need much to use these affirmation station printables! Here are the materials you'll need:
Your affirmation station printables. Look for the row of purple arrows lower down in the post and the box that reads "click here to download your printables."
Cardstock or premium printer paper. I prefer 32# HP paper because it is bright white and produces beautiful results. See side-by-side comparisons in this post on the best paper for printables.

Sometimes the 32# paper has a randomly high prince. This 24# HP paper is still way nicer than "regular" printer paper and costs less than the 32#.

Laminator, optional but highly recommended for durability.
Scissors.
Double sided tape or poster putty to hold the printables up.
A mirror to decorate or a dedicated spot in your room.
The circles are 5″. You probably won't be able to find a hole punch that size, but you can use a Cricut or Silhouette if you have one and know how or care look up a tutorial on how to use a PDF with a Silhouette machine. I found a quick tutorial for you on YouTube showing how to use PDFs with a Silhouette:
How to print and use affirmation station printables
First, grab your printable from lower down in the post.
Print the pages you want. The affirmations are two to a page. You could also print 2-up for smaller circles on fewer sheets of paper. You can make edits to the blank circles (page 13) with the free online program PDFEscape or you can fill them in by hand. Remember to check out this post of positive adjectives to call a child if you need inspiration!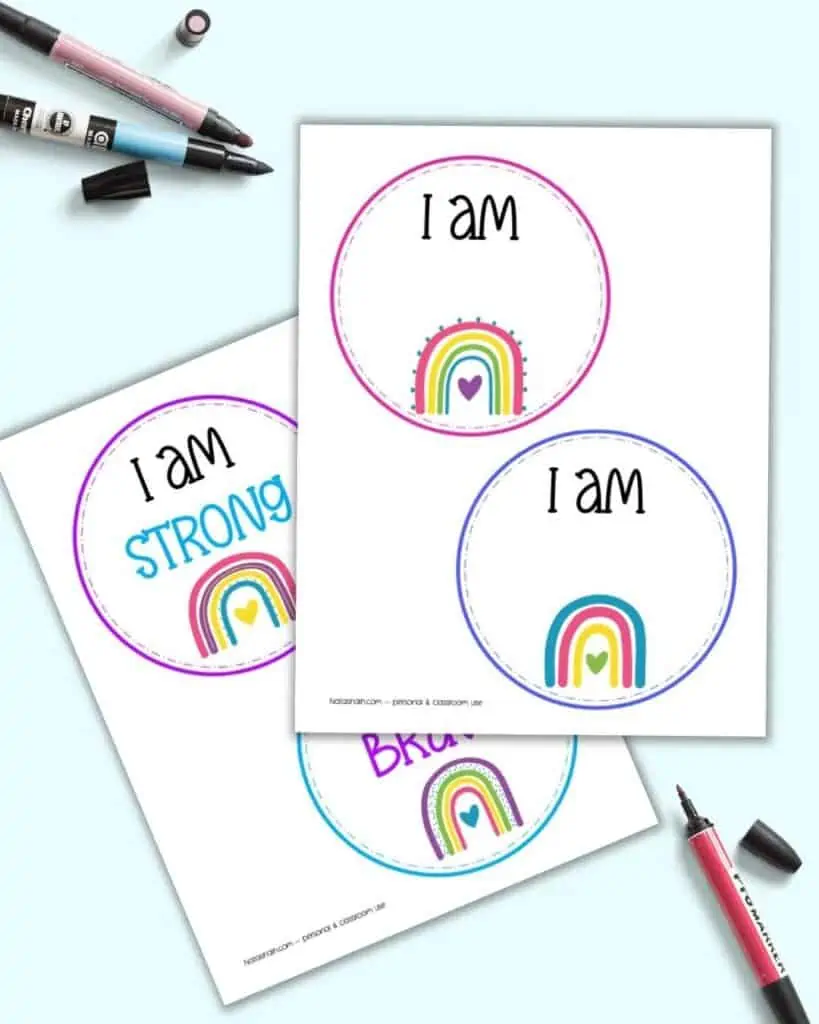 Laminate the pages before cutting, unless your laminator says otherwise.
Cut out the affirmation station circles.
Tape the affirmations all around your mirror! Remember to place the "affirmation station" sign at the top.
Show your child or students the affirmation station and how to use it. Make sure they have time each day to use it and watch their confidence grow! You can also place these printable affirmations at a desk or work station.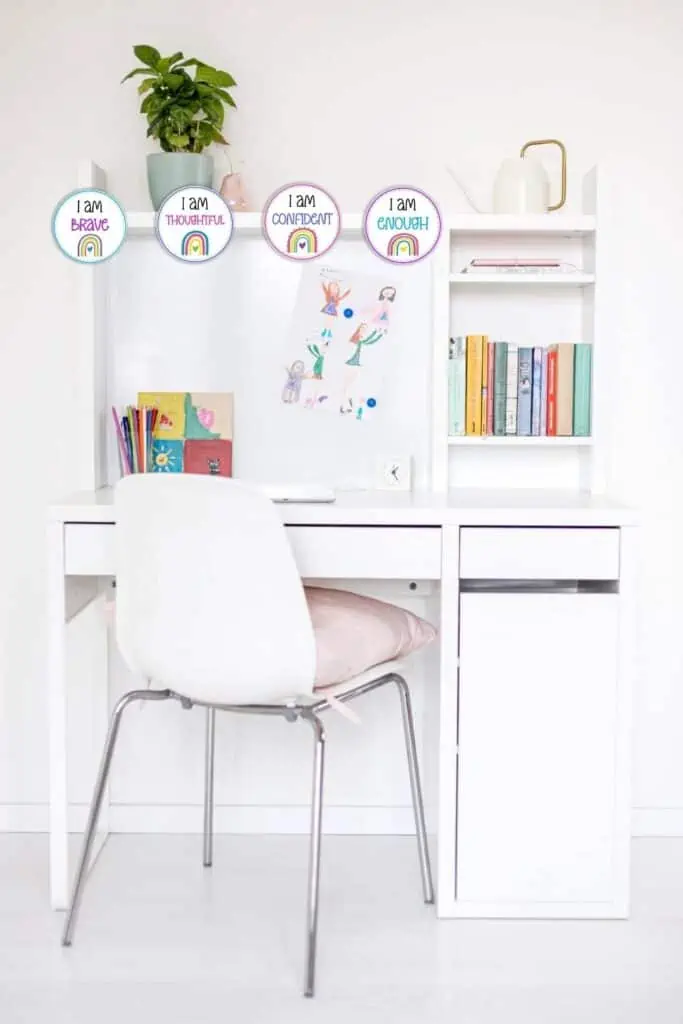 Free printable affirmation station download area
Let's take a look at the included pages and get you your PDF! Here's Any pixelation or off colors are because of image compression on the web. Your printables are high resolution.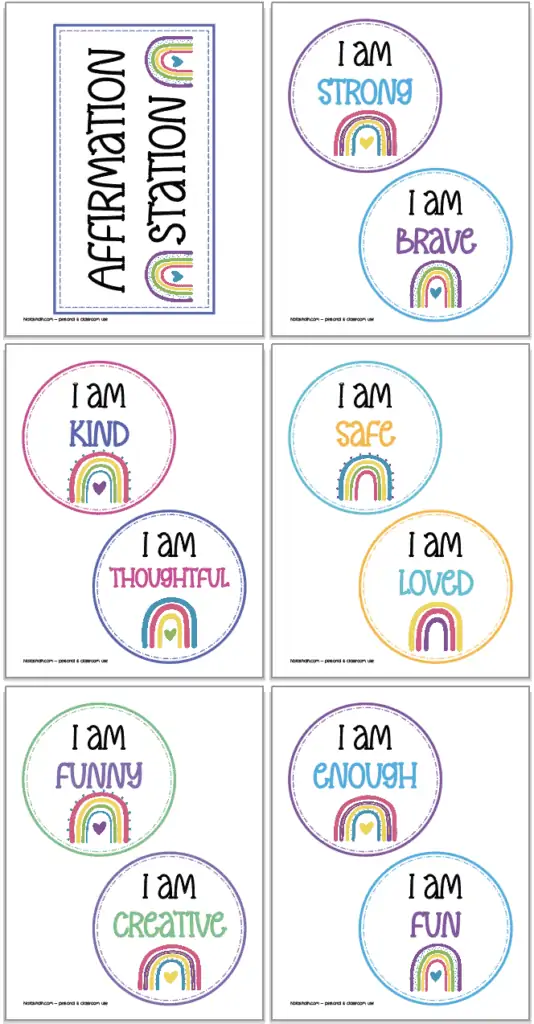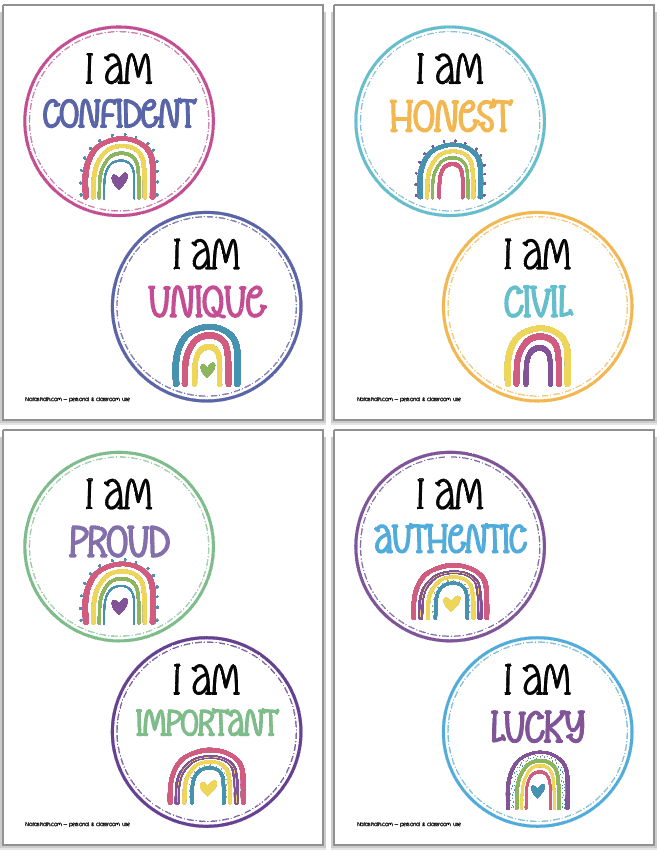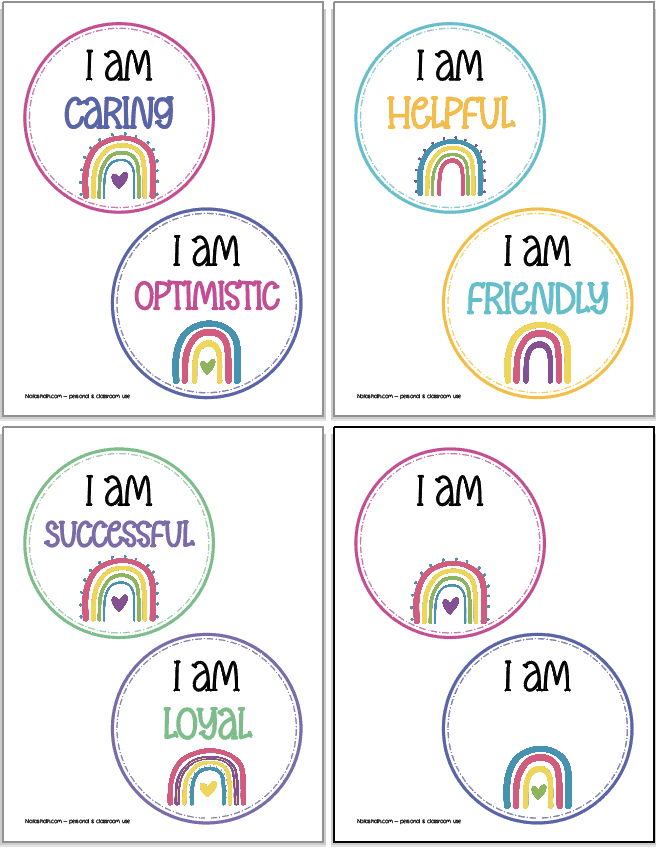 These affirmation station printables are licensed for personal and personal classroom use. This includes use with your own therapy clients, library groups, etc. You are not licensed to redistribute (or sell) the file or printables to other adults for use with their children or students. Please refer your friends and colleagues to this post so they can download their own copies.
If you agree to this license, you may click below:

I hope you enjoy using these affirmation station free printables. Make sure to check out these additional positive mindset resources while you're here on The Artisan Life:
Growth Mindset Resources
Do you want to develop your mindset or help your child develop a growth mindset? You've come to the right place!