This free printable dog bingo is sure to delight the puppy-lovers in your family! Grab your free printable dog bingo boards today for low-prep family fun. There's also a larger, affordably-priced classroom set of dog bingo boards for a group.
If there's a dog lover in your family, be sure to grab these free printable dog breed coloring pages. Have cat lovers at home, too? Then you need these free cute cat coloring pages!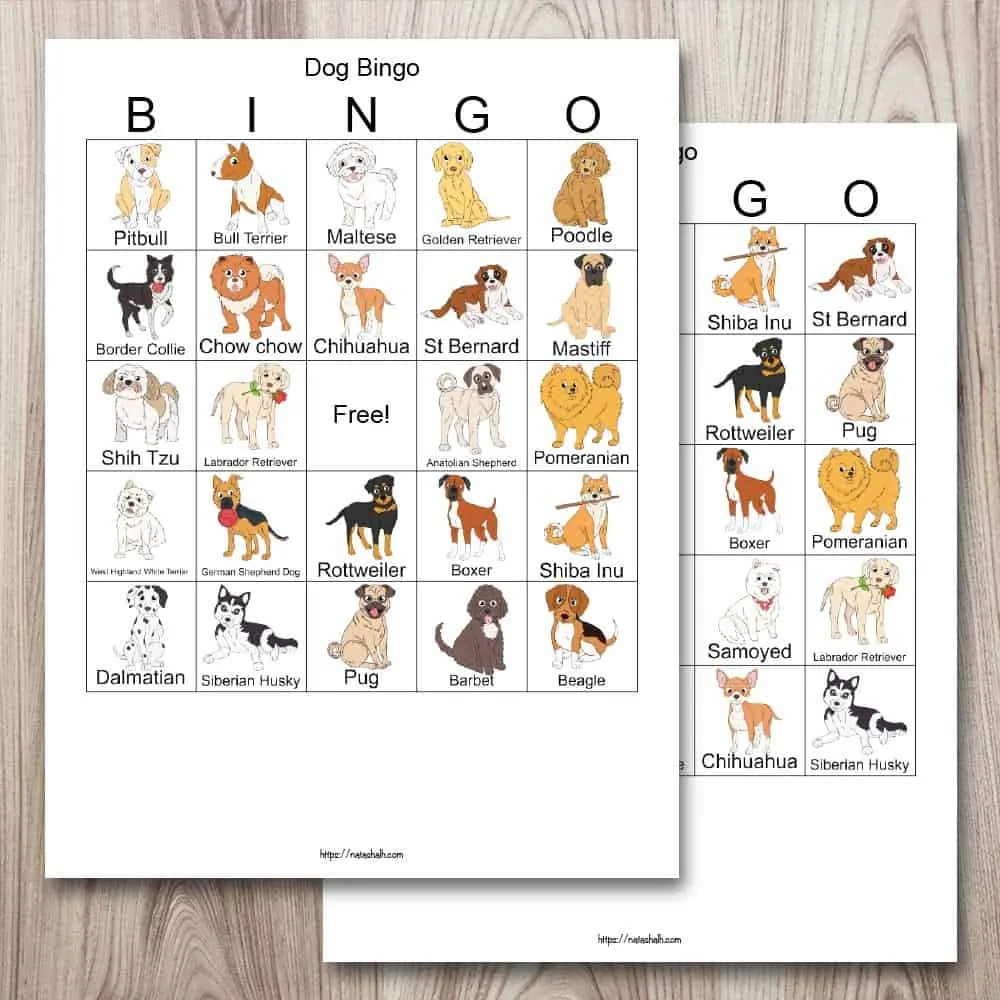 How to play picture bingo
Picture bingo is great for children (and adults) of all ages. Because it uses pictures, children don't have to know their numbers or how to read in order to play.
Unlike most of the printable bingo games I share, this puppy bingo does have some text.
As a Montessori-inspired parent, I'm a huge fan of being specific when I describe things to my daughter. This dog bingo has 30 different dog breeds. Your child doesn't have to be able to read to play, but having the text helps you identify the dogs and helps young readers develop their reading proficiency.
Playing this dog bingo will challenge your child's visual discrimination skills and encourage them to pay careful attention to details.
These are important skills for life and school that can be developed during playtime!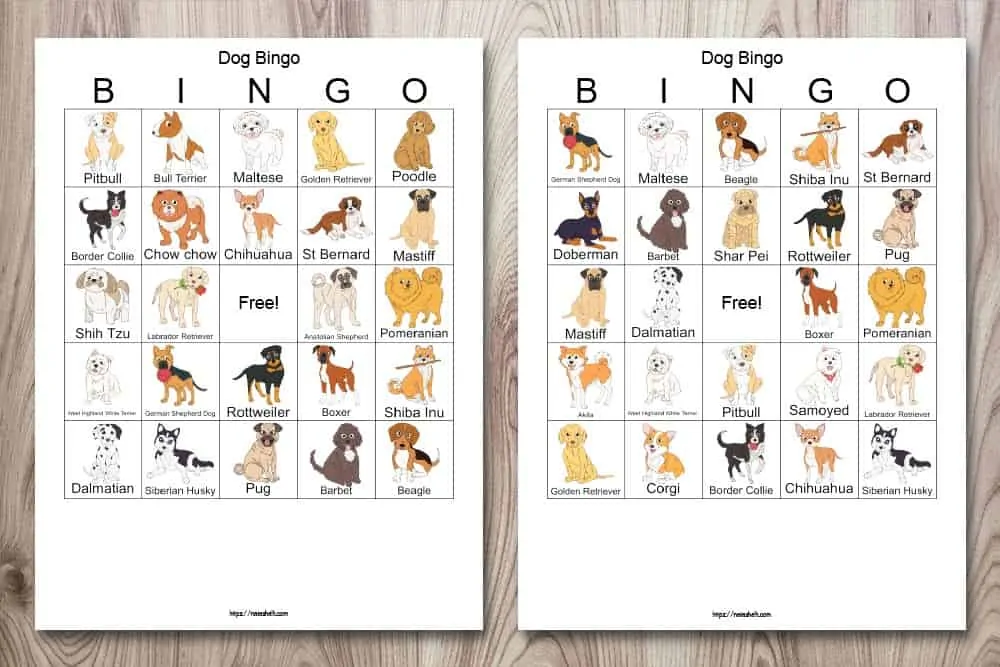 This post may include affiliate links which means I may earn a commission on qualifying purchases at no additional cost to you.
How to play puppy dog picture bingo
Print your bingo cards and call cards. It's important to print the two call cards at the back because every image is not on every card. There are a total of 30 different dog breeds, but each card has 24 images.

Download links for your puppy bingo cards are located lower on the page.

Cut the call cards into tiles and place them into a bowl. Make sure to print the call cards instead of cutting up an extra playing card. There are 30 total dog images but only 24 images per game board.
Draw cards one at a time and show them around. Players mark off the image if there's an exact match on their card. For repeated play using the same boards, use tokens instead of bingo dauber markers.
The first player to make five matches in a straight line or on the diagonal calls "Bingo!" to win. You can also play variants like making an X, needing all four corners, or making a specific shape (like a U or a square).
Don't be surprised if your kids want to trade cards and play again!
I always print colorful printables like bingo boards on presentation paper and laminate them. Presentation paper is a heavyweight paper with a special coating for crisp, vibrant images. Laminating the boards makes them reusable time after time, year after year.
The difference isn't as obvious in this photo as it is in real life, but the mermaid bingo board on the left was printed on presentation paper. The one on the right was printed on plain cardstock. The ink sinks into the cardstock, making the images less vibrant.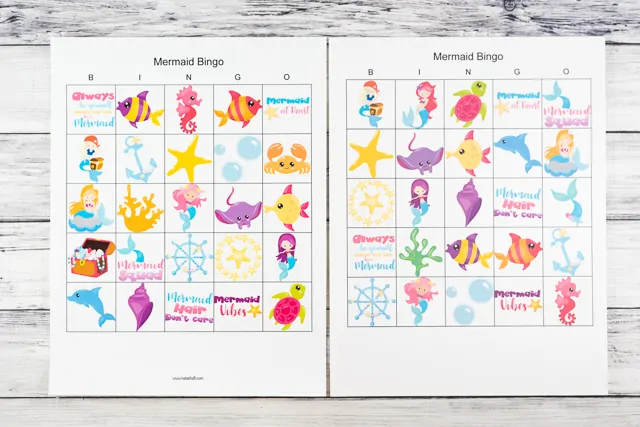 Laminating bingo boards makes them more durable so you can use them over and over again.
Additionally, when you laminate your boards, your children can use markers or crayons to mark off images.
You can also use page protectors or dry erase pockets if you don't have a laminator. The drawback is that your kids can pull the sheets out of the page protectors and write on them, anyway. This isn't usually a problem with older children, but younger children may be unable to resist the temptation.
Printable dog bingo boards
Like all Artisan Life printables, these bingo games are available for personal and classroom use. You are not licensed to redistribute the files or printouts to other adults for use with activities they are organizing. Instead, refer your friends or coworkers to this page so they can download their own copies!
I've had questions about using these cards with therapy clients. Yes, that's absolutely okay as long as they're your own clients. Thank you so much to the considerate folks who've asked!
There are three different sets of dog bingo boards to pick from.
Classroom set of 25 puppy bingo boards
10 free printable dog bingo boards
4 free printable dog bingo cards
Both the sets of 10 and 4 are free, so keep scrolling to grab your free printables if you're only looking for a few bingo boards!
All cards are unique so you can combine multiple sets. For example, you can use both free sets together for 14 unique cards or add a freebie set onto a larger paid set for even more players.
Classroom set of dog bingo boards
First there's a classroom set of 25 puppy bingo cards. This set is perfect for most classrooms, Scout troops, homeschool groups, birthday parties, etc.
Free printable dog bingo game
Alright, let's get to the free printables!
First there's a set of 10 free printable dog bingo cards. These are great for larger families and small groups. I recommend this set for smaller families, too, because kids frequently want to get a new card and play again.
Just fill out he form below to let me know where to send your free printables. Your dog bingo cards will be in your inbox in minutes!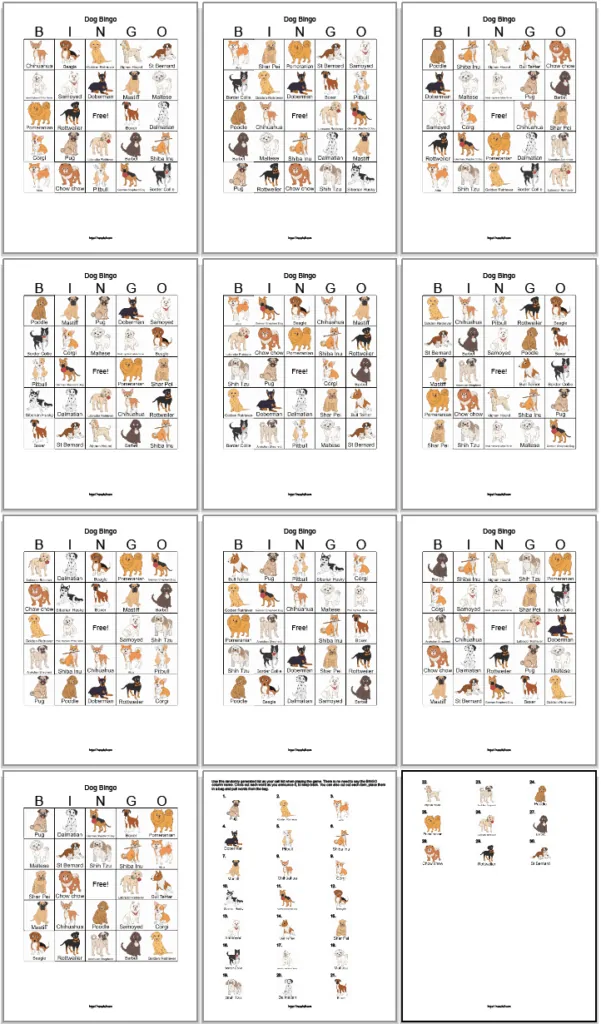 Set of 4 free printable puppy bingo cards
Last but not least, the set of four free paintable puppy bingo boards is completely free. Just follow the download link below the preview image to get the PDF file!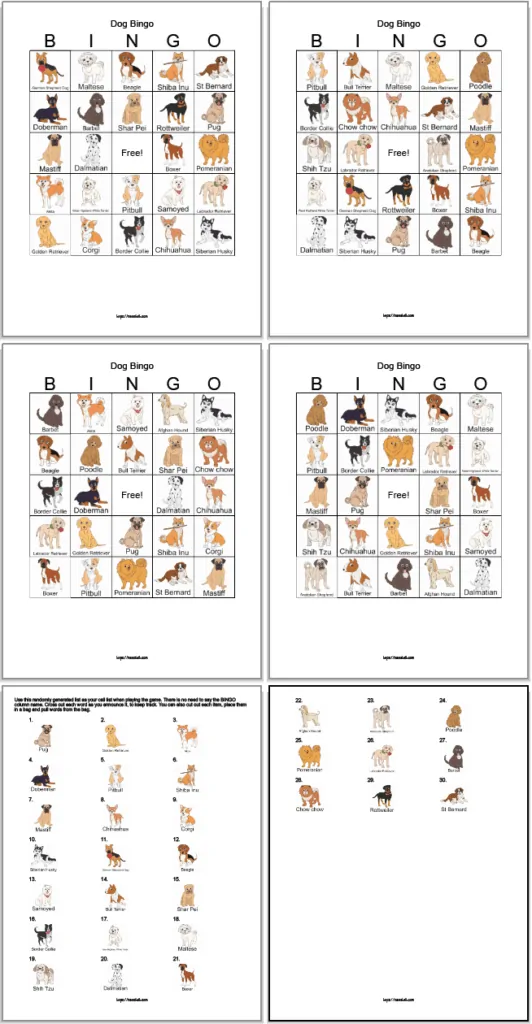 Download your set of four free printable dog bingo cards here
Thanks so much for stopping by! Please leave a comment letting me know what bingo themes you'd like to see next or if you'd like to see more printable activities featuring dogs.
If you want more low-prep family fun so you can enjoy time with your kids (or catch some much-needed time to yourself!) without resorting to more screen time, be sure to join The Artisan Life family newsletter. Claim a free printable woodland animal activity pack when you join today!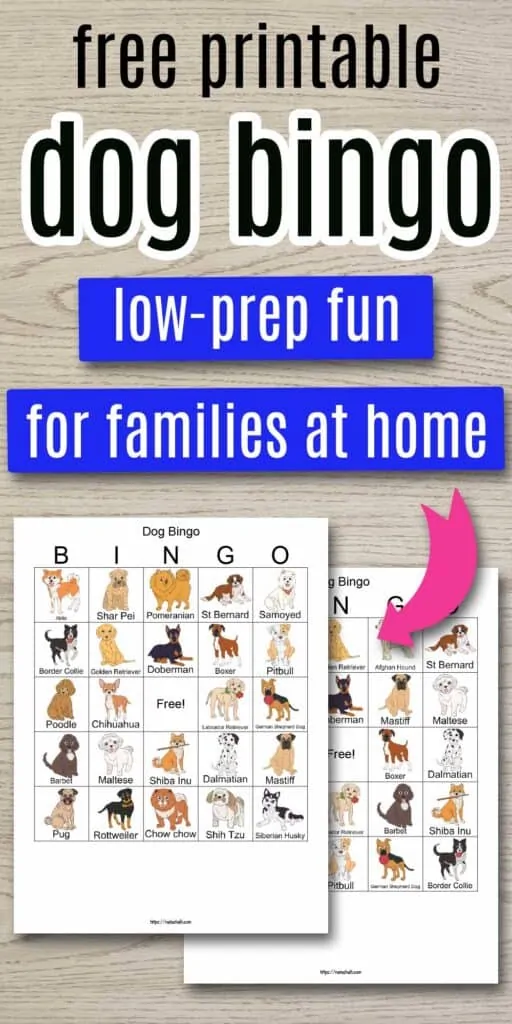 Printables & Activities for Children
I believe you shouldn't have to pick between fun and education. These free printables keep your kids busy and learning without resorting to screen time.
Make sure to join The Artisan Life family newsletter so you can get the latest freebies and low-prep activities for your littles.