This free printable four piece hammerhead shark puzzle is low-prep fine motor fun for preschoolers and kindergarteners! Your child and/or students can work on their fine motor skills and problem solving abilities as they recreate the fun hammerhead shark picture. You can also differentiate instruction with an easier version with a completed image to guide your child or a more challenging version without the guide image.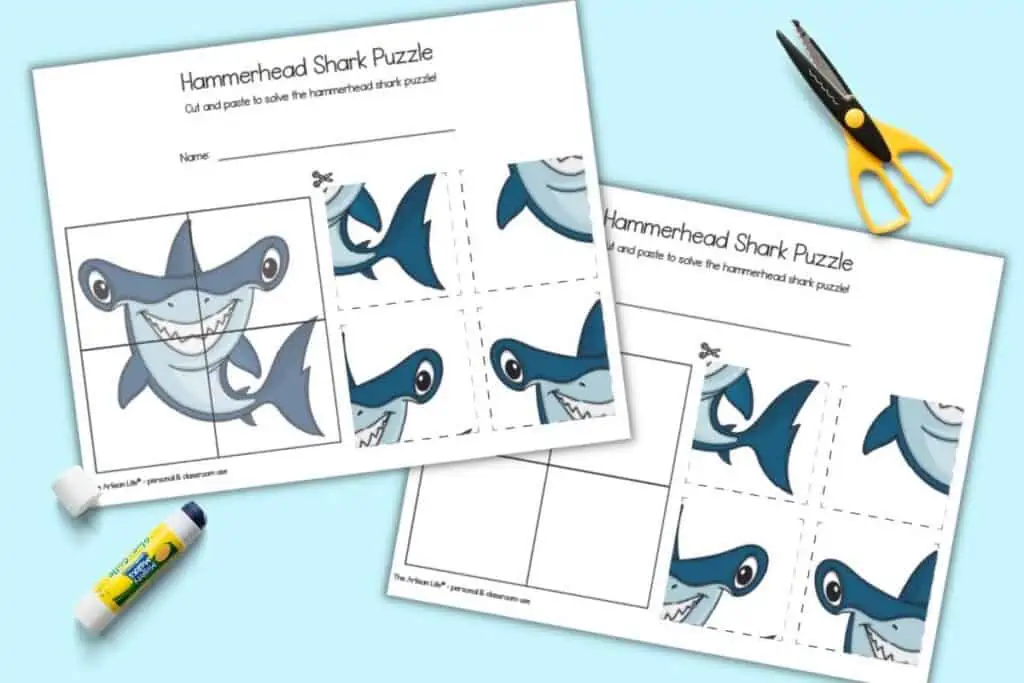 This post may include affiliate links which means I may earn a commission on qualifying purchases at no additional cost to you.
If you have young children at home (or are an early education teacher) and are looking for low-prep ocean-themed activities, you've come to the right place! Here are a few of the most popular ocean theme posts on The Artisan Life for toddlers, preschoolers, and kindergarteners:
How to use cut and paste puzzles
Using a cut and paste puzzle seems incredibly easy to adults, but it can be surprisingly difficult for young children. They frequently look at the puzzle piece shape, not the picture. This doesn't work for this puzzle because every piece is a square! The square pieces force your child to actually look at the image and decide whether or not it matches or makes sense.
There are two versions of this four part puzzle: one with a light background image in the solution area and one without a picture. Children who have mastered simple puzzles with the reference image can move on to the plain white background version for an extra challenge.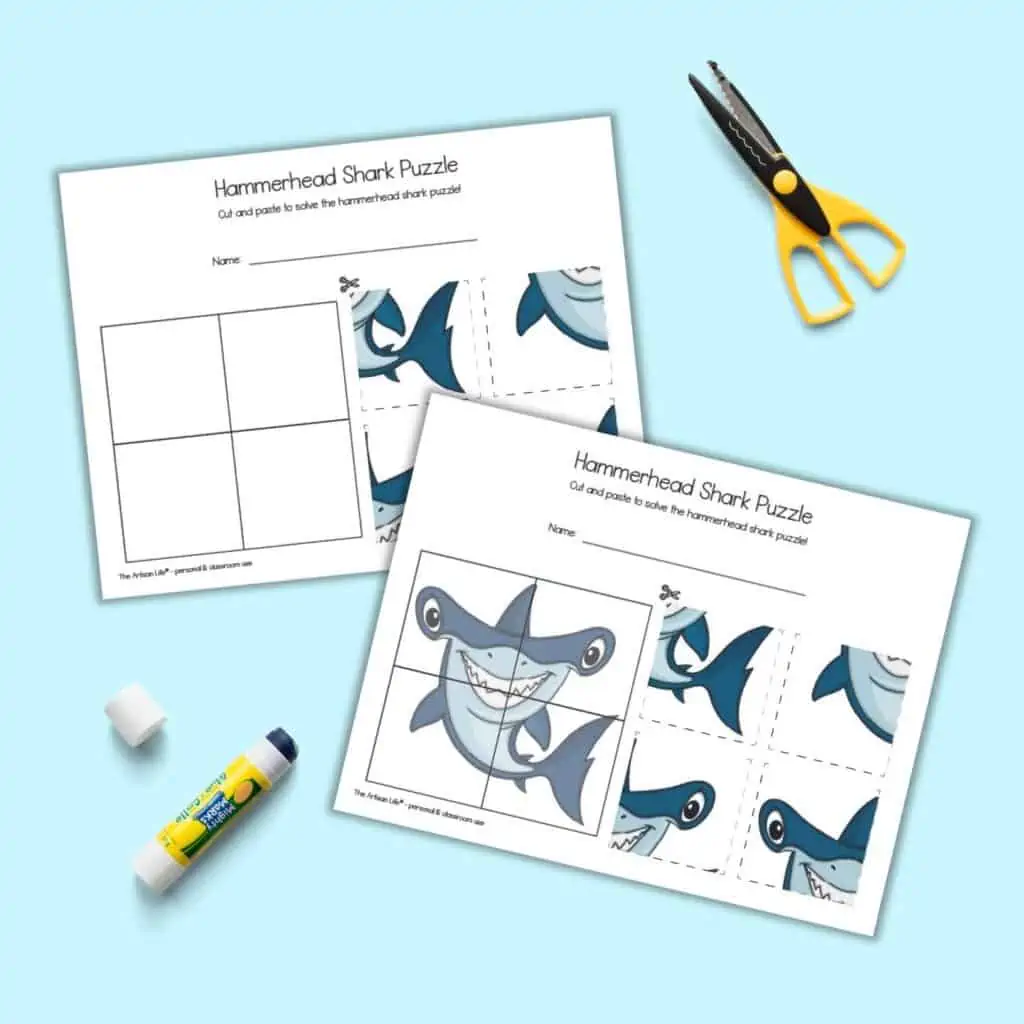 Here are some ideas for different ways to use this 4 part puzzle:
If possible, I recommend allowing your child to use a blunt-tipped pair of small scissors so they can practice their cutting, even if the pieces don't end up exactly perfect. It's hard to sit back and let your little one cut slowly and imperfectly, but try to let them do it alone. My daughter started practicing with scissors when she was two. We have multiple pairs of these small Fiskars scissors.
Sale
Fiskars 5" Blunt-Tip Scissors for Kids 4+ - Scissors for School or Crafting...
SCHOOL SUPPLIES FOR KIDS 4+: Fiskars Blunt-Tip Kids Scissors for cutting through all kinds of classroom materials; Ideal for kids ages 4 to 7; #1...
SAFE FOR KIDS: A safer blade angle and a blunt tip make these innovative safety scissors a reliable choice for cutting paper craft supplies in school...
LONG LASTING AND RELIABLE: A dependable classroom essential and great addition to school supplies for kids & teachers; Fiskars craft supplies and...
The squares from this Easter lamb puzzle my daughter worked aren't perfect, but she was thrilled with cutting them herself and solving the puzzle. She grabbed her completed puzzle and ran to find her Papa to show him what she'd made.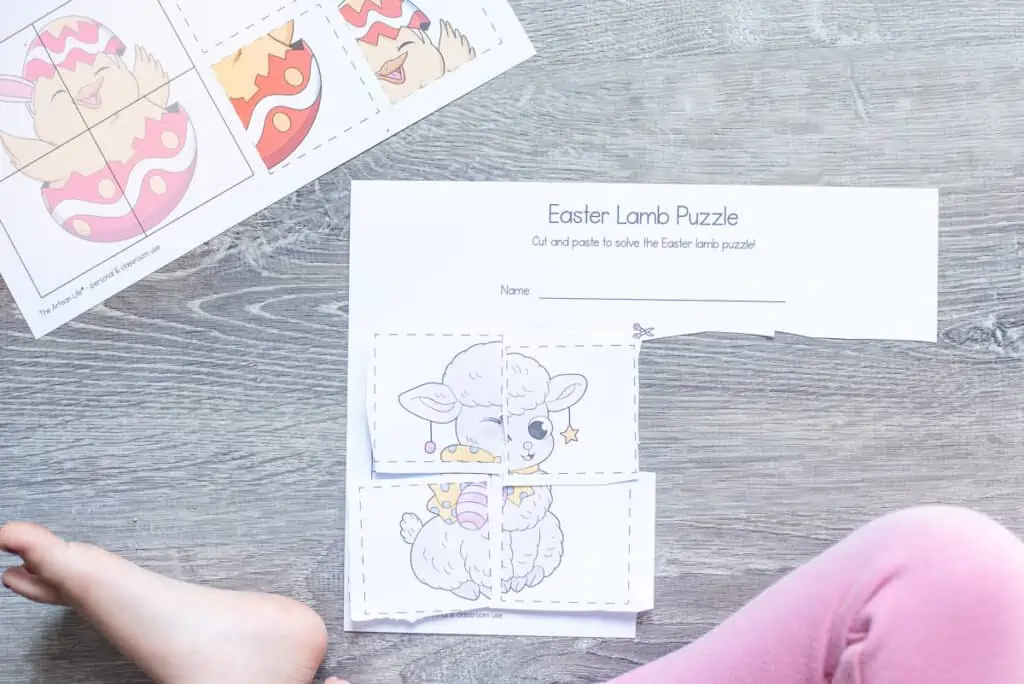 You may need to remind your child to only cut the squares with the dashed border. They may get excited and cut out the solution grid, too.
Your child can paste the image in place, or not glue it down so they can solve the puzzle multiple times. Little kids love gluing. My daughter enjoys using a small pot with a paintbrush and white glue for her gluing activities. For less mess, use a non-toxic glue stick. You can also use poster putty or even a piece of tape.
This cut and paste puzzle can also be turned into a reusable activity in a busy binder or used as a file folder game. Making the puzzle reusable removes the cutting and pasting for your child, but allows them to use the puzzle over and over again. It provides a fine motor challenge when you use stick-on hook and loop dots. You can also use poster putty instead of dots, if you'd prefer.
How to make a busy binder cut and paste puzzle reusable
Print both pages. Use the page you want (hint image or blank) for the main page. You'll cut the puzzle pieces off the other sheet.
Cut out the puzzle tiles on one sheet (the page you don't want for the solution box). You may want to laminate the tiles for durability. If you don't have a laminator, you can protect the tiles with clear packing tape.
Place the un-cut sheet in a page protector. I recommend heavy duty secure page protectors because they are thicker and have a flap to hold the page in place.
Use hook and loop dot stickers (for example, Velcro brand stickers) on the back of the puzzle tiles. Alternatively, you can use poster putty, tape, or even balls of play dough.
Using the opposite type of sticker, place one on each square on the protected page. They will stick on the page protector, not the paper. Place one on each of the four squares in the puzzle completion area and one on each of the cut-out tile areas.
After completing the puzzle, your child can match the images to the pictures on the tile section for storage.
I hope that makes sense! It's a little tricky to explain in words. There are photos of the file folder version of the puzzle below. It's basically the same to set up, just with a page protector instead of a laminated page.
How to make a puzzle file folder game
The photos shown below are from a mermaid cut and paste puzzle. Don't worry – this is the correct post for your hammerhead shark four piece puzzle!
Print one or two copies of the page you want to use. I prefer to print two so the tiles have an easy storage place that provides additional matching practice. If you keep file folder game pieces in a separate bag or box, you may want to print just one copy.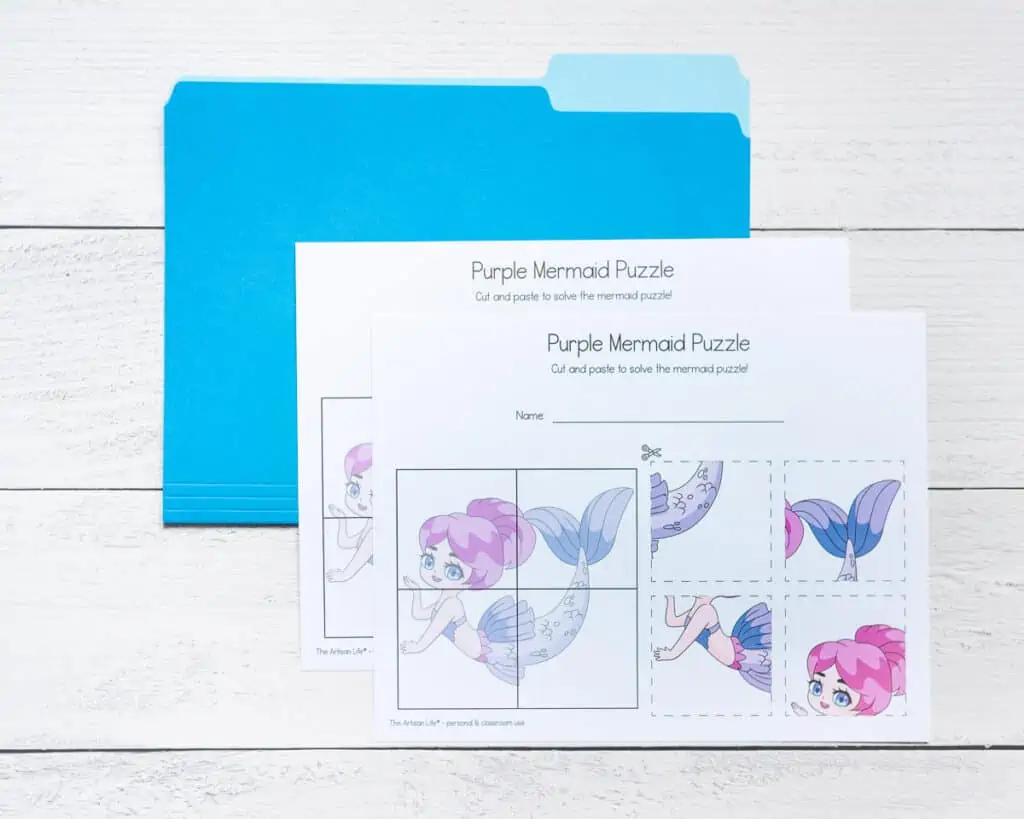 Laminate your page. I use this inexpensive at-home laminator.
Amazon Basics 9-Inch Thermal Laminator Machine
Laminates documents up to 9 inches wide; compatible with letter, legal, business-card, and photo-size papers
Works with any 3 mil or 5 mil laminating pouch; note: mil refers to thickness of lamination film
2 heat settings: 3mil (best for normal documents, photos, and card stock) and 5mil (best for thinner papers)
Cut out the puzzle pieces.
Tape the puzzle solving sheet inside a file. We got this pack of colorful files last year and they've held up pretty well. Depending on your folder, you may need to trim off excess lamination so the page can be taped in place.
Sale
Pendaflex Two-Tone Color File Folders, Letter Size, Assorted Colors (Bright...
IT'S LIGHTER ON THE INSIDE; a light interior is easy to label with an ordinary pen, easier to read and prevents accidental misfiles between folders
BOOST SPEED and EFFICIENCY: color folders in bright red, green, yellow and blue let you spot the right file through color association and speed filing...
LETTER-SIZE FOLDERS fit standard 8-1/2" x 11" documents; 36 assorted color folders per pack in red, green, yellow and blue; use with matching...
Apply hook and loop dots (for example, Velcro brand closure stickers) to the puzzle pieces, puzzle solving area, and tile storage area. I put the hook-y part on the puzzle pieces and the soft, fuzzy side on the page in the folder.
Sale
Self Adhesive Dots, Strong Adhesive 1000pcs(500 Pairs) 0.59" Diameter...
PACKAGE:Includes 500pcs Hook and 500pcs Loop Coins (1 set = 1 loop coin and 1 hook coin, Total 500 sets)
STRONG ADHESIVE: Both are made of nylon material and hot melt adhesive with high temperature resistant, very strong self adhesive
WIDE COMPATIBILITY: This hook & loop coins can be attached to most of things, especially for clean smooth surfaces of paper, plastic, glass, leather,...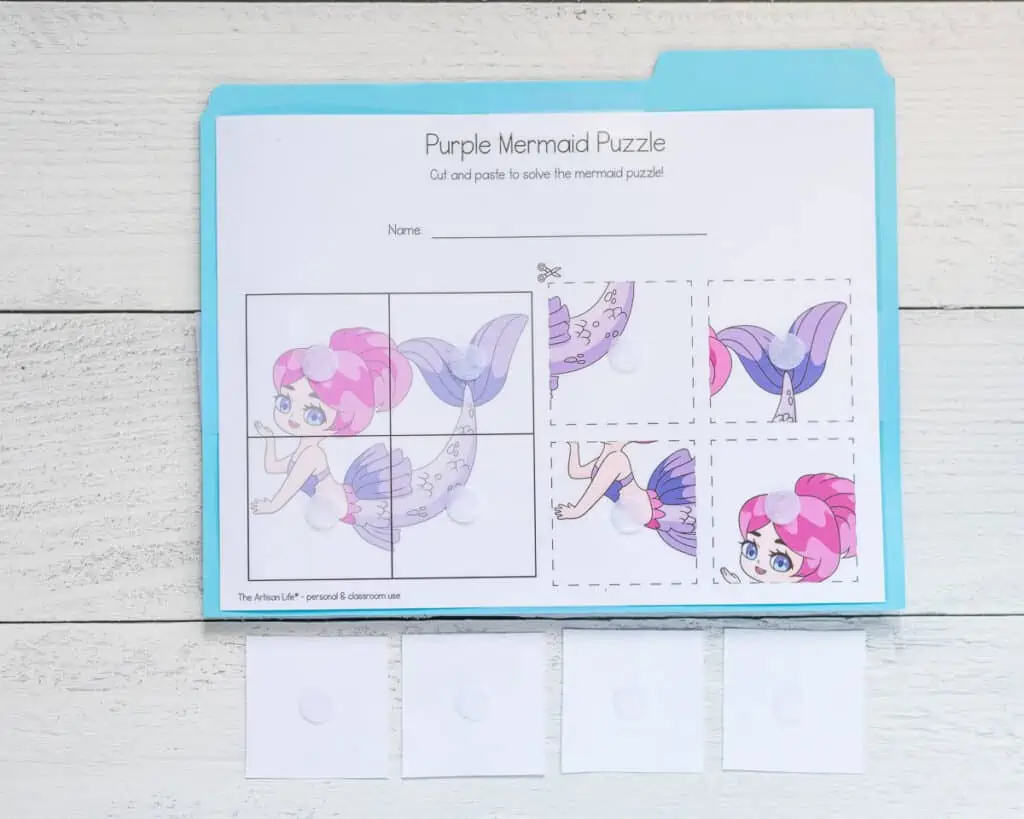 Give the file folder puzzle to your little learner and watch them play and explore!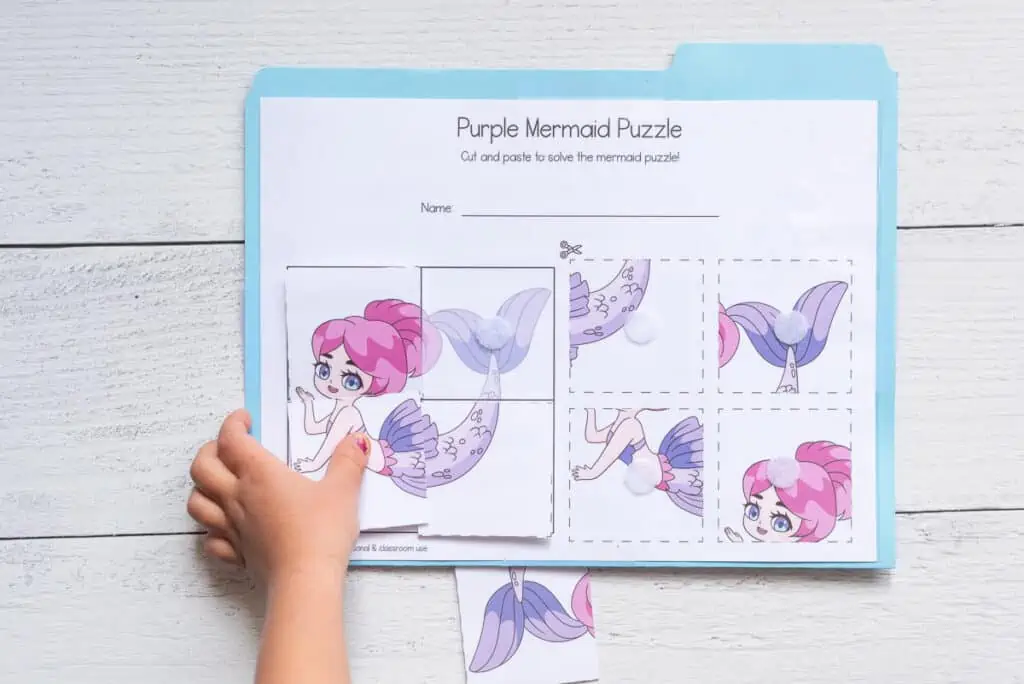 Hammerhead shark 4 piece puzzle download area
As mentioned above, this printable pack has two pages: one with an image to help your child assemble the hammerhead shark and one page without a hint image. This is what the pages look like (download information is located below the preview image):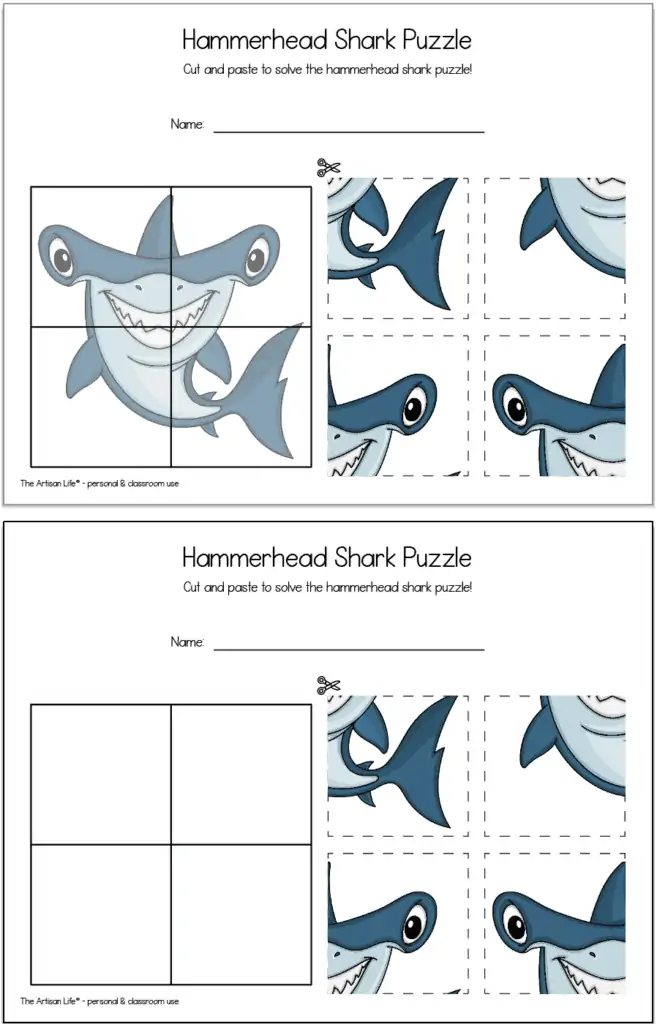 You are welcome to print and use these pages as many times as you you want for your own children, students, therapy clients, scouts, library activities, etc. as long as you are personally organizing the activity.
You are not licensed to sell, or redistribute, the files to other adults for use with their students/children. This includes posting them for sale or download on other websites. Instead, please refer them to this post so they can download their own copies.
If you agree to this license, you may click below:

I hope your little learner enjoys the cut and paste shark puzzle as much as mine does! Make sure to grab these additional freebies for your ocean theme while you're here on The Artisan Life:
Mermaids, Fish, and the Ocean
Does your little learner love fish, mermaids, and the ocean? You've come to the right place!