These letter D tracing worksheets will help your young learner practice letters and hone their fine motor skills. Download four lowercase and uppercase letter D tracing PDF printables today!
Free printable letter D tracing worksheets
These letter tracing worksheets are for personal and classroom use. You are welcome to print and use them as many times as you'd like with your own students, children, or therapy clients. You are not licensed to redistribute the files or printouts to other adults for use with their students/kids. Please refer your friends and coworkers to this page so they can download their own copies.
Don't lose track of these printables – Pin them now!
There are four letter d tracing worksheets to pick from. All have capital and uppercase letters in a dotted font to trace. Two pages have a D and a duck to color. One page has correct letter formation graphics for D and d and the final page is lined with six total lines of letter tracing practice.
The watermarks are not on the PDF printables. Use the download links below each preview image to get your high resolution PDF files. The links are highlighted with a grey box and no email signup is required. The link will open in a new tab and automatically download from Dropbox.
Letter Dd tracing with duck to color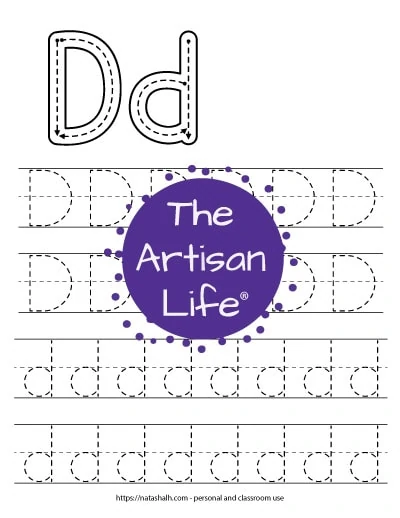 Letter D tracing with correct letter formation
Lined letter Dd tracing worksheet
Tips for using pre-k printables
This post may include affiliate links which means I may earn a commission on qualifying purchases at no additional cost to you.
These letter printables are designed for younger children. Older toddlers, preschoolers, pre-k students, and kindergarteners will enjoy coloring and tracing with these printables. Some older children who need remediation or therapy can benefit from them, too.
All children develop at different rates and enjoy things at different points in their lives. Some two year olds show an interest in tracing letters, but others aren't interested until they're several years older. That's okay!
As parents and educators, it's easy to feel like we have to provide All The Things or we're not doing enough for our children/students. Luckily, it's actually better for learning if you don't give them a dozen different activities and printables!
Young children enjoy repetition and learn by repeating. One study demonstrated that young children learned new words more effectively when read the same story over and over again when compared to a group of their peers who heard the same set of words in multiple different stories.
To provide the opportunity for repetition, you can print several copies of printable worksheet. Alternatively, you can save time and paper by laminating your printables or placing them in a dry erase pocket.
Your children or students can trace the same page several times with a marker or crayon. Wipe the worksheet clean and as good as new. You can save the laminated printables for use again with another child or with your class next year.
Letter tracing worksheets
These printable letter tracing worksheets are ideal for preschool, pre-k, and kindergarten. Grab free printable letter tracing worksheets with lowercase and uppercase letters to trace!