These free printable letter o tracing worksheets will help your preschool or kindergarten student recognize and write the letter O with confidence! Download four different letter o tracing printables for free – no email address required.
Learning apps and online games have gained popularity, but there is no substitute for hands-on learning. Many children today have poorly developed fine motor skills and manual dexterity. Researchers have found a link between screen time and poor motor skills in preschool aged children.
Even though that app or video might teach your child to sing the ABCs, it won't help them develop the important hand-eye coordination, fine motor strength, or manual dexterity they need.
The great news is that letter tracing worksheets are an easy and free way to help your child learn the alphabet and develop their skills!
These free printable letter o tracing sheets are a great way to boost your child's skills and language learning. Keep scrolling to take your pick of four different styles. Download one or download them all!
Free letter o tracing printables
There are four letter o tracing pages to pick from. All four have dotted uppercase and lowercase letter o's to trace. Two also have an octopus to color and the text "Oo octopus" One printable has correct letter formation graphics for capital and lowercase o. The final worksheet has six lines of letter tracing practice.
Like all free preschool printables on The Artisan Life, these worksheets are available for personal and classroom use.
This means you are welcome to print and use them as many times as you'd like for your own children, students, homeschool co-op members, therapy clients etc.
You are not licensed to sell, alter, or redistribute the printables or digital files to other adults for their use. Instead, please refer your friends and coworkers to this post so they can download their own copies. The Artisan Life is a user supported site so your cooperation is deeply appreciated.
Is your child learning their ABCs? Save valuable time when you download 106 pages of letter tracing pages (four pages for each letter plus two bonus handwriting practice sheets) in one handy file! (Keep scrolling just a little more for the individual freebie letter o download links.)
Individual download links are located below each preview image. They're highlighted in grey to make them easier to find.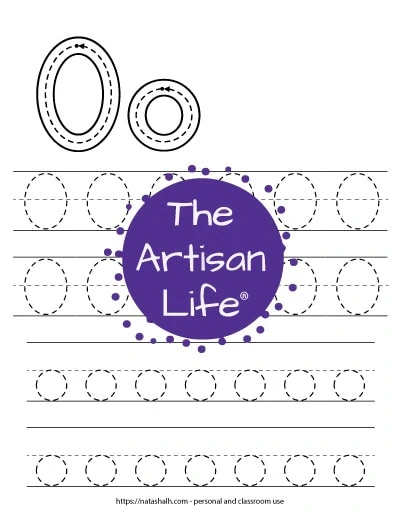 Letter o tracing – correct letter formation
Letter o tracing practice worksheet
This post may include affiliate links which means I may earn a commission on qualifying purchases at no additional cost to you.
I recommend laminating the tracing worksheets or placing them in dry erase pockets. This allows you to use the same printouts again and again without printing a million copies (and putting a dent in your copy budget). 
Have your child trace the letters with a marker, then wipe the page clean to use it again. You can even store the pages for use again another year!
Your child may also enjoy erasing the pages – my daughter does. Erasing provides even more opportunities for developing motor skills and hand-eye coordination, so it's great if you can get your child to wipe the pages off.
Letter tracing worksheets
These printable letter tracing worksheets are ideal for preschool, pre-k, and kindergarten. Grab free printable letter tracing worksheets with lowercase and uppercase letters to trace!