These free printable letter s tracing worksheets are perfect for when s is the letter of the week! Grab four different letter s tracing worksheet designs for free to use with your preschooler or kindergartner. No email address required!
S is for snake with these letter tracing worksheets. Don't worry – it's a cute snake! This also provides a great opportunity to talk to your child about snakes or give present your kindergartners with a snake lesson.
Tracing letters can help your child learn the letter more quickly than reading alone. Tracing can also help your child gain confidence in their independent writing abilities. These worksheets are fine as a standalone or as part of your alphabet learning curriculum with the other free printable alphabet tracing worksheets in the series.
Free printable letter tracing worksheets for letter s
All four worksheets feature dotted uppercase and lowercase s's to trace. Two also have a snake to color and the text "Ss snake." One printable has correct letter formation graphics for capital and lowercase s. The final worksheet has six lines of letter tracing s tracing practice. This worksheet is best for children who've already been introduced to the letter s or have used the other worksheets.
Just like artists frequently do quick warmup sketches or paintings before moving on to their main work for the day, your child can use the coloring images as a warmup before moving on to tracing the letters.
Like all free preschool printables on the site, these worksheets are available for personal and classroom use. You may print and use them as many times as you'd like with your own kids, students, or therapy clients. You are also welcome to use them with your scout troop, homeschool co-op, etc. a long as you are personally organizing the activity.
You are not licensed to redistribute, alter, or sell the printables. The Artisan Life is a user-supported site so your visits and support mean a lot to me! Instead of sharing the files with other adults, please send your friends and coworkers the link to this blog post so they can download their own worksheets.
Your time is a valuable resource – save yourself time when and get 106 printable alphabet tracing worksheets in one handy PDF! You will receive 4 pages per letter of the alphabet and two bonus handwriting practice pages for one low price. (Keep scrolling just a touch more to access the individual free letter p download links.)
Individual download links are located below each preview image and are highlighted with a grey box to make them easier to find. Don't worry – the watermark is not on your PDF download!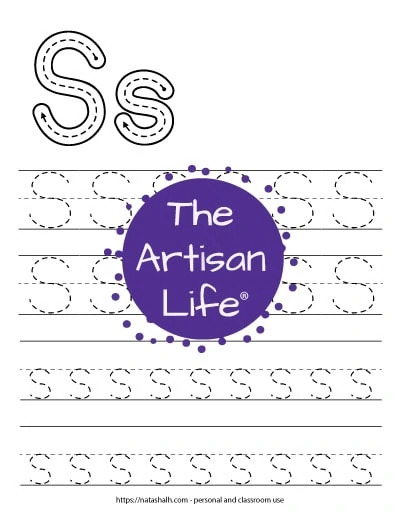 Correct letter formation for s
How to use alphabet tracing worksheets
This post includes affiliate links, which means I may earn a commission on purchases made through links at no additional cost to you.
Children learn through repetition. As I'm sure you've noticed, they also really enjoy repetition. That's why they will request the same short, simple book ten times in a row even though you're bored to tears.
It's very unlikely that your child will instantly master the letter s after being given one worksheet. Instead, they will need to trace the same worksheet many times.
Instead of printing off a forest's worth of copies, I recommend printing just one copy and laminating it or placing it in a dry erase pocket.
Your child can trace the letters with a marker (some crayons work, too), then erase it and trace again! My daughter loves erasing markers and erasing provides extra fine motor practice.
I hope you enjoy teaching your child about the letter s! Be sure to check out other free alphabet printables below:
Letter tracing worksheets
These printable letter tracing worksheets are ideal for preschool, pre-k, and kindergarten. Grab free printable letter tracing worksheets with lowercase and uppercase letters to trace!