These free printable letter h tracing worksheets will help your preschooler, pre-k, or kindergartener learn their letters, work on their pencil grasps and develop important fine motor skills. Download your free printables in the post today – no email address required!
There are four different worksheets to pick from. Download one or download them all! All four letter h tracing pages are available for individual download so you can pick whichever best suits your needs.
Each page features uppercase and lowercase h's. Two pages also have a large bubble h and a cute hippo to color. One page has correct letter formation graphics for H and h. The final page is just letter tracing practice without additional graphics.
Free letter h tracing printables
These printables, like all free printables on The Artisan Life, are for personal and classroom use. You are not authorized to alter, redistribute, or charge for them. You are welcome to print and use them as many times as you'd like with your own children, students, or therapy clients. (Thank you to the considerate readers who've emailed to ask if it's okay to use these with therapy clients!)
You are not licensed to give the printouts or digital files to other adults for their use. Please send them a link to this post so they can download their own copies. The Artisan Life is a user-supported site. Your support and cooperation is deeply appreciated!
Related: Letter G tracing worksheets
Don't worry – the watermarks do not appear on the h printable PDFs. Use the download links (highlighted in grey) below each preview image to download the corresponding worksheet.
Letter h tracing worksheet with boxes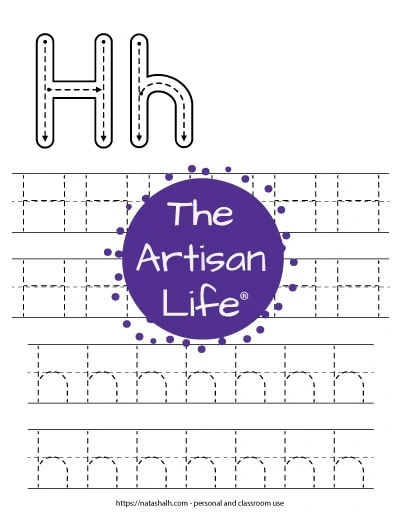 Letter h worksheet with correct letter formation
Lined letter h tracing worksheet
Letter tracing worksheets
These printable letter tracing worksheets are ideal for preschool, pre-k, and kindergarten. Grab free printable letter tracing worksheets with lowercase and uppercase letters to trace!