These free printable letter l tracing worksheets will help your preschooler or kindergartener learn their letters and gain writing confidence. Pick from four different styles of letter l worksheet traceable and download them in the post – no email address required!
Tracing letters helps children identify letters more quickly than reading alone. It also develops fine motor skills, coordination, and confidence in their writing ability. Due to increased electronics use, children are increasingly entering school with poor fine motor skills, low manual dexterity, and finger strength. (source) Using these tracing printables can help your child develop these important skills!
There are four different letter l tracing pages to pick from. All have dotted uppercase and lowercase L's to trace. Two also have a lion to color with the text "Ll Lion." One printable has correct letter formation graphics and the final one has six lines of letter tracing practice. Download one or download them all!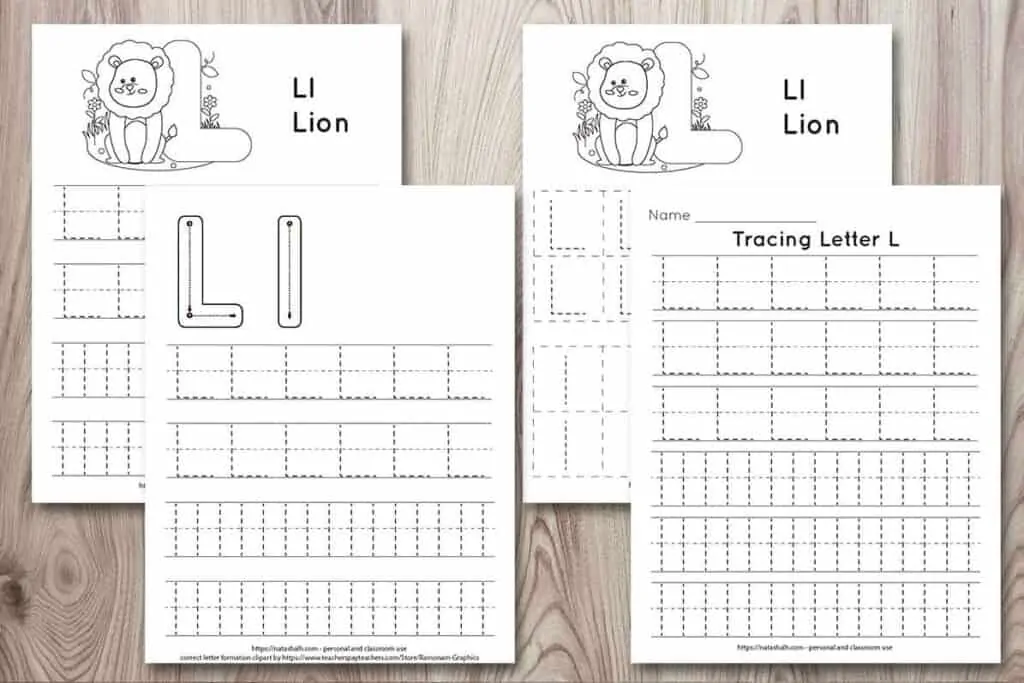 This post may include affiliate links which means I may earn a commission on qualifying purchases at no additional cost to you.
Children learn through repetition. Tracing the same letters over and over again helps your child develop fine motor control and their independent writing skills. Printing a stack of the same thing is annoying, though. It uses lots of paper and, if you're a teacher, your copy budget!
Instead of printing tons of copies, I recommend printing one of each sheet (per child) and laminating it or placing it a dry erase pocket. You can also make a binder with the whole alphabet in page protectors.
Have your child use a marker to complete the tracing worksheet (crayons can work, too, but aren't as visible). Then wipe the sheet clean and it's ready to use again. You can even store the printouts for use again later with another child or different class.
Free printable tracing worksheets – letter L
Please note that, like all free printables on The Artisan Life, these tracing pages for person and educational use. You are welcome to print and use them as many times as you'd like with your own children, students, therapy clients, Scout troop, homeschool co-op, etc.
You are not licensed to alter, redistribute, or charge for the printables. Please do not share the digital or printed pages with other adults for their use. Instead, just send them to this page so they can download their own copies.
Individual download links are located below each preview image. They're highlighted in grey to make them easier to find. Don't worry – the purple watermark isn't on your PDFs!
Letter l tracing worksheet with boxes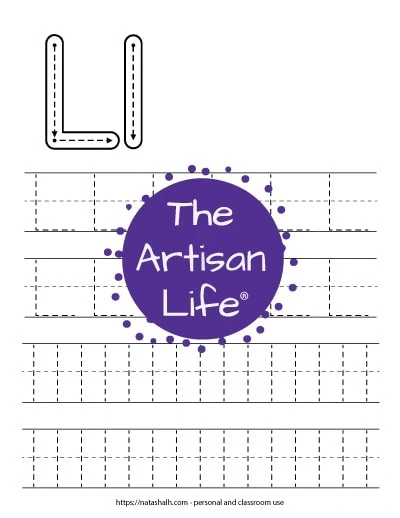 Letter l tracing – correct letter formation
Lined letter l tracing worksheet
Letter tracing worksheets
These printable letter tracing worksheets are ideal for preschool, pre-k, and kindergarten. Grab free printable letter tracing worksheets with lowercase and uppercase letters to trace!