Is P the letter of the week? Grab four free printable letter p tracing worksheets to help your children or students learn the letter p! Pick from four different styles of tracing printable, all available for free in the post (no email address required).
This set of handwriting worksheets includes four different pages to help your child develop their letter p recognition abilities and fine motor skills. You can use them individually or as part of your alphabet learning curriculum with the other free printable alphabet tracing worksheets in the series.
Free printable letter P tracing worksheets
All four worksheets feature dotted uppercase and lowercase P's to trace. Two also have an octopus to color and the text "Pp Pig" One printable has correct letter formation graphics for capital and lowercase p. The final worksheet has six lines of letter tracing practice.
The correct letter formation graphics and the pigs to color serve as a warmup for your child. Just like an artist might do a warmup drawing or a musician plays warmup scales, coloring can help prepare your child for tracing the letters.
These printables are free for personal and classroom use. You may print and use them as many times as you'd like with your own children or students. You are not authorized to alter or charge for the files or redistribute them to other adults for their personal use. Please just refer your friends and coworkers to this post so they can download their own copies.
Your time is valuable – save lots of time and clicking around when you get 106 printable alphabet tracing worksheets in one handy file! You will receive 4 pages per letter and two bonus handwriting practice pages for one low price. (Keep scrolling just a tiny bit more to access the individual free letter p download links.)
Individual PDF download links are located below each preview image. They're highlighted in grey to make them easier to find.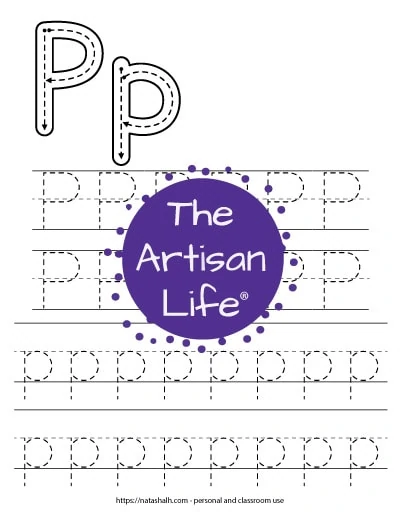 Letter P tracing correct letter formation
Letter tracing worksheets
These printable letter tracing worksheets are ideal for preschool, pre-k, and kindergarten. Grab free printable letter tracing worksheets with lowercase and uppercase letters to trace!