These realistic unicorn coloring pages are a fun activity for adults and older kids. The complex designs are a joy to color without having so much detail that it takes all year to complete a single page. I hope you enjoy coloring these beautiful magic horse illustrations!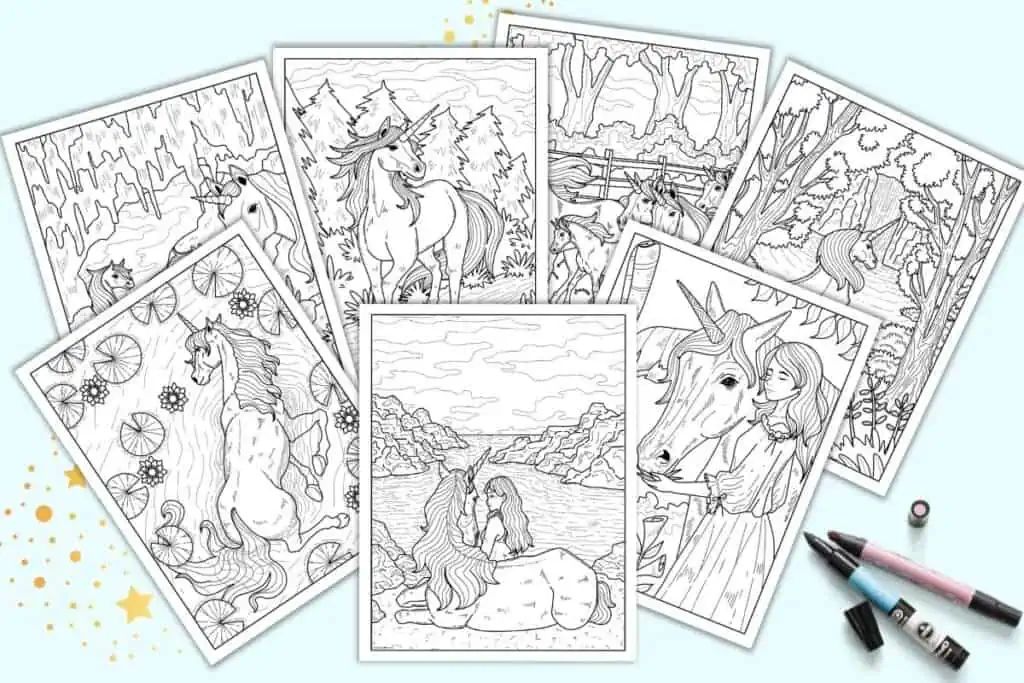 This post may include affiliate links which means I may earn a commission on qualifying purchases at no additional cost to you.
If you love unicorn printables and free printable coloring pages, you've come to the right place! Make sure to check out these additional printable pages while you're here on The Artisan Life:
The unicorns on these coloring pages look like how I imagine these mythical creatures would look in real life: like a beautiful horse with long eyelashes and a spiral horn. This set celebrates magical unicorns and imagines them as majestic companions and magical creatures without making them overly cartoon-y or childish.
This is not the post for frolicking unicorns with wings and rainbows (all though I love those, too! It's just not that post). There certainly is more than one happy unicorn coloring page, but the unicorns are "realistic." They're like horses, but enjoying their lives with an extra bit of sparkle.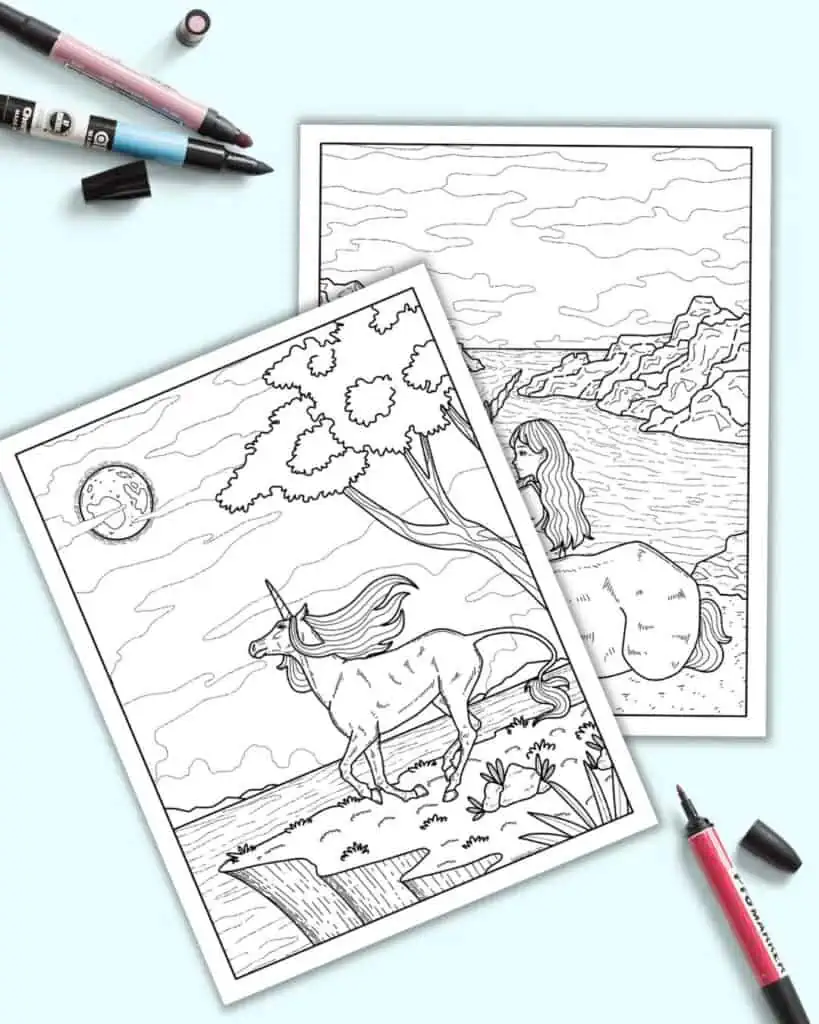 How to print your own coloring pages
You can print these coloring pages on any cardstock or paper. However, the super thin, cheapest copy paper isn't very durable. For a delightful coloring experience, I use this 32# premium, bright white paper. It's like coloring in a high end coloring book from the store! Sometimes I also use my current favorite inexpensive paper.
HP Paper Printer | 8.5 x 11 Paper | Premium 32 lb | 1 Ream - 500 Sheets |...
Made in USA: HP Papers is sourced from renewable forest resources and has achieved production with 0% deforestation in North America.
Heavyweight premium printing: HP Premium32 is a heavyweight (32 pounds), brighter (100 bright) and whiter (163 whiteness) paper with a super-smooth...
Certified sustainable: HP Premium32 presentation paper is Forest Stewardship Council (FSC) certified and contributes toward satisfying credit MR1...
Our favorite colored pencils are Prismacolor. Even the less expensive student line is more soft and creamy than most other colored pencils. They are a joy to color with and have rich colors.
My family loves our multicolor colored pencils. The pencil core isn't as soft and creamy as my favorite Prismacolor pencils, but the multicolor effect is so much fun.
We also like to add sparkle with our favorite gel pens. Both the multi color pencils and sparkle gel pens are perfect for adding rainbow colors and glitter to your unicorn coloring pages.
Sale
nsxsu 8 Colors Rainbow Pencils, Jumbo Colored Pencils for Adults,...
🌈[Pencil packaging] There are 8 pencils of different colors in box, they're pretty combination colors which is equivalent to having a lot of...
🌈[Pencil features] Rainbow colored Pencil is strong and durable, made of black wood, and won't break easily, the pencil core than ordinary much...
🌈[What to do] It can be used draw, doodle, and mark on the book, we can use to draw anything we want to draw, the changeable color of the pencil...
The picture below is from this printable mermaid headband craft, but you can see some of the multicolor pencils in action.
Free unicorn coloring pages PDF download area
This set of free printable unicorn coloring pages includes 11 unique images. Each page contains a beautiful unicorn and a background to color. Here's what you're getting: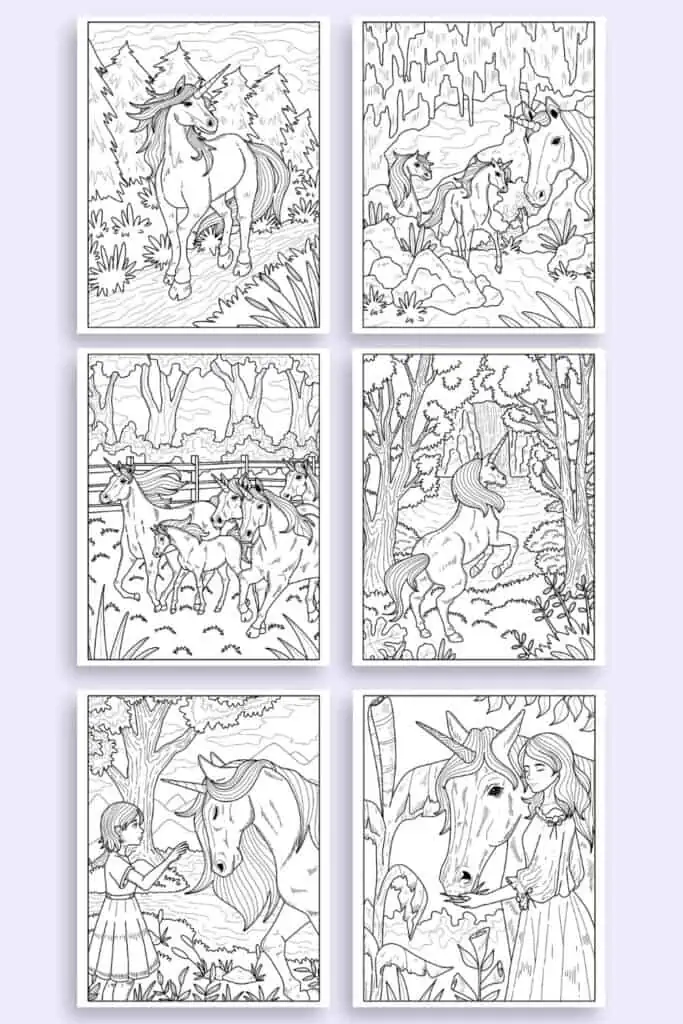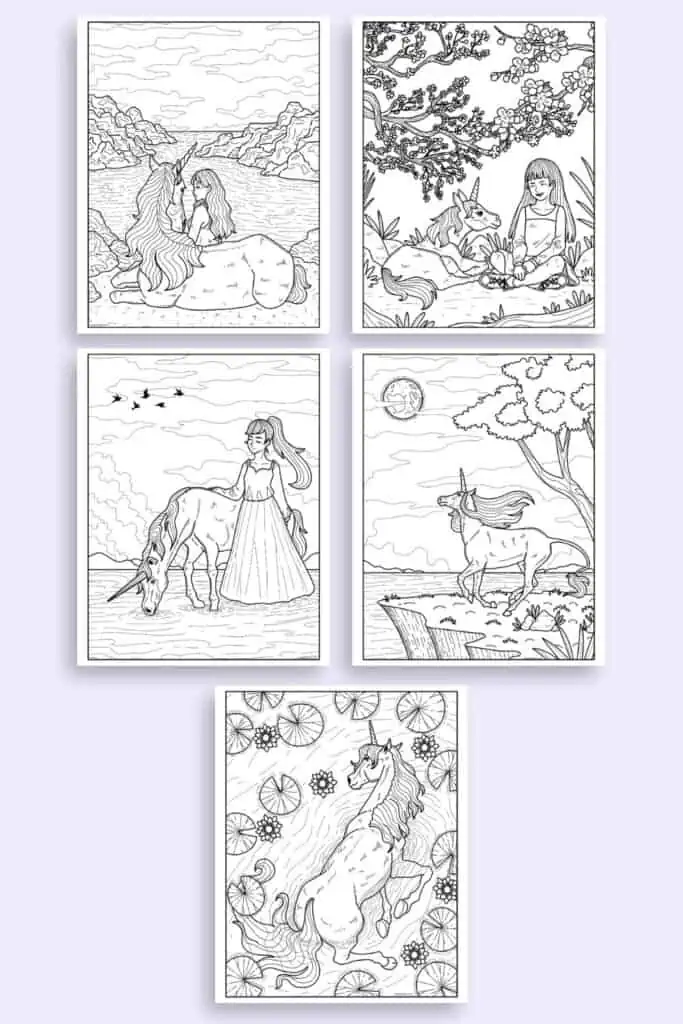 These unicorn coloring pages are licensed for personal use only. This means you are welcome to print and use them with your own family, but you are not license to redistribute (or sell) the print outs or files to others for use with their family/children. Instead, please refer friends to this post so they can download their own copies.
I hope you and your family enjoy these unicorn coloring sheets as much as my family does! Be sure to check out these additional unicorn themed freebies while you're here on The Artisan Life:
Free unicorn printables
Do you love unicorns? You've come to the right place!