These free printable Christmas unicorn dab it marker pages are a fun, no-prep activity for your toddler, preschooler, or kindergartener.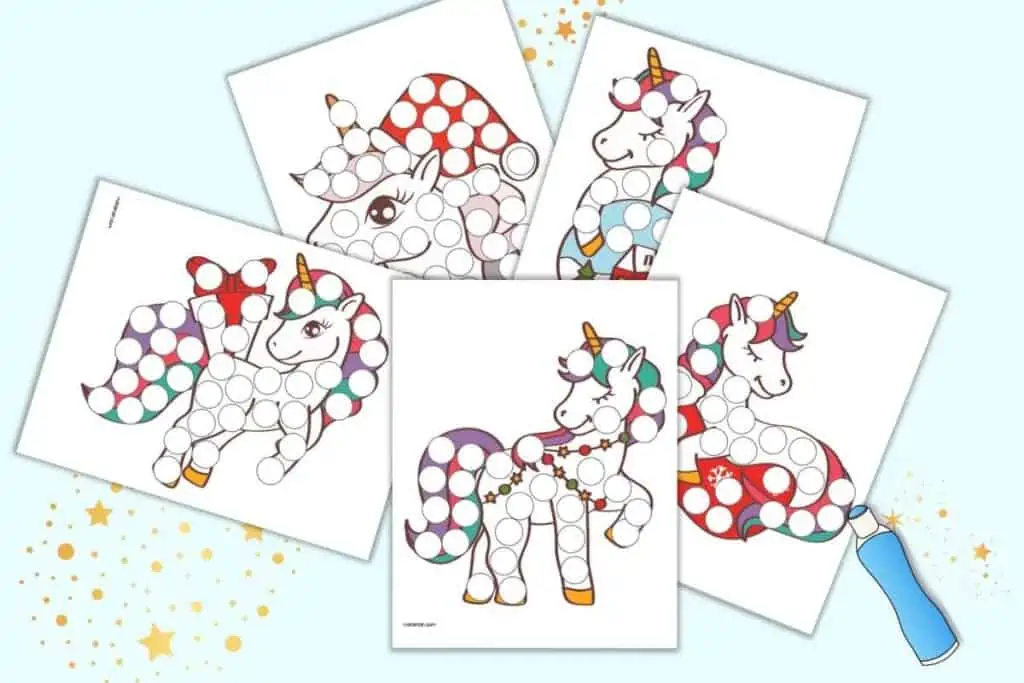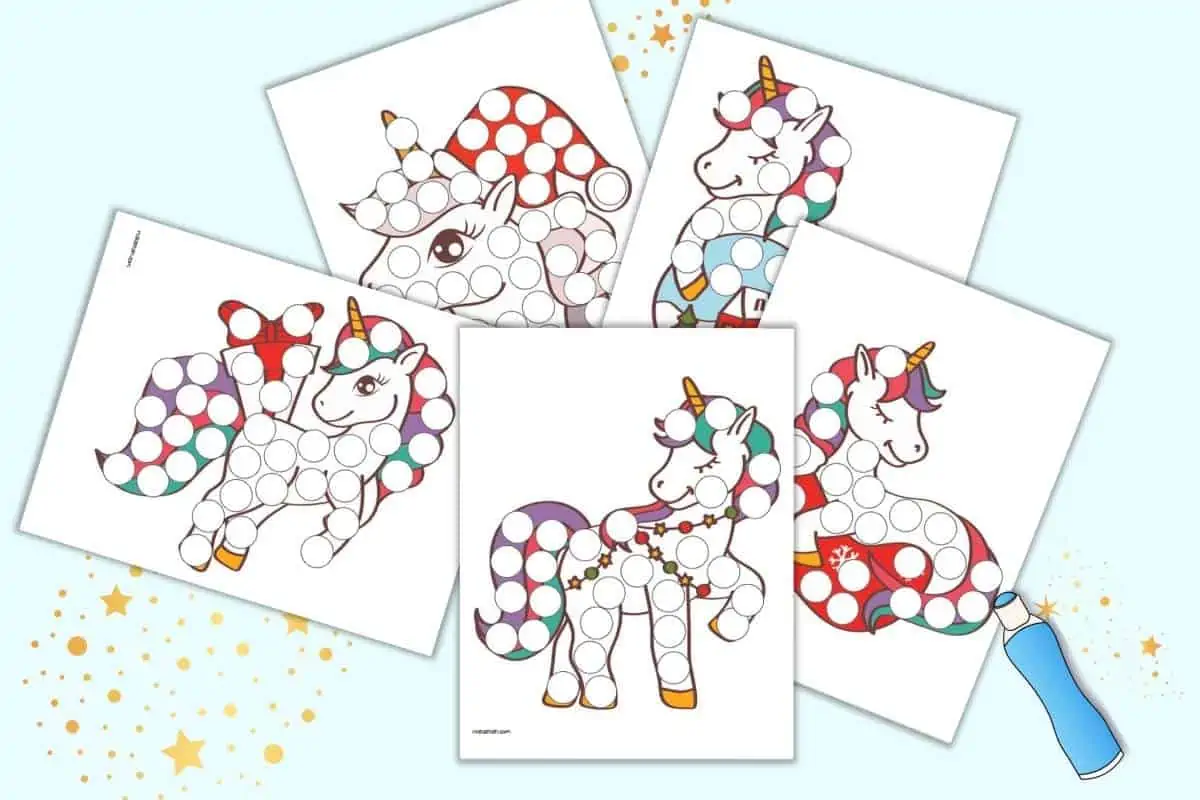 These dot marker coloring pages are an easy way to keep kids busy while you wrap presents or cook. They also make a great, no-mess car ride activity when you use round coding label stickers instead of markers. I hope you enjoy!
This post may include affiliate links which means I may earn a commission on qualifying purchases at no additional cost to you.
Using inexpensive coding label stickers instead of markers is an easy way to transform dot marker pages into a mess-free activity with no ink and no stains. Kids adore stickers and using stickers provides fine motor benefits without the mess!
What are dot it marker pages?
Dot it marker coloring pages, also called "Do a Dot pages" after the popular Do a Dot marker brand, are sheets with blank circles on the images.
Your child or student uses a dauber-style marker to fill in the circle. Your child can also use manipulatives, like pompoms, or round stickers to cover the circles.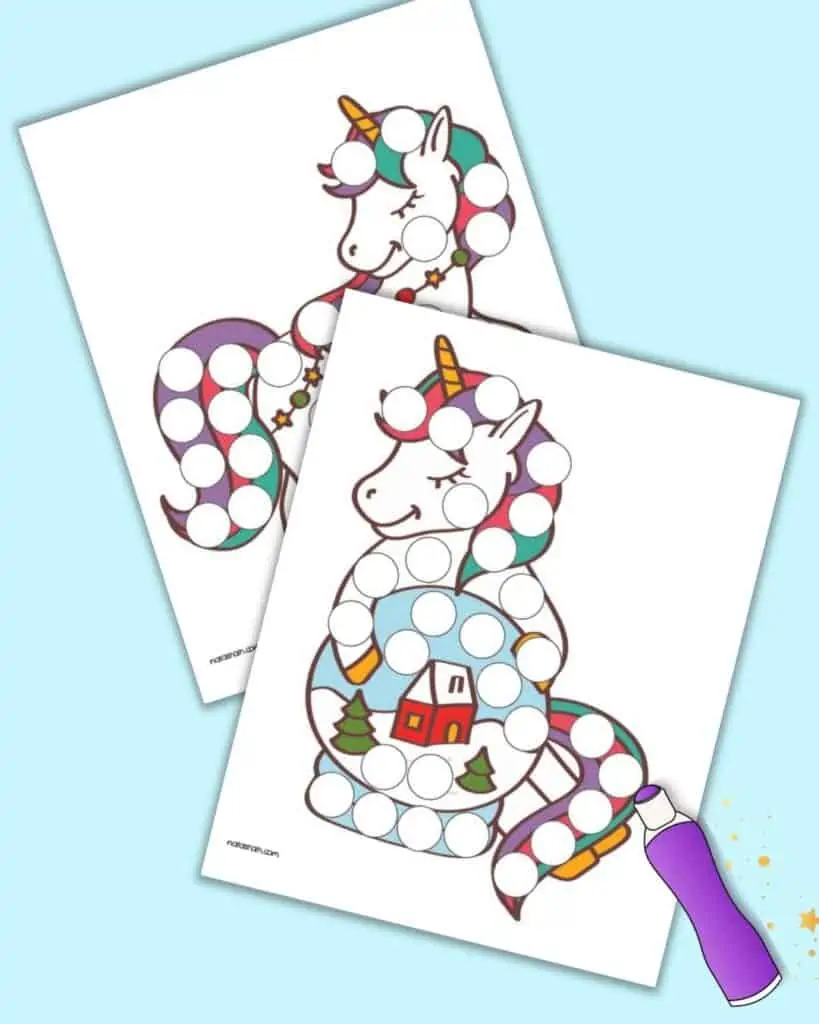 How to use dot marker pages
The circles on these pages are based on the size of my daughter's Classic Do a Dot Markers. The circles on your printable are sized for this brand of markers, but they also work with other dauber or bingo style markers. Make sure to print at 100% to ensure the circles are the correct size.
My favorite way to use dot it printables is with round coding label stickers. We use these stickers. They are the perfect size to fit the circles on these pages. You get thousands of them for just a few dollars.
Using stickers transforms this activity because it's suddenly completely mess free and suitable for car trips, waiting rooms, restaurants, and more. Below you can see my daughter using her round stickers with a page from this set of mythical creature dot marker coloring pages.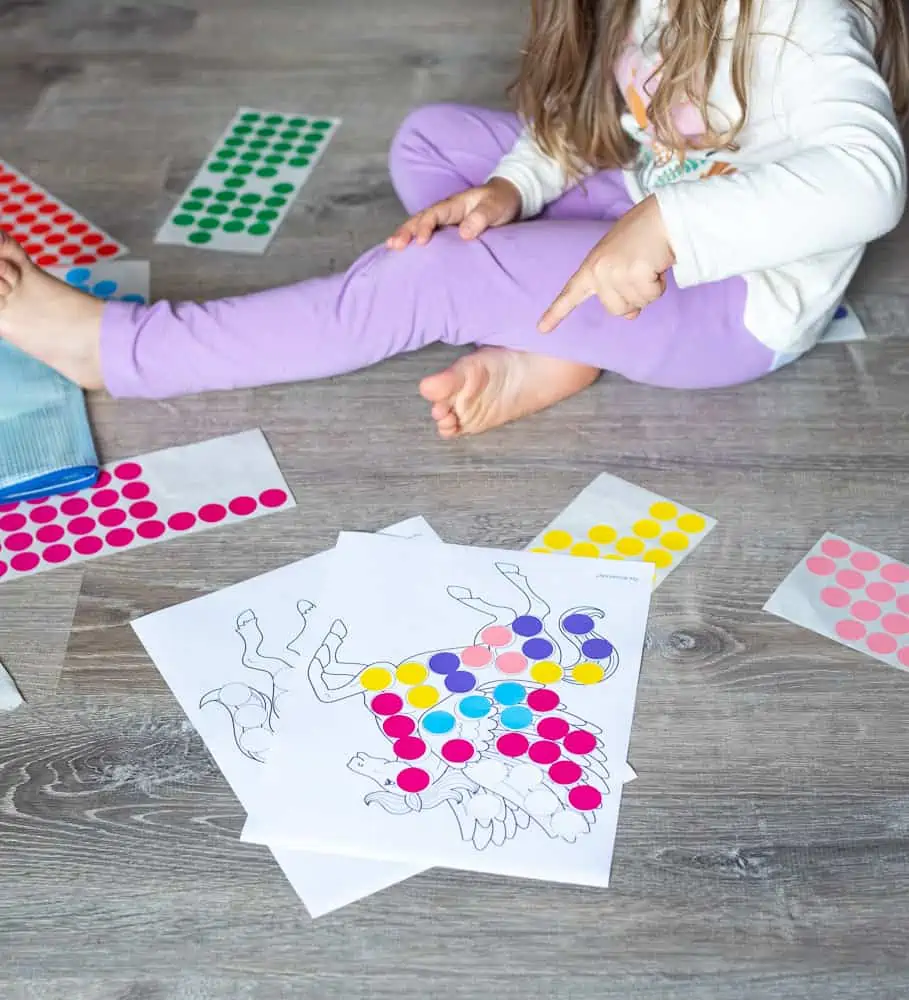 Make sure to get 5/8″ or 3/4″ round stickers. One inch round stickers are too big for these pages. One inch stickers are less common – most of the stickers you find are a usable size, but double check to avoid surprises.
Sale
Pack of 2400 3/4" Round Color Coding Circle Dot Sticker Labels - 15...
✅ PACKAGE INCLUDED. Pack of 2400 Round Color Coding Circle Dot Sticker Labels and 1 zipper file bag can be used to keep labels. Bright and colorful...
✅ TIME SAVING. Our size stickers are super-easy to peel off, this is due to the 1 more process of removing excess waste paper before ex-factory,...
✅ GOOD QUALITY. The stickiness of size sticker is highly viscous, environmental and BPA Free! Make it good to stick to DVDs, books, notebooks, glass...
Free Christmas unicorn themed dab it pages download
This set of Christmas unicorn dot marker pages includes 9 pages. Each image has its own page in the PDF, but pictures are shown in groups below to help this page load more quickly. There are cute unicorns with presents, candy canes, stockings, lights, and Santa hats. Here's a preview of what's included.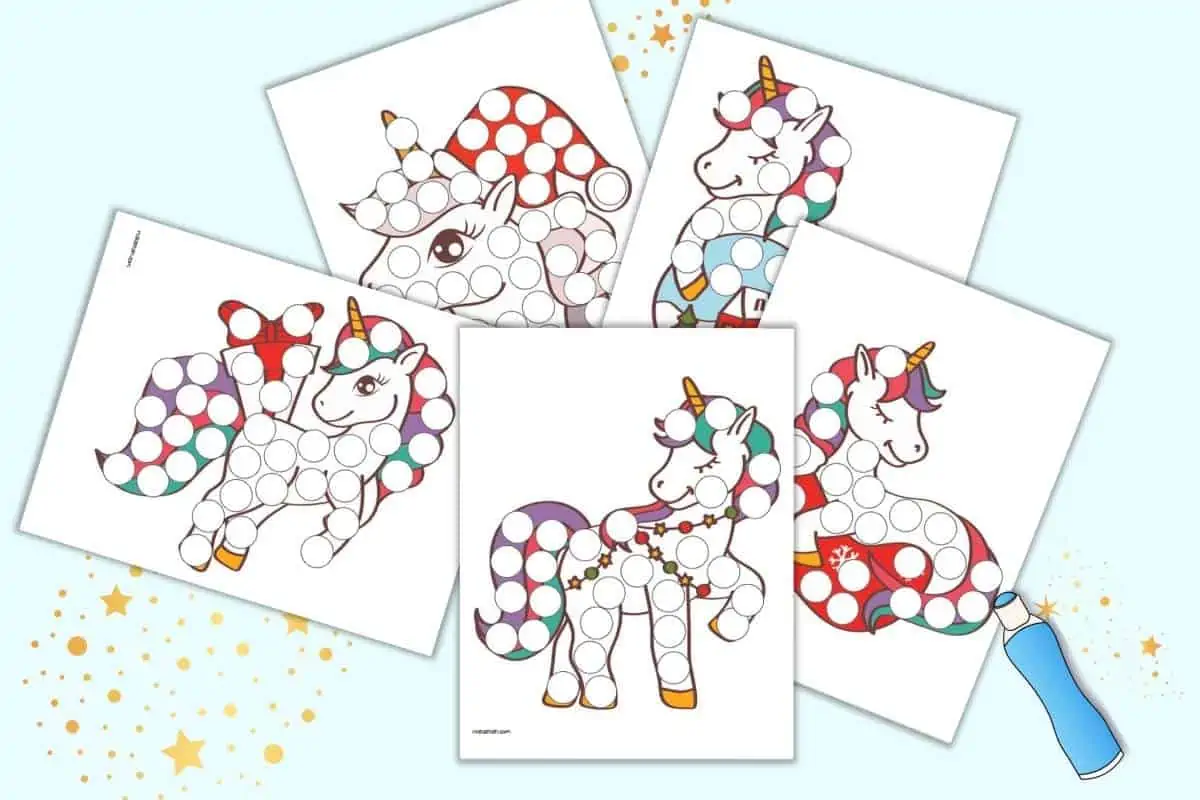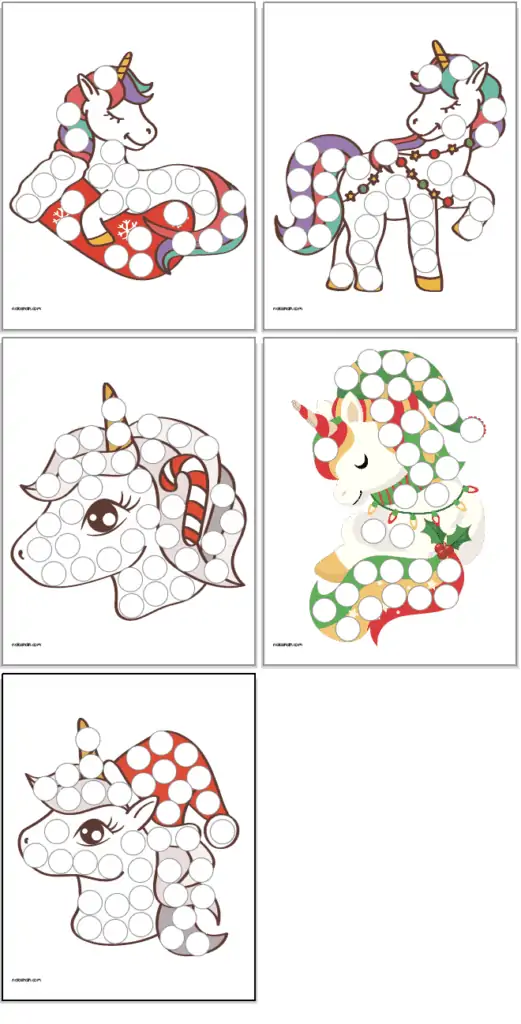 Like other preschool printables on The Artisan Life, these are for personal and single classroom use. This includes use with scout groups, homeschool co-ops, library activities, your own therapy clients, etc.
You are not licensed to sell, or redistribute, the files to other adults for use with their students/children. This includes posting them for sale or download on other websites. Instead, please refer them to this post so they can download their own copies.
I hope you enjoy using these unicorn themed dot marker pages for Christmas! Be sure to check out these additional Christmas themed printables for little learners:
Christmas & Holiday Printables
Looking for printables for the holidays? You've come to the right place! Discover Christams templates for DIY ornaments and decorations, Christmas games for families at home, and more.