This free printable mermaid headband/crown is kiddo-approved no-prep fun. This easy mermaid printable craft features a cute mermaid with shells and sea creature friends. It's no-prep fun for kids at home or a great mermaid birthday party activity idea. However you decide to use it, I hope you enjoy!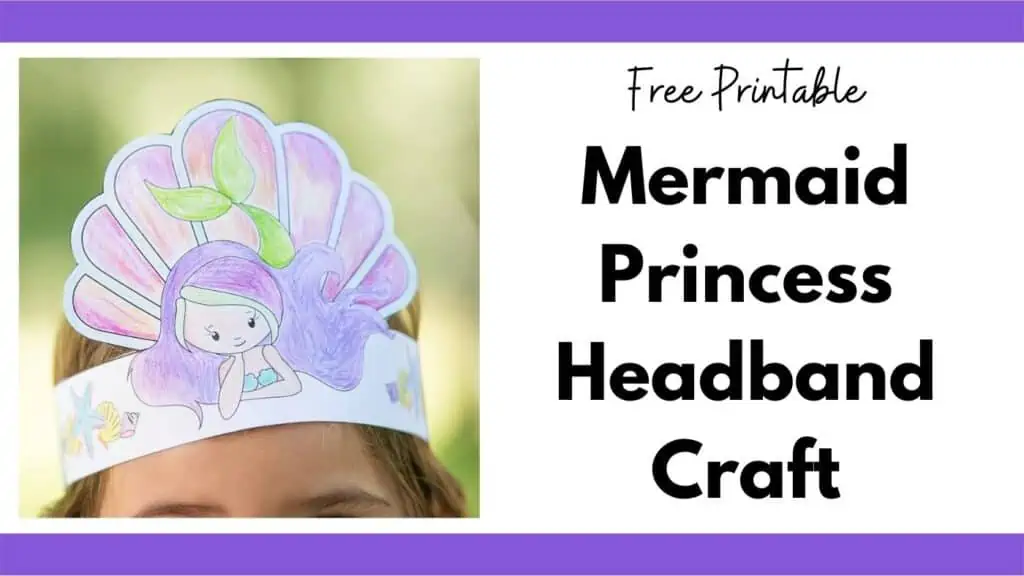 I wanted to make a shell and gem covered crown like a mermaid princess might wear, but my daughter insisted on a crown with an actual mermaid on it. I may make a shell-style printable crown in the future. Leave a comment and let me know if that's something you'd like to see!
If you love mermaids, you've come to the right place. Be sure to grab these other mermaid freebies while you're here:
This post includes affiliate links, which means I may earn a commission on purchases made through links at no additional cost to you.
Materials needed for printable mermaid princess headbands
You can print these mermaid crowns on your favorite thicker paper or cardstock. The super thin, cheapest copy paper isn't very durable. I typically use 32# HP paper for printables, but I made these headbands with my current favorite inexpensive paper. It's still a bit nicer and brighter than super cheap copy paper, but costs several dollars less than the 32# option.
Sale
Hammermill Printer Paper, Premium Inkjet & Laser Paper 24 Lb, 8.5 x 11 - 1...
PREMIUM PRINTER PAPER – Hammermill Premium Inkjet & Laser 24lb Printer Paper is a versatile sheet that's perfect for double-sided inkjet or laser...
COLORLOK TECHNOLOGY – This computer paper features ColorLok Technology for colors that are 30% brighter, blacks that are 60% bolder and ink that...
PERFECT FOR PRINTING – This multi-purpose copier paper is designed to run smoothly through all office equipment for professional results when...
Cardstock is a better, more durable choice than paper. Some cardstock is surprisingly flimsy and barely better than printer paper. Neenah Exact Index 110# is the heaviest, readily available cardstock I'm aware of. Neenah 90 lb is still sturdier than "standard" cardstock. Most regular cardstock weighs in at only 65#.
Neenah Cardstock, 8.5" x 11", 90 lb/163 gsm, White, 94 Brightness, 300...
BRIGHT WHITE CARDSTOCK: The smooth texture and crisp bright white color of our 90 lb cardstock produces high resolution images and prints for...
LETTER SIZE CARDSTOCK: This 8.5" x 11" white cardstock comes in a pack of 300, so you always have enough on hand
IDEAL FOR EVERYDAY PROJECTS This smooth cardstock is ideal for documents, flyers, brochures, calligraphy hand lettering, and crafting!
My favorite crayons are Honeysticks beeswax crayons. They're made from pure, food grade wax and colorants. They actually color better than "normal" crayons. The only down side is that Honesticks do come in a relatively limited color palette.
Honeysticks 100% Pure Beeswax Crayons - Super Jumbo Crayons for Toddlers...
PURE NEW ZEALAND BEESWAX FOR PEACE OF MIND: Handmade in New Zealand using 100% Pure Beeswax and Food Grade Pigments for Color. Free from the chemical...
SUPER JUMBO SIZE THAT IS EASY TO HOLD - Each Super Jumbo Crayon is 3.9 inches long and 0.8 inches thick making them easy for little hands to hold and...
6 EXCITING COLORS TO STIMULATE CREATIVITY - Your child will love expressing their inner artist with an exciting range of 6 colors. These toxin free...
For a magical, mermaid coloring experience, I used these multicolor colored pencils. The pencil core isn't as soft and creamy as my favorite Prismacolor pencils, but the multicolor effect is so much fun on this crown. I used them on her hair and on the shell. We also added sparkle with our favorite gel pens.
Sale
nsxsu 8 Colors Rainbow Pencils, Jumbo Colored Pencils for Adults,...
🌈[Pencil packaging] There are 8 pencils of different colors in box, they're pretty combination colors which is equivalent to having a lot of...
🌈[Pencil features] Rainbow colored Pencil is strong and durable, made of black wood, and won't break easily, the pencil core than ordinary much...
🌈[What to do] It can be used draw, doodle, and mark on the book, we can use to draw anything we want to draw, the changeable color of the pencil...
My favorite colored pencils are Prismacolor. Even the less expensive student line is more soft and creamy than most other colored pencils. They are a joy to color with and have rich colors that children love.
Our favorite markers for coloring are Crayola Supertips. They come in a super wide range of colors and wash up relatively well. They ink also lasts much longer than the Crayola "Ultra-Clean Washables" line. (The Ultra-Clean Washables we tried stopped worked in just a couple of weeks. It was very disappointing.) We did not use markers on the pictured mermaid crown.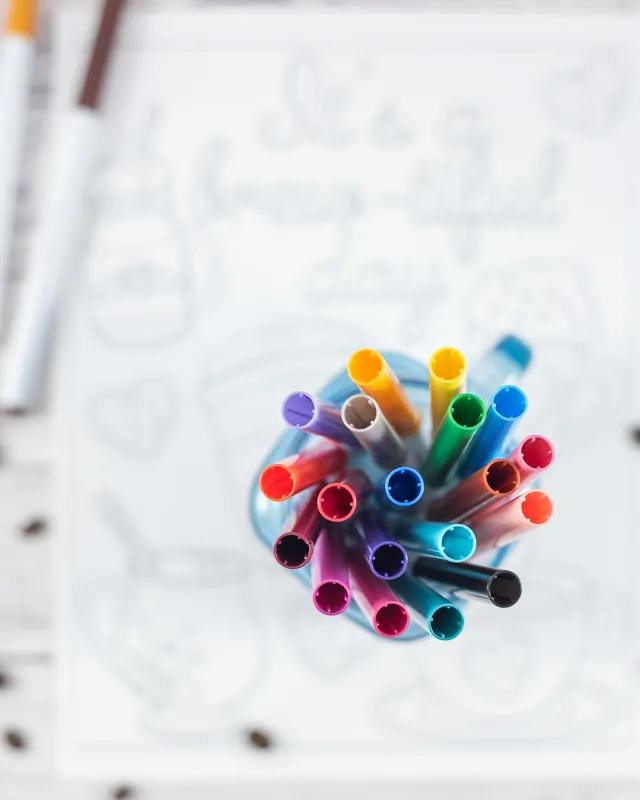 How to make a printable mermaid headband craft
1. First, download your freebie below and print the pages you want. Younger children may not need the second page with additional band pieces. My daughter (4.5 at the time of writing) only needs one band piece. The second page with extra bands has both a decorated band and a plain band.
2. Have fun coloring!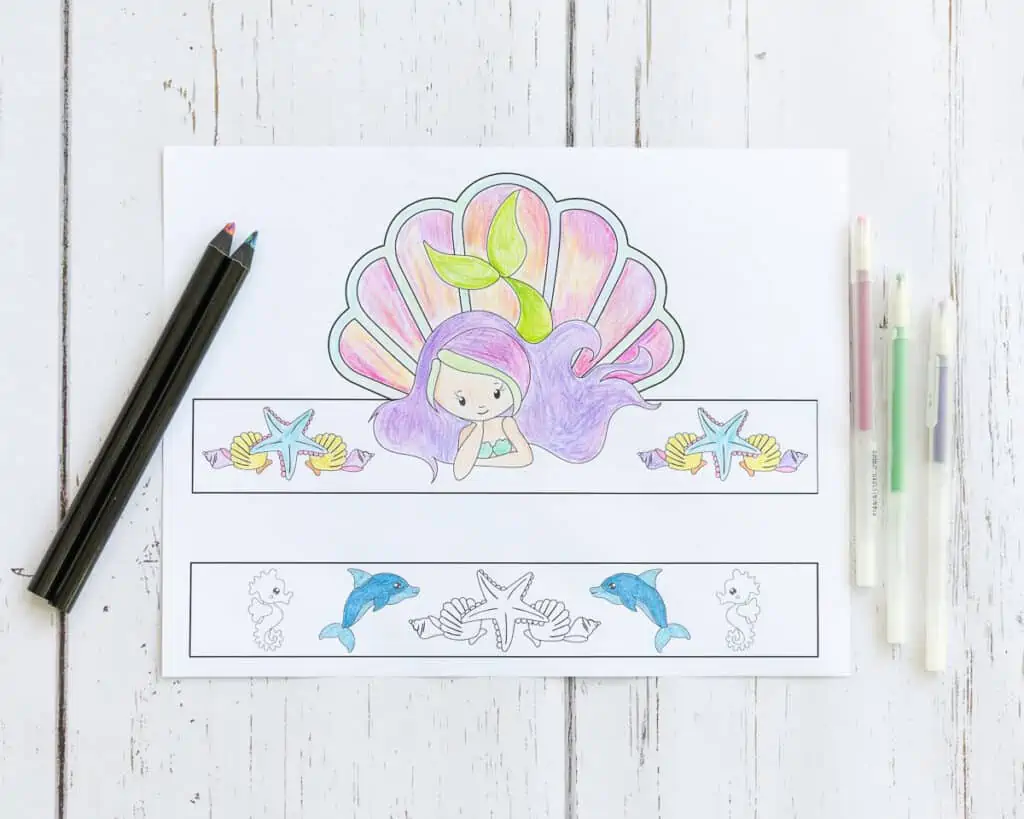 3. Cut out the headband center piece and bands. I cut the main portion and my daughter used her Fiskars blunt tipped scissors to help cut the band.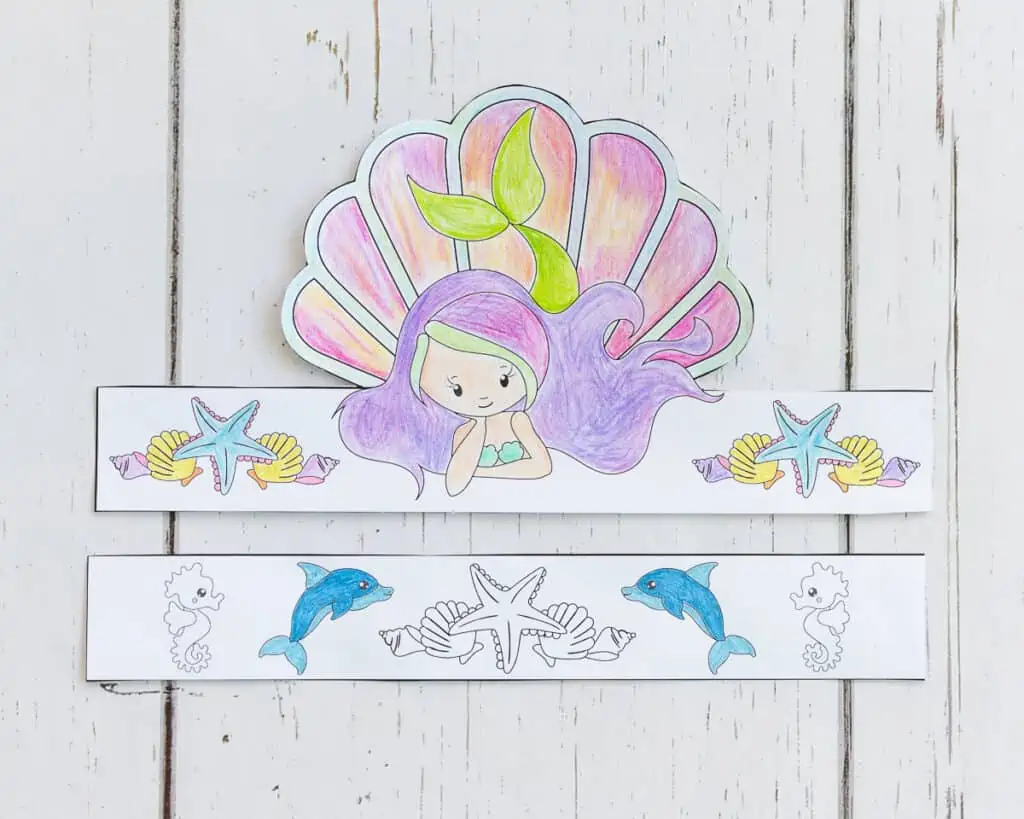 4. Do a test fit to see if you need one or two band pieces, then tape or staple them in place to fit your child's head. I use a piece of tape on the inside and a second piece on the outside. When we've used a stapler in the past, my daughter complained about it getting stuck in her hair.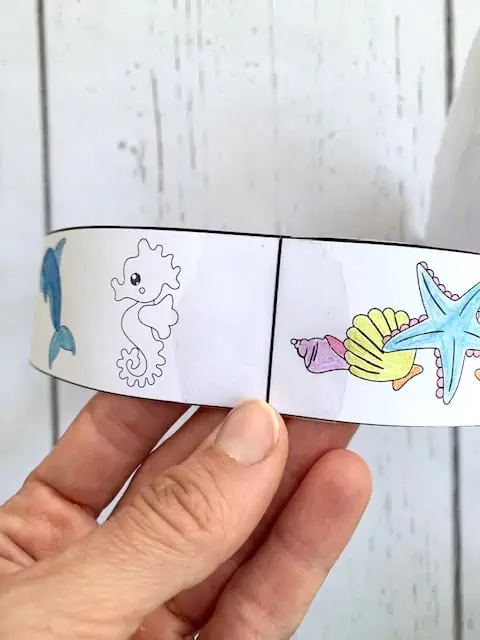 5. Wear and enjoy! These headbands are great for fun at home, wearing a pool party (if you keep it safe from splashes), or using as a mermaid party activity.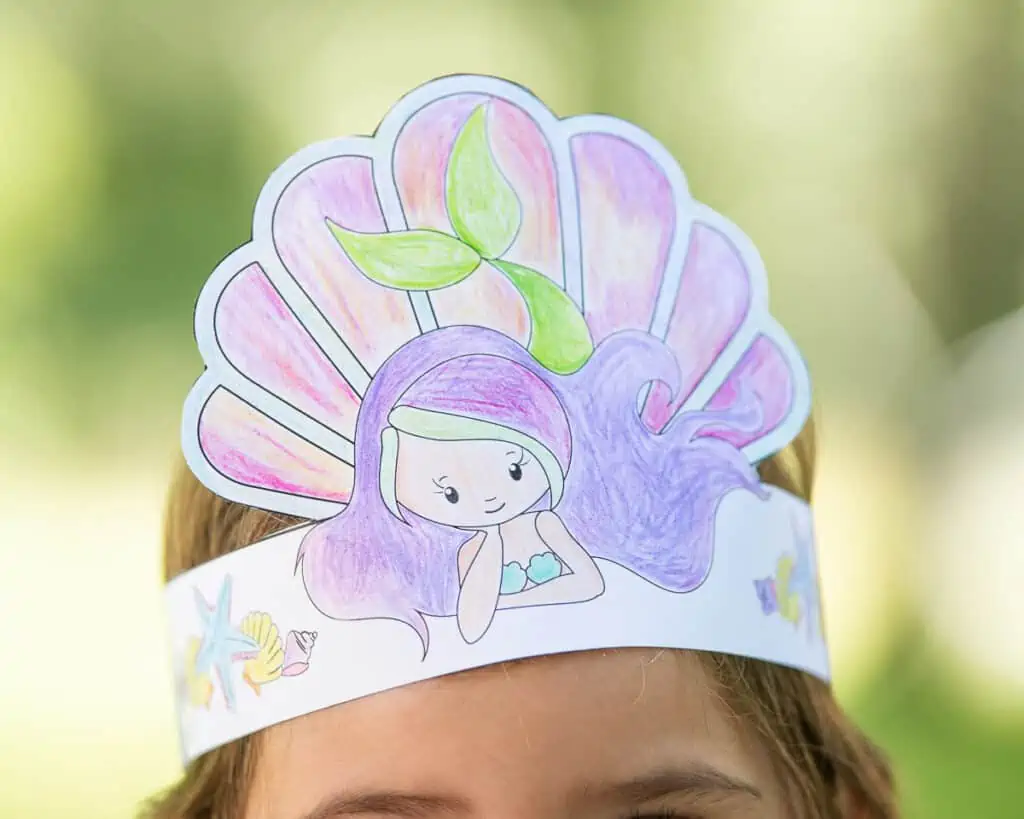 Free printable mermaid headband craft for kids download area
This mermaid headband craft printable is available for personal and single classroom use. You are not licensed to redistribute the files to other parents/teachers for use with their children/students. Instead, please refer them to this page so they can download their own copy.
If you agree to this license, you may click below:

I hope you and your little learner enjoy this mermaid headband craft! My daughter LOVES this type of activity so I may be making more in the future. Please leave a comment and let me know what theme you'd like to see in the future! Make sure to grab these additional ocean-themed freebies while you're here:
Mermaids, Fish, and the Ocean
Does your little learner love fish, mermaids, and the ocean? You've come to the right place!