These classic orange slice ornaments are so easy to make and smell delicious!
As I promised on Thursday's easy ornament garland post, here's another lovely, easy Christmas decoration tutorial!
Today I'm sharing simple orange slice ornaments.
They're lovely, festive, and you may already have everything you need to make them in your kitchen!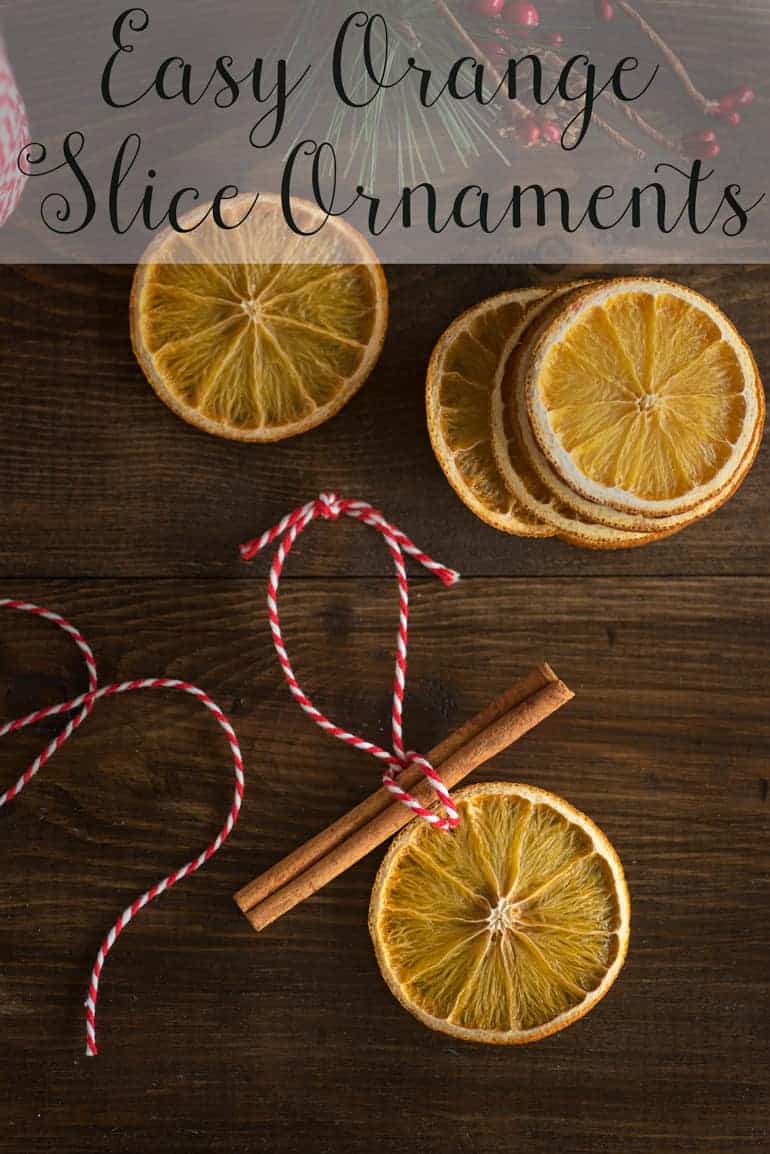 This post may include affiliate links, which means I may make a commission on purchases made through these links at no additional cost to you.
Materials needed to make simple orange slice ornaments
Oranges! Depending on the size of your oranges, you should be able to make 4-6 ornaments (more for large oranges) per fruit.
Cinnamon sticks – optional. You can put one cinnamon stick on each slice, or only add cinnamon to a few of your ornaments. The choice is yours!
Baker's twine or other thin cord (gold craft cord would look so lovely, too!)
Blunt yarn needle with a large eye
A sharp knife and a steady hand or a v-blade mandoline slicer. Even slices are very beneficial for this project, so I highly recommend using your mandoline if you have one!
A cookie sheet fitted with a wire rack or parchment paper
Scissors
You can also string large beads, faux cranberries from garland, or bells on to the twine for an even more festive look!

How to make orange slice ornaments
1. Very carefully slice your oranges. Try to make your slices 1/4″ thick and as even as possible. If your oranges have seeds, use a knife point to pull them out of each slice. The really small slices don't work as well for ornaments, so just go ahead and enjoy eating them now. =)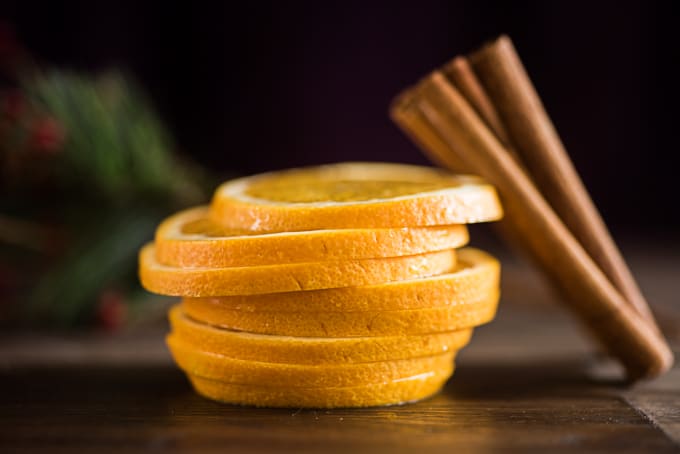 2. Lay your slices on a cookie sheet fitted with a wire rack (you can just pop your cookie cooling rack on there!) or parchment paper. I really love my silicone baking mat, but this isn't the right project for it! Trying to dehydrate your oranges on the bare tray or on a silicone mat makes the process take way, way longer. If you don't have a wire rack or parchment paper, I suggest carefully placing the slices directly on your oven rack.
3. Heat your over to 170ºF. Ovens all have a minimum operating temperature – if yours won't bake at 170, choose the lowest temperature it will allow.
4. Dehydrate your orange slices, flipping each hour, until they are fairly dry and resemble stained glass windows. This typically takes 3-4 hours, but will depend on your oven, oranges, etc. When they're "done," you'll still see the lines from the segments, but the pips will be dry and thinner. You want to avoid over dehydrating the oranges to the point where they curl significantly and brown.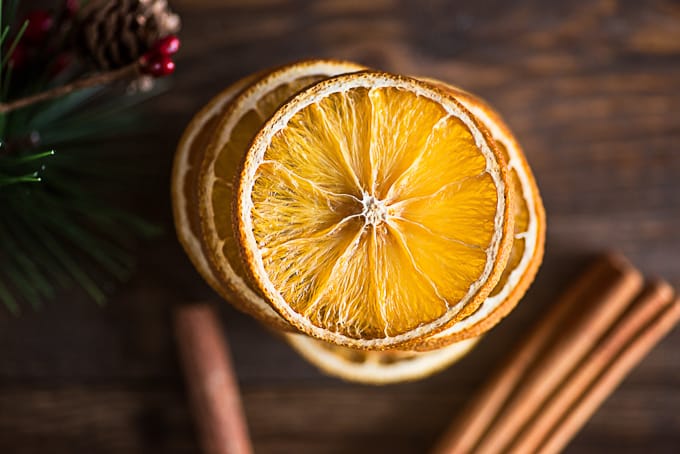 5. When the orange slices look ready, turn off the oven and crack the oven door open to allow the slices to cool while the moisture escapes. They really won't be hot to the touch, but allowing them a few extra minutes in the vented oven helps keep them from becoming moist again.
6. Cut a piece of twine 10-12 inches long, fold it in half, and thread the folded end through your large-eyed needle.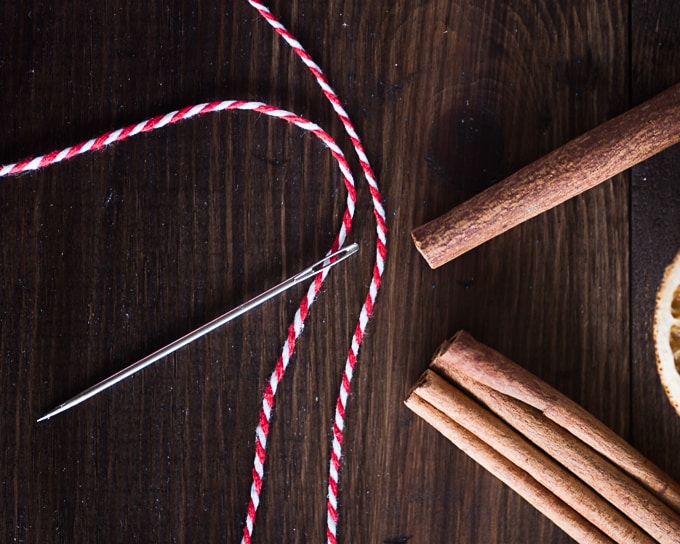 7. Thread the twine through an orange slice, as shown. Pierce the orange close to the rind, but avoid actually going through the rind.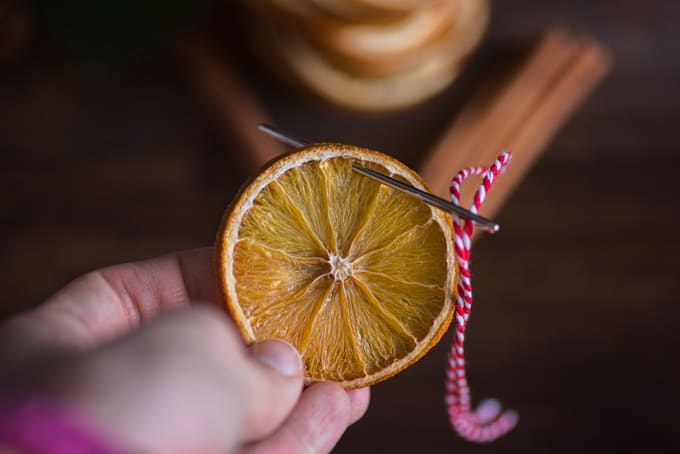 8. Pull the thread through a couple of inches before removing the needle, like this: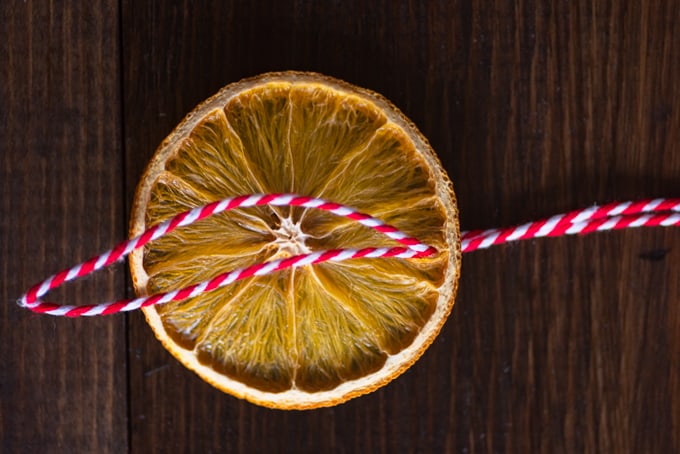 9. If you're adding cinnamon, place a stick on the orange and loop the twine around it, as shown. If you're not using cinnamon, just loop the twine around the orange! Either way, tie the loose ends of the twine to close up the loop.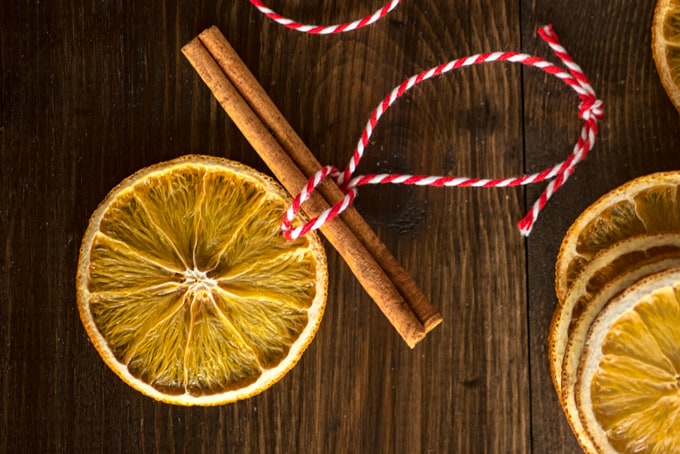 10. Enjoy!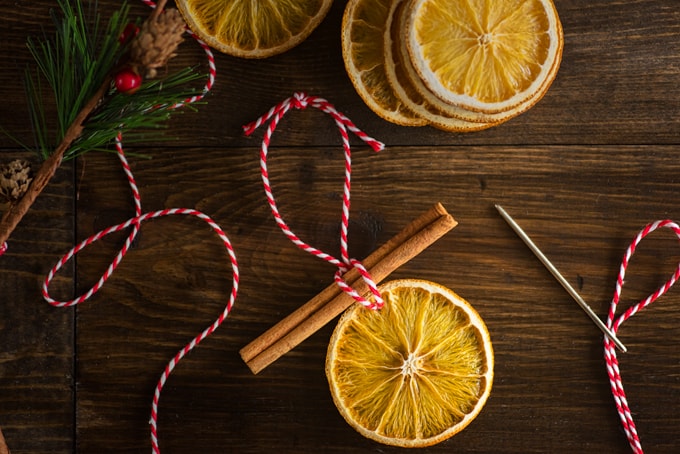 With time, the orange and cinnamon scent can fade a bit. To freshen up your decorations, simply add a drop of orange essential oil or cinnamon/cassia essential oil. My DoTerra Wild Orange oil is one of my absolute favorite EOs! The Now Foods pure orange oil is a good substitute.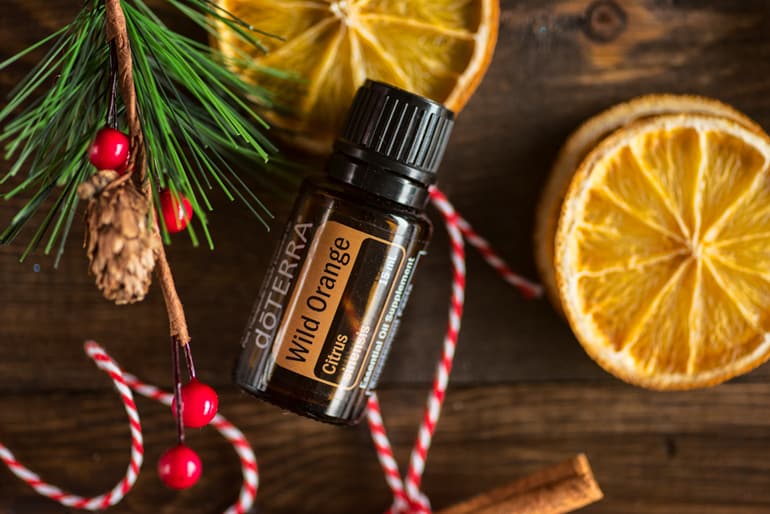 Smelling the orange slices dehydrating in the oven really got me in the mood for some holiday baking!
Do you ever make fruit-based Christmas ornaments? What ingredients do you like to use to decorate your tree?
Don't lose track of this orange slice ornaments tutorial! Pin it now!

More Christmas tutorials & printables